by
Andy Bowyer
Rev up: For Love of the Game
Thursday, January 26, 2012 | 10:00 AM
Dragon
is a leading mx goggle manufacturer with innovative new styles like the NFX frameless goggle with patented lens technology. To win a  pair of these premium NFX goggles, go to Dragon's
Facebook
or
Instagram
page and pick this week's 450 AMA Supercross winner.
Tweet
Hello, everyone, and welcome to the Rev Up. I'll begin with an old story that I remembered shortly after I saw
Ryan Morais
and
Trey Canard
crash last weekend
I was about 12 years old and had just started racing the 80cc (as they were back then) class. Things happen pretty quickly when you jump to that bike from 60cc machines. You start jumping much bigger stuff and you quickly learn about speed. And danger. And those moments when fear leaves your skin cold.
The white flag had come out on the 125 novice class so Pops had given me the tap on the helmet to fire it up. I watched the two leaders flail past the start stretch in front of us and then rocket out of site toward the big double on the back straight. People started running before the yellow flags started waving. Pops tapped my helmet again, but I already knew to kill the motor. We all sat on the starting line while they loaded up both of the injured racers into the ambulances. At 12, I talked with my racing buddies off the track tons. But as we waited we merely exchanged brief looks and tried to keep the race face. I remember being so scared as the replacement ambulance rolled past the track gates and Pops tapped me on the helmet again.
That's what the boys went through last weekend. Through the years they've witnessed similar scenarios dozens of times. They knew their fellow racing comrades were hurt and tried to block it out. They also knew the injured would be off the track soon and they would be going racing.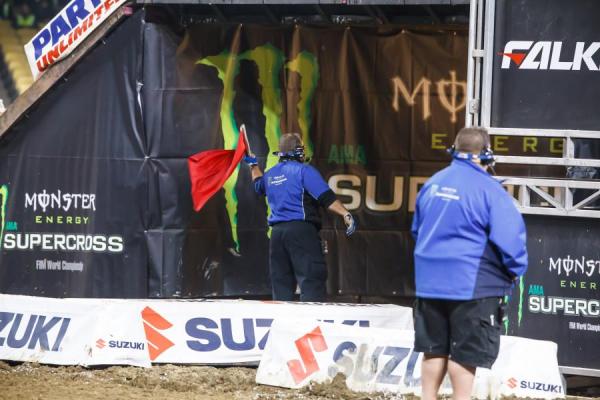 The last thing anyone from our community wants to see.
Photo: Simon Cudby
It's such an evil and selfish thought, but I sometimes used, "glad it isn't me" to try to get past it. I don't think I'm alone there. Every rider on the starting gate last weekend had the right to think that if they did. They've all been Ryan and Trey. Our friends are now hurt really badly, and all of my heart goes out to their families. Both racers have been through an ocean of hardship and deserve better. Please leave a big part of your heart and thoughts for the Canard and Morais families for now.
I'm sorry for the somber tone this week, but I don't think we pound home the realities of our trade as much as we maybe should.  I generally try to sprinkle this reality home throughout every season of the Rev Up. Supercross and all other forms of motocross racing are gnarly. It isn't normal to be injured and watch others get injured. Not the way we do. It isn't auto racing, the NFL, or even the heaviest of "X-Games" genres. Moto is gnarlier.
For me it all goes back to the first time I started my bike after watching somebody get hurt. I was scared like never before, but when the gate went down and I was wide open around the first corner, it all got left behind. Even as I flew across the big double on the back straight and saw all of the foot prints from "the scene" in the air. Even after 20 years of racing saw me being the one carried off, and worse...all of it goes back to the feeling of going wide open around the first corner.
It's the same feeling that makes me want to go buy a new motorcycle and try to race the Vet class this summer. I can't wait, actually.
The racers that we're going to stand up and scream for, and against, this Saturday night are hardened professionals, but at their core they share the feeling. They do what they love and love what they do. And ladies and gentlemen, they are certainly doing it well through the first three rounds of the 2012 Monster Energy Supercross season. Six different winners in the two divisions already. We've had triumph and tragedy, drama and upsets. What in the world can we expect to see as the charge makes her way to Oakland? We're already at a nuclear level of hype and excitement, and it's only going to grow.
In closing I want to urge all of you to be passionate fans, and be passionate about your respect to all of the racers. It's already time to see the show again. Bring the love of the game with you to Oakland for round four.
Thanks for reading.
Share this article:
Did you like this article?
Check out 10,000 MILES FROM HOME
in our Latest issue of Racer X available now.

Australian Dean Ferris hopes to follow in the footsteps of some of his legendary countrymen. Now contesting the FIM Grand Prix series, he made a huge impression at the Motocross of Nations. Page 138.
Look for the verified symbol
The Conversation