O.co Coliseum
Oakland

,

CA
Oakland
Monster Energy AMA Supercross Championship
Right now, it seems the Moto Gods are obsessed with parity, and they're not going to let one rider get away from the Monster Energy Supercross field. At least, this is the only explanation we can come up with for Ryan Villopoto's bizarre start to the season, where he has been the fastest and strongest rider, but now sits tied for second in the standings after two tough races in three rounds.
Oh sure, we've seen fast guys fail to win before, but RV isn't falling because he's hanging it out too much. At least, we don't think so. But include his heat races, and we've seen strange stuff: Off the track in turn one of his A1 heat. Crashed by himself leading his Phoenix heat. Accidentally run into by Davi Millsaps in the Phoenix main. Jumped off the track in the restart on the L.A. main.
His Phoenix last-to-third place charge actually only made him look stronger. Last to a podium? Wow. He almost turned the trick again this weekend, but James Stewart was just quick enough down the stretch to hold him off.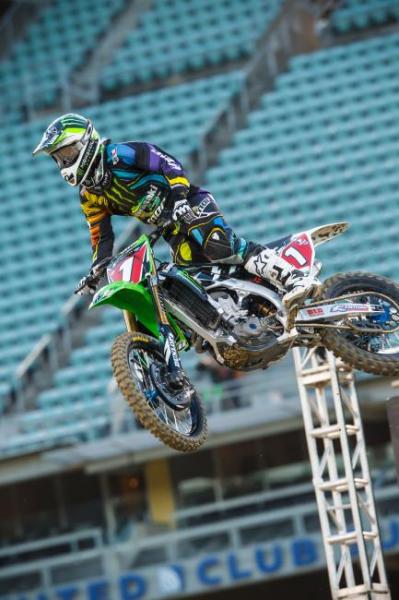 Early race mishaps have kept Villipoto off the top spot of the podium.
Photo: Simon Cudby
Of all the SX contenders, Villopoto usually brings the least drama. We all know Stewart, for better or worse, moves the needle in bench racing. Reed is often engaged in the Stewart rivalry, and his whole team/family veteran thing seems to resonate with fans. Dungey gets praised and criticized for being either consistent or not aggressive enough, depending on your view. And others, like Trey Canard, unfortunately, seem to be involved with too much bad news. We would love to see Trey's injury woes stop forever, and who wouldn't?
Villopoto? Not much to say except he's a butt-kicking machine. No drama. Not known for being too aggressive or not aggressive enough. Doesn't always get the biggest cheers, but you don't hear anyone not like him, either. He is defined not by personality or controversy, but by his results, and even when he does get involved with something crazy, he usually pulls back to center quickly. J-Law rivalry? Missed the main event in J-Ville? He righted the ship right quick and just went back to winning.
Will he get another win this weekend? The pieces are certainly there, but we've seen that even Mr. No Drama isn't immune to some craziness here and there.