O.co Coliseum
Oakland

,

CA
Oakland
Monster Energy AMA Supercross Championship
After last year's L.A. Supercross, the pits were buzzing.
Ryan Villopoto
,
James Stewart
,
Ryan Dungey
and
Trey Canard
presented an instant classic, swapping spots, passes and crashes in a 20-lap thriller. Afterwards, everyone wanted to talk to someone. Villopoto had just engineered the best race of his supercross career. Dungey had shown uncharacteristic aggression. Stewart was steaming after being caught by Villopoto, fending off a challenge, and then crashing. And
Trey Canard
had proven he belonged in the elite class.
Over at Club TLD, the party was going off. Cole Seely snagged the first SX Lites win for himself and his team. There's always a party atmosphere at that TLD semi, but that party was bigger than ever in L.A.
Everything was. Supercross' long-awaited debut at Dodgers Stadium lived up to the hype. The stars had come out and put on a show.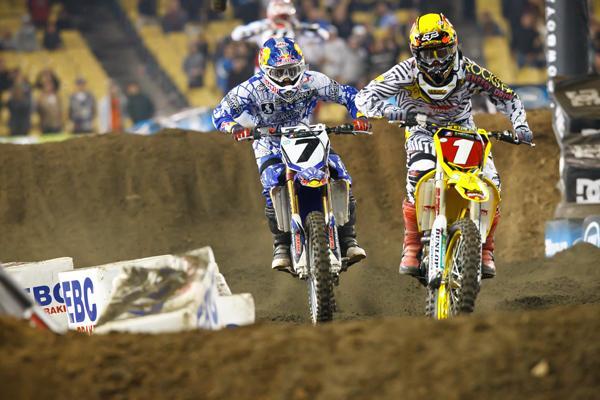 Stewart and Dungey, among others, put on a show in L.A. last year.
Photo: Simon Cudby
But one character had not found a part. So while the journalists roamed the pits onward toward midnight, searching for quotes and gossip and stories from the night's top performers, this one rider appeared by himself, cruising the pits in jeans and a hoodie. The rider was Chad Reed, and he was looking for someone to talk to.
We eventually came to call it the Reed "Walkabout." At that moment, three races into the season, Reed was on a search for relevancy. We know now the success his TwoTwo team would soon find, but three races into the 2011 season, that success was far from guaranteed. After 5-4 finishes at the first two rounds, Reed crashed on the first lap in L.A. and literally buried his head in the sand. He finished seventh.
But he was not bummed. He was in a good mood and wanted to talk. Not because he had a burning thought or a message to send. He wasn't even looking for an interview. He just wanted to bench race. At least I think he did. I'm really not sure what the motivation was. Either way, he was just hanging out.
Rarely, if ever, do athletes of Reed's stature cruise the pits after the race looking to engage in some friendly bench racing. It was a strange situation. Myself, Steve Matthes, and SCOTT Goggle man John Knowles were standing outside of the Kawasaki pit area. Steve and I were hoping to chat with Villopoto one last time. Reed, who left that Kawasaki team a few months earlier, strolled up and let out a simple, "What's up?" I almost didn't realize who it was at first. We each took turns chatting with Reed about anything and everything while waiting for our chance to talk with the relevant rider of the night—the race winner, Villopoto. To make things stranger, at one point, Monster Energy Kawasaki Team Manager Mike Fisher strolled past, and shook Reed's hand. "Nice comeback tonight, Chad," said Fish. Reed said thanks. Then he later told us it was the first time he had spoken a word to Fisher since he left the team.
Reed had gone through a three-year metamorphosis on being open with the press and fans, but this was a new level. He wasn't just taking care of interviews and autographs because it was part of the job. He was volunteering to come over and hang out. So we treated him as that—as a guy hanging out at the races. If we wanted the big story on the race, we would have to talk to Villopoto.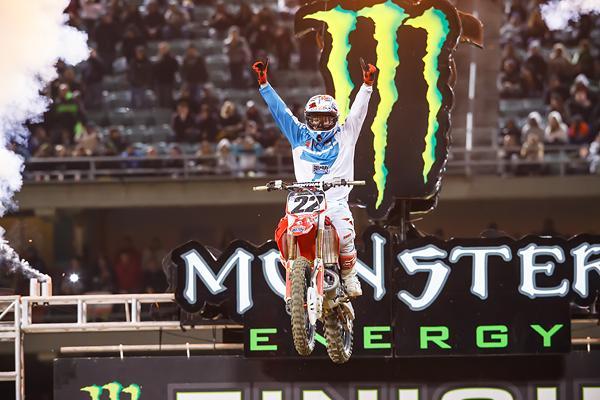 A year later it was Reed in the drivers seat at L.A.
Photo: Simon Cudby
A week later, Reed grabbed his first podium of the season in Oakland. At the time, it seemed only like a nice story—Reed back on the box, at least once, running his team. Wins? Titles? Seemed unlikely. But then he won a race two weeks later in San Diego. In Atlanta, he and his old rival Stewart were, for a night, back to being the best in the game. Reed was a contender again, and as relevant as ever.
As unthinkable as it was to see Reed cruising around the pits like a random fan, it's now unthinkable to not think of him as a contender. This year, 52 weeks after being shut out of the battle for the L.A. 2011 win, he found himself not just back as part of the conversation, but at the lead of it. One year after his walkabout, Chad Reed walked to the top of the podium. And it was an impressive ride, catching passing and leaving rivals en route to a hard earned win.
This time at midnight, Reed was over at his semi, signing the last few autographs. The rig finally pulled away, but Reed stood there for a Monday Conversation interview. He was just as willing to talk now as he was a year ago at that time, regardless of where he finished—I know that because he was there, chatting, at midnight last week in Phoenix, after finishing fifth.
In this sport, riders like to drop the word "fun" into their interviews. And somewhere along the way, we'll complain and say, "Hey, I don't get paid to have fun at my job, and neither do you. You're supposed to win races, not have fun. You want to get paid to have fun? Go work on Tosh.O."
But that fun thing is funny. Something the veterans of the game figure out, eventually, is that if they want to win races, it's necessary to have fun to do that. Fun helps results, and hence, having fun becomes part of the recipe just as much as training and testing and practicing. Some riders actually work to have fun. They seek out friends and conversation. They realize that there are many, many hard parts in the job description of professional racer. There's travel and fatigue, pressure and scrutiny. Pain and nerves, sacrifice and suffering. You can't make it go away, so you might as well make yourself like everything else. Make yourself enjoy it. Make yourself want to be at the races, want to hang out with friends, teammates and even other riders. Make yourself want to sign autographs and do interviews late into the night. You can let it all bother you, but that only makes you not want to be at the races, and when that happens, your results may suffer.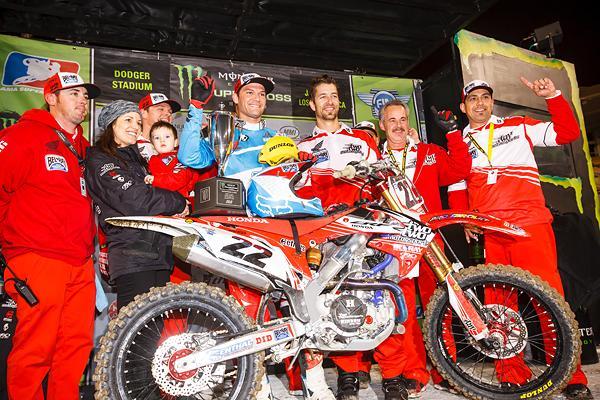 Reed and TwoTwo Motorsports celebrate their first win of the new season.
Photo: Simon Cudby
I can guarantee you that Reed and Kevin Windham have more fun at the races now than they ever did. The years should make them burnt out and jaded, but instead they enjoy it more, because they make themselves like it more.
So there was Reed on his walkabout a year ago, just looking to bench race with some buddies in the parking lot. He did not want to sulk in his motorhome about finishing seventh. So he made himself go out and keep it light. He made himself have fun. And soon, he was winning again.
It was so bizarre that we couldn't ever quite figure out what the motivation was. Why would Reed come back out of his motorhome at midnight, on a cold night, to chat with somebody, anybody? Didn't he have more important things to do?
We theorized that Reed was maybe missing the spotlight. A lot had happened that night, and not much of it involved him.