Dodger Stadium
Los Angeles

,

CA
Los Angeles
Monster Energy AMA Supercross Championship
"Would you be saying the West class was so close had
Eli Tomac
pulled holeshots in Anaheim and Phoenix?" questioned David Pingree last week on our Racer X Podcast.
Ping had a point. The West Lites title chase sure looked crazy after two rounds, but then again so did Tomac's races, which included getting taken out off the start of a heat race, bike problems in a heat, an LCQ, bad starts and wild come-from-behind charges. But he had been consistent in one area—he was consistently fast—by logging the fastest lap times in each main event. But not turning that speed into wins had to bother the Colorado native, so he spent the week leading up to L.A. working on starts with his riding coach Buddy Antunez. Eli was pulling to the right off the line, but after some technique cleanup, he was back to coming off the gate straight.
Clearly, the starts were back in his Los Angeles heat race.
"Finally some homework paid off," said Tomac. "We went to work last week on the starts. Heat race, I actually got the holeshot, but then got snuck down the second straight away by [Martin] Davalos. So going into the main, I was like alright, well, I have to tighten up that first corner a little bit."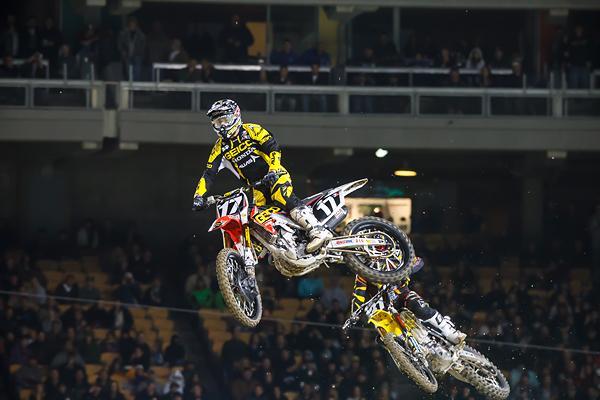 After struggling to nail down a start through two rounds, Tomac was on point in L.A.
Photo: Simon Cudby
That lesson paid off in the main. "Actually, got beat down that first straight there, but everyone else was holding it wide open like I was in the heat race. I tightened it up. It actually paid off to get passed by Davalos in the heat race."
From there, the same technique and intensity that carried Tomac through traffic at Anaheim and Phoenix carried him away from the field in L.A. He started tripling out of a corner in a manner few could match, and his lap times met or exceeded the best of the 450 field. It looked flawless. Almost.
"I made one little bobble after the finish line, you go through the turning rollers and in that next rhythm section I kind of missed one of the threes," he explains.  "But with today's bikes and today's suspension, it seems like you can case whatever and jump whatever and you're still all good. That was the only issue I had."
Tomac was long gone before long, and cruised to a dominant win. He also now holds the points lead in the class. "I'm stoked to have that red plate on the Honda," said Tomac, who mentioned on the podium that he had only held a red plate once before, in AMA Motocross at Texas in 2010. "The first win with the 17. I'll definitely be hanging this jersey up."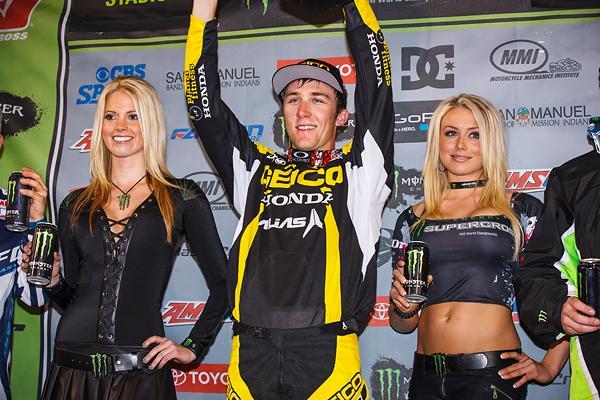 Tomac now holds the Lites West points lead after his victory in L.A.
Photo: Simon Cudby
Now that he has the riding—and hopefully, his starts—dialed in, will Tomac change anything else in pursuit of a title that slipped away from him last year?
"Not really," he says. "I mean, that's where I thought I've belonged the entire time. I've had that speed, but you can't make it happen when you start 15th. It's the way it is."
But if he starts up front, can anyone stop him? We're about to find out if the West Lites field is as deep as we originally thought.