by
Jason Weigandt
Open Mic Part 1: Reed, Stewart and More
Monday, January 9, 2012 | 12:15 PM
KICKER
provides the sound from the Open Mic – since 1973 our concert-like acoustics and gritty design in mobile stereo put us on the map. KICKER Subwoofers and Amplifiers for vehicles and boats are sought worldwide, and now critically acclaimed MP3 Docks, Earbuds and Headphones are shaking up what remains.
Tweet
Chad Reed TwoTwo Motorsports Bel-Ray Racing Honda 2nd in SX Class
The race was good, I got a great start. Almost holeshotted, but RV had a little momentum on me coming from the outside. I tried to stay with him. I knew he was going to go for the triple on the first lap, so I pulled the trigger on that with him. But I just didn't feel like…I didn't feel 100 percent, like I could just lay it down lap after lap after lap. There was definitely something missing tonight, and I don't think you can look anywhere else but within me and this truck. I think my attitude, it was tough, and I fought that all day. When I'm faced with a race track that I hate, then that's my weakest link. You know it, you work with it, and we clawed ourselves into a heat race win.
In the main, I wouldn't say we challenged for the win. We never ever challenged for the win, but we were there watching RV do a few things that I couldn't. I tried to just put down my laps, but I crashed. I crashed over by the podium, where we tripled out of the turn and went step up step off, before we hooked back onto the start straight. I just changed up my line to get out of the ruts, and pivot really quick. And as I pivoted, the back end came around, and that was all she wrote. When I got up, Dunge and Stewart were right one me, so I tried to ride purposeful and not make anymore big mistakes. One by one we all tried to, you know, crash and throw it away! I was happy. I'm proud of this team for keeping me up beat all day, and for not letting us get too far away, set up wise.
We kind of threw a few things at it here and there that made things better. And we had two new guys on the team today and I felt they made a great impact. It was nice to get back into the field and work with those guys and gain an understanding from those guys. It's hard, testing is one thing, it's a relaxed environment, but it's different when you're working with pressure. It's hard you know. One guy, Goose, I've worked with a lot, but Sergio, I've never really worked with. I was happy how it went, and happy to have a good direction on where to go this week.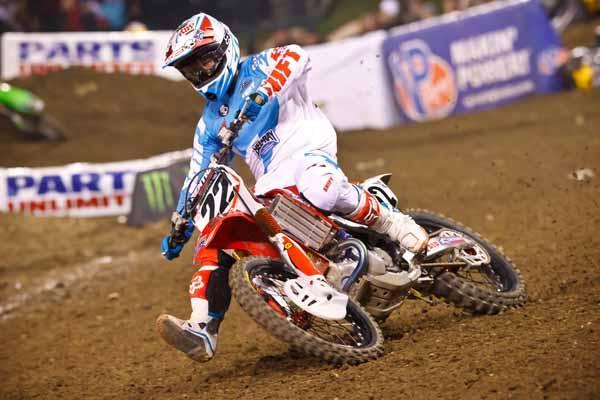 "I didn't feel 100 percent, like I could just lay it down lap after lap after lap." - Chad Reed
Photo: Simon Cudby
Jake Weimer: Monster Energy Kawasaki, 5th in SX Class
I'm happy. I put in a lot of work, and I made it here. I didn't make it here last year. This time there were a few crashes along the way, but I made it here. My fitness is good, I feel strong, so overall, I think it was a good day. Practice, I was pretty good, not too bad. Heat race, again, not too bad, I just didn't get a good start. In the main event, same thing, I rode pretty decent for the most part.
Did you go off the track at one point?
I don't remember if it was Short or Brayton I was battling at one point, but we were really, really close and I just chose to go too far to the left than I should have. I really didn't have much room and I went off the track. Around lap 12 or 13, somewhere,  the jumps were really choppy going up them, and I grabbed a handful of throttle where I didn't want to and I launched off that thing and slammed my foot down. I mean, I'm alright, just sore. I didn't crash but I thought I was going to. So I had that slow me down, too. It was kind of weird, overall I'm happy with the finish.
You came through pretty good. At one point it looked like you were riding well, and I looked at the screen and it said you were in eleventh! So to come through to fifth….
Yeah, it was good.
I know it's hard to compare to last year since you barely raced supercross, but really, how much better are you this year?
When I raced those two last year, I knew I wasn't ready. I was just doing it because I needed to get out there. I didn't go there thinking I was 100 percent or I was going to kill it. I felt much better this time.
James Stewart JGR/Toyota Yamaha 6th in SX Class

First race with the new team. How was the weekend in general? Were you guys scrambling to be ready?
It was pretty relaxed, I was relaxed in the main, even. I think not racing in awhile hurt a little bit. Not speed wise, but other things. I think we missed the setup, and the way guys are riding right now, if you don't get the setup, it's tough. And the track, it sucked. It was a track that you couldn't make up any time on, you can lose time very quickly more than you could make it up. I think we were just a solid fourth place tonight, but I guess with a new team, that's good. We got some new stuff, and found out some of it worked and some didn't. I thought we could maybe be on the podium tonight and possibly even second after those guys fell. But I got cross rutted going onto that on-off thing, and I saved the first one, I don't know how I saved it, I was shocked I saved the first one, but then I crashed.
When you got up, it looked like you were hitting the side of your bike, like the levers or something?
I got up and the haybale was like stuck in front of me. I knew I had a 50/50 chance of running that over and falling again, and I was going to ask one of those track guys in there to move it, but there were riders coming so I decided to just blast through it. But when I fell, I ripped my shrouds off. It was flipped in, so I spent the next two laps trying to pull on it and pop the bolts out.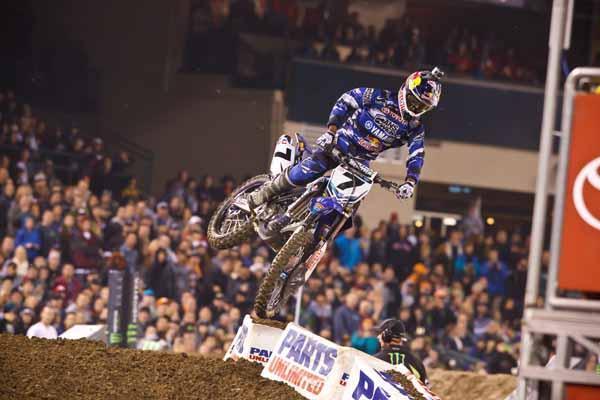 "I told everyone, it doesn't matter how fast you are, if you don't get the start, you're not going to win the race. We saw that." - James Stewart
Photo: Simon Cudby
So you were pulling on it in the air?
No this was rolling around through the whoops and stuff! I had to pull those bolts off, and that's how I got passed by the rest of those guys.
How close was this to the track you test and practice on?
It was nothing like that. And what sucked is it wasn't even close to the track map. That's the only bummer part. The set up we had to use here was completely different. But we all had to adapt, there are no excuses there. I told everyone, it doesn't matter how fast you are, if you don't get the start, you're not going to win the race. We saw that. We did find a surprise when we got here [with the track]. I actually felt great in the main event, physically, but we just missed the set up.
Yeah the starts were bad in both the heat and the main. Anything you can point at there?
Yeah it's my fault. I was doing something different than I did last year, and I did it at the first race here, and I figured it out. It's my fault, it's been so damned long since I raced, I should have gone back to the notes. But we'll figure it out. We're okay, I'm looking forward to Phoenix.
Ivan Tedesco, Dodge Motorsports/Sycuan Casino/Hart & Huntington Kawasaki, 13th in SX Class
Practice I sucked, I think I qualified 17th. The track was really weird, it was kind of like an EnduroCross. I had to kind of get into a different mindset. I really had to focus on my starts, and I did that, I got good starts in the heat and the main event. So I was clicking off laps, running that top five pace. Then Alessi came in and just t-boned me. It hurt my ankle and knocked my brake lever straight up. He hit me pretty hard. You'll see if you watch the video. I went over there and showed Tony the video. So I had to regroup for a second, and that's when Weimer and Brayton were there. So we were battling, and on I think lap 17, I cross rutted and it threw me into a endo, I didn't quite make it. I hit the bars and it knocked the wind out of me. That was my night.
You were fast when you were up there.
Yeah, I felt like I was riding good, and I feel like I've been riding good the whole off-season. I just need to stay off the ground. And that was the thing last year, crashes and injuries, and luckily tonight I hit the ground but didn't get injured. So now I can build off of this, I know the speed and fitness is there. All the tools are there, I just need to build my confidence a little to know I can run with these guys.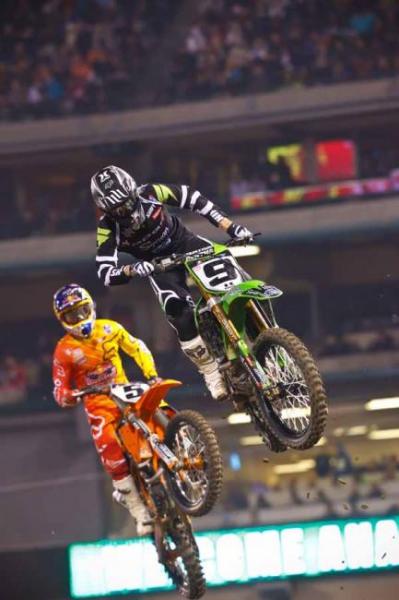 "Yeah, I felt like I was riding good, and I feel like I've been riding good the whole off-season." - Ivan Tedesco
Photo: Simon Cudby
Ryan Morais:Rockstar Valli/Star Yamaha, 15th in SX Class
How was it?
My night was all right. My heat race started out really good, I got a good start, was third, and ran fourth for a while. Ryan Villopoto got me with a couple laps to go, and I got fifth. I was really happy with that. In the main event, I didn't get a good start and made a couple mistakes. I went off the track on the first lap, then I made some passes and ended up stalling it. I think I was all the way back in twentieth, and I worked my way up to fifteenth. Not exactly what I was looking for tonight, but I'm happy to be in one piece, and I'll go to Phoenix and better that result.

This was your first race in your first full year in the premier class. How was the competition?
I think it was about what I was expecting. I surprised myself a little bit in my heat race, I wasn't really too sure where I was. I've spent a lot of time at the test tracks, but that's not racing, so I wasn't sure where I was going to be. That fifteenth is definitely not where I belong, so next week is going to be better, and I think it's going to get better every weekend after that once I get more comfortable racing with these guys and learning how they race. I think it'll be a good year.
Share this article:
Did you like this article?
Check out MY LIFE IN MOTORCYCLE RACING
in our Latest issue of Racer X available now.

Jean-Michel Bayle, the iconic superstar of yesteryear, raced motocross for the first time in twenty-one years at the Vets MXdN in England. Page 126.
Look for the verified symbol
The Conversation