Authors: Jason Weigandt and Chase Stallo
Everyone is pumped during this time of year. Super pumped, even. We're a week away from the Monster Energy Supercross opener, so at this point everyone can talk about their 2012 team/bike/training/technique/sponsor changes leaving them feeling and riding better than ever for the new year. But reality will hit in Anaheim.
Even the best riders aren't immune to bad seasons. Last season was dubbed "The Greatest Season Ever" because of the rare circumstance of contenders making it through most of the year healthy, staying on their game, and battling week after week. It doesn't always work out so well. Look back no further than Chad Reed's 2010 campaign. Despite a great 2009 season, Reed started 2010 in the dumps and found only rare flashes of brilliance before ending it early. After that, he ended up having to start his own team.
It happens. But what happens after it happens? What if it doesn't go right? The old term you're only as good as your last race is truer now more than ever since feedback and opinions are just a click away. How could a bad 2012 impact the stars?
James Stewart: Stewart's built-in talent and speed seemed like insurance against mediocrity. If anyone should have been immune to consecutive bad seasons, it's this man. His 2010 campaign could really just be written off to an injury (he won the opener and suffered a season-ending wrist injury at round two), but in 2011, everything that could go wrong, did, including the final indignity of a rider of Stewart's standards: he raced all 17 races, and he finished fourth in the championship.
Even if you just think of Stewart as just a win-or-crash guy anyway, the crashes during the 2011 season were strange in quantity and quality, even for him. This led many to theorize that his Yamaha didn't work. And yet, even as a free agent, Stewart stuck with the brand, albeit on a new team.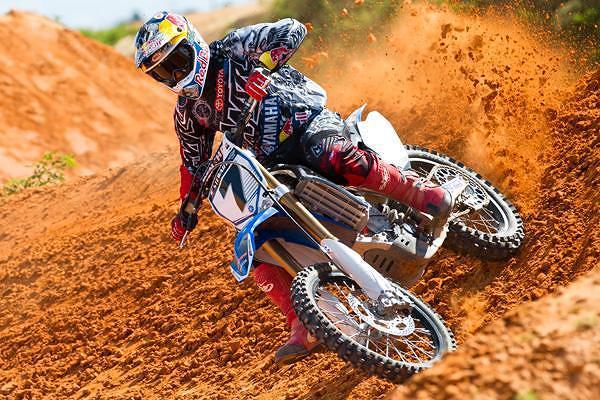 Photo: Garth Milan
The new Joe Gibbs Racing/James Stewart combo doesn't have any wiggle room. Another fourth in the series (or a series of crashes) will only confirm evils such as: 1) The Yamaha doesn't work; 2). The Gibbs team couldn't reinvent the wheel like they had hoped; and 3). Stewart is truly finished as the fastest man on the planet. And once those judgements sneak out, the final connection comes next: why did Stewart stick with Yamaha in the first place? Was it, gulp, all about the money? Today, riders can't claim they went to teams just for support (even if they did). Remember, we're living in an era when Reed built a competitive team around the bike he liked the most.
Such is the downside of Stewart's outsized abilities, and super sized list of past accomplishments. He could come up short of a championship in 2012 simply because the competition has stepped up. But once you're dubbed the fastest man on the planet, that reasoning doesn't wash. You have to live up to that hype, or the season is a failure. And such failure is going to send blame in a lot of directions—not just praise to the competition.
Ryan Dungey: Ryan Dungey and KTM arguably have the most on the line in 2012. KTM, stained by a legacy that has yet to place a rider on the podium in the supercross class, finally has a legitimate title contender under its wings, but what if Dungey fails to meet expectations?
Those expectations are sky high. A proven winner under Suzuki, Dungey is now beckoned with the task of turning around a supercross program that has been in turmoil for the entire history of the brand. If Dungey fails to produce early, the ghosts of KTMs past will being to surface. Many will question Dungey's decision to leave a bike and program he has proven he can win on, to jump to the unproven KTM.
Dungey has a two-year deal with KTM, so they may point to 2012 as a "learning year," but in reality, can he go from 2010 champ and 2011 contender, then take a step back for an entire year and not expect any heat? The jury will not wait until 2013 to render a decision.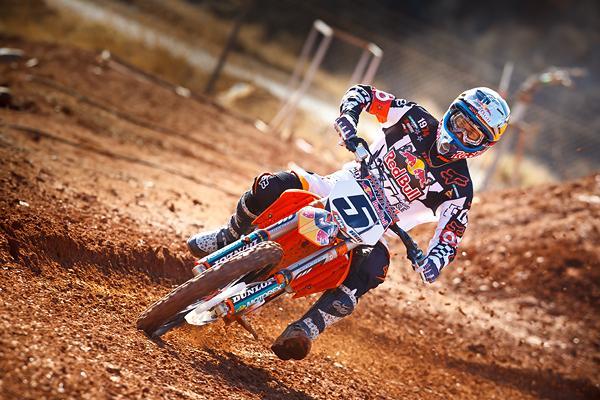 Photo: Simon Cudby
Ryan Villopoto: With victory comes a higher expectation—an expectation to win early and often. No rider will have that pressure breathing down their throats in 2012 more than Ryan Villopoto. Although Villopoto's historic 2011 season (SX and MX title, MXoN and MEC victories) will forever have its place in the record books, the expectations for Villopoto have never been higher. Don't believe me; take a look back at the criticism that was placed on Ryan Dungey after getting off to a slow start this past season—after producing a similar season to Villopoto's in 2010.
While Villopoto has more to gain and less to lose that any of the other "Big Four," there is still pressure to produce. But in all reality, it's hard to justify Villopoto losing much if he fails to take home a SX title in 2012—because he can always point to his four major titles in 2011. If he rides well but comes up short, his strong 2011 campaign will serve as backup to his value and reputation.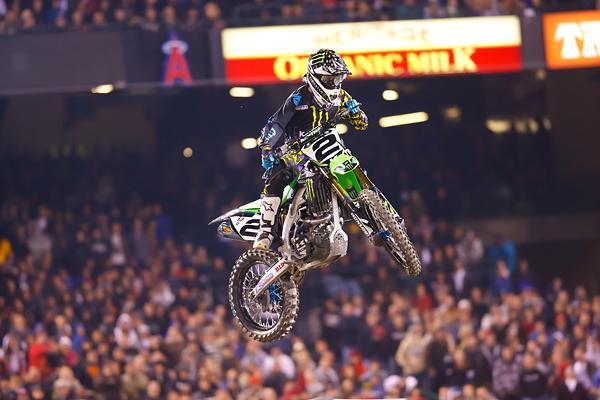 Photo: Simon Cudby
Chad Reed: Reed's sad sack 2010 left him out of mulligans for 2011—with his own team, his back was against the wall. If Reed reeled off a bunch of seventh place finishes at the beginning of 2011, it would have been over and done for him. But he pulled through to restablish himself as a genuine championship contender again, the feel-good story of the season.
That's the upside of the short memories in this sport. In one year, Reed inspired what seemed like a million "didn't like him before, but I've become a big fan" comments. The haters began to love, the lovers loved more. Even if he washes out in 2012, his reputation and legacy are safe.
But these guys aren't just racing to build a legacy—they want trophies. How much does Reed have in the tank? He'll turn 30 during this season, which will be his tenth in the big-bike class. His big crash at Millville knocked the steam out of his 2011 season, which stoked fears that the older you get, the less willing you are to come all the way back after a big scare (no matter that Reed also lost his best friend in 2010, only to come back even faster on the track).
But time is undefeated in sports. Someday, age and younger competitors are going to get him. And when it does, will his TwoTwo team be able to keep the good vibes and good results going when the owner is no longer the rider? The longer Reed can keep that element at bay, the better for his business. So he needs to have another good season!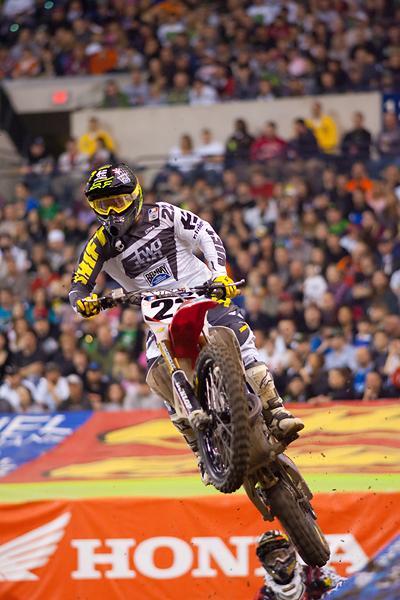 Photo: Andrew Fredrickson