On behalf of everyone at Racer X Illustrated and Racer X Online, I want to say Merry Christmas and happy holidays to all of our readers, friends, fellow racers, and fellow motorcycle industry worker-bees. We thought about coming up with some cool Christmas card, maybe even an electronic one with something interesting, but then we decided on something else entirely.
We're calling it the Bench Racers Christmas, otherwise known as the new Racer X Vault. Inside it you will find every race, rider, and finish in the forty-year history of the AMA Motocross Championships. The engine here allows you to jump around and check out any single rider's results, from the very first national back on April 16, 1972, outside Atlanta, to the present day. You can see all of Ricky Carmichael's wins and losses (there's much more of the former), and the same goes for Bob Hannah, Broc Glover, David Bailey, Ricky Johnson, Johnny O'Mara, Jeff Ward, Jeff Stanton, Jean-Michel Bayle, James Stewart, Ryan Villopoto, Trey Canard—everyone!
The Vault is still a work in progress, so please proceed with caution, as we will be tweaking the exhaustive results page over time. We will also be adding the complete Monster Energy AMA Supercross results, the Motocross and Trophee des Nations, the old Trans-AMA and Inter-Am records, Grand Prix races held in the United States, and much, much more. But this is the start, and we hope you have as much fun going through all of the records and results as we had pulling it all together.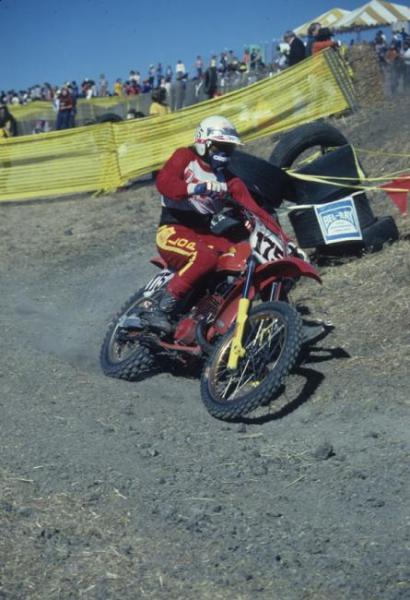 Want to know how the late Marty Moates did in every national he finished? Check out the new Racer X Vault.
Photo: Racer X Archives
Just two more days until Christmas and two more weeks until the off-season is finally, mercifully over. It's been a long one, too. But to get yourself amped back up for the start of the 2012 Monster Energy AMA Supercross tour, which begins with a LIVE showing of the Anaheim Supercross on January 7, there's the CBS Special on Christmas Day, 2 p.m. ET/11 a.m. out West. With all of the NFL games on, not to mention the NBA season starting, it's very cool that Feld Motor Sports got CBS to carve out an hour for a series preview.
If you had a crystal ball—or better yet a time machine (still working on that one)—how do you think Anaheim is going to turn out? Will Ryan Villopoto pick up where he started last year's SX title run with another opening-night win? Will Chad Reed pick up where he left off with a win like he scored at the Las Vegas finale? Will James Stewart find that old comfort level on his new Yamaha team and get JGR Toyota/Yamaha its second win? Will Ryan Dungey end KTM's thirty-nine-year winless streak in the premier division of supercross? Will someone like Mike Alessi, Brett Metcalfe, Justin Brayton, Jake Weimer, or Ivan Tedesco finally get their first SX win? Whither Windham and Millsaps and the back-on-track Joshes (Grant and Hill)? What about class newcomers Broc Tickle and Josh Hansen? I honestly can't wait.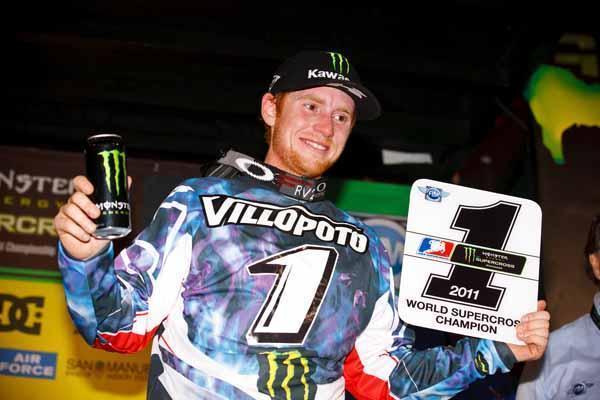 Ryan Villopoto begins his Monster Energy Supercross title defense in just 15 days.
Photo: Simon Cudby
The Lites class will be just as interesting. There's the international contingent for Red Bull KTM, the ongoing dominance of Monster Energy/Pro Circuit Kawasaki, the GEICO Honda boys, Rockstar Energy Racing, Star Racing/Valli Motorsports.... I will let the other guys get into making bold predictions in the next couple of weeks. I'm just glad that the off-season is over and everyone seems healthy and ready to race.
If you woke up today wishing Santa would bring you some kind of reminder about what an extraordinary whip Billy Laninovich can do, you're in luck! Racer X Films' own Matty Fran went out to Beaumont with Ping, Ronnie Renner, and more to work on some whips, but it was Laninovich who stole the show.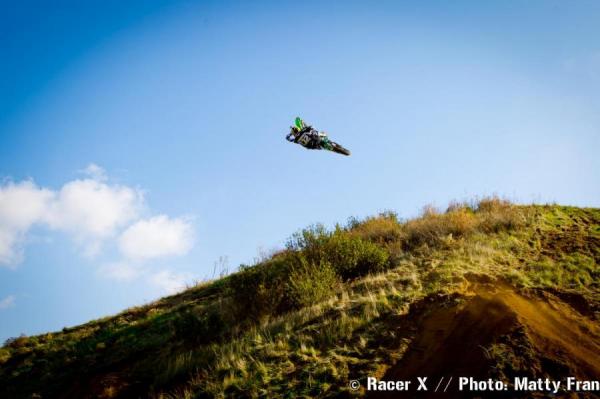 Billy Laninovich pulled his whip back out for an incredible Racer X Film session with Matty Fran out in Beaumont.
Photo: Matty Fran
Mikey Neale not only makes some exceptional race videos over in England, he is also a fantastic editor who can turn old film into something new, with a new treatment, cut, or process that just pulls you in all over again. Here's one of his remixes for Ken Roczen, who is now in Southern California getting ready for January 7.
I spoke to Roger DeCoster yesterday about the team dynamics at Red Bull KTM and he told me that Ken and his former GP rival Marvin Musquin are getting along great, working together and also hanging out. The camaraderie even has the usually do-it-alone Ryan Dungey spending more time working with his teammates, though Dungey still prefers a Florida base to SoCal. And Roger reiterated that he's still planning for both Ken and Marvin to contend the Lites West Region, then ride select races in the East on the 350.
If you ever hung around late after a round of the 2011 Lucas Oil AMA Pro Motocross Championship, you might have noticed a few folks running around the racetrack on foot—usually Jarry and Nancy Newby, who also happen to work the events as officials. Turns out that Jarry was training to run in the World's Toughest Mudder Final, which was held last weekend at Englishtown in New Jersey. Here's a note we got this week from Jarry:
"We survived!! Well... Jarrett (my son) finished 15th overall and I was 22nd. Here's how it all played out: 150,000 people tried for the 1,000 top qualifying spots from all the regular Tough Mudder events to get them into the final. Out of those 1,000, the race started 10:00 a.m. Saturday morning until 10:00 a.m. Sunday. 480 did not even make it around once, 282 completed one lap, 130 completed two laps, 64 completed three laps, 28 completed four laps (Jarrett and I), five people completed five laps, seven completed six laps, and just two completed seven laps. When you think that these were all the top finishers of all the regular Tough Mudders and almost half didn't even make it around the course the first time, that gives you an idea how extreme this was and how totally brutal the conditions were! I completed four laps after 15 hours and Jarrett had completed four laps after 11 hours. We both tried one more lap starting at 6:00 a.m. Sunday morning and only made it halfway around until hypothermia took over shutting down our bodies. This was an experience of a lifetime and I am already thinking how to improve for next year... Any takers?"
Before you commit, you may want to look around this site a little. And here's a video from another event back in October.
Okay, let's turn this over to Ping first:
I got to watch Ryan Sipes ride this week, and for some reason I am always surprised at how fast he is. I shouldn't be. I mean, Ryan has won before, and for years he's shown he has the speed to race at the front. He is riding West Coast for Star/Valli this year, along with Gareth Swanepoel, and so I have to call Sipes out as another dark horse. So that's, like, six different guys in the past month who I've said are going to be up front and potentially winning races.
That may sound ridiculous, but take a look at how stacked this class is going to be: Cole Seely, Blake Baggett, Wil Hahn, Jason Anderson, Ken Roczen, Marvin Musquin, Jimmy DeCotis, Eli Tomac, Gareth Swanepoel, Matt Moss, PJ Larsen, Tyla Rattray.... And those are just the guys off the top of my head who are likely going to be lining up at A1. Good luck picking the podium out of that group, because it could be any number of them.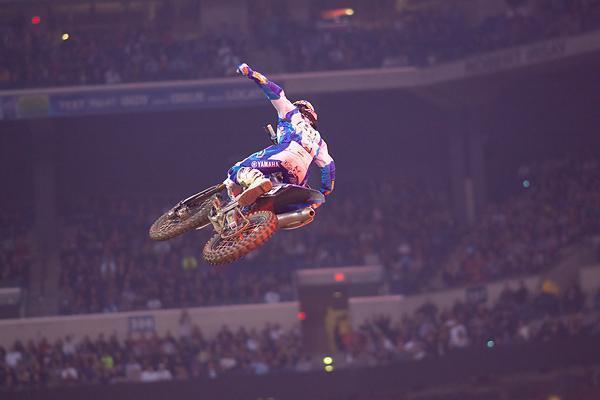 Add Star Racing/Valli Yamaha's Ryan Sipes to Ping's growing list of guys who could win at Anaheim and beyond.
Photo: Andrew Fredrickson
Congratulations to Robert Strain for winning a brand new Troy Lee Designs SE3 helmet and an Epic HD helmet camera. Robert picked up a copy of Motocross 101 last month and won himself a nice little Christmas present. After being contacted I got this from Mr. Strain:
Mr. Pingree

Thank you very much. The video is great and the outtakes are beer-through-the-nose, piss-your-pants funny. I stopped riding a few years ago but have been wanting to get back into it. I have been saving the money for a new bike but just when I get enough saved life tends to happen. This must be a sign to man up and sell that extra kidney. Thank you for all the work you guys do from the podcasts to the columns. Good luck, Merry Christmas and thank you for doing the work to become a paramedic.
Robert Strain
Melon Size XL
You are quite welcome, Robert. Congrats and enjoy your new helmet. Thank you to everyone who purchased a DVD during this Christmas promotion and to Braaap Bar, Renthal, Pro Circuit and Troy Lee Designs for supporting us.
I spent Monday this week up in Las Vegas with Steve Matthes. I sat in on the PulpMX Show with Kenny Watson and technical director Tits Legendary and we had fun. If you haven't listened to any of Steve's podcasts, Classic Commentaries, or the PulpMX Show, you should. It's a good way to get caught up in the happenings of the sport. Just be sure to earmuff it for the kids when Kenny is on, because he is not rated G.
Have a Merry Christmas, everyone!

Here's Jason Weigandt:
In an ideal world, anyone who is about to enter the ten-month grind of travel and racing could use these final few days of the off-season to rest and relax. But it doesn't work that way in this sport—the off-season is where you can make up huge ground in testing and training, and every day counts. I know the JGR Yamaha boys have been absolutely killing themselves over the last two months, spending weeks down at James Stewart's house in Florida plowing through piles of new parts. The guys will spend weekends and Mondays coming up with new stuff in the shop, then drive to Florida all night Monday to be ready to test with JS7 bright and early on Tuesday morning. They've done this grind week after week. And the real travel hasn't even begun yet!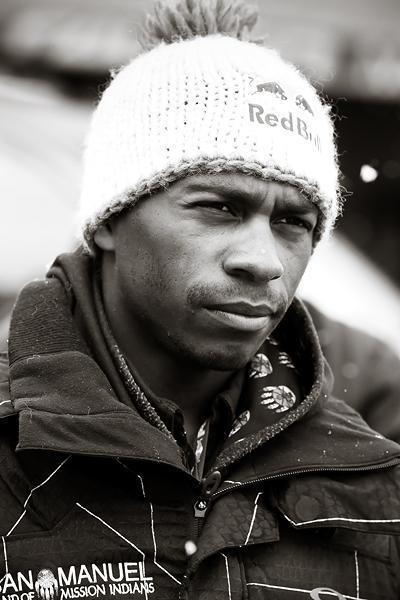 A belated Happy Birthday to James Stewart, who was born on December 21, 1985.
Photo: Simon Cudby
Team manager Jeremy Albrecht says they've essentially run out of time and didn't get to try every little part. So that's when you start trying to jump bigger gaps in setup, trying to make big gains instead of small, incremental improvements, with Anaheim 1 fast approaching on the horizon. When Stewart joined the team, he continually mentioned how the JGR squad is able to present many more options than his previous team. It sounds like James has indeed gotten his wish of more things to try. But that, of course, means more work too!
This week I had a chat with J-Star/JDR KTM Team Manager Nathan Ramsey. He, too, is logging huge hours with the season fast approaching. Last year was the first in team management for the 1999 West Region 125 SX Champion
"Last year, in my first year as a team manager. It was good for me that it was a first-year team," Ramsey said. "We all had a lot to learn. I think the structure was set up good by [team owners] Jay and Derek Rynenberg, and the parts where I would excel, I was able to do that. I didn't have to handle the crew chief stuff, the technical sides of the motorcycle, because those were the things were maybe I wasn't so involved in when I was a racer. I don't think I would have been confident to do those things at that time. Now coming into the second year, I learned a lot, but we still have a great structure where we all talk to each other constantly to figure out what everyone has going on.
"There's a lot more to being a team manager than there was being a rider. As a rider, you worried about yourself, and your family. That's about it. As a manager, you have some extra kids running around to worry about! I thought I had pressure and stress as a racer, but there is stress here. It's different, yeah I don't have the stress of getting hurt, but you definitely have a lot more things coming at you in this position. And the hours are long!"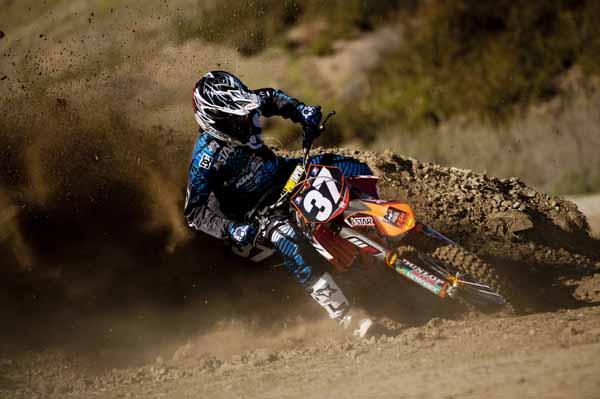 Malcolm Stewart joins the JDR team for 2012.
Photo: Courtesy of JDR
And the pressure is going to ratchet up on the JDR team. Year one could easily be written off as a learning year, but the Australian-owned outfit knows the results will have to come before long. "You get a little bit of time from the industry and the public, but hopefully they're looking at us this year expecting to get more results. And we have the lineup to do it. We always try to not cut corners, and to be legitimate. We want to be around a long time, and I know when you cut corners and don't do things right, that's when you see teams come and go."
JDR will have PJ Larsen, Matt Moss, and Malcolm Stewart on board this year in a Lites-only effort. Last year the team campaigned Aussie Ty Simmonds on a KTM 350 SX-F, but he's heading back Down Under this year. Running a three-rider, Lites-only team opened the door for JDR to race on one coast only and save big on a travel budget, but they've decided against that and will run two riders on one coast and one rider on the other (my guess: Moss and Larsen West, Stewart East). But don't be surprised if you see Larsen or Moss race the big class at an East Region round, since the rig will be there anyway.
How's your Christmas coming along? I had a great one going when I decided to join the JGR guys for lunch on Wednesday, and they had a rep from Verizon with them (I think the team guys have a company phone plan. No, this is not a sign that Verizon is about to sponsor the team). Anyway, the Verizon dude picked up the tab, so I got a free lunch that I absolutely did not deserve. Nice! But then yesterday I must have caught the flu or something, and I, well, lost my lunch. So, indeed, there wasn't such a thing as a free lunch. On the upside, I'm sick enough that we may have to skip the Christmas trip to the in-laws'. This flu is the gift that keeps on giving!
And now, I'm giving something to you. Just in time for Christmas, I am relaunching my Blogandt! blog right here and right now. Three or four of you might have read the blog in its (relative) heyday a few years back. Well, I feel like getting all goofy again, so I'll be doing some blog posts over on Matthes' pulpmx.com site. If I really start taking it seriously I'll have to move it over here to Racer X Online. But if I do, I don't want to hear any complaints about "Hey, Jimmy, these posts are wacky." We do plenty of serious racing coverage, and sometimes it's fun to cover other oddball topics.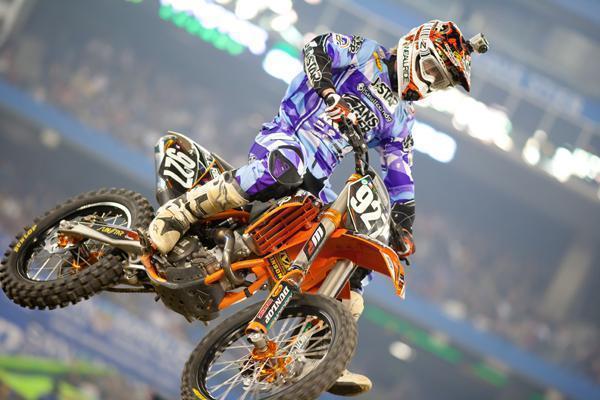 PJ Larsen is hoping to stay healthy in 2012 after being bitten by the injury bug in 2011.
Photo: Andrew Fredrickson
Example: Go to www.pulpmx.com/blogandt to read my first new post, comparing 1980s teen pop star Debbie Gibson with Damon Bradshaw. They're nearly the same person, right?
Here's Steve Matthes:
And now, a poem.
T'was the night before Christmas
And all around the test tracks
Not an industry guy was stirring,
Not even Fly Racing's Max.
The stockings were hung in the box van with care,
In hopes that golden trophies they will share.
Okay, I give up. I have been racking my brain with a rider that rhymes with tracks and just changed it to industry guy and Max. It's sort of early here on the West Coast and I haven't had my cup of coffee yet.
Last week I made a bunch of calls and spoke to a bunch of people, but this week that didn't happen much. I know everyone I did speak to can't believe the off-season has flown by so quickly, and for me this has to be the fastest. Not sure why or how, but I can't believe we're so close to the start of the new season.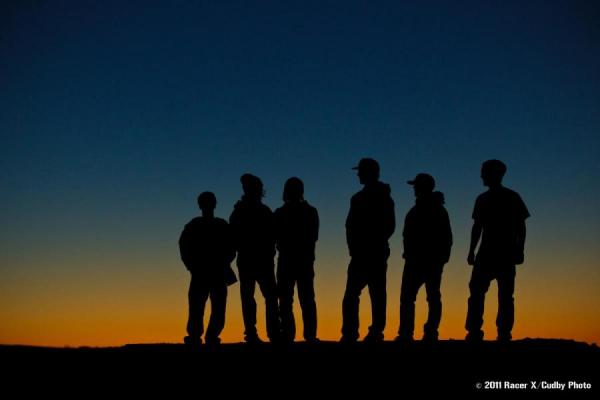 The GEICO Honda squad is hoping to capture another title in 2012.
Photo: Simon Cudby
Everyone's bikes are awesome, everyone's been training and working so hard and everyone is ready to take that next step up. That's what makes Anaheim so good: the unknowns. By the time we hit St. Louis, we'll know which guys took that step and which guys are doing the same old same old.
Glad to see Chris Blose secured a ride with the TiLube Kawasaki guys alongside Nick Wey. That should be a solid team that could get some good results. As a matter of fact, I think on dollars spent for places gotten, the Ti-Lube Kawasaki team may deliver the most bang for the buck.
This past Monday David Pingree came up to the PulpMX Show studios for a jolly good time on the show. Always a good laugh, plus pretty smart. We had Ping and Ivan Tedesco in studio hanging out talking moto. Afterwards, I pretty much just worked Ping in getting him to do a PulpMX Classic Commentary from San Jose 1995 (up next week), as well as a one-on-one podcast that was up here a couple of days ago. Good times, and thanks to Ping for doing that for me (and you jerkys).
Check out Pulpmx.com for all of that stuff.
Between Ping and Weege, I'm really looking forward to seeing Rockstar Suzuki's Jason Anderson and his attack on the series this year. Both guys have spoken highly of Jason and how he's going this off-season. After a rough rookie year, hopefully Anderson has figured it out. He's certainly got the credentials to get up there.
Thanks to everyone for reading and listening to my stuff. I hope everyone has a merry Christmas and see you next week.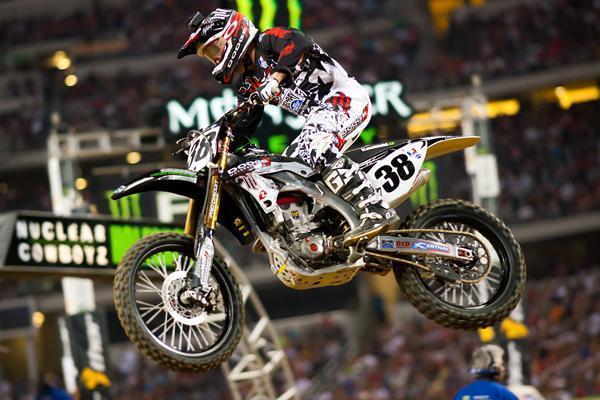 Blose secured a ride on the TiLube Kawasaki team for 2012.
Photo: Andrew Fredrickson
Here's Aaron Hansel:
If you were watching Monday Night Football this week, not only did you witness a brilliant display of sheer and utter dominance when the San Francisco 49ers put a 1996 Jeremy McGrath-style beatdown on the Pittsburgh Steelers, but you also witnessed a rare occurrence of a sports stadium losing electricity when the power went completely out. Twice! Candlestick Park was definitely showing its age, and I can't imagine what it must have been like for the fans in attendance. Can you imagine the pandemonium and terror that would have ensued if the Niners had been playing the Oakland Raiders?
I don't bring this subject up to rub salt in the wounds of the grieving group of Steeler fanatics that make up the RX staff in our West Virginia headquarters (okay, maybe I am a little), but because it reminded me of a certain supercross race that took place in Las Vegas in 1995. A transformer blew, and all the lights in Sam Boyd Stadium went out. After some deliberation, race officials decided to set up temporary work lights and proceed with the night's racing. An almost-fiasco ensued; fights broke out in the stands, and several riders, including Jeremy McGrath, refused to race in the less-than-perfect conditions. If you collect copies of Racer X, you can read about it in detail in a feature written by Davey Coombs, "The Night the Lights Went Out in Vegas" in the September 2007 issue. Or, you can check out that night's TV feed right here: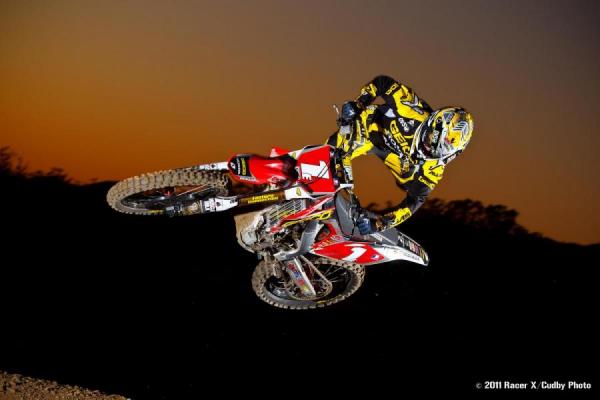 Will Barcia be able to defend his Lites East title?
Photo: Simon Cudby
Current SX promoter Feld Motor Sports is definitely on top of things when it comes to production and safety, and the likelihood of this situation repeating itself is miniscule. Still, I couldn't help but wonder what would happen today if the lights went out during a supercross race. What if the championship came down to the wire and the lights actually went out in Vegas again, in the final laps of the final race of the year during a heated battle between title contenders? What would happen? How would they call it? Can you imagine the controversy?
But for now, let's talk about something that is actually happening. Several days ago I spoke with Chad Lanza, the owner of the Valli in Star/Valli Motorsports, and he told me that with the help of Rockstar and Yamaha, they will be supporting a two-man team to contest the WORCS series, the National Hare Scramble Series, and a few independent races like the Virginia City Grand Prix and the Adelanto Grand Prix. The riders on the team will be Colorado's Kyle Summers, who has been a part of Valli's past WORCS efforts, and Northern California native Ross Neely, who has won the grueling Virginia City Grand Prix three times. Going to the races isn't cheap, and it's encouraging to see a team expanding their efforts in this economy. Hats off to everyone involved in this endeavor.
Merry Christmas, everyone, and remember to keep it safe over the holidays!
Finally, a few miscellaneous notes:
Good news: The Racer X 2012 calendar went to the printer yesterday! We always wait until the last minute to make sure we have the most up-to-date race schedule, and we like to double- and triple-check it to make sure we don't miss any holidays, so this one takes some time to put together. (Some of your moms may remember the year we forgot to put Mother's Day on there!) If you have a 2011 Racer X calendar, you're in luck, because January 2012 is in there—otherwise, just a few more weeks. We promise it will be well worth the wait. And if you haven't subscribed or renewed yet, there's still time!

Here's a Ponca City PR we received this week:
"The Ponca City Grand National Championship Motocross is moving to a bigger, better and a more convenient location" announced Ron Henricksen, President of the NMA. The OKLAHOMA MOTORSPORTS COMPLEX, located in Norman Oklahoma, has been designated as the new home of the Grand Nationals. Next year's event will be held July 22 - 28, 2012 at this new location."
From The Santa Barbara Independent:
The two Santa Barbara men who went missing last Sunday morning in the desert area near the border of San Bernardino and Kern counties have been found dead, according to sources close to the victims' families.
Search and rescue teams today discovered the bodies of Chris Rice, 29, and Dan Carbonaro, 27, a mile-and-a-half southwest from Randsburg in the area of Government Peak. They had set out from the small town at around 2:30 a.m. Sunday morning on a two-seater all-terrain vehicle and were reportedly headed southeast for Cuddeback Dry Lake in San Bernardino County, although their wreckage was located on the other side of town.
Their bodies were found 400 feet below the cliff that they apparently drove off; their ATV was found another 100 feet down.
Click through for the rest of the story. Just awful news.
Pole Position Raceway is now open in Frisco, Texas, just outside of Dallas. The high-performance indoor kart track is located at 10550 John W. Elliot, Suite 100, Frisco, TX 75033.This is the seventh indoor speedway Pole Position Raceway has opened since 2005. The all-new race track is a 50,000-square-foot, climate-controlled entertainment experience filled with exclusive racing memorabilia, state-of-the-art video games, and HD televisions scattered throughout for continuous sports viewing. Most importantly, the facility will also use the company's state-of-the-art Italian-made, ECO-friendly electric karts. NASCAR Champion Kurt Busch, Supercross Champions Jeremy McGrath and Chad Reed along with ESPN/ABC personality Jamie Little, and X-Games FMX star Mike Metzger are among the celebrities involved with the Pole Position Raceway brand. For more information check out www.PolePositionRaceway.com.
And finally this week (and this year!), some good news from Matt Walker:
"It's been a crazy past few months leading up to the commissioners vote on my new training facility . After my loss in October at the advisory board meeting I decided to do my due diligence with neighbors and the community to help them understand what is we do.
After a packed house of oppositions at my advisory meeting, the commissioners meeting was packed full of supporters and no oppositions.
I was pleased that the commissioners voted Yes to zone my land Commercial Use. The chamber of commerce wants to use my Track as a part of the tourism and advertise it on billboards along I-75.
Five years ago when I choose to retire from racing and teach riders , I gave myself 5 years to get my training established enough to open the biggest and best facility out there. Over 100 amateur titles and a National Enduro title later, I have found the best dirt and best location on 155 acres 1 hour south of Atlanta in Culloden Ga. Just minutes from restraunts, shopping and more . My new training compound will open Febuary 2012. For future info go to SchoolOfMotoX.com."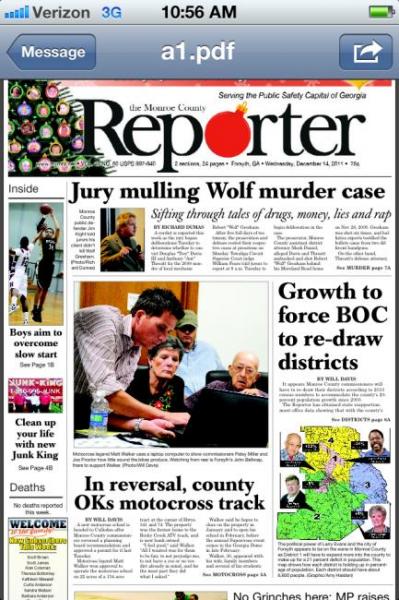 That's it. Thanks for reading Racerhead, and enjoy your holidays, everyone. Merry Christmas and see you at the races!