Chris Blose had a year most racers only dream of. The Phoenix native qualified for every single supercross main and ended the season on a high note by taking fourth place at the finale in Las Vegas, finishing thirteenth overall in the points. Unfortunately, it wasn't enough for him to keep his ride with the Dodge Motorsports Hart and Huntington team, and at the conclusion of the season, Blose found himself in the unenviable position of hunting for a ride. But Blose recently picked up a ride, teaming with Nick Wey on the Motosport.com/TiLube/Foremost Insurance team, racing Kawasakis. We talked to Wey on Monday, and last night we gave Blose a ring, as well.
Racer X: What have you been up to for the last couple of months Chris?
Chris Blose
: I raced the Monster Energy Cup, and right after that I went to Australia and raced in that series over there. I came back November 21 and have just been training. I haven't been riding until the past couple of days. I didn't have any bikes or team or anything, so I've just been training my butt off.
How did the Australasian Supercross Series go?
We started out I think with three mud races, it was only a five-race series, and the first three races didn't go that well for me. In the last two races I got on the podium with two thirds, so I ended it pretty good. It's just a different racing format, and the tracks are so short that if you don't get the start, you're trying to come from behind. In the mains I had to work my way up.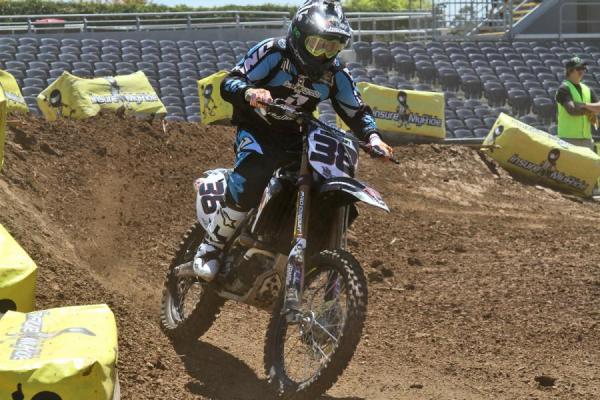 During the off-season, Blose traveled to Australia to compete in the Super X Series.Photo: Alex Gobert // MotoOnline.com.au
After racing in that series, do you think it's something that will continue to grow, or has it reached its limits in its current format?
That's a good question. I think when Chad Reed and those guys were racing it, it was a lot bigger. Now they've kind of downscaled. I don't know what their future holds, but I know they've downsized the tracks and their venues, so I don't think it's looking to good for them

Was racing the series something you wanted to do, or was it an attempt to secure a ride for 2012?
Both. I wanted to go there and go racing, because I didn't do the outdoors at all, so it was a good thing for me to stay on the bike and stay racing, and I was hoping it would turn into someone picking me up for the 2012 season.

What do you have lined up for 2012?
I've been talking to Allan Brown at the Motosport.com/Foremost Insurance/TiLube team, and we've got everything settled and I'm riding for him this season.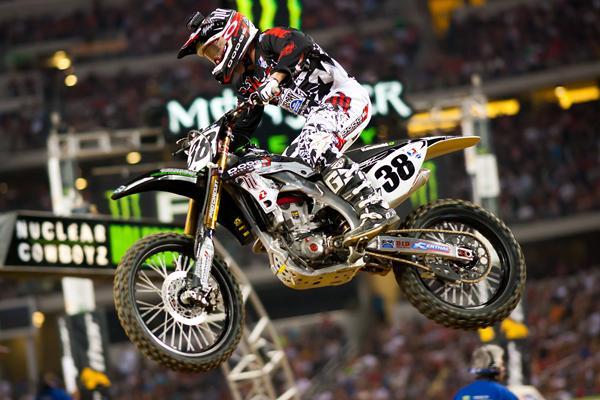 Blose made every SX main event in 2011, will that trend continue in 2012?
Photo: Andrew Fredrickson
You qualified for every main last year and took fourth in Vegas, but this year the talent is even deeper than it was last year. What kind of results would make you happy in 2012?
Like you said, the talent this year is even deeper than it was last year, and last year there was more talent than there's ever been in the 450 class. I got a late start on riding, I just started riding again on Monday, so I would just like to make the mains and go from there. First get into the show, then go do what I can and progress each week. I'm getting a late start, so all I can do is move forward from here.
Who's helping you out?
I'd like to thank TiLube, Brown Motorsports, Motosport.com, Foremost Insurance, Fox, 100% Goggles and Hart and Huntington.