Let's set the scene: a phone call to Nick Wey and a Sony digital recorder with the record button pushed down. Let the magic happen…
Racer X: Hey guy, what's up with you?
Nick Wey: Everything's cool.
Ok, all right. When are we going to see a PR on your new team?
I don't know, it's cool.
Well you're riding for the Ti-Lube Kawasaki team with Chris Blose as your teammate, it should be great. How's the prep for A1 coming along?
It's good. It's unreal actually.
How do you feel at the Kawasaki track?
Awesome. Unreal.
You're back on the Ti-Lube team and back on Kawasakis. It seemed like you were going to ride Kawis no matter what as you went out and bought one early on. What was it about getting back on green for you?
Yeah, I've got a good relationship with the Kawasaki guys from the past. I rode the new 2012 bike and they've made some huge improvements on it over the 2011 bike. I thought the '11 was good so this should be better. I'm getting a lot of help from some good guys, Pro Circuit is getting me some pipes and suspension. Teaming up with Ti-Lube is going to be great, Motosport.com and Foremost Insurance coming onboard is going to add to our program, no doubt about it. With Alan Brown putting everything together, it should be sweet. I'm surrounded by guys I trust in regards to my bike and I'm not pumped to just be there, I want to be there and be in the race. I feel like this opportunity gave me the best shot at doing just that.
What are you feelings on the Yamaha that you rode last year, some guys love it, some guys not so much. What do you think?
It's different for sure, the Valli team I rode for last year--I can't say anything bad about those guys. Todd Brown over there, I've known him for a long time and I know he's a great guy and he worked with me closely to try and get the bike going. I just never felt comfortable with the chassis of the bike. It seemed like the harder I tried, the more big crashes I had. The engine is super strong and you can make the bike work, no doubt about it.
I appreciate all those guys at Yamaha like Bob Oliver, Dyno Dan, Jimmy Perry and even Keith McCarty, they were helpful and super encouraging to me all year long. I wish I could have done better for them and I don't know what else I could have done. I feel like switching to Kawasaki would be better for me. Not because the Yamaha is bad but because I'll have some more direct support from some key guys I have relationships with over there.
I just felt with the Kawasaki, it was a big more of a turnkey operation for me to get the bike to where I like it. With me riding for them before, I knew what it could do for me. It's just me personally and I have a lot of things to make the bike it needs to be just sitting in my garage. I love the guys at Kawasaki and if I can just merge all of their help with the guys that I have it will work out great. Motosport is stepping up huge this year with a title sponsorship and that will be good for everyone.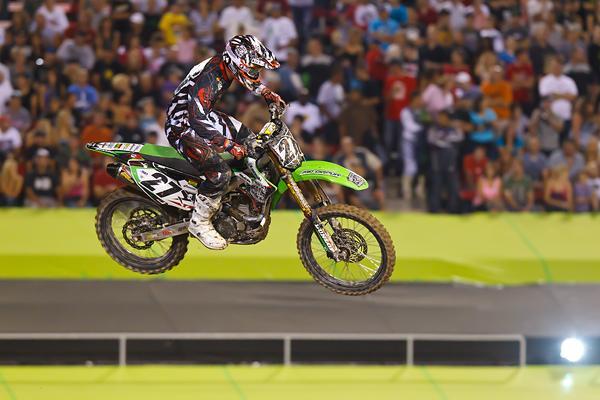 Wey was back on a Kawasaki for the Monster Energy Cup.
Photo: Simon Cudby
What's the goal for this year?
Well last year wasn't terrible. I was in the top ten in the most competitive field ever. Sixth was my best race and with everyone that was there, I felt like I rode pretty well. I feel like I can be better than that, I want to get some good starts and get up there. Once I'm there, I can learn some things from the top five guys and that's my goal. To get better, get some top fives and close the gap on the front guys. That's basically it.
Last time you rode for Ti-Lube, you got picked up by the Factory team after Ryan (Villopoto) got hurt, is that a possibility for you again if injuries strike the top team?
Well, first I filled in for Chad Reed, then I filled in for Ryan and then again, I filled in for RV. And no, I don't think so. The first time I rode for Ti-Lube, they were gracious to step up and let me go over there. Now this year with Foremost and Motosport stepping up their levels as well as Ti-Lube, who were really nice to let me go over there the first time, I'll be staying all year with this team. Everyone has stepped up and I have obligations to all of them.
Weege and I are wondering why you always do so much stuff with Transworld Motocross? Do you not like us?
Are you serious?
Yeah.
Well maybe you guys should call more. Clearly Donn Maeda appears to be down with team two-seven more than you guys. I mean, I like everyone and have a good relationship with everyone. But if it's true that I do more with Transworld than other folks, then I guess I do. I like Donn and he does a great job. But I have a good relationship with Simon Cudby, Jon Basher and other folks. I'm always available and don't hate me for that. Just get in line with me and you'll get some more views on your website! (Laughs)
You turned pro in '98 and you're 14 years into your pro career. How's it been for you? You ever take time to look back and all the things that you've done?
I appreciate everything I've been able to do for sure. I'm just being me and being the best that I can. I was on a steady incline in my career and it was a bit of a setback when I pointed out of the 125 class. You and I worked together when I started my big bike career and it seems that up until 2007, I was on an uphill climb with that part of my career also. I was able to get podiums in '06 and '07 and then when the economy started going down a bit and then I maybe didn't have the most competitive bike out there, although I do appreciate all the help I got from all those people in those years. I'm just thankful that in 2012, before it's too late, I'm going to have an opportunity to ride a bike that I'm excited about.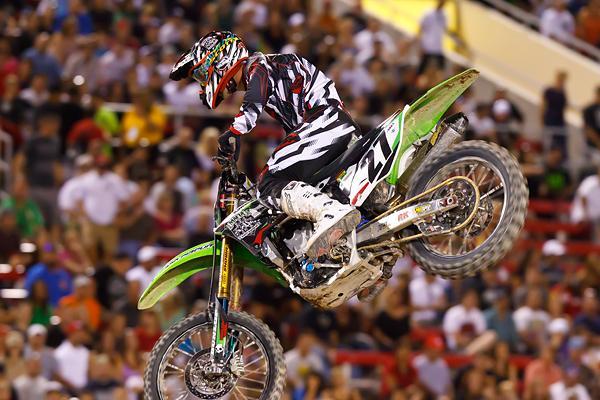 One of the most well-liked riders in the pits, Wey can always count on his friends getting his back.
Photo: Simon Cudby
What advice would you give some up and coming rider in regards to having a long career like yours?
I think I get a lot of respect with the industry because I keep my nose clean, work hard and don't talk anything bad about any of the situations I've been in. A lot of times, you don't need to talk about how you're not on the most competitive equipment and I think you get a lot of respect by grinding it out and making it the best that you can. Basically someone in Japan or Austria is making the bike the best that they can you know?
I basically treat everyone the way that I want to be treated and I think I've been good to the media also. I've tried from a very early part of my career to not give out the stock answers to questions and let people see that I'm a real person. I think people appreciate that. With Chad Reed starting his own team, being so great on Twitter has helped the sport out a ton. I think we're going to see a spike in popularity with our sport here in the next couple of years. I hope I'm still around for that long!
What's the biggest regret you have after all these years? Maybe pulled a "Pingree" and not pointed out of the 125 class?
You look back and I'm sure there are ten different things I would change. Especially when it comes to training, I think at times I may have done too much or too little. I think I'm the type of guy that maybe thinks about his preparation of my bike and body a little too much. Looking back, I wouldn't change anything--even in 2002 when you and I worked together. We didn't have the best resources but yet we had a good time.
Yeah we did.
And with all these life experiences that I've had with these teams that had shortcomings that I had to try and work with, I wouldn't be where I am today and wouldn't have this great family and all that. So yeah Matthes, I'm appreciative of all the ups and downs. Of course I would have loved to have won a Lites championship and all that but I'm excited to race this year with the best riders in the world and try to get in there.
Who's going to retire first, you or Jason Thomas?
I don't know. JT is awesome.
Yeah he is. He raced in Estonia last weekend!
(Laughs) Yeah exactly. How great is that?