"I know everyone is talking about a big four," said
Kevin Windham
last year during the Monster Energy Supercross pre season press conference. "Hopefully I can make it a big five."
The big four is Ryan Villopoto, Ryan Dungey, Chad Reed and James Stewart—the four riders in the field that already have AMA Supercross Championships on their mantle. But last year they were not untouchable. Windham challenged them at times, and Trey Canard's three wins eventually led to "Big Five" as the new operative term.
Canard is out at the moment with a broken collarbone. Windham will be back to challenge the leaders again. But who else in the field can grab a win? Last week, we asked you through our online poll. Armed with that data, let's run through the contenders:
Justin Brayton: It's odd that when Brayton moved from JGR to Honda, the general consencus was that he was "stepping up." But when James Stewart signed with JGR, that was also considered an upgrade. But we're getting off topic here….
When the Racer X poll asked which dark horse was the best pick to break through and win a race this year, Brayton got the largest share of votes at 20.3 percent. For sure, Brayton is a good pick for a breakthrough, but not just because of his new team. Brayton leaves no stone unturned and no question unasked in the quest to get better. Trace his career path from Arenacross to today and you'll see massive improvements, so it would not be a big surprise to see Brayton get to another level, again, in 2012.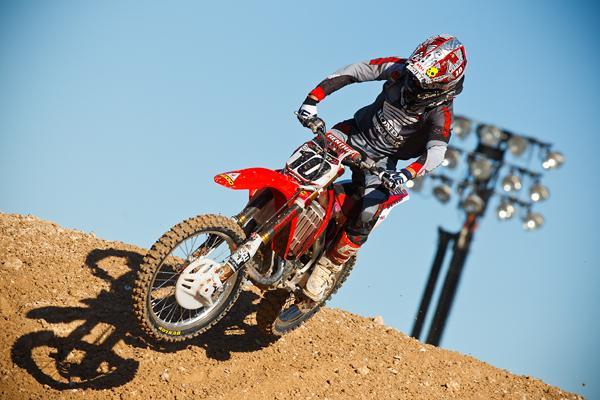 Will 2012 be the year for Brayton?
Photo: Simon Cudby
(Note: But those lead four riders are really, really fast).
Davi Millsaps: Millsaps has won races at this level before—as recently as 2010 in San Diego. He struggled mightily through supercross in 2011, though, with kidney troubles traced back to a June, 2010 crash at Budds Creek. We finally caught glimpses of the real Millsaps through the early outdoor rounds.
Millsaps is back for his second year with JGR. With James Stewart coming on board, the team has been working crazy hard and making great strides in their equipment. Millsaps says the lessons they learned outdoors makes their bike much better inside, too. He's also much fitter than he was during his struggles early last season. And he's won before. So what's not to love? Except…
(Note: But those lead four riders are really, really fast).
Millsaps garnered 17.4 percent of last weeks' vote.
Andrew Short: You know who isn't very smart? Us. The Racer X Online crew. We left Shorty off of last weeks' poll for no other reason than our own oversight (or lack therof). But we know the deal with Shorty—he's back on a factory Honda (on a team managed by Larry Brooks and Jeremy McGrath) and last time he rode one of those, he was always in the top five and a threat to podium. Like Brayton, Shorty doesn't leave anything on the table. He'll try really hard and could end up with a win in a wild race. But the trouble is, even in a wild one, there isn't much room. For example, when Reed and Stewart went down in Atlanta, Villopoto was right there to pick up the slack.
Brett Metcalfe: We joke about Metty often being a forgotten man, but at least we did not leave him off of last weeks' poll. He clocked in third with 16.7 percent of your votes. Let's just remove Metty's 2011 SX tour from the evidence file. He struggled a bit racing a 450 indoors for the first time, and once he finally got comfortable with his setup, he got hurt and missed the rest of the season.
The Metty we saw in the second half of the Lucas Oil AMA Pro Motocross Championship—the Metty who won Southwick—should be the Metty we see at Anaheim. Brett has always seemed a little stronger outdoors than indoors though. He's also running solo on Yoshimura Suzuki now that Dungey is gone. That's either more attention, more pressure, or both.
Josh Grant: Like Millsaps, JG is a former race winner at this level, with his big 2009 Anaheim 1 triumph. He's been through racing hell since then, with torn ACLs in both knees last year ruining his season.
When we talked to Grant recently, he admitted even racing Anaheim 1 is rushing his second ACL surgery, so he doesn't expect to set the world on fire early. And his Jeff Ward/Mike Kranyak racing team is a reorganized effort, so if Josh were to win A1 this time, it would somehow be an even bigger shock than his 2009 triumph. He garnered 14.2 percent of your votes.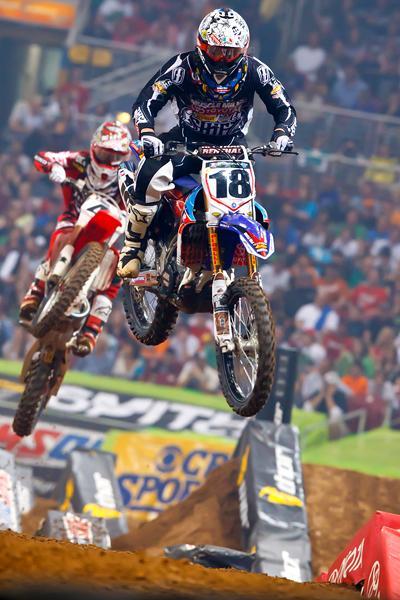 Can Millsaps get back to his winning ways in 2012?
Photo: Simon Cudby
Josh Hansen: The book on Hanny always reads, "He has the talent to run with anyone." Well, he's back in the 450 class so now he will indeed have to race anyone—this isn't regional Lites action anymore. Despite his speed and talent, Hanny grabbed just 8.2 percent of last week's vote. The 450 class is a grind, and it will take monumental work for even some of Hansen's talent to win. Under the Mitch Payton regime, Hanny tried pretty hard. Will he still have that in him?
Jake Weimer: Even with the 2010 Lites West Championship, Weimer became a forgotten man last year because he missed nearly the full supercross season with an injury. He's yet to show the stuff to mix it up with the super fast guys up front on 450s, but Weimer's success in the Lites division came from steady improvement, not overnight greatness. He also seemed more competitive once he got on the 2012 Monster Energy Kawasaki KX450F outdoors. He grabbed 7.6 percent of your votes.
Josh Hill: The Dodge Motorsports Hart & Huntington team is based in Vegas, and they're gambling big time with both Hanny and Hill. We know what these dudes can do when all is well. But Hill is trying to dig back out from a major foot/leg/ankle injury. Seriously, X Games Speed and Style has had a bigger impact on Hill's career than it has for any of the riders who have actually won gold at the event.
Hill has talent and the year off has made him very hungry. Like Josh Grant, he has one career SX Class win to his credit. He'll give it his all to get back to the top, but it's a really steep climb. He grabbed 4.5 percent of your votes.
Broc Tickle: We covered Tickle's story in the last two weeks of Bench Racing Ammo: He pointed out and now he's a 450 rookie. Although he did win last year's West Region Lites title, he only won one race, and he probably could have used one more year of seasoning before moving up. But he won't get it.
Ivan Tedesco: IT is usually under the radar when the season begins, but he could re open some eyes soon. Dude tried hard last year before knee injuries ended his run early. We don't know if he'll win, but his solid, hard working style pairs up nicely with Hill and Hanny under the H&H tent. He took 2.9 percent of your votes.
Austin Stroupe: Stroupy has the talent. He rode just a few 450 SX races over the past two years, but he has a penchant for grabbing the occasional holeshot and showing just how fast he can go. But he'll really have to get his game on track to log 20 consistent, solid laps.
Kyle Chisholm: The Chizz took 1.4 percent of your votes. He seems to up his game each year indoors, and he's got the latest King of Bercy crown to show for that. He works hard but his ceiling may not be as high as others on this list.