Welcome to Racerhead, coming at you from … all over the place, actually. I was in California for about twenty-four hours, flying back on the redeye last night. Why such a short trip? Two words: Vance and Sloane. 'Tis the season, and I don't want to miss any of it right now. But I did get to do one thing I have managed not to do in all of the years I've been going back and forth to LAX, and that is eat at that funky restaurant called Encounters that is smack-dab in the middle of the airport. It was every bit as funky as it looks—as if it were a sixties guess of what the future would look like!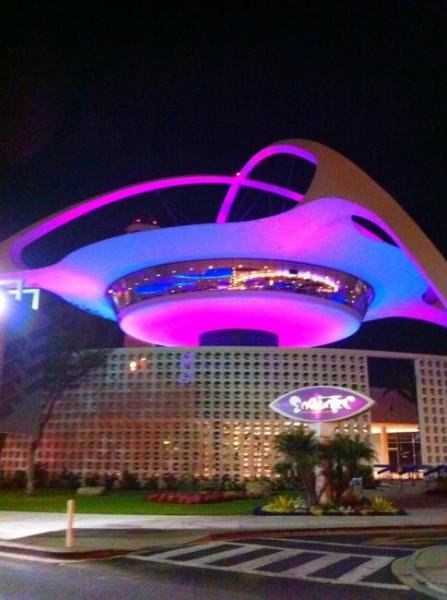 If you ever get stuck at LAX, go to Encounters and enjoy a night of dining in the future!
But I was out there on motocross business and there are some cool announcements coming up that I think every motocross fan in America will be pumped about. More on that soon.
Ryan Villopoto took an unexpected loss this weekend. No, not at any races, but rather in the running for the 2011 Cycle News Rider of the Year. The Monster Energy Kawasaki rider—who won the 2011 AMA Supercross, AMA Motocross, Motocross of Nations and $1 million Monster Energy Cup—was not named Rider of the Year. Instead, it went to Greg Hancock, the truly inspiring 41-year-old Speedway racer who won the FIM World Speedway Championship in Europe. Speedway is not very big here in the U.S., but it is in parts of Europe, and Hancock beat a bunch of people much younger than him to take the title. No real argument there, though RV's year was much better than the time he won as a 250-class rider.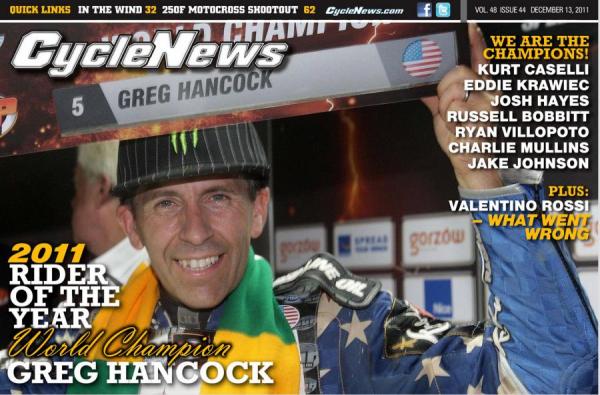 There's also some good Lucas Oil AMA Pro Motocross coverage in this week's issue, as well as some GNCC stuff, so make sure you check it out.
Congratulations to Kevin Kelly, David Izer, and the entire crew of DMXS Radio on reaching a milestone moment with their 500th show this past Wednesday night. These cats have been spreading the word about motocross in a very fun and informative way, bringing rise to lots of flattering imitators (and some downright strange ones). I was lucky enough to be on the 500th show, the set-up man for the real stars: Ricky Carmichael and David Bailey. Well done, DMXS, and good luck on the next 500.
There's been a big breakup in the amateur world. After thirty-three years together, it sounds like Ron Henricksen and the NMA were effectively dropped as the promoters for the Grand Nationals at Ponca City, Oklahoma. We had been hearing about the potential break-up and the fact that the sharks (other promoters) were swimming around waiting to seize the chance to take over the race that Ron himself founded back in 1978. Now, with dueling press releases coming out earlier in the week, it's a done deal: Henricksen is moving the NMA Grand Nationals to nearby Norman, Oklahoma, and the local community leaders are interviewing new promoters to come in and take over what Ron started one-third of a century ago. The showdown is imminent, as both events appear to be scheduled for July 22-28 next summer.
I have mentioned this before: I have not been back to Ponca City since 1982, the week before my dad and Paul Schlegel started the AMA Amateur National Motocross Championships at Loretta Lynn's, so I have no idea on the state of the event or the racing in recent years. But as the saying goes, "All things end badly—that's why they end," and I had heard often that the race was a shadow of its former self. Who's to blame, the promoter or the landlord? No idea. Guess we will see next summer when the riders and their families register their votes by picking one Oklahoma race over the other.
Here's a very cool little clip we saw of James Stewart doing something remarkable. We've added it to the growing catalog we have of James Stewart doing something remarkable!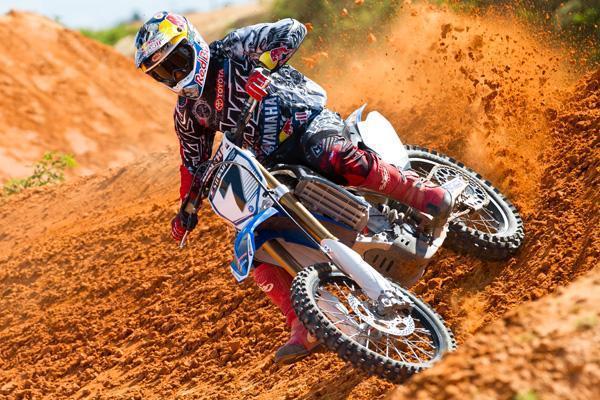 James Stewart is looking like he's going fast and having fun on the JGR Yamaha.... What a difference a change of scenery can make!
Photo: Garth Milan
The annual list from Australia that tells us
how much money the nation's top athletes make
is out, and
Chad Reed
, the world's fastest privateer, is listed at fourth with an eye-popping $8.5 million in Australian dollars. He's not far behind MotoGP star Casey Stone and Formula 1 driver Mark Webber, and he's actually above Cadel Evans, who won the Tour de France.
But to me, those numbers seem just a little high. After all, Reed paid the way for his team in 2011, and though he won several races in both SX and MX here, he did not take any titles. But nevertheless, it's good to see motocross so high up on the list. Just hope the tax man doesn't see it!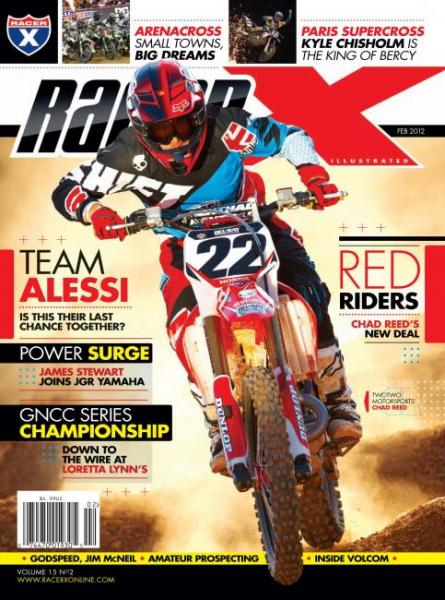 Chad Reed is the fourth-best earning sportsman in Australia for 2011, as well as the new Racer X cover subject.
Photo: Simon Cudby
Trey Canard's injury made a resounding shock throughout the industry, and even made its way into national news on Huffington Post.
The piece was written by my friend Bayo Olukotun, the former Transworld MX editor. He will be blogging for the Huffington Post next season, so look for some more of his work as well as his take on all things SX and MX on the Huffington Post.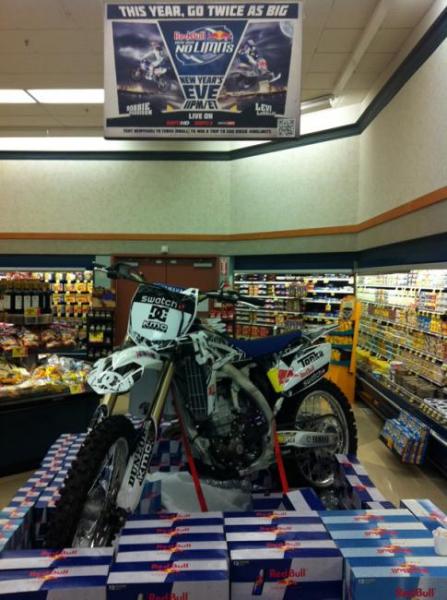 Ludo Boinnard spotted this in-store display by Red Bull for the upcoming New Year's Eve event in San Diego.
There was a big MotoConcepts team intro earlier this week that Nick McCabe went to check out, and that gave him a chance to not only visit with Mike and
Jeff Alessi
and their teammates, but also JT Racing's Danny LaPorte, Chuck Sun, Sebastien Tortelli, and more. Check out Nick's report
right here
.
If I'm not mistaken, I think this is the first time since 2004, when he first turned pro, that Mike Alessi has worn something other than Alpinestars gear. And I think he wore O'Neal just briefly at that point, after leaving Alloy MX. Anyone remember exactly? But I do like the look of the new JT Racing gear, and the look on Mike's face is all business.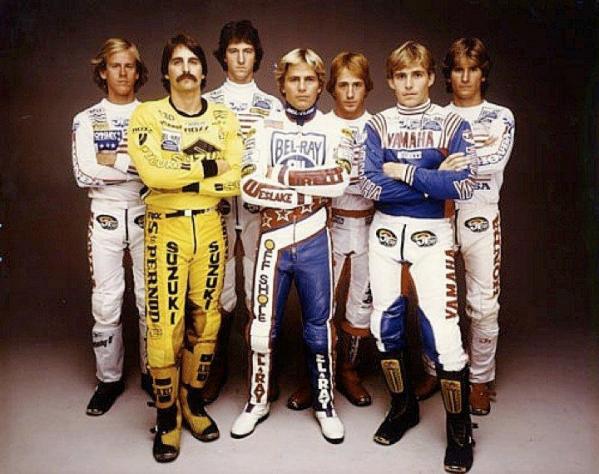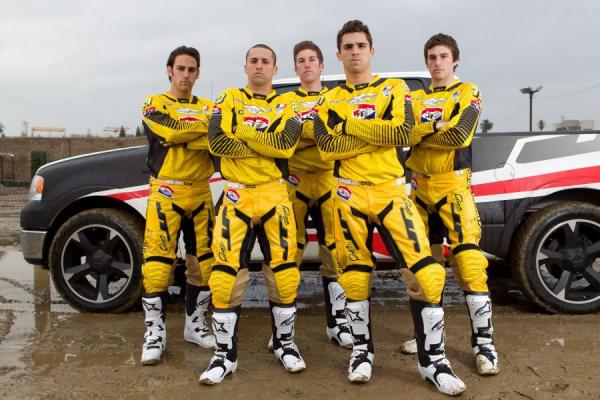 Photo: Carlos Aguirre
Okay, let's throw this to Weege first:
Did you catch the now retro-cool Gary Bailey video posted by our Racer X Virtual Trainer earlier today?
It's very rare footage of
Travis Pastrana
and
Ricky Carmichael
riding on the Suzuki SX test track circa 2004, when RC was first moving onto the team. Carmichael and Pastrana were not on that track together much (certainly not as often as Suzuki had hoped) so this one is worth watching—and the fact that they're on two-strokes is a bonus. You can really tell when Carmichael is riding just by the sound of it, as no one held it on longer than he did. I remember the race at
Unadilla
from back in 2003, when
Kevin Windham
and a CRF450R finally ended a year-and-a-half-long outdoor win streak for Carmichael and the CR250. RC's old wrench Mike Gosselaar told me he was afraid RC was going to break the throttle on the bike from twisting it so hard. He was not kidding!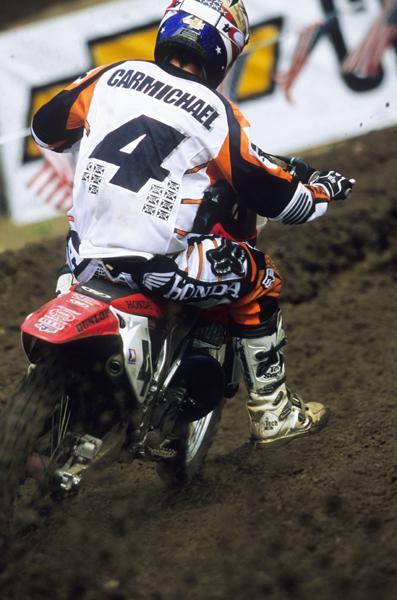 Remember what this Honda sounded like when RC was revving the piss out of it while battling with K-Dub's four-stroke 450?
Photo: Tony Scavo
Out in California the test tracks are still getting worked right now. It's getting late for testing, because a lot of the really good parts have to be ordered in advance, so most teams would rather have this stuff wrapped before December rolls along. We're seeing deals come together later and later each year, and late testing is a side effect. Will it eventually impact teams on the track? I'm not so sure, as we know riders who are riding for teams that still have things to sort out—like Andrew Short on the Brooks/McGrath team, or anyone on the Valli/Star Yamaha squad—have been moto-ing down for quite a while with what they have.
The AMA Arenacross Series jumped back into action last weekend in Wilkes-Barre (say it "Wilks Berry") Pennsylvania over the weekend. The tour had a few weekends off, so riders who were behind on testing and training had a chance to catch their breath. Monster Energy Amsoil Maxxis Babbitt's Kawasaki riders Chad Johnson and Tyler Bowers took the wins there, but TUF Racing/FMF Power Beverage Honda's Jeff Gibson maintains the points lead. Bowers lost a few points a few weeks back when he was penalized for a hard pass on Nathan Skaggs, but since then Bowers has ridden smart and clean and is closing back up on Gibson in points. Should be a great battle between those two, as the series now takes another break before resuming in January.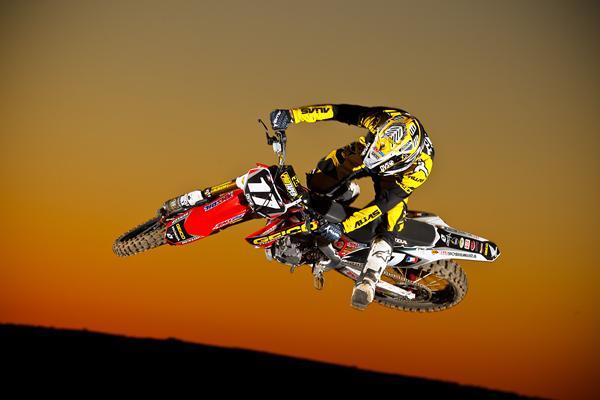 Eli Tomac throwing it sideways during the GEICO Honda photo shoot.
Photo: Simon Cudby
Unfortunately, one of the legends in the tour will not continue. This week, Josh Demuth announced he was stepping away from the Babbitt's team, saying he has been struggling to overcome some of the injuries he dealt with last year and years prior. The strange thing is that Demuth was actually riding well this year and was right with Bowers in the points, but the veteran obviously knows his body better than anyone. Well, maybe anyone besides his tattoo artist. I'm hearing Josh is getting a real job working on an oil pipeline in Texas. Hopefully, he still visits at a few races, because he's one of the all-time nice guys and great riders of the Arenacross family.
Okay, here's Steve Matthes with more on what's going on out at the test tracks:
Can you believe Anaheim 1 is just a little over three weeks away? Where did the off-season go? The test tracks are slammed with guys getting in some final testing and working out the tweaks of their machines. I made a bunch of phone calls this week to different riders and team personnel, and I'm shocked to find out how many teams are so far behind having their programs set. No graphics done, no title sponsors, riders still in need of helmet and boot deals, no photo shoots planned for some big-name guys....
I spoke with both Larry Brooks and Jeremy McGrath this past week and it seems that they're close to dropping a press release on everyone, but then again, Larry had been telling me that for a couple of weeks. And speaking of PRs, where's the Jeff Ward Racing and Star Racing/Valli/Metal Mulisha ones as well? Like I said, it's very late for this stuff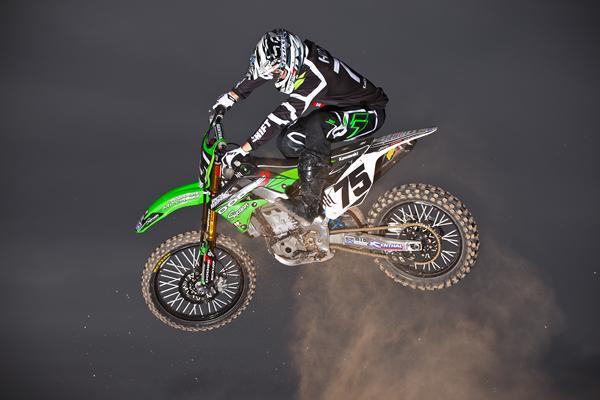 Josh Hill is back for 2012 after missing all of last season.
Photo: Simon Cudby
I know our own Simon Cudby has been very busy and probably has finger-pump from shooting all the teams and riders, and he's going to be even busier in the coming days and weeks. The Dodge/Sycuan Casino/Hart & Huntington guys are all done and had their poster shoots this week up here in Vegas. Is there any other team in the pits that have more question marks than this outfit? Can Ivan Tedesco stay healthy? Can Josh Hill come back all the way from a bad injury that cost him a year and a half? Will Josh Hansen stay focused and be able to compete in seventeen races as a top-ten guy? Will Kyle Partridge take that step up now that he has no worries about making a living racing dirt bikes?
The team could be totally awesome and surprise everyone and be a feel-good story of the year, or it could go really bad for the guys if some of the legitimate questions don't get answered properly. This is the stuff that makes our upcoming racing season exciting.
On the GEICO Honda front, it looks like it's going to be Eli Tomac and Wil Hahn in the West with Justin Bogle and #1 Justin Barcia in the East Region. The only thing in doubt is where Jimmy Decotis is going to ride. If I had to bet, I would think it would be West. Which will severely bum the Brotocross guy out, because I don't know much about him, but I do know he's based on the East Coast and he loves Jimmy Decotis.
As far as the Pro Circuit team is concerned, I would think Tyla Rattray will be West along with Blake Baggett. I think Dean Wilson and Darryn Durham will line up in the East. This is all just my theory I get from talking to different people and it could change at any time.
I spoke with Trey Canard this week and he's definitely a little bummed about being hurt, but it seems that he's more upset about the internet stuff that floats around there talking about what he was doing when he was hurt, what he can do to stop being hurt, and how people should think more before they hit that "submit" on that internet post. I then gave him the same advice I give to all the riders when it comes to the internet: Just stay off the message boards. As nice as it is to read great things about yourself, it's more crushing to hear "CRFANFORLIFE" talk about how you're a horrible person and should quit (or worse).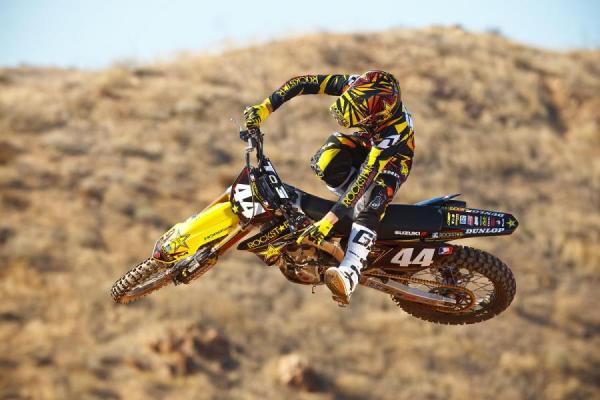 Can Jason Anderson bounce back in 2012 after a tough rookie season?
Photo: Simon Cudby
I also spoke with Tim Ferry this week. He's doing well, doing some riding, and although I wasn't there, I heard he was hauling ass.
When I saw the press release touting DMXS Radio's 500th show, I was definitely pretty surprised. That seemed like a lot, no doubt about it, plus the fact that hosts David Izer and Kevin Kelly don't have an every-week thing.
That's a ton of work put into a ton of hours of moto entertainment for all of the fans of motocross, and trust me when I say I know what they went through. I have my own internet radio show called the Pulpmx Show, which is every Monday after the races and produces about forty shows a year. It's a lot of work to line up the guests, figure out what you want to talk about, get the equipment ready to go, and produce enough content to keep someone entertained the entire three or four hours. When I started the Pulpmx Show, I wasn't quite sure what I wanted the show to be, but I knew what I didn't want it to be: I didn't want to try to copy the DMXS guys. They'd been at too long and doing it too well for me to imitate their format. And despite some people telling me I should, I definitely wasn't going to be on the same night!
That's why we take calls from fans on the Pulpmx Show, why we have segments, why we run commercials, and all that. I did not want to go down that route because, simply put, the DMXS guys have been there and done that—they are the leaders. As a matter of fact, when I started the show, one of the first guys I called was David Izer to make sure he was cool with it, pick his brain for advice, and let them know that I was going a different route.

So congrats to the DMXS guys on 500 shows. We've been at it for two years and don't even have a hundred yet. It's amazing what those hillbillies from Georgia have managed to do!
Stay tuned to the Pulpmx Show this Monday when Racer X's own David Pingree will be in-studio to give us his thoughts on the upcoming supercross season and as well, probably get under co-host Kenny Watson's skin.
9 questions, 9 answers right here.
Congrats to "Top" Jimmy Albertson and Georgia Lindsey for pulling the trigger and getting married yesterday. I spoke to Georgia about this and they were planning on doing it earlier in the week but then Milestone MX was open and Jimmy wanted to go riding. Such a cute couple, and I wish them the best.
Here's Ping:
A couple of times each year I get to ride in the hills with some friends and really remind myself how fun it is to ride motorcycles. The rains in southern California have started to turn the hills green and the dirt to an amazing riding surface. I met up with Ronnie Renner, Mike Sleeter, Billy Laninovich, and a handful of guys for a day at Beaumont this week. Billy had been putting in some serious shovel time in a tucked-away cove, and when he showed us his work we all got a little nervous. Any time you're hitting a jump in fourth gear wide open on a 450, you better be on point!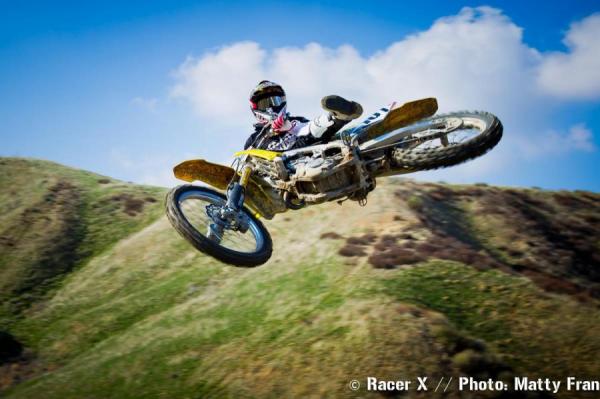 At the ripe age of 53, Ping still knows how to throw it sideways.
Photo: Matt Fran
It turned out to be a great day and a lot of fun. Matt Francis was there to capture the action and you can see a small gallery of photos here on the site. Look for a video soon, which will give you a better idea just how big the jumps were and just how talented Billy Laninovich is. Even Ronnie Renner, a master whipper, was blown away at Lano getting upside down on jumps that big and that fast. The photos don't do it justice!
The only casualty from the day was Dakota Tedder, who may have broken his wrist. He's been working hard and looking really good at the track so this is a bummer for those guys. Heal up quickly, Dakota.
The Canard clip mentioned above shows Trey casing a triple at the Milestone SX track. They had just watered and he got wheelspin off the face and came up way short. It was an ugly crash but this was NOT the crash that broke his collarbone. He walked away from that crash sore but uninjured. It was a crash at the Honda test track that left him with the fracture. He had been testing all day and was putting in a twenty-lap moto at the end of the day. Near the end of the moto he just got kicked funny and that was all she wrote.
I know we all like to offer our two cents on why he crashed and what he should be doing differently to stay healthy, but Trey didn't get to where he is by being an idiot. Do you really think you know more about how to be a successful racer than he does? Let's leave the problem solving to the professionals. To show that I'm on board with this idea, I would like to announce that I have officially stopped trying to perfect my thesis on string theory, though I thought I had some interesting points on quantum gravity and supersymmetry. Still, I'm going to leave that stuff to the pros.

Are you a 450-class privateer who is planning on racing Monster Energy Supercross this year? Do you have a goggle deal yet? If not, check out the PR from Dragon Optics. The folks at Dragon are offering $10,000 to any privateer who can land on the podium this season (Jake Marsack did it at Daytona) and $5,000 to any rider who makes it into the top ten! There is also money for the top five finishing privateers wearing Dragon, even if you don't make the main. That's good money for guys who need it. Check it out.
And finally, congratulations to Heather L. from Penrose, Utah. Heather is this week's winner in the Motocross 101 Christmas promotion and she will be getting a nice present from the folks at Troy Lee Designs. Heather is also eligible to win the TLD SE3 helmet, which will be drawn next week. You can still win that prize if you go to www.motocross101.com and pick up a copy of my DVD before Tuesday. Thank you to everyone who has visited the sight and good luck in next week's drawing.
And now here's Aaron Hansel:
Well, it's that time of year again, when a very special time full of good cheer is just around the corner. Soon we'll be spending time with people we haven't seen in while, festive decorations will be put up, there will be parties, and there will probably even be a few arguments. No, I'm not talking about Christmas. I am, of course, referring to the SX season opener in Anaheim on January 7. The extreme depth of the Supercross class has already been discussed at length, so I won't go into it here, but let's just say that A1 definitely feels like a belated Christmas present.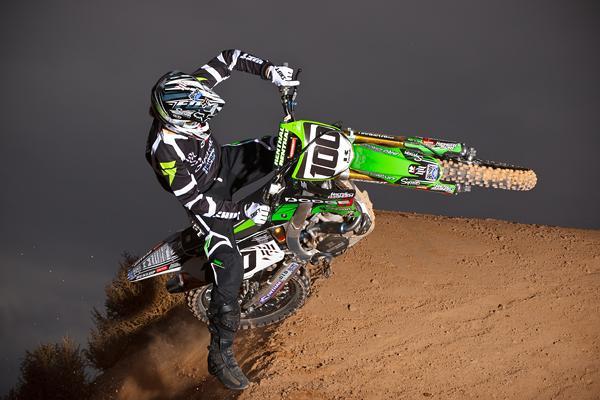 Will Josh Hansen be a contender in the Supercross Class this year?
Photo: Simon Cudby
There's a ton of question marks surrounding the supercross season, but the one thing that we do know is that the dudes who were at the front of the pack last year are going to be running up front again, and as awesome as those battles have been, and will be, to watch, I'm really looking forward to seeing where guys like Jimmy Albertson, Ivan Tedesco, Tommy Hahn, Andrew Short, Austin Stroupe, Jake Weimer, and Kyle Chisholm will end up. All of these riders battled with some sort of adversity in 2011, and their results certainly did not reflect their true talent and abilities. It's going to be great to see those guys racing healthy and reenergized, and I'm willing to bet that a few of them will steal a few podiums from the lead group at some point in 2012.
I'm also excited about the arrival of Ryan Morais, Josh Hansen, Nico Izzi, and Broc Tickle in the premier class. Hansen has raced a 450 before, but it didn't go so well. Hopefully, this time around we'll get to see what he's actually capable of. Broc Tickle should be fun to watch as well. Not just because of the fact that he brings new blood to the class, but also because a 450 effort from Pro Circuit is something a lot of fans, including myself, have been wanting to see for a long time. It's going to be fun to see how that ship sails on its maiden voyage.
Speaking of Christmas, make sure to purchase moto gifts for your motocross-loving friends and family this year. It's no secret that the economy has put a Chuck Norris-sized hurt on the industry, and as enthusiasts, we should be doing our best to be pumping money back into our sport every chance we get. I'm not saying we need to spend money we don't have, or spend money just for the sake of depleting our bank accounts, but if it's money you're going to spend anyway, why not put the money back into motocross? You'll be giving a great gift while helping out the industry. It's a win-win!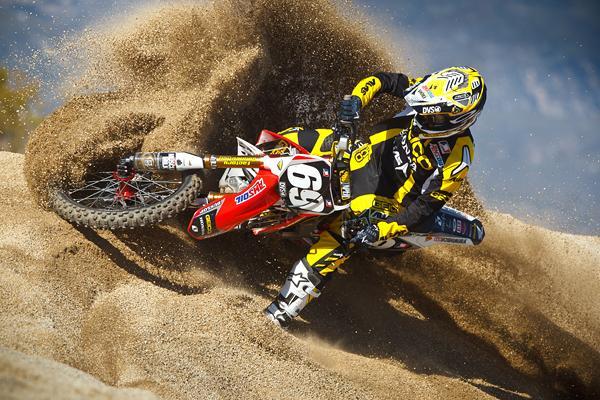 Jimmy D is back with the GEICO Honda team for 2012.
Photo: Simon Cudby
On a completely unrelated note, Racer X subscriptions and Racer X apparel make great gifts for the moto-head on your list. Just sayin'.
If you follow Jessica Patterson on Twitter (@JP_Money250), you know she's been pretty vocal about not having a ride lined up for 2012. Any time a six-time champ is out of work, it's a story, so I decided I'd make a few phone calls. Unfortunately, my calls to Patterson were routed straight to voicemail, and when I talked to Bobby Regan, one of the bosses at Patterson's old team (Star Valli Motorsports), he told me couldn't confirm or deny yet that Patterson would or wouldn't be with them next year. I'll be sure to stay up on this situation.
That being said, and even though Patterson's employment status is up in the air right now, I don't think her fans have any real reason to be worried. While she didn't win the title in 2011, she didn't exactly have a bad year either. She actually won more races than any of her competitors and has shown that she is the only WMX rider capable of beating Ashley Fiolek on a regular basis. Patterson is the logical choice and the hottest property right now for any team serious about going after a WMX championship. Whether it's on a Star/Valli bike or not, I'm confident she'll have something solid lined up when the gate drops next summer at Hangtown.
Okay, here are a few more closing notes...
Check out DeCal Works' new Facebook page
right here
.
Here's a note from the People's Champ, Jamey Grosser:
"Hope all is well! Just wanted to help spread the word, my whiskey company that I wanted you to come check out, we got our own TV show on discovery channel its called 'moonshiners' it features the guy taught me how make whiskey and my brand 'Popcorn Sutton' it started last week but is on wed nights check it out- they also are introducing me in episode 6 in a few weeks. Motocross to Moonshine- who would of thought?"
The British motocross community lost one its favorite sons this week when former CCM factory rider Norman Barrow died from a head injury, sustained while out mountain biking. Barrow was a stalwart of the British and World Championship scene for many years. Our condolences to the Barrow family and all of Norman's friends.
Also, check out the double-vision here, as the same photo of Red Bull KTM's
Ryan Dungey
made the cover of both Cross (Germany) and Dirt Cool (Japan)....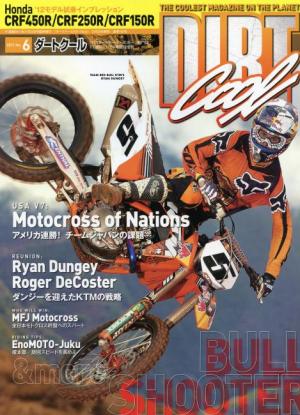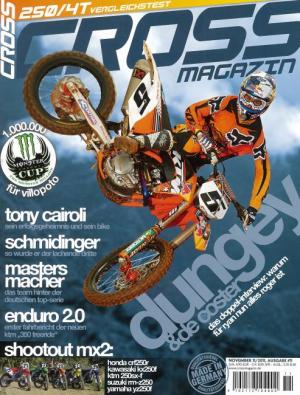 Finally, we should give a big thanks and a "Welcome home!" to all the men and women who have served in the Iraq War. And also, of course, our deepest appreciation goes to those who did not come home. Thank God this part of the war is finally over.
Thanks for reading Racerhead. See you at the races.