Former Hart & Huntington, BBMX and Ti-Lube rider Matt Boni hasn't been seen on any rosters for the upcoming season and there's a reason. Caught up in a bad crash at Dallas last year while riding for Team Ti-Lube, the former top privateer in supercross has been sitting on the sidelines just healing up.
We thought we'd catch up to the friendly Floridian to find out what he's been doing, what he's going to do, and what he thinks about the upcoming season.
Racer X: Matt, what is going on with Matt Boni?
Matt Boni: I'm not going to race supercross this year, I'm not riding right now. All my injuries from Texas back in April caught up to me and after all these months, my leg was still not healed. So I went back in for another surgery last month. The crash was bad, I compounded my tib, fib, tore my ACL, my triceps muscle and broke my humerus.
There's nothing funny about that, so what's still bothering you?
The tibia is the slowest healing big bone in your body and the trauma surgeon in Texas who fixed me up after the race didn't do it right. Me and my doctor here at home crossed our fingers and hoped that it would hold and we held out as long as we could but in the end, we had to fix it again.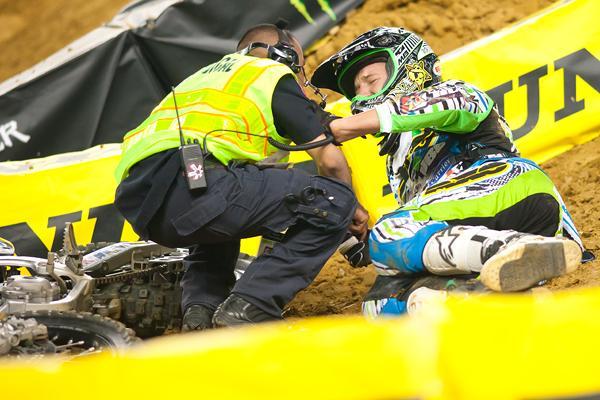 Boni is still recovering from a devastating crash in Dallas.
Photo: Andrew Fredrickson
So you were riding and trying to get ready, but it still bothered you?
Yeah, exactly. Since my last surgery I haven't ridden, but about five months after the injury I started riding. I was training, riding a bit and getting ready to go but my leg was just killing me. I just did the typical Boni-mentality thing and sucked it up and tried not to complain but after about three months, I went to the doctor and we had to get it fixed. It's just another problem with me.
So are you looking to come back or are you hanging it up?
I don't know what the future holds. I'm pretty good at riding a dirt bike but with the way everything happened this year, it's a bummer. I'm working as hard off the bike to stay in shape as I ever have, and I'll race some this summer here. I'll hit the races that I always wanted to do but I couldn't before. We'll see what happens from there.
Up until you got hurt, there was some good rides but I'm sure you weren't where you wanted to be.
No I wasn't. I felt strong and I felt like I was in the best shape I had ever been. The bike was great but mentally I wasn't there this past year. It was a last minute throw-together of the team and I went into Anaheim 1 real timid of the bike and my confidence was low. It felt like I was getting that ball rolling again when I crashed. The Ti-Lube guys were great, I can't say enough about those guys.
So you've got a real job now!
I do! I'm doing sales at American Air and Heat. Doing air conditioning and it's cool, it's nice to have a steady paycheck! I've only had a salary two out of five years I was a pro, so it's cool having money coming in. I enjoy it and it's a change of pace for me. I feel like I've always had a good head on my shoulders and this transition has been no problem for me.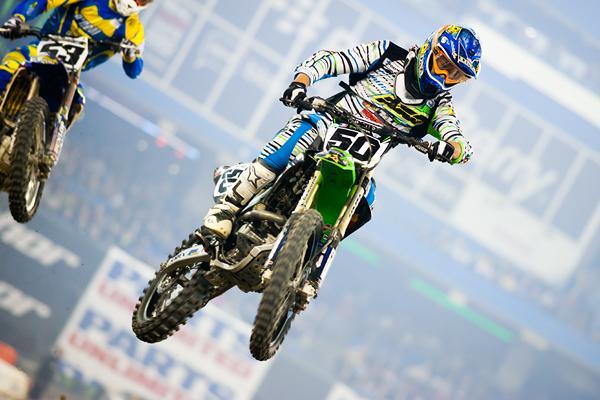 It seems likely that Boni will miss the entire 2012 season after undergoing another surgery on his leg.
Photo: Andrew Fredrickson
What do you have for a bike?
I have a stable full of thoroughbred steeds right now. I have a 2001 CR 125 that is awesome. I had to pull the rebel flags off of it when I bought it. I found my old Mini O's 250 two-strokes and I have a Ti-Lube Kawasaki bike that I bought last year.
Could you do outdoors this year if it worked out?
I don't know, I think I'd like to take a full year off. With how the whole sport has been the last couple of years, in my eyes, it's been going downhill as far as the money goes. I've made it a lot further in this sport than many thought I would and even my dad never thought I'd turn pro when I was seventeen. I'm happy with what I've done in this sport and everything that I've accomplished. If another opportunity for me comes up, I'd seriously consider it.
I'd like to thank Independent Suspension, DNA Energy Drink, Pit Posse, Maykers Clothing, AXO, Alpinestars, X Brand Goggles for all sticking behind me even while I've been injured.