The world of motocross has long been wallpapered with excellent advertisements that were sometimes better than the magazines they were in! The full-color spreads popped out like fireworks from the stapled, dog-eared black-and-white mags of yesteryear and just shouted, "Motocross is cool!" It's impossible to name a "10 best ever" because beauty is in the eye of the beholder.... So here's Volume 1 of The List of 10 Excellent Advertisements from yesteryear.
1.) YAMAHA: Of all the OEMs Yamaha might have the best catalog of advertisements over the years, and this one boasting the company's sweep of the 1978 AMA Supercross and Motocross titles betweem (from left to right) Rick Burgett, Bob Hannah and Broc Glover was loud in making a statement and brilliant in its simplicity.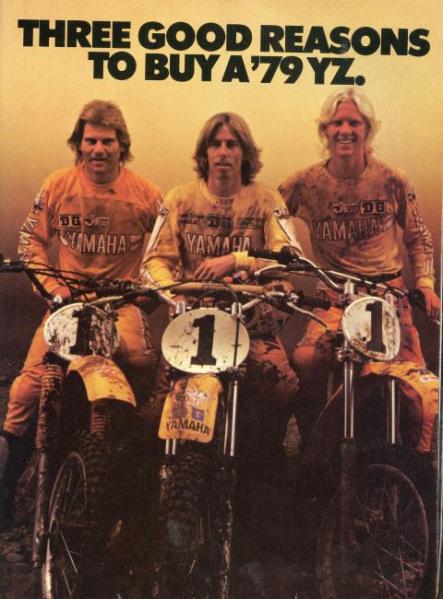 2.) OAKLEY: Everyone knows that Oakley is one of the biggest sports companies in the world, and motocrossers should always be proud that Jim Jannard got his start selling MX and BMX grips in Southern California in the seventies. But the brand really hit its stride with these "Factory Pilot" ads that featured the likes of Johnny O'Mara and Mark Barnett posed like, well, fighter pilots, getting ready to do battle.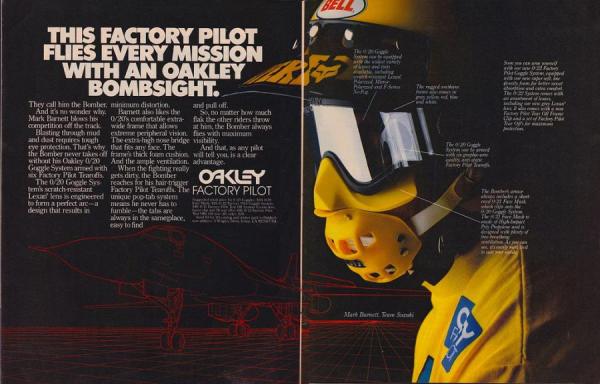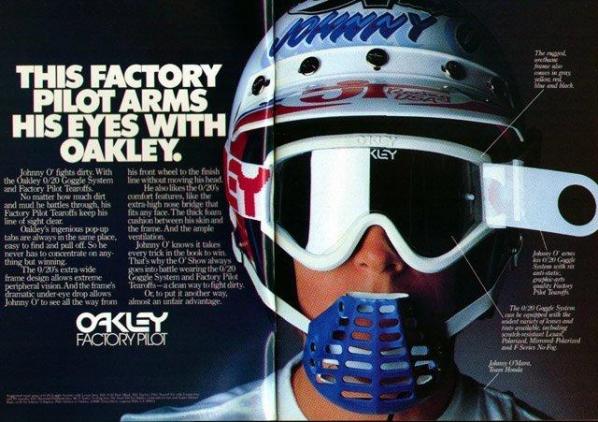 3.) MUSTANG MACH 1: Eric Johnson found this gem: Joel Robert, then the reigning 250cc World Motocross Champion, sitting on the hood of a Mustang Mach I, doing his best Steve McQueen, which would have been fine with the moto-loving McQueen—he was always trying to do his best Joel Robert!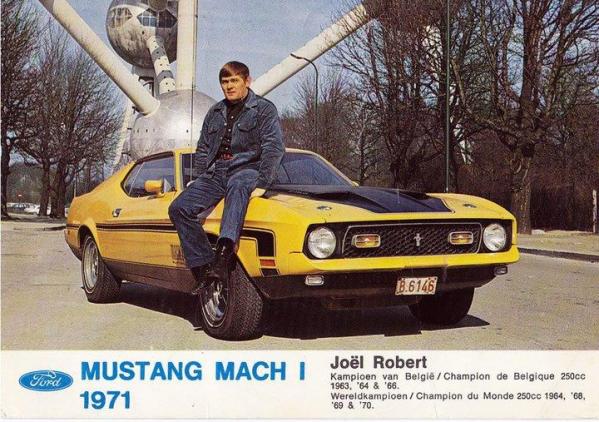 4.) SUZUKI: This advertisement caused quite a stir back in the day, before Photoshop—or before desktop computers even! Did they use wires? Did they ghost-ride the bikes Deegan-style? Or did someone just do an amazing job with a razor blade, the film and some markers?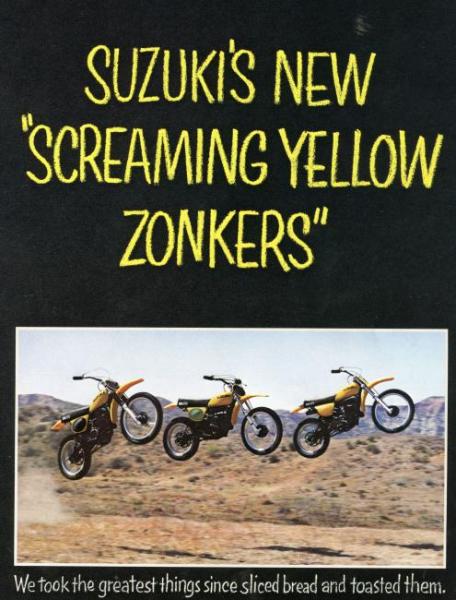 5.) MILLER TIME: This gem was on the back of every motocross and supercross program for a long time in America... And it would still resonate today!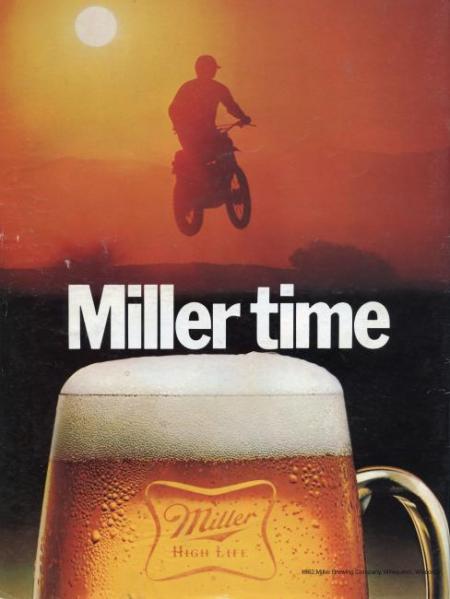 6.) EVEL: It's hard to even explain how big of a name Evel Knievel was in the early 1970s. He was everywhere—TV, movies, Wide World of Sports, the toy shelves. With the exception of Muhammad Ali, he was probably the best know "athlete" in the world at the time, though he was more of a daredevil and an entertainer than a sportsman. Harley-Davidson/AMF used him to pitch their line of motorcycles (much wider then than it is now) with the awesome tagline "There's a little Evel in all of us." Even Kelly Leak, the baddest kid in The Bad News Bears, rode a Harley like Evel.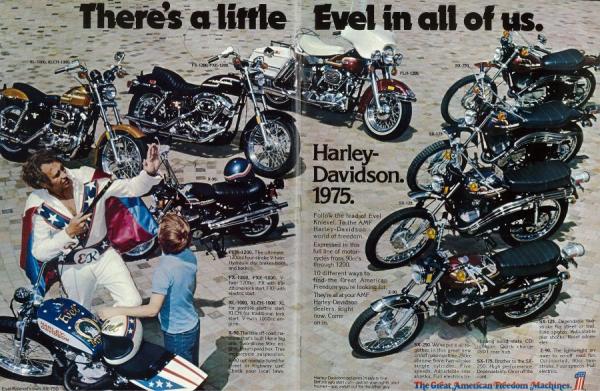 7.) KAWASAKI: Years and years before Go-Pro cams became standard-issue on our riding gear, Kawasaki came out with this excellent ad that let potential customers see what it was like to be leading (by eight seconds, even!) on a Team Green motorcycle.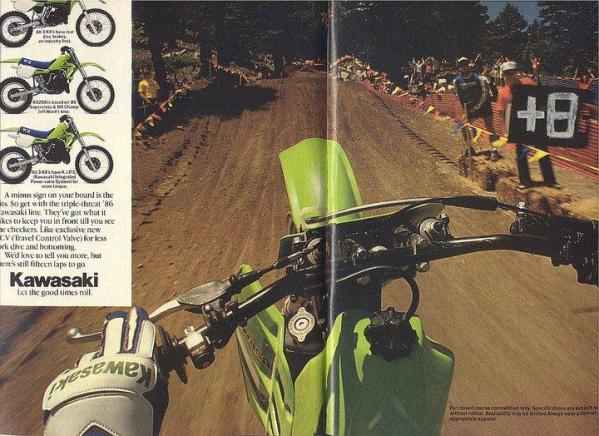 8.) THOR: Clothing companies like Fox Racing, JT Racing, AXO and O'Neal battled through the eighties and nineties for ad supremacy, and there's a Top 10 list for each of those companies' masterworks. This one from Thor spoke to the company's legacy with Roger DeCoster, and it gave readers a great way to look at the evolution of one of the oldest clothing brands in motocross gear.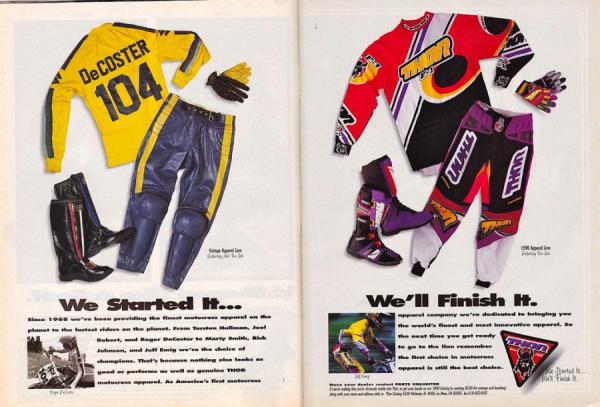 9.) HONDA: Roger DeCoster is name-dropped again: He called the new CR125R "radically advanced" while Johnny O'Mara (pictured) just called it "radical." How eighties is that?!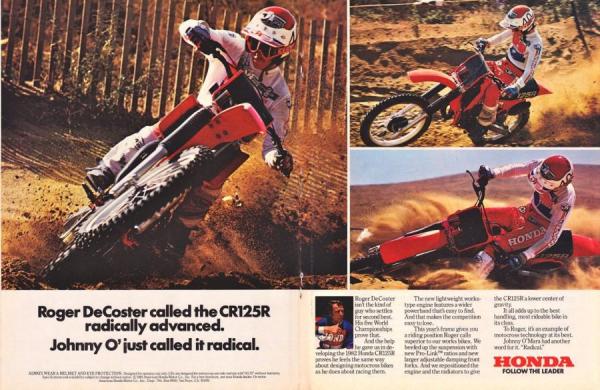 10.) YAMAHA McGRATH: For the last ad of this first installment, we return to Yamaha and one of their hilarious spoof ads of yesteryear, Jeremy McGrath channeling Austin Powers, at the height of both of their popularity. Oh yeah, baby!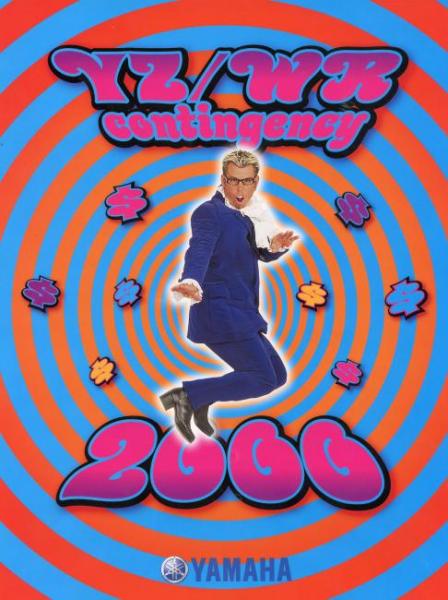 Now let us know some of your favorites and the ones we should try to include in Volume 2 of the 10 Excellent Advertisements...