Welcome to the pre-holidays version of Racerhead. The factory tracks in California, Florida, North Carolina, and beyond are abuzz this week with photo shoots, team testing, training, etc. Unfortunately, most of the photos are embargoed, so we can't show you much here, but there's some really cool stuff on the horizon.
The bad news is that there's already a man down for the start of the 2012 Monster Energy AMA Supercross tour, and it's Trey Canard. The charismatic former 250 National Champ cracked his collarbone while testing and is likely going to miss the drop of the first starting gate at Anaheim 1. Let's hope he's back up and on the track soon, as Trey's been through a lot the past couple of years and deserves a healthy shot at some 450 titles. Get well soon, TC41.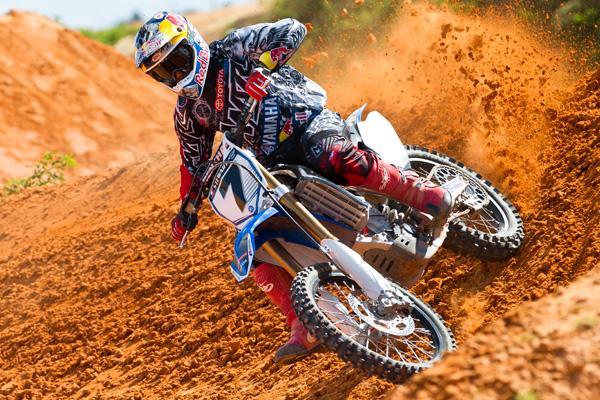 James Stewart is getting ready to roll down in Florida on his new JGR Yamaha.
Photo: Garth Milan
I also got a chance to speak with Coy Gibbs about how things were going with him and
James Stewart
, as well as
Davi Millsaps
, in the JGR/Toyota Yamaha camp. He relayed a story from early this week when he got a video sent to his phone from the Stewart camp. It was James out on his private track all by himself, skies dark and the lights on, and not another person around except the one holding the camera. James was just riding, having fun, going very fast.... So far, so good. Coy also told me he loves working with
Davi Millsaps
—easily one of the nicest guys in the pits.
Gotta hand it to Blake Baggett: Not only is he incredibly fast and fun to watch on a motorcycle, he's a big-picture guy off the track. The Monster Energy/Pro Circuit Kawasaki rider just launched his own line of merchandise on his website, www.blakebaggett.com. He also is working the social media lines of communication on Facebook and Twitter (@blakebaggettbb). Oh, and don't forget that he wears #12 in 2012.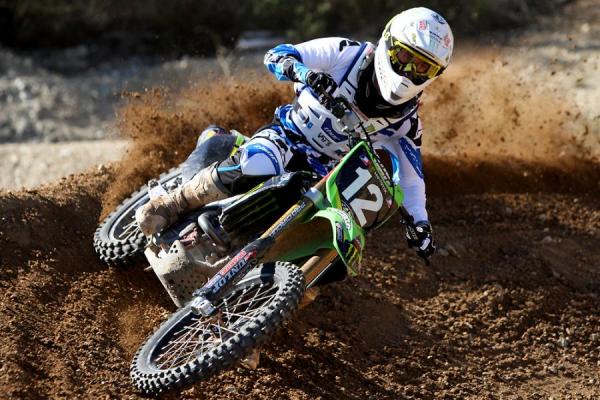 Blake Baggett is working on selling his own souvenir products online, and he also has an excellent website up and running.
Photo: Blakebaggett.com
There was some racing last weekend—in Switzerland! Factory Honda/Muscle Milk's
Justin Brayton
was the big winner at the always-fun Geneva Supercross, topping a whole slew of fast guys, including fellow Americans
Broc Tickle
,
Mike Alessi
,
Matt Goerke
, and
Kyle Chisholm
among others. And in the Lites class, Zach Osborne was the bigger winner. Brayton always does well in the international rounds, but carrying it over to the AMA circuit has been a problem. But I really think 2012 could be his breakthrough year, and I expect to see him on the podium often.
There is a terrible motocross crisis going on over in Belgium, the site of the 2012 Motocross of Nations. Environmentalists have shut down almost all of the tracks there, as is Kester about to join Namur and Neeroeteren on the extinct list. There's also the European debt crisis, which has touched Belgium just like every other nation over there on the euro. "MXGeoff" Meyer wrote about the struggles they are having in an op-ed for Australia's TransMoto that might serve as a serious warning to every motocrossing country.
Coincidentally, Lommel, site of next year's MXoN, is the very same track where Team USA first won the big race back in 1981. As I understand it, a full-length documentary is the works by Todd Huffman of the Motocross Files. It should be an incredible film about a legendary track and a world-changing event.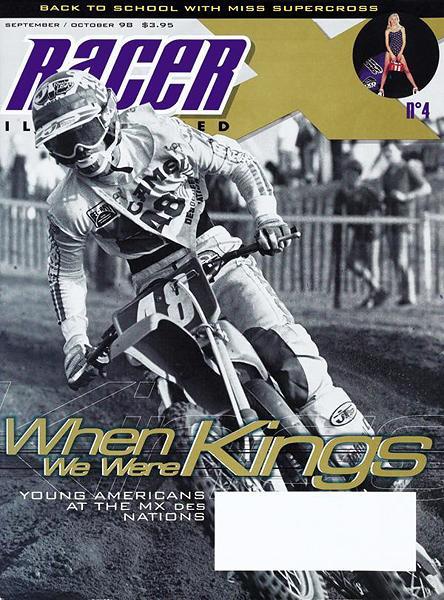 Could the Motocross of Nations in 2012 be a last hurrah for Belgium's golden age of motocross?
And speaking of Belgium and The Man, Roger DeCoster appeared on the always-interesting DMXS Radio to discuss the Red Bull KTM team's plans for the 2012 season and Roger reiterated that he may put both Marvin Musquin and Ken Roczen—his only two 250 riders—in the Western Lites division. When the series heads east, both would jump up (but not all the way up) to the AMA Supercross class. They will be riding 350s rather than the 450 that Ryan Dungey will employ as he tries to get his #1 plate back.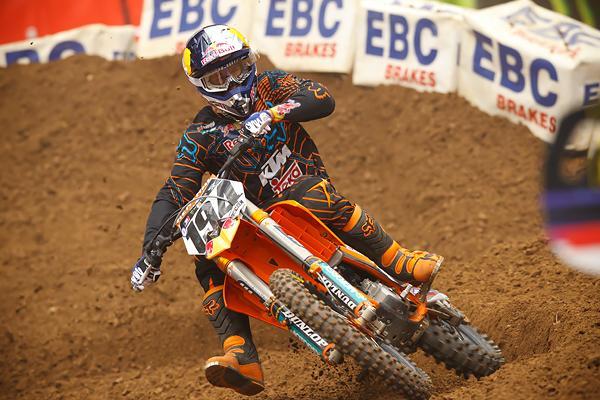 Ken Roczen used a 350 to finish a solid seventh at Houston last year, just 20 seconds behind race-winner Trey Canard.
Photo: Simon Cudby
Is this a good idea? I think it's a great way for both Marvin and Ken to sharpen their SX skills in anticipation of an eventual move up, and the 350 is certainly a little more forgiving than the 450 on a supercross track. But I'm mixed on putting both eggs in one basket. While some may say it all happens on the West Coast, all of the races are on TV, the record book will read the same, and the East Region seemed to work out well in the careers of winners like
Ricky Carmichael
,
Chad Reed
,
James Stewart
, and
Trey Canard
. Should one of those guys get hurt between now and Anaheim 1, it will be a moot point. But I think KTM and DeCoster would be wise to hedge their bet here.
The DMXS Radio archives featuring DeCoster, Ryan Sipes, former championship mechanic Chad Watts and more is available for download.
One other thing that came up on the show was the ongoing Adventures of Sprocket the Moto Dog, a line of children's books that DMXS host Kevin Kelly can fully understand (just kidding!). But the books would make great stocking stuffers for the little riders in your life. Trust me, my 9-year-old enjoyed the Sproket books, though he has moved on to Tintin, Alice in Wonderland, and the occasional Dante's Inferno (he goes to a Catholic school).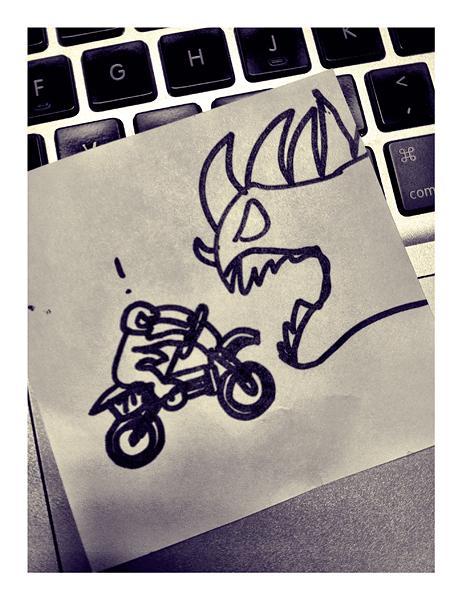 In between doing reports on Sproket and watching Adventure Time, Vance likes to work on future track-design concepts....
I mentioned my trip to Monster Mountain last week. Gotta say that I was impressed by the track, and surprised that owner Tom Brinkman was once-upon-a-time stationed in Belgium and shooting photos at some very big, important races. He's been sharing a few with me on Facebook but I think we're going to have to get a gallery going, because he's literally got an archive of unforgettable races like the Motocross and Trophee des Nations that few have ever seen before. Like this shot below of David Bailey, 1983.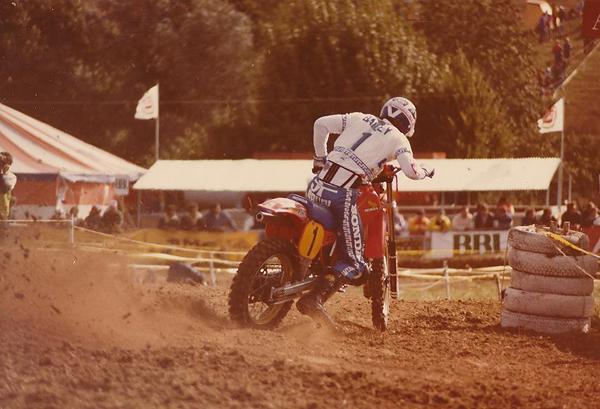 Team USA's David Bailey at the 1983 Motocross des Nations in Angreu, Belgium.
Photo: Tom Brinkman
Okay, we ran a photo of Broc Glover in an interview with Gary Harlow in Where Are They Now? a while back and got this note today from the six-time champion:
"This was a cool photo from the Racer X Online interview with Gary Harlow but unfortunately the negative was published backwards! I am sure you heard about it but the number on my plate and the 'DG' on my helmet and jersey are backwards along with the throttle and throttle cable on the left and the old-school Elsinore down pipe exiting the incorrect side...."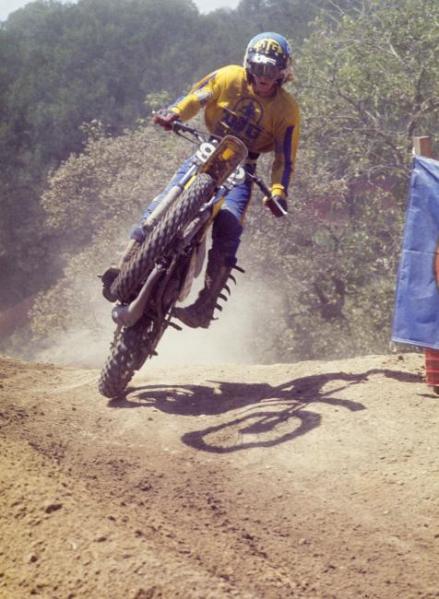 That's Broc back in 1976, riding a DG Racing Suzuki at the New Orleans 125 National. We ran the photo backwards last time....
He's right! Our bad. But then we dropped some of Tom Brinkman's MXoN '83 photos on Broc's laptop and he was simply blown away. Thanks for saving us, Tom.
More old school: Check out this week's Maxima List: 10 Excellent Advertisements (Vol. I). There are so many awesome motocross ads over the years that we're having to break this list up into sections!
The final results of the 2011 GoPro/Racer X Amateur Film Festival are in! Congratulations to Massachusetts' Robert Slate for taking home this year's top prize with his excellent video from Southwick. Not only has Robert won an awesome prize pack from GoPro, MSR, Answer, and Pro Taper, but we'll be hiring him to shoot an exclusive edit for Racer X Films. Keep your eyes on Racer X Online to see what he comes up with. Also, a big congratulations goes to Ian Gutierrez, Nick Gust, and Brandon Biro for their finalist submissions. You guys did great work and beat out dozens of people to get here, and we hope you'll enter again next year. You have some great prizes coming to you as well.
It's too late to vote, obviously, but you can check out all of their submissions here.
Finally, we have a new regular feature, starting with the March issue, called Race Faces. The point is to shine the spotlight on everyday racers who, for off-the-track reasons, are remarkable human beings. We're looking for public servants, excellent students, community volunteers, etc. Have a friend or family member who fits the bill? Check out this post and take a minute to nominate a deserving motocross humanitarian.
Okay, let's see what Matthes has for you...
I'm not sure if anyone realizes this but up in Canada around this time of the year it's cold. Very cold. The kind of cold that takes your breath away when you're walking in the silent night. I know this because as I type this I'm up in Winnipeg, Manitoba, visiting Mom and because of the cold, I'm forced to wear pants.
Another thing you notice about being up in a wintery city, there are people who are driving cars that are completely filthy. You can't see anything on the car including the license plate. The only part that is clean is the windshield wiper half-moon image on the front of the car. How do you drive around like this? It's amazing because a car wash is like three bucks! I saw one lady who had her side window down checking out if traffic is coming because she couldn't see through her window! Really, people? Just wash the car!

Anyways, on to more relevant moto stuff.
Look for the Jeremy McGrath/Larry Brooks team PR to come out next week. I spoke with Brooks this morning for a little while. He's had to juggle some sponsors around and that's what's been taking so long on their end. They are just going with Andrew Short for the year, so this leaves Kyle Regal, who'd been linked to that team, on his own for now. Someone needs to grab Kyle—he's a fast racer and a hardworking kid.
I was traveling and didn't weigh in on the Trey Canard broken collarbone situation with the rest of the Racer X staff but let me just say, along with everyone else, that it's too bad one of the very best riders in the sport is hurt again. The injury itself shouldn't be that big of a deal (Trey got a plate put in and it's a basic recovery), but the number of Canard injuries in the last little while has to be a pattern that needs to be broken (pardon the pun).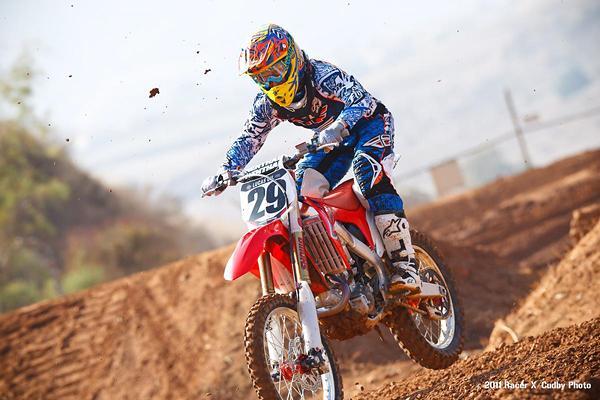 It looks like Short will be the only rider under the Jeremy McGrath/Larry Brooks Team.
Photo: Simon Cudby
As Kenny Watson talked about on Monday's show, Canard also had a big one out at Milestone last week that he was fortunate to walk away from before the collarbone break. The kid is so amazing on a dirt bike, but maybe he needs to just be more aware of what's going on when he's riding. I'm not saying it's Trey's fault, as I don't really know all the variables of what happened, but what I do know, and we can all agree on, is the #41 has been hurt way too much in his career.
When I spoke to Trey last month about his column in Racer X, he mentioned that he can't trail ride. He doesn't find it fun, and all he wants to do is go around a track and try to be the fastest he can be at all times. Maybe this "gofastgofastgofastgofast" mentality needs to change a bit? Whatever it is, I hope he stays healthy when he gets back, because we need a guy like Trey in the sport. He's a good guy, a breath of fresh air to deal with, fast and we need more fender slaps in the sport.
Sources close to the JGR team say that new rider James Stewart has chosen to go with Pirellis for the upcoming 2012 season. I thought when James signed with JGR it was a done deal to ride Pirelli seeing as how the team had another year on its tire deal. But that wasn't the case in talking to James and the Dunlop guys: Pirelli didn't want to force Stewart to ride on something he didn't think he could win on, and James wanted to have the option to ride on something he was familiar with if need be. After many tests back-to-back, it seems that Stewart feels he can win on the Pirellis. The upcoming SX series just got a little more interesting with that choice by the #7.
Hey check out Pulpmx.com if you have a chance. Thanks to DC, Bryan and everyone at Racer X for letting me promote this little site that I got.
I've got an Aussie guy named O'Rourke who listens to some of the old Racer X Podcasts and picks some of the ones that he likes. This week he dug up an old Ezra Lusk one about his racing career that I did about two years ago. It's good stuff, Yogi gets deep into it and I would suggest it's a must-listen to over on Pulp.

Okay, here's a few bits from Ping:
Have you seen the ads for this year's Red Bull New Year No Limits event? It includes Robbie Maddison and Leve Lavallee jumping across Mission Bay in San Diego side-by-side. Both are going for distances over 300 feet and both should have their heads checked out because they are insane. Last year Levi was prepping for the jump when something went horribly wrong. If you haven't seen this video you won't believe that Levi is still alive, let alone ramping up to try the jump again. Tough kid.
Congrats to Nate R. from Riverside, CA for winning this week's Motocross 101 promotional prize. He will be getting a Pro Circuit gift pack in the mail in the next several days. Nate [and everyone else who has purchased the DVD this month] is also eligible for the grand prize which will be drawn just prior to Christmas: A Troy Lee Designs SE3 helmet signed by the TLD race team and an Epic HD Action Sports helmet cam to go with it. It could be a Merry Christmas, indeed. Thank you to everyone who has ordered a copy and if you haven't gotten yours yet just click on over to www.motocross101.com and make it happen. This week's prize comes from the boys at Renthal. Remember that all DVD owners also get three free months of training from coach Robb at Moto E Fitness as well.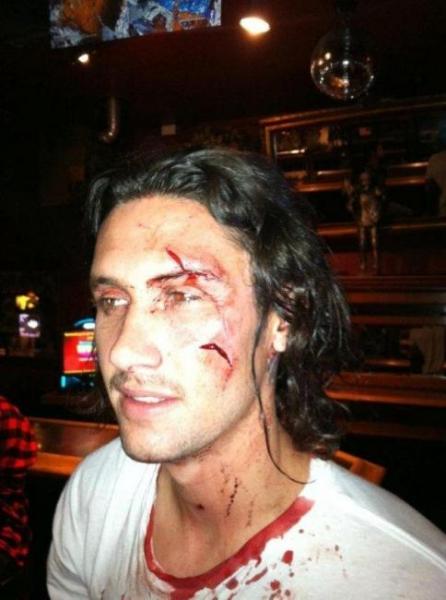 Josh Hansen "after" pic (or "before" stitches, depending how you look at it) popped up on the Vital MX Forum. Ouch!
I just saw this photo of
Josh Hansen
this week. According to Josh, he crashed on a BMX bike a couple months ago and cut his face open badly, hampering his ability to prepare for the Monster Energy Cup. Seeing this photo, it's no wonder—those are some serious gashes on his face. Or maybe it's just the lighting in the doctor's office he's sitting in. I'd say it's time to park the 20" bike and stick to safer things, like riding supercross.
Thanks Ping,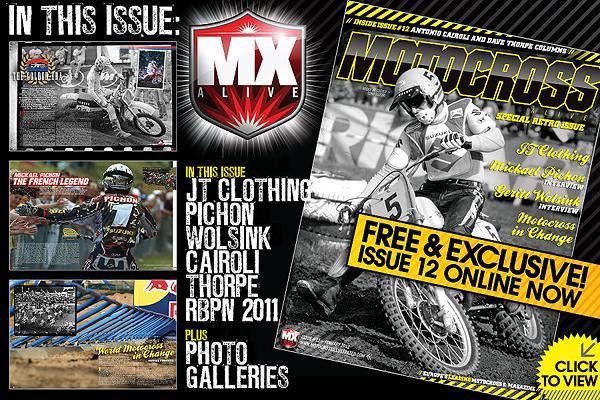 I mentioned Geoff Meyer earlier; here's his latest web magazine, Motocross Illustrated, free to download and see what's going on in the rest of the motocross world.
Thanks, everyone, for reading Racerhead. See you at the races. And Dano (below), see you at the Christmas party!