At just 18 years of age, Michael Leib was halfway around the world. Apart from friends and family. Hardly able to speak to his mechanics or team, rather less order a meal. But through hardship comes humbleness. After graduating from Loretta's, Leib was all set to make the journey around the country to try and make a name for himself in the AMA Pro Motocross Championship. But a surprise phone call would change everything.
Instead of traveling around in a box van, Leib was flying to Europe to try to become the first American since Bob Moore in 1994 to be crowned MX2 GP Champion. After getting a seventh at the final GP of 2010, Leib signed on with Husqvarna to do a full schedule in 2011. The 2009 250 B Stock Champion from Loretta Lynn's was hoping for big things, but he instead struggled with a concussion early, and then mechanical issues late, putting the brakes on what was supposed to be a breakout year.
But there were bright spots for the California native, including a seventh in moto one at the Grand Prix of Europe in Germany. While Leib is grateful for the experience of being able to travel the world, he is excited to be back home and is ready to put his name back on the map come A1.
We caught up with Michael earlier this week to talk Europe, 2012 and more.
Racer X:  So you're back in the States after almost two years in Europe contesting the GPs. Was that the plan all along, or was it just how things sorted themselves out?
Michael Leib: Totally not the plan. After Loretta's, we had planned to do the Texas round in 2010 then we were just going to go do outdoors on our own and hopefully make something happen. Then we got a call from a Kawasaki team in France and went and did GPs. That's pretty much how that happened. Then after I got a seventh overall in Italy in the final round, and then I got a deal with Husqvarna and that was an interesting year as well.
It's been up and down for you over there. You've had the results when you've been healthy, but you've also struggled with some injuries. Can you look back now and say that was the right choice?
I try to live where I regret nothing, because every experience you go through in life, you're going to learn some lesson that's going to help you out for later. A lot of people think there were just a lot of injuries out there and, without saying too much, a lot of the DNF's were mechanical. This year I did sit out two or three rounds for a head injury and last year I sat out one round for a broken wrist and just got straight back into it. That was as far as those went. It was a huge struggle as far as equipment. That was probably the hardest part for me.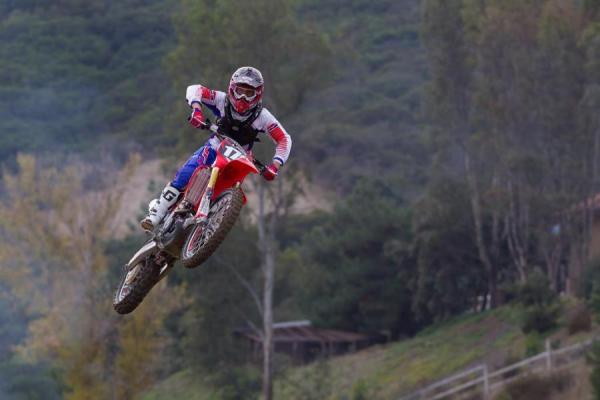 Leib will be riding West Coast Lites in 2012.
Photo: Carlos Aguirre
You were on an unproven Husqvarna last year, but now you're back on a Honda. How much more confidence does it give you on the track, now that you feel more at home on the bike you're riding?
I remember sitting in Italy when I was coming back home and the first day I got back I was riding the Honda. Honestly, the Husky, it didn't feel bad as far as the chassis, but we just had no power. It was definitely a good feeling to be back on a Honda and be back home with mom and dad and stuff.
What is your deal for next year? I know you've been linked to having some backing from Eleven 10Mods.
We got a little bit of backing motor-wise from Eleven 10Mods, and they're kind of doing a deal with my dad at Rocket Exhaust. Pretty much they're going to help us out a little bit. Also they're going to run my dad's pipe on the East Coast with Alex Martin. I'm just going to be doing all my own funding. I signed a deal with JT for gear and that's about the only deal I got.
So it's basically your own deal, but Eleven 10Mods is building your engines?
They're doing the labor, and I'm buying all the parts.
They've had successes of not only having good bikes, but also helping privateers reach the top of their class—especially last year. It has to be pretty exciting to be a part of that team.
Yeah. After the time I spent in Europe, my main focus was to come home, and I wasn't going to go racing if I didn't have a good bike. We were talking to some teams and there were some people who wanted to help us out, but at the end of the day I don't want to be stuck on a bike that's not going to let me show my abilities as a racer and I want to give it everything that I possibly can do and if it doesn't work out, that's cool, I gave it my best shot. But I really don't think that's the case. And being with Eleven10, their motors are proven. Their motors are known to be one of the best Honda engines right now and possibly up there in the top three engines as far as a Lites bikes. So to know that I've got something fast, something reliable underneath me and I kind of know what I'm putting into it, it's comforting.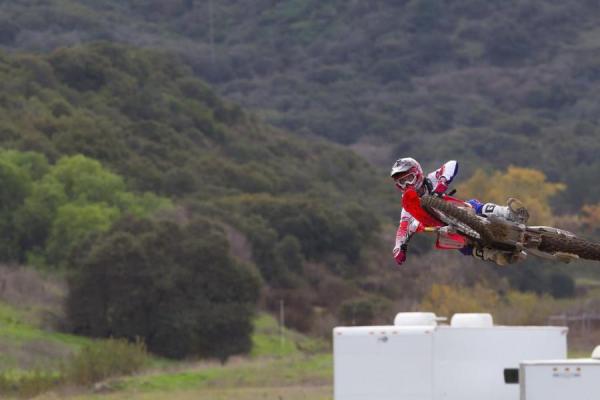 Leib is hoping to have a breakout year in 2012, and put his name back on the map.
Photo: Carlos Aguirre
This is going to be your rookie year in supercross. What are you doing to prepare yourself? And more importantly how are you adjusting?
It's going pretty good. There's definitely some up and down days. Me and Randy Lawrence, who's training me right now, we're making huge gains and my speed is coming along, for sure. It basically comes down to who can do fifteen laps the cleanest, and that's pretty much what we're chasing right now.
Randy has a reputation of getting the most out of his riders. How's that relationship coming along?
It's going really well. It's kind of the same deal with the engine. I feel good with the group of people that I have around me. I'm a privateer and I've got zero help as far as the financial side of it, but I've surrounded myself with a guy like Randy Lawrence, who has proven himself with championships. I've surrounded myself with a good engine package. I've surrounded myself with the pieces of the puzzle that I think need to come together which is hard to find unless you're on a Factory Connection or a Pro Circuit team or Star Yamaha. So, in that way, I'm pretty lucky as far as having really solid people around me with solid equipment.
What are your expectations going into next year?
My main deal is I kind of lost the word "fun" in racing in Europe. Honestly, that's my goal. I just want to have as much fun as I can and enjoy what I get to do and go out there and ride the best I can. I'm not even going to throw a number out there, because people will just say what they want to say, but I definitely expect to be well into the top ten and just build myself each weekend and show people that you can win Loretta's in '09 and then have a couple bad years (and get back up there). It's not just something that happened or my ability level or whatever it is. I think fun is the main thing. If you're not having fun, you're not going to be successful. So, just got to keep it fun and just keep on keeping on.