Welcome to day 18+2 of the Xmas Countdown presented by O'Neal.
ASTERISK Ultra Cell
The Ultra Cell™ Knee Protection System is without question the most technologically-advanced Knee Protection System available. Several patented revolutionary design concepts come together in unison to create this System. The A.R.C. Cuff's ability to be totally adjustable for fit, yet remain rigid, along with a superior fastening design in partnership with Boa® Technologies, a natural free-motion, rolling-gliding hinge, tibial plateau-capturing frame design, brace-to-boot tether attachment, and a full time-full coverage patella cup, sets this knee brace decades ahead of all the rest.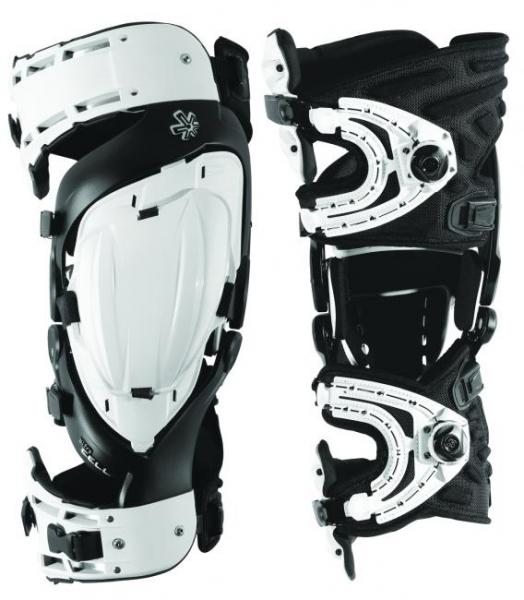 A.C.M. FRAME
_Anatomically correct design
_Carbon fiber epoxy Matrix
_Rigid & lightweight, impact distributing structure
ASYMMETRI-GLIDE HINGE
_Tracks the natural "rolling-gliding" motion of the knee joint
_Asymmetrical design allows each hinge to set properly
_Allows for automatic tibia alignment of lower frame
_Adjustable ext. regulator from 0º to 30º
_Condyle shims for fine tuning fit
A.R.C. CUFF
_Adjustable Retention Control
_Multiform rigid lateral support
_Built in Anti-Rotation connection
_Stainless steel retention strips
_Inverted adjustment increases lateral rigidity
_Thermo-Formed EV50 shock absorbent foam padding
ANTI-ROTATION TETHER
_Links the brace to the boot, making them as one
_Transfers forces of a lower leg rotation
_Adjustable to suit each individual
DUAL-INDEPENDENT SECUREMENT SYSTEM
_Medial Macro-Adjustment
_Superior security to strapping
_Boa® closure system provides smooth even closure and no pressure points
_Quick release tabs
TELE-TRI PATELLA CUP
_Telescoping Three piece design
_Easily removable
_High impact Nylon 6 material
_Full range of motion coverage of the knee cap
_Thermo-Formed EV50 shock absorbent foam padding
THERMO-FORMED PADDING
_Thermo-Formed for precise fit
_Forms to leg shape using your body heat
_Easy cleaning
WATER RESISTANT
_Non-corrosive metals
_Non-corrosive composites
_Hand washable soft materials
UNDERSLEEVES (included with braces)
_Conically tapered cut to match the legs' natural contour
_Ventilated mesh promotes air flow
_Reduces heat build up by wicking moisture away from skin
_Flat stitched quad seam for a smooth, durable finish
_Durable fold-over elastic band
Price: $699 for the set, $385 for singles.
Phone: 1-800-459-2999