Jimmy DeCotis is the next big thing to come out of New England. Hailing from the suburbs of Boston, and much like Doug Henry and John Down before him, DeCotis was mostly under the radar as he rose through the ranks. After running a privateer Honda for several seasons, last winter DeCotis got the call. Factory Connection needed a rider, and Jimmy was their choice. He jumped in with both feet, and despite a few injuries, had a decent 2011 season. But one thing is certain in professional racing: factory rides are never assured, and once again, the kid from Massachusetts has to prove himself in 2012.
We caught up with Jimmy after a long day of training, only to learn that he has left the snowy confines of Boston and moved to the mecca of motocross, Southern California's inland empire. DeCotis is completely focused on improving his game in supercross and making it on the podium.
Racer X: Jimmy, what's going on? Thanks for taking a few minutes to chat with us!
Jimmy DeCotis: Not much. Just got done with dinner and am on my way to Wal-Mart here in Temecula. I just moved into a new apartment in Murrieta and I need to get a bunch of stuff for it.
Wal-Mart? I thought you factory riders shopped only at Saks? And what's a proper New England guy like you doing living in Murrieta?
Yeah, well, we are on tight budget out here, what can I say. I am going in to get a new bed set and just run it. I need sheets on my bed. That's all. But Southern California is where I come to ride for the winter. Being from New England, I basically had three choices for the winter; Florida, South Carolina or come out here to California. I thought it would be best to come out here for a number of reasons, and especially for supercross.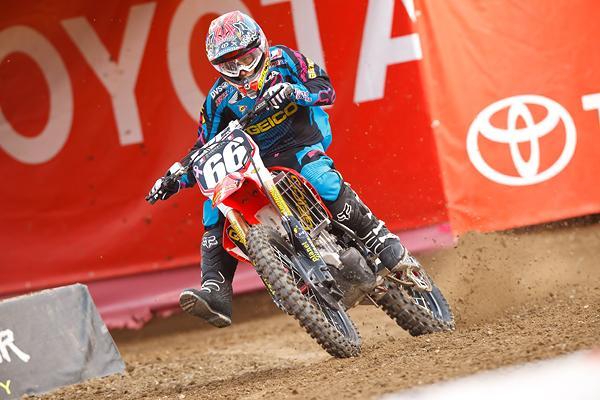 DeCotis got the call from GEICO Honda to fill-in for the injured Wil Hahn last year.
Photo: Simon Cudby
Let's take a step back. What are your official plans for 2012?
Right now, I am staying with GEICO Honda for a supercross only ride. I don't know which coast, and it depends on how I feel come Anaheim. But I really hope I can stay on for the nationals and prove myself. But I understand the position they are in, it is kind of hard for them with five guys. So I am just going to do my best with supercross and see where it goes from there. But I really like the team and hope to do a full season with them.
Ziggy [the team owner] is a New Englander as well, and you have been a long time Factory Connection sponsored rider. Did your relationship with him play a role in earning your ride last year?
For sure it played a role. I have always have been bugging and nagging him to give me a ride. When Wil [Hahn] got hurt last year, I was his best pick and was available right away. He knew I was riding and ready. It all fell into place pretty quick. But for me, it has been a long relationship with him and the company. But, he is making me work for it. It isn't just a free ride.
So what have you been up to in the off-season, and prior to moving into your new digs in Murrieta?
Well, I started really riding supercross in early November. I went to South of the Border and was there for a week, and was just kind of getting my feet wet with supercross again.  Then I came out to California and did some test days with the team. After that, I went to Colorado to the Tomac's place. I was there for two weeks and was just riding and training with Eli. His father, you know, he is a legend. It was amazing to be in that environment and see how they do things. Eli has two specific tracks, and a ton of trails, as well as a full supercross track. They got everything out there, it is pretty much just like moto paradise, and I really liked being there. But now I am back in California for the rest of the winter, and I just got this apartment, along with my practice bike mechanic, Keith Clickstein.
Does your ride with GEICO stipulate that you have to be in California?
No. They don't tell me where I should go. But it really makes the most sense to be out here and to practice and train with the team on a regular basis. They can really look after my bikes out here, and help maintain things for me. I have pretty much just been riding at the Honda supercross track and at Milestone's supercross track. But for me, it is good to get out here and just get away from everything at home and focus on riding. But there was never a "you have to be out here" or whatever. I am just trying to do the best I can, and it seemed like being in California was the best move for me. But out here, I just do my riding, do my training, and get ready for the next day. But man, its a lot more expensive out here than at home!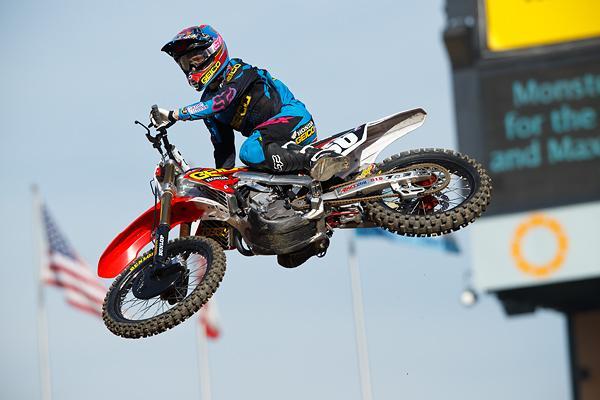 An elbow injury late in the season would hinder an otherwise steady supercross season for DeCotis.
Photo: Simon Cudby
Doug Henry and John Dowd used to spend winters out west as well. In fact, I remember that for one or two years, and for whatever reasons, Dowd had his hometown listed as Norco. I was at a race and the voice of supercross introduced him as, "From Norco, California, John Dowd." It was so wrong.
[Laughs] No way man, not me! I am sticking to my roots; I am a Northeast boy no matter what! Being out here though, I got to enjoy it while I can. But the Northeast is home. Peabody, Mass, that's the place. I am out here because I need to be.
So how are you adjusting to supercross? You know, New England guys are really not known for being supercross specialists.
Man, I am just working hard at it. Trying to learn as much as I can. We are putting in track time and getting as much seat time as possible. That is the big thing, seat time. That's it. You can go into the gym and put in the time, but I am trying to bring up my speed. I need to be a little faster than last year if I really want to step it up. The fitness is important as well, but the speed is the big thing right now.
You trained and worked with Ryno last year. Is that something you are still doing?
Yes. I am still working with Ryno, he has been helping me at both the track and in the gym. Even Mr. Tomac has been helping me out a little bit as well. It has been really good, and I feel like working with those guys has been a huge help. But you know, it is tough. It is like when you move up from the C class to the B class, or you move from an 80 to a 125. You are always fighting to be better and faster. But as long as I am improving a little bit and having fun with it, I am good.
What are your goals for the 2012 Supercross series?
Every year I try to improve, and next year I want to finish on the podium. I just want to ride my dirt bike like I know how, and hopefully get on the podium on a regular basis this year.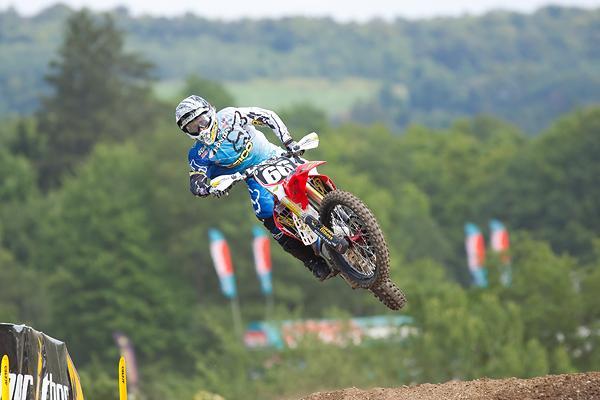 Although he missed a majority of the outdoor season due to injury, DeCotis did put in some solid rides when he returned.
Photo: Andrew Fredrickson
You didn't have a standout amateur career. I don't mean that in a bad way, but it's not like you won Loretta's in the Pee Wee class and then moved to Cairo in your motorhome like some of the other amateur superstars.
That's true. But I did do Loretta's a couple of times, but the best I ever did was a sixth, or something like that. But yeah, I didn't do much down there; I was just another kid trying to make it, like everyone down there. I have come a long way since then, though! But you know, even Dowdy said to me that just one year can change it all, and just keep doing it, keep pushing forward and getting better.
You seem to have set yourself apart by doing a few riding videos and interviews with your buddies back in Massachusetts and Maine. Some of them are really well done, and have had hundreds of thousands of views. What's the deal with those?
Man, it's crazy. We have done a lot of videos, Danny [Stuart] and me. It is crazy how many people have watched them, especially the two-stroke video. I just go out there, ride, and have fun. With those shoots, I am just a kid out there riding the crap out the bike and throwing it around. But people love the sound of the two-stroke, and I have fun doing it. And then Eli, he does his blog. He is just having fun, and comes out and says how it is. He says it straight up. Some people don't like it, but it is what it is. Those guys are core, and are good friends of mine.
One thing that stands out is your riding style, which is really cool to watch. How did you develop your style over the years? That is not something you can just change overnight.
Well, I really worked on it a lot with Ryno last year. But I would say that I mostly learned it just hitting jumps and riding with friends back home. I don't ride tracks all the time, and I like to mess around and learn by doing things a little different. That has been the main thing. But even when I was just a little dude on an 80, I was just hanging it out, leaning back on the bike and pinning it.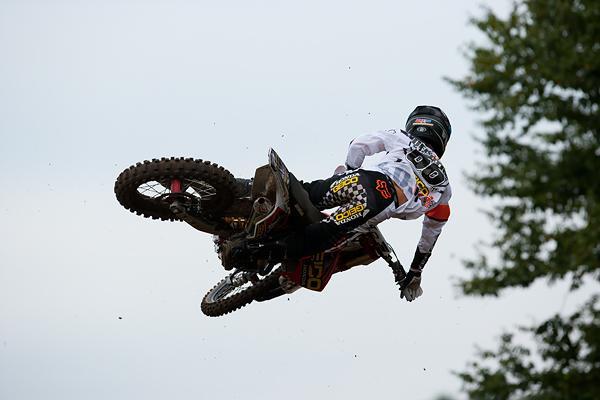 Jimmy D shows off his fluid style at Undadilla.
Photo: Andrew Fredrickson
Well, I need to wrap this up, but one last questions for you. Ryno is known as a super gnarly trainer. Are you on his hard-core full organic program?
Ryno is full organic with his food. I do my best to stick with it, but not like he does. He is on point with it. For the training, it is not as hardcore as you think. He is really smart with listening to your body and knowing when to stop and when to keep going. It is more finesse and control than just pounding hundreds of reps. He works more with form and body positioning which moves over to the riding aspect of things with technique and proper form.
Well, Jimmy, good luck in supercross, and I hope things work out for you this season!
Thanks, see you at Anaheim 1. I'll be there regardless of which coast I am riding!