Rockstar Suzuki's Jason Anderson was expected to be the next amateur in line to make a big impact in the pro ranks. The New Mexico native had piled up a ton of amateur national championships, and greats such as Ricky Johnson and Sebastian Tortelli had declared him the next big thing. But unlike riders such as Dean Wilson, Blake Baggett, Eli Tomac and Justin Barcia, Anderson struggled mightily to make the transition into the pros, and his rookie season was basically a washout.
His team have given him another chance for 2012, and he's trying to make the most of it.
Racer X: Okay Jason, when last year began I was telling people I thought you would win races. It didn't work out that way. Was last year up to the standards you expected?
Definitely last year I was expecting to at least to be in the top five—at least that. And I didn't end up with a single top-five finish all year. So it was disappointing. It started out okay at Houston with a seventh, and I was okay with that, it was alright. Going through the rest of the season, everything started to fall apart. I was just having a rough time, and then we went to outdoors, and I started just doing horrible. I didn't know what was going on. So I hooked up with Randy Lawrence, he has stuck by me since, and the Rockstar Suzuki team has stuck by me the whole time. The bikes are good and the team is good. We're hoping for a good 2012. Everything is looking better than last year, so far.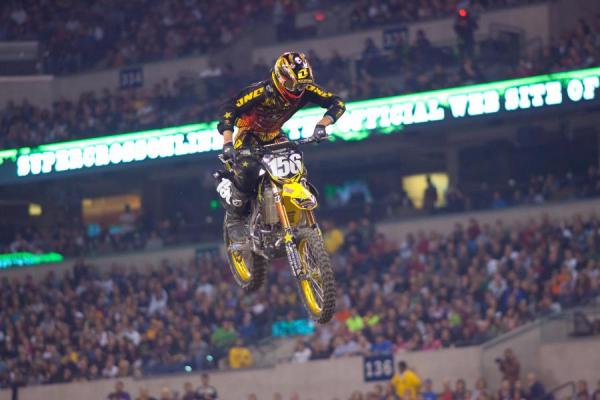 Anderson struggled to make the transition to the pro ranks in his rookie season.
Photo: Andrew Fredrickson
This was a weird deal last year. Didn't the team give you a month off during the season so you could get a base on fitness built up?
Yeah, basically, we talked after Budds Creek, and I was having a hard time making it through my motos. Randy and I went back to California and we put our heads down and tried to make up as much ground as we could before coming back at Millville. I felt like we made pretty good progress for Millville. It was probably one of the hottest races, and I got tenth overall. So I made good progress there, and I kept building from there, and getting more top-ten finishes.
But what was the problem? It's not like in the amateur ranks you were known for not being fit enough to finish motos.
Um, well, I guess what I had going on before just wasn't working. I'd go to the amateur races, and I guess I didn't have to push it for the whole moto. I could run my own pace, and I guess I was fast enough to not even push the whole time, and I'd still get wins or at least get on the podium. So everything was okay. But in the pros, it's not like that. Everyone is pinned the whole time, everyone is in shape, everyone is strong for both motos. And I definitely struggled when it was hot and the tracks were rough. It's a whole different scenario than I was used to.
So, does it basically just boil down to doing gnarlier training?
Yeah pretty much! Everything Randy does is geared towards making Saturday easy on me. There's no slacking anywhere, you get your work done everyday, and it makes the race day so much easier. You need to be able to focus on your riding at the race, fitness shouldn't even be an issue. For me, all summer it was just a struggle. But right now I feel good on the bike. I'm hoping for a breakthrough year.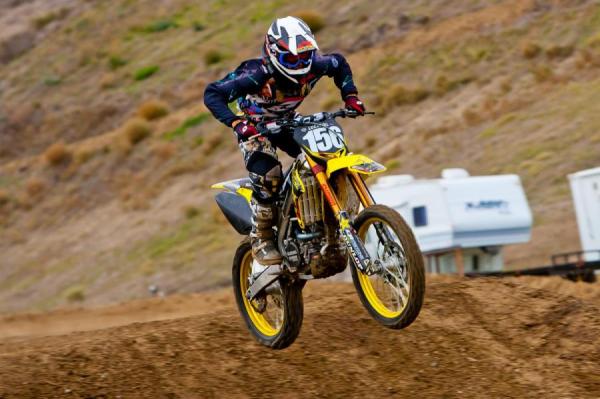 Anderson is hoping 2012 can be the season 2011 was supposed to be.
Photo: Matty Fran
The standards are set crazy high for rookies, because guys you used to battle in the amateur ranks, like Eli Tomac and Justin Barcia, came out and led or won races as soon as they made their pro debuts. Were you thinking, "Well, I used to race with those guys so I should be up there with them again?"
Well, I won the Horizon Award at Loretta's in 2010, and that's pretty big. You see guys like Deano (Wilson), Tomac, and they're just killing it. I really expected to do better than I did. It's tough because before long people just start to write you off. It's definitely a lot to work through.
Do you look at this like a second rookie year—as in, this is the year we will really see what you can do?
Yeah. You look at the guys that Randy has worked with in the past, and they've all been fit and they've pretty much all had good results [Note: Randy Lawrence worked as Ryan Villopoto's trainer when the duo collected three-straight Lites Motocross Championships]. Hopefully I can be one of those guys. I just want to see the results come up, come in swinging this year.
In the second race of your pro career at Daytona, your teammate Ian Trettel went down with a career-ending crash. You raced with him as an amateur—you were Suzuki teammates growing up—and then you were working out of the same rig again. How much of a shakeup was that on you?
I mean, you have to just kind of deal with it. There are going to be injuries in this sport, you know about it, but I don't think it changed my riding or affected my results. It definitely made me rethink things and realize how gnarly our sport is. But I don't think it hurt my results, I think the results were because I didn't have the right set up going for me. I was maybe struggling a little bit with what happened to him, but I don't think it hurt me to the point where it caused my results to get as bad as they did.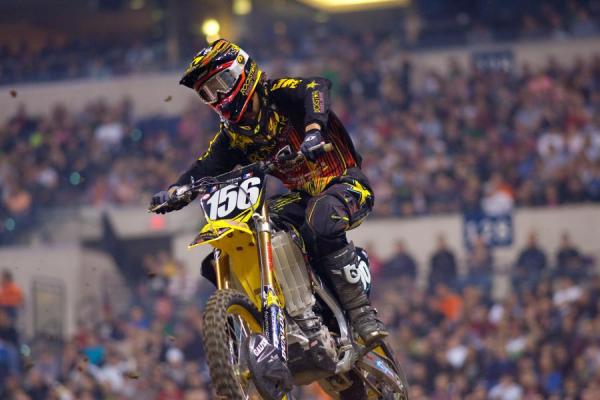 Anderson has been training with Randy Lawrence hoping to get his fitness going in the right direction for 2012.
Photo: Andrew Fredrickson
When I talked to you at Houston before the supercross opener, you said your style was more of a hang it off the back outdoor kind of deal. Where do you feel you are with supercross now?
I actually feel like I've gotten my outdoor style back riding more supercross—kind of ragged at times. But I feel pretty good on the supercross track, and I think my style looks pretty good, so I don't want to change it that much.
Okay, so let's just pretend 2011 didn't happen. Let's go back and just say you're the 2010 AMA Horizon Award winner, you're coming into the season in shape and ready to go. Can I say this? Is it on? Could it possibly be on?
Yeah I think it is. I'm putting in all of my effort, and I want to represent my sponsors well. So yeah, I think you could say it's on.