Yamaha 1978: YZs dominated, with Bob Hannah taking the Supercross and 250 MX titles, Broc Glover taking the 125 Championship and Rick Burgett winning the 500 outdoor title. An amazing year, and they very nearly backed it up the next year...
(Note: We goofed and left '78 off of the original posting of this list. We were supposed to have 10! So now we're set. Sorry!)
Yamaha 1979: Bob Hannah was ruling supercross and the 250 Nationals, while Broc Glover was the man on 125s. And Mike Bell just missed out on the 500 MX Title.

Suzuki 1981: Mark Barnett bombed the competition as usual in the 125s, nearly pulling off a perfect season. He also won the 250 supercross title, and his teammate Kent Howerton took the 250 National Championship.

Kawasaki 1997: While Jeff Emig was on his way to winning both the AMA Supercross and 250 National MX titles, a rookie named Ricky Carmichael was establishing dominance in the 125 ranks outdoors.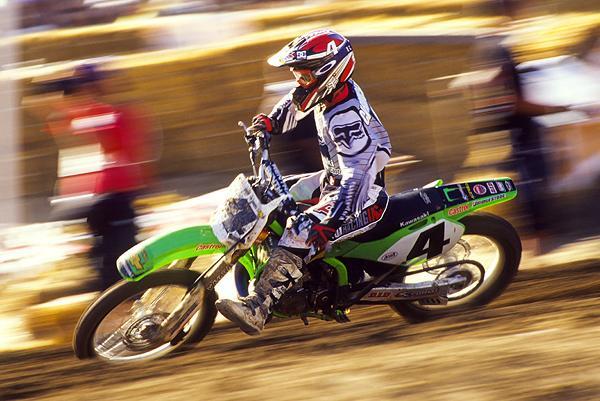 RC lead Kawasaki to one of its best seasons ever in 2001.Photo: Simon Cudby
Kawasaki 2001: Carmichael took over in supercross, winning 13-straight races and the title. And he continued his success on a 250 outdoors. Then, he dropped down to the 125s for the last motocross round and ended up helping his buddy Mike Brown win the 125 National Championship on a Pro Circuit Kawasaki.

Honda 1995/1996: Hard to split the years between this squad, because a two-man army did the same level of damage in both years. Jeremy McGrath handled 250 Supercross in both years, and took the '95 250 Motocross title and just missed repeating that in '96. Steve Lamson won the '95 and '96 125 Motocross Championships. The 1996 MC/Lamson tandem may be the strongest two-rider team ever!

Yamaha 1998: Jeremy McGrath makes a return to the top in supercross on his Chaparral Yamaha YZ250. Outdoors, Doug Henry shocks the world by taking the 250 MX title on a four-stroke. And John Dowd even gave Carmichael a run outdoors in the 125s!

2009 Suzuki: Chad Reed just missed on the AMA Supercross title, but he did succeed in winning a championship outdoors on his Rockstar Makita Suzuki. And Ryan Dungey won both the West Lites SX title and the 250 Motocross Championship.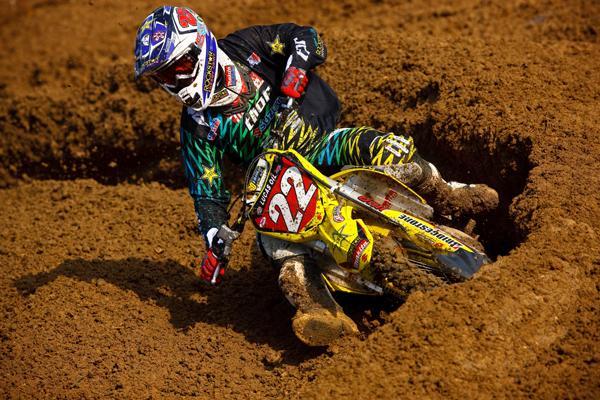 Suzuki and Chad Reed had a career year in '09.
Photo: Simon Cudby
2011 Kawasaki: Ryan Villopoto didn't dominate AMA Supercross or motocross on his KX450F, but winning both titles against all-time-stiff competition is impressive. Then the Monster Energy Pro Circuit Kawasaki team controlled the 250 Motocross pack like no other team ever has, with Dean Wilson landing the title. And Broc Tickle threw in the West Lites SX title for good measure.
1986 Honda: Under the guidance of Roger DeCoster and Dave Arnold, Team Honda was the dominant force in this sport for a long time, but the '86 tour may have been their finest. The power trio of Ricky Johnson, David Bailey and Johnny O'Mara served up routine 1-2-3 finishes in 250 Supercross, 250 Motocross and 500 Motocross, and Mickey Dymond won the 125 National Motocross title as well. Then RJ, Bailey and O'Mara crushed everyone at the Motocross des Nations. Doesn't get any better than that!