With multiple wins and championships in competitions like the Vans Triple Crown, the Dew Tour, the X Games and Red Bull X Fighters, Jeremy Stenberg is one FMX athlete that needs no introduction. And when we heard he was getting involved in the promotional side of things, we had to know more. We got in touch with the man called, "Twitch." to get the story.
Racer X Online: Tell us about the amateur FMX event you have coming up.
Jeremy Stenberg: The amateur national event I'm doing is a brand new event called, Riders Above Dirt (R.A.D.). It will be at
Pala
Raceway on Sunday, December 18. Times and info are available on
www.ridersabovedirt.com
. It's a way for me to give back to the sport. Without amateurs there is no future to our sport. Top pros like myself, Ronnie Faisst, Nate Adams and Mike Mason will be judging the event. We'll also have top industry companies on hand showing support and doing some scouting. Prizes include flow team sponsorships, and hopefully the amateurs can take it in their own hands to continue these relationships and end up making a living just like we do.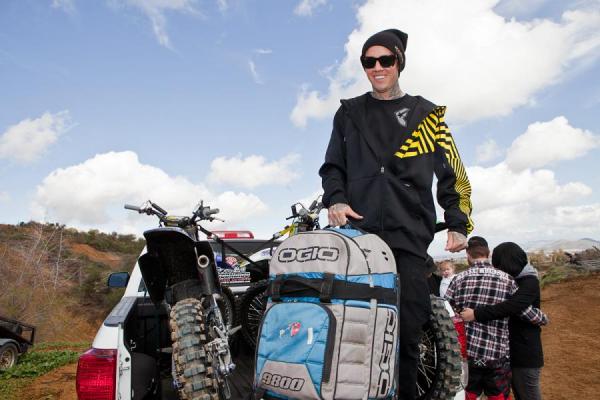 Stenberg and company will be debuting a new amateur FMX event on December 18th at Pala.Photo: Chris Tedesco
How and why did you get involved with this, and what is your role with the event?
Leah Steiger is the producer of the event and makes sure we all have everything we need to make this happen. She came to me a few months ago to see if I was interested and it was something I couldn't turn down. I'm in charge of the amateur event format, judging and the course. We teamed up with Pala Raceway to give the amateurs a fair shot at sponsorships and getting in front of the right people. It's also a great location, and it makes the most sense.

In what ways will your event differ from other amateur FMX contests?
There have been some great amateur FMX contests in the past, but this is a completely new event. This event is designed to offer amateurs a shot at getting sponsorships, and will be treated more like a scouting event. All winners will be placed on flow teams for various companies.

Is this something that you think you'll be involved with on a long-term basis?
I can't wait to see what the future of FMX looks like and if I can help to continue the sport by having these events, then I will for as long as I can.

What else do you have going?
Following the amateur event, I'll also be a part of the R.A.D. Awards at Pala Casino. This event gives the sport of FMX a chance to pay respect to the riders that deserve recognition. The event will be presented by Fuel TV along with my new company, Dirt Bike Kidz. This year we will be honoring my good friend Carey Hart with the Lifetime Achievement Award. He's someone that everyone in the sport, including myself, has always looked up to. If anyone deserves this award, it's Hart.

These events are entirely non-profit and all proceeds are going to our good friend Chris Ackerman in hopes of earning enough to get him a new van. Chris has been a friend to all of us for as long as I can remember, and when there's a chance to help him out, we all get on board. For info on Chris, you can go to ChrisAckerman.com. We will have a silent auction at the awards where anyone can bid. We have items like autographed jerseys and helmets, and there's even a chance to get VIP tickets to Robbie Maddison's New Year's Eve jump in San Diego. Both events are open to the public.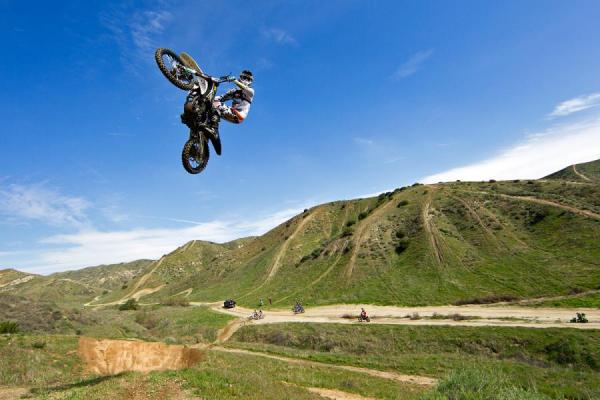 After a horrendous crash at X Games, Stenberg is hoping to be back on the bike in a matter of weeks.Photo: Chris Tedesco
Let's switch gears for a moment and talk about your crash at the X Games. How is your recovery coming?
I've been going to physical therapy three days a week, and my recovery is going good. I'm a month a head of schedule, and I should be back on my bike in the next two to three weeks.

What exactly happened?
I accidentally hit neutral on a jump and broke my left tib, shattered my right calcaneus into fifteen pieces and crushed my L2 in my back.

Wow! Well, we're happy to hear that your recovery is going well, and wish you good luck with the event!
Thanks!