"He's very serious, and has a great attitude--and it all shows in how he rides. We are looking forward to an exciting year with him."
Those were the comments from recently announced Ohlins USA Team Manager Grant Langston about newly signed rider Les Smith. In his second year as a full time AMA Pro, Smith finished 13th overall in 2011 AMA Supercross East Lites, 30th in the Lucas Oil 250 Motocross series, and 19th in the Lucas Oil 450 Motocross series-–and he did it on three different bikes! Starting out the year on the newly formed Jimmy Weinert Racing Team racing a Honda CR250F, Les did well enough to impress the Rockstar Suzuki 250 Team and the Joe Gibbs Racing Yamaha 450 Team to be chosen as a fill in for those teams' injured riders. Now riding for the revamped Ohlins US Team on a KTM, we caught up with the 21 year old from York, South Carolina to get the lowdown.

Racer X: Les, let's begin with your race plans for 2012?
Les Smith: Well, I'm riding for Team Ohlin's USA and I'm very, very happy with my deal. We are going to be riding KTM's, and Grant Langston will be our Team Manager. In supercross I will be racing the East Coast Lites series as I did this past year, and then outdoors I'll ride the 450 class. I'm really excited about 2012, and feel that racing a 250 indoors, and the 450 outdoors is a perfect plan for me! I'm not sure it's all finalized, but I believe that AJ Catanzaro, and Taylor Futrell will be my teammates.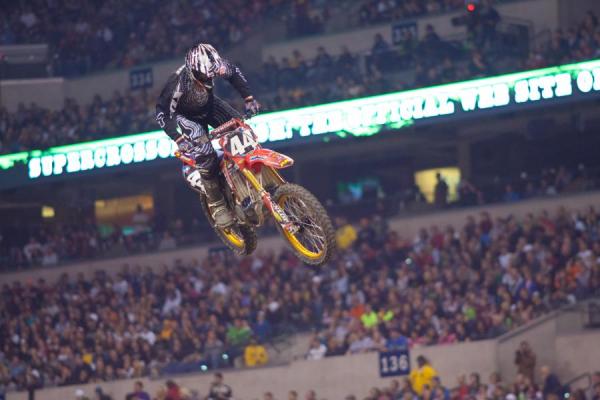 After riding for three different teams in 2011, Smith has found a permanent home with the Ohlins USA Team.
Photo: Andrew Fredrickson
Have you worked much with Grant yet?
I have gotten to work with him quite a bit one-on-one, and it's been great. Grant is awesome. He really understands a racer's point of view on everything, and he always has good advice. It's definitely a big plus having him around.
Looking backwards. This past season you rode for three different teams, right?
That's true. I rode for the Jimmy Weinert/South of the Border Team on a Honda in Supercross Lites, then in outdoors for Rockstar Suzuki in the 250 Class and later Joe Gibbs Racing Yamaha in the 450s. It was a lot of switching, but a guy's got to do what a guy's got to do! I absolutely love racing, and will do whatever it takes to continue. It was tough to adapt to the different bikes and teams, but on the flipside I got some awesome opportunities and the attention that I always wanted and needed as a professional racer. I learned so much, but I definitely do not want to switch that many times in one season again!
Overall, I thought that your 2011 season went pretty well.
I feel that my supercross season was good. I had about five top tens, with my best finish being a seventh in Jacksonville. Outdoors seemed a bit more difficult with switching back and forth, but eventually I felt very comfortable and at home on the JGR Yamaha 450. The guys there worked really hard to make sure everything was good for me. I put so much pressure on myself that I struggled a bit at first with just trying to settle down, and not being too crazy. Finally I was able to get it all together and pull off a few top ten finishes. So yes, overall it was a pretty good year for me. Now I'm really looking forward to taking the momentum and moving forward.
Continuing on with your last comment, what are you doing to maintain your momentum?
Testing, testing, and more testing! Right now we are going back and forth to California for all our testing. But soon we will start testing here before too much longer. I've always enjoyed working out, so I have been training a lot.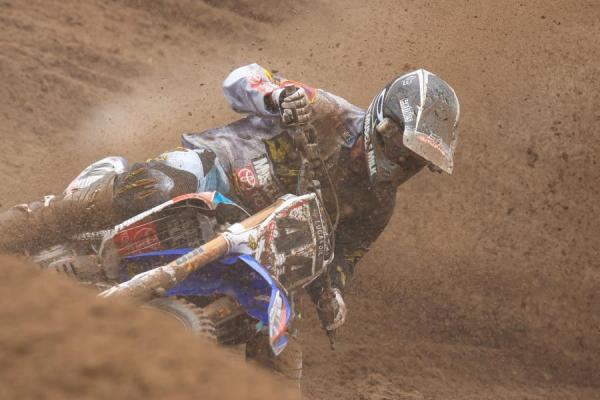 After making a the switch between the 250 and 450 outdoors in 2011, Smith will be in the 450 Class full time in 2012.
Photo: Andrew Fredrickson
So, what are your expectations for supercross this upcoming season?
My goal for next year is to get consistently into the top five and build from there. As I said, last year a seventh was my best finish, and I feel that if I had been more prepared personally, that I definitely could have done better. So right now I am doing everything that I possibly can to make sure that I have what it takes. Of course I want to do well outdoors, and improve from my 2011 season, but at this point I am just thinking about supercross.
With that said, Les, how do you want to finish this interview off?
I just want to thank everyone who helped me last year, and thank everyone involved with the new team this year--which includes Ohlins, Grant Langston, Langston Motorsports, Scott Witt with Stellar, and Scott Taylor. I'm looking forward to announcing some additional personal sponsors soon, and I am sure the team will do as well. I'm pumped about the new year, and want to tell everyone out there to stop by the Ohlins USA semi next year, and say hello.