It doesn't get much better than Doug Henry. On any given day the three-time AMA MX champ's positive attitude, genuine demeanor and infectious smile makes the entire motorcycle industry feel good about itself … happy for what they have and, in the special cases of athletes with similar injuries to Doug's, looking to a brighter future.
Although he lost the use of his legs in a Supermoto crash a few years ago, Henry still rides with the help of a special bike with a roll cage. Henry was supposed to make last year's A Day in the Dirt, but couldn't because his house burned down. Around that same time he also had to deal with a serious illness his wife Stacey was battling. But this past weekend he was able to answer the bell-–and came out to ride. Since then, numerous top-level A-riders have been talking about how they got passed by Doug Henry-–on a dirt bike with a roll cage!
Yesterday, Monster Energy's Eric Johnson slowed Henry up just enough to roll a tape recorder for a number of questions, along with having him share his experience riding at Pala.
Eric Johnson: Doug, so how'd it go this weekend?
Doug Henry: A Day in the Dirt was great. I had a blast coming out here and seeing a bunch of people that I hadn't seen in so long, and getting to ride with them. It was a good overall experience between seeing the friends that I knew and the friends that I made.
Talk a bit about the setup of your #19 Yamaha. People familiar with motocross have by now, of course, seen the remarkable footage of you riding back east. Did you have to adjust anything on the bike to get it ready to run at Pala?
I didn't have to do anything different for Pala, but we have made quite a few changes since that first video. We're constantly working on it, making adjustments and supports and stuff. There's always work being done to it.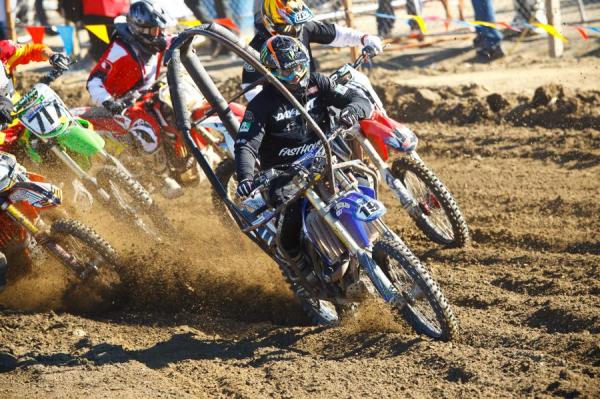 Henry grabbing the holeshot at A Day in the Dirt.
Photo: Simon Cudby
Being that Pala's track is a stop on the outdoor national circuit, it looked like you had a chance to really open 'er up out there. Was that pretty thrilling for you?
Oh yeah. The bike worked great there. I was a little nervous at first about the tunnels. My cage just barely makes it under-–and scrapes the ceiling when I get into the throttle exiting the tunnels. So yeah, I'd just squeak through there. But I thought the track was very unique. It was pretty fast and wide open, which was great. Then it'd get really tight and narrow, and that's challenging for me. The tight corners are where I struggle the most. But overall, for the type of event it was, it's the perfect layout of a track for speed and safety.
Were guys coming up to you, like solid A-level riders, that you passed and acting just blow away that a guy without the use of his legs was able to ride at such speeds?
It was amazing. Some guys coming up saying how much they admire me and tried keeping up with me, but just couldn't do it. I had guys that would be behind me that would pass me, yelling and screaming as they went by on how happy they were that I was out there--telling me that they'd come up to pass me, then ended up just wanting to watch me ride for a while. And the fans' response, the people that came by to say 'Hi'–-I was overwhelmed by that.
Any battles out there stand out?
I got into it pretty good with Mike Bell (1980 SX champ). We got a bunch of photos of him and I battling, me looking over at him and stuff. So that was fun.
Do you ever reflect back on winning your two AMA 125 titles, your 250 class outdoor title-–the first supercross race won on a four-stroke? Talk about your memories of the sport a little bit.
Yeah, I do once and a while. Occasionally a friend will send over a video like on YouTube or something and I'll watch that, remember some of the races, some of the passing and battles that I had. So yeah, it goes through my head once and while. Not a real lot, though. The past was fun. I loved it and enjoyed it. But I'm more into the here and now and the challenges I face every day, having fun and learning.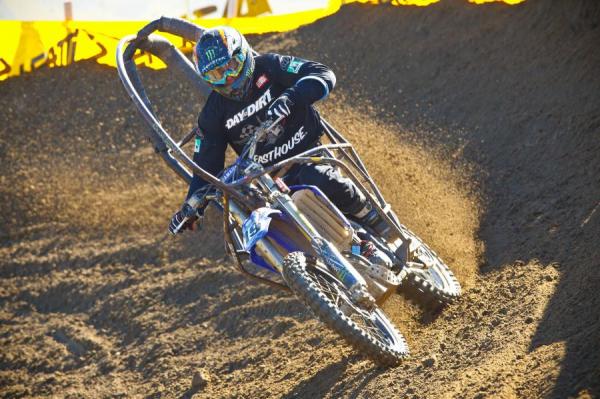 Henry has become a role model for those in similar circumstances as his.
Photo: Simon Cudby
One thing some people might not realize is you didn't show up at the races when you were younger in a big motorhome, or really had much extra cash to speak of prior to and after your factory-backed pro career. You came up through the ranks with pretty much nothing. Coming from that end of it, did that help drive you to great successes in the sport of motocross?
Yeah, absolutely. I didn't have much else going on. It was either motocross, or go work at UPS there locally or something [laughs]. I didn't really have anything planned. So the racing was something that was fun-–and there was a chance I could make some money at it if I could just get to that top level. At first it was just race-to-race in order to get enough money to travel to the next race, rather than thinking about making a future of it. So starting where I did made me appreciate more the success I did have.
What do you think of the minicycle racing scene now?
I really don't pay much attention to it, any racing for that matter. I am amazed by the money involved in it, and how it always seems to get better. These kids, if they really want it, they can have a career doing it. Look at [Kevin] Windham. He's a great example. I don't even know how many years that guy's been racing--quite a long time.
We have in mind a number of riders in today's pro field that are Doug Henry-like – guys more in tune with work ethic than they are flashy. Who in today's MX starting gates reminds you the most of when you were racing pro?
Probably the guys that are in it for the long haul. Of course there's guys that are fast that do well from time-to-time, but never really seem to put it together for a championship. The guys like Villopoto, Dungey … Reed, he really surprised me this year. I was really impressed with the way he rode this year. Those guys that you know are going to be there – that's the guys I guess I'd like to have remind me of when I was racing.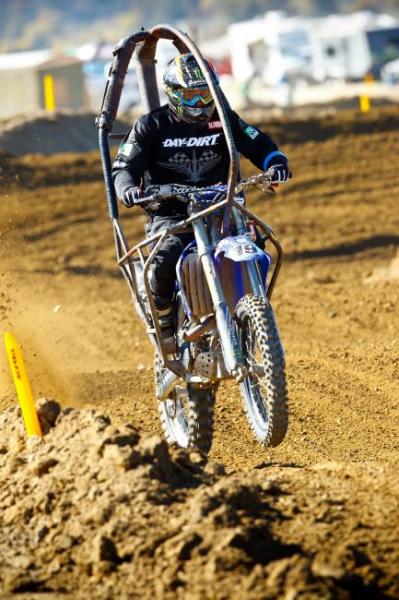 Henry can still let it rip, as he showed at A Day in the Dirt this past weekend.
Photo: Simon Cudby
One thing that's most impressive to persons familiar with your story is your drive. You've traveled from some pretty serious depths to be back riding again. Talk about what it is that motivates you to break past the barriers holding you back.
I tried to get out of it … tried to stop riding. It's important to have fun with what you do, and want it. You can have whatever you want if you want it bad enough. I put that in my head. There's ups and downs with your racing, riding career and training. There's bad things that can happen, yeah, but remember there's always somebody that has it worse off than you. Look at the positive side of things and don't let little things stand in the way of what you want.
Looking at the horizon, what's next for you? Is there anything you've got cooking on the back burner that's going to surprise some people here?
Not at this point right now. I guess I could say I'm looking forward to the day where I can give back to the racing community. That would be something, some day that I'd really like to work on.
Flashback: To read Eric Johnson's "Now And Then" feature on Doug Henry in the February 2003 issue of Racer X Illustrated, click the image below.