Welcome to a post-holiday celebration of, well, an off-week in pro motocross. But in Florida, the future of American Motocross is doing work, as the 40th Annual Winter Olympics—or Mini Os—are still racing around Gatorback Cycle Park. Future prospects like Adam Cianciarulo, Cooper Webb, Jeremy Martin, Zach Bell, Justin Hill, and more are all there working on results. Trackside Scoring is there streaming the
live timing and scoring
.
Out west, Red Bull's A Day in the Dirt is up and running at Pala Raceway. That's a fun event that brings motocross and Hollywood together. Beyond that, there's just not a lot going on here in the States in regards to pro motocross. But last weekend in Italy, fans got to see both Chad Reed and Justin Barcia do battle in the Genoa Supercross.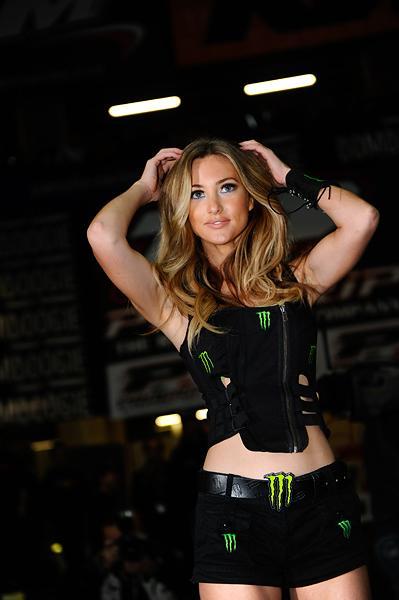 There was a supercross in Italy, which meant Monster Girls from Italy...
The new TV package for the 2012 Monster Energy Supercross tour was released Tuesday, and it's going to be quite a winter for SX fans in America. Eleven races will air live on SPEED, beginning with Anaheim 1, which is the most we've ever seen, so thanks to everyone at Feld Motorsports as well as SPEED for adding hours of live coverage like they have.
When my good friend and sometimes-contribtor Nick McCabe asked me about doing a Where Are They Now? piece on Ernesto Fonseca, I was immediately interested. Ernesto is one of the absolute coolest, nicest motocross racers... scratch that. One of the nicest, coolest people on the whole planet that I have yet to meet. I knew back when he was a kid from Costa Rica trying to make it at Loretta Lynn's, getting help from folks like the Buffalo brothers at BSY and Scott Taylor as he set himself and his parents up in Florida. He was the only one in his family who spoke English, so it was amazing to watch this 12-year-old kid do everything: sign himself up, ask about the rules, talk to sponsors, order dinner for his parents, etc. He had an exceptional amateur career, then laid down a record that still stands, winning the first five pro races he ever entered in 125 East Region SX in 1999 while riding for Yamaha of Troy.

Ernie eventually made it to Team Honda, and there he seemed poised to take the next step towards the top, and maybe even start challenging his good friend and mentor Ricky Carmichael for championships. But then he crashed badly while testing on a supercross track out in California and his career ended immediately. He broke his neck, injured his spinal cord, and has been in a wheelchair ever since. It was an incredibly sad moment for the whole sport, just as it always is when we learn of such devastating injuries. And yet when you read the interview that Nick did with Ernesto, you will see that he is neither bitter nor depressed about the cards this life has dealt him, and he remains an amazing kid, and a really great person. Take some time to read this over the weekend -- it's a special interview.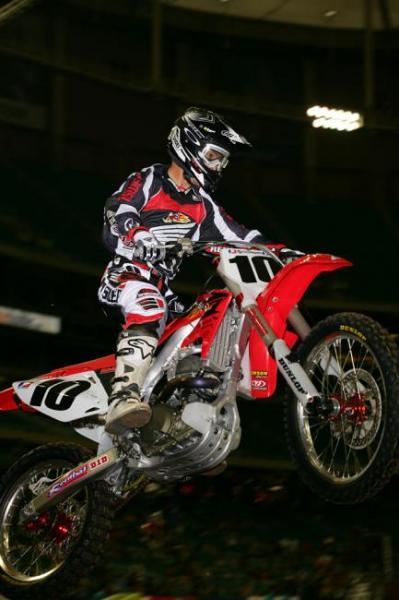 Fonseca was poised to take the next step to the top before a devestating crash ended his carrer far to early.
Photo: Simon Cudy

In Las Vegas last weekend they held the Motorcycle Hall of Fame Induction Ceremony at the Red Rock Casino. Now among the motocross men in the Hall of Fame is Stu Peters, the lifelong enthusiast who went from being a racer to a promoter and has probably dropped the starting gate on more races than anyone in the history of the sport. He was joined in the Hall by Fred Fox, who founded LeMans Corporation and Parts Unlimited. There was also a segment to honor Roger DeCoster, who was introduced by none other than Bob "Hurricane" Hannah, who told some hilarious stories about racing with The Man. On Saturday night they concluded the 2011 EnduroCross series at the Orleans Arena, and Taddy Blazusiak ended the tour with two more wins and a clean sweep of the series. Finishing second on the tour was
Mike Brown
, the 2001 AMA 125cc National Motocross Champion and an all-around good guy.
Eric Johnson found this gem online. That's a scene from the old Mid-Ohio 125cc U.S. Grand Prix, with race-winner Broc Glover (14), the late Marty Moates (19, with longtime sponsor Laurens Offner of LOP fame next to him), and multi-time world champ Gaston Rahier. Sadly, the lives of both Moates and Rahier ended way too soon.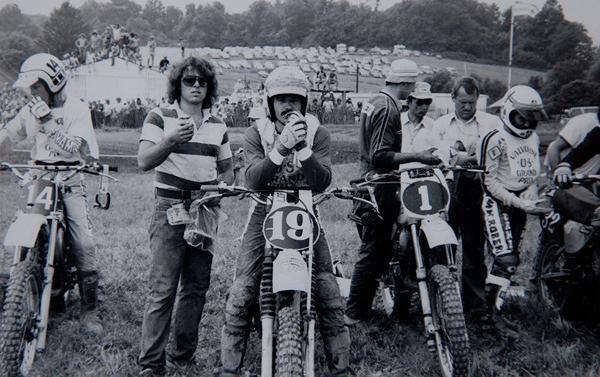 Check out the fans standing on the roof of the barn.... Those were the days!
The 2012 Red Bull Amateur National Motocross Championships schedule has been released. To find out where your Area and Regional qualifiers are, follow this link.
On Monday afternoon the tentative 2012 Lucas Oil AMA Pro Motocross Championship schedule will be announced, with tickets going on sale as well. The vast majority of the schedule is set, but there may yet be some movement on a couple of rounds. With that in mind, I'm headed south again next week, with a couple of stops planned for Alabama.
On Thanksgiving Day, longtime motocross enthusiast and businessman Tom White opened his Early Years of Motocross Museum to host a private function for nearly 150 U.S. Marines and their families. The soldiers were recipients of the Walter Ehlers Medal of Honor.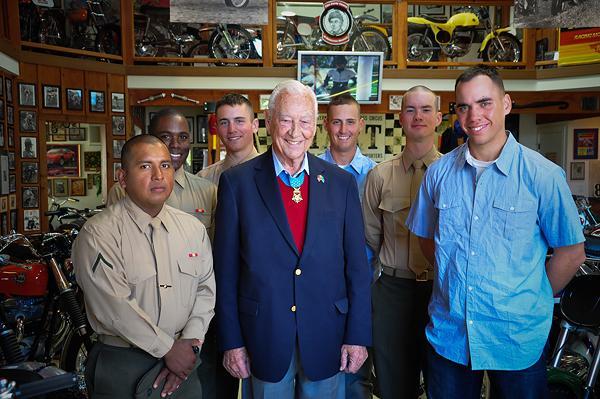 I asked Tom, the familiar voice of Glen Helen Raceway and one the world's most inspired collectors of moto memorabilia, to tell us more about the visit.
For the last twelve years on the Thanksgiving holiday, families in Villa Park, California, have hired limos to drive the approximately 35 miles to Camp Pendelton to pick up U.S. Marines that are just beginning their specialty training. (Villa Park is the smallest city in Orange County, with just 6,000 residents, and my family has lived in the area for the last 30 years.) The idea started with just a couple of families willing to provide a nice Thanksgiving day experience for these young Marines, many of whom were away from home for the first time, and has grown to over thirty families bringing 138 U.S. Marines into their homes for Thursday's holiday.
The Marines are picked up at around 8:00 a.m. on Thanksgiving and after being processed out for the day, they drive back to the Villa Park Center to great all of the families. The VP Center is the only business in VP with a Ralph's grocery store, bank, pharmacy, coffee shop, etc. Many of the businesses contribute to a very nice gift basket for each of the Marines. Once they unite with the families, they travel to the individual homes and then off to special activities that are set up for them.
That's where my museum comes in! Four years ago, 85-year-old neighbor and friend Neil Peak asked me if he could bring the Marines visiting his home to my museum on Thanksgiving. I agreed and his group showed up with a few other families and Marines. The next year it grew to 100 Marines, and last year 120 Marines and about 200 of the Villa Park host families showed up. Local Channel 11 TV was present and the city/event got air time on the evening L.A. area news. The event was also mentioned in the Orange County Register. Brad Reese, the former mayor of Villa Park, was really instrumental in the growth of this event and I think the city people like me and the museum and consider it a "positive" thing for VP.
To "take it over the top" last year, I asked my 25-year-old bicycle-magazine-editor son if he would talk to his best friend,. Reed Metcalf, about having his grandfather Walter Ehlers join the Marines for the holiday. Walter is 90 years old and is the only living Congressional Medal of Honor recipient from D-Day. Much of his bravery has been fictionalized in Saving Private Ryan and Band of Brothers. In my life, Mr. Ehlers is the most significant person I have ever met, and he has become a White family friend.
With a couple hundred people in my museum, we read the Medal of Honor citation to the young Marines. They all stood at attention and the showing of respect was just overwhelming. Walter spent time with every Marine, and each Marine was presented a signed card that included the citation for the CMOH. I'm quite sure these young men and women will remember this Thanksgiving the rest of their lives because of the opportunity to meet a real-life hero. For me, the best possible way to spend a Thanksgiving and realizing that several hundred people may have a better feeling about motorcycling!
Speaking of the 1978 125 GP at Mid-Ohio, here is some rare 8mm footage of the event:
Also, if you're a fan of the old school, you're going to love Tom Mueller's new blog "Retro Motocross." Tom was a longtime presence on the AMA Supercross and Motocross circuits and he had a front-row seat to many of the great races and moments of yesteryear. Check it out:
Okay, let's turn this over to
Jason Weigandt
to see what he has going on:
I don't know if we've ever gone as late as Thanksgiving before most of the top riders finally figured out who they were riding for next year, but that's what it's like nowadays. A bunch of riders finally have a ride to be thankful for—Josh Grant and Kyle Chisholm with Jeff Ward/Mike Kranyak Racing, Davi Millsaps back with JGR, Jimmy Albertson with Butler Brothers/BTOSports.com, and even Tommy Hahn, who is going the privateer route but seems plenty excited about it. Of course, everyone is excited at this time of year. JGR Team Manager Jeremy Albrecht explained that to me last week when I talked to him for an upcoming article in Racer X Illustrated. "In November, you never hear a team saying the guy they have sucks," explained J-Bone. "When it starts, everyone is pumped, everyone is excited."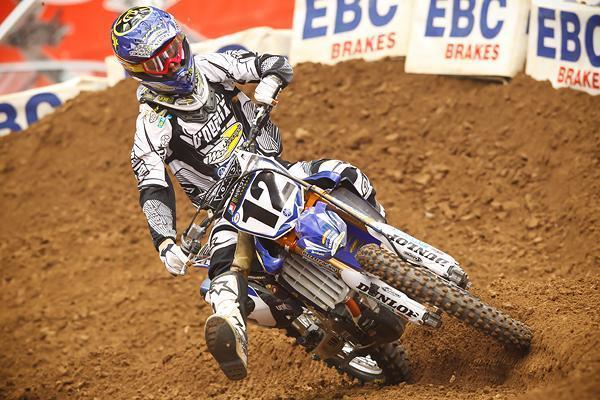 Hahn announced this week that he will be aboard a privateer Honda for 2012.
Photo: Simon Cudby
And that's true. I spoke to Hahn, Chisholm and Grant this week and all three expressed nothing but excitement about their 2012 deals. Grant is just now getting back on the bike after having to have a second ACL surgery in July (on the leg opposite of the one he tore in January). In fact, he's not even 100 percent sure he'll be ready for Anaheim. But he's still pumped on his new team and opportunity. Without the truth serum that is the results sheet after the races, every rider is happy at this time of year.

So, which new deals will work and which won't? Matthes, Ping and myself reunited for the Racer X podcast this week to discuss the topic. Yes, something to be thankful for—a new podcast three-way. Get some ear buds in and listen to this while your smelly uncle Harry is telling you the same story about how fast his old Pontiac could go back in 1968.

Surely the biggest story of the off-season will be the moves for Ryan Dungey and James Stewart. Both are taking chances for opposite reasons—Dungey for leaving a bike everyone seems to think is awesome, and Stewart for staying on one that always seems to get some heat. For both, it's not only about the bike, but the team and personel around it. We know what Roger DeCoster and his crew have done before—15 years ago, Suzuki's program wasn't even close to the level of the other Japanese factory teams. It took awhile, but RD fixed it. And 15 years before that, Honda's U.S. efforts were in the doldrums as well, and DeCoster fixed that, too.

The JGR team is less proven, and they've got a big task taming the bike many think led to Stewart's undoing just a few months ago. So I talked to the team suspension man Jonny Oler about that task. He's quick to point out that the team never heard huge complaints from Millsaps or Justin Brayton. Explains Oler: "We've had Justin and Davi on the bike and be somewhat pleased, and that's good. A rider on your team will never tell you your suspension is perfect, you're always looking for more. We built our shock from scratch. Maybe had some things happen on the bike that was strange. When it happened, I assumed it was my job to fix that.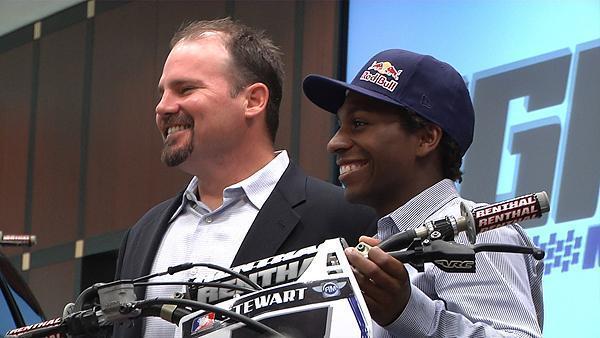 Stewart to JGR has been one of the biggest announcements this off-season.
Photo: Jason Hooper
A guy once told me, "It's only a suspended vehicle if the suspension is moving." That means it can't be so stiff that the suspension isn't working, or so soft that it's bottomed out. I truly believe any weird little problem the bike has is because the chassis is having to absorb whatever the suspension hasn't. There are so many balances that are important, front to rear, springs to the valving—it's difficult stuff to understand. But you realize it takes many things to be perfect to get it to work right. I do believe it's a suspension issue and we can make it work."
I know the JGR team has been doing the work, with multiple week-long trips to Stewart's compound in Florida, and Stewart has made the trek to North Carolina, too. You know Dungey and the KTM crew are burning lap after lap, too. So it all sounds good now. But we won't know anything for sure until we see the results on the racetrack.
I also spoke with
Chad Reed
about the injury he suffered over the weekend at the Genoa Supercross. Reed had gone down in a first-turn crash in the first main event, but managed to come back to finish second, and then win the second and final race to edge
Justin Barcia
for the overall.
In that first-turn crash, Reed hurt his thumb and foot. He dug through the pain during the races, and then tried to do some testing this week with Japanese engineers from Honda. He then realized the pain was too much. According to a text message from Reed, he then went to get x-rays and found out he does have broken bones, but he described it as, "Nothing too serious."
Reed says he hopes to be back on the bike to continue testing next week after the swelling goes down.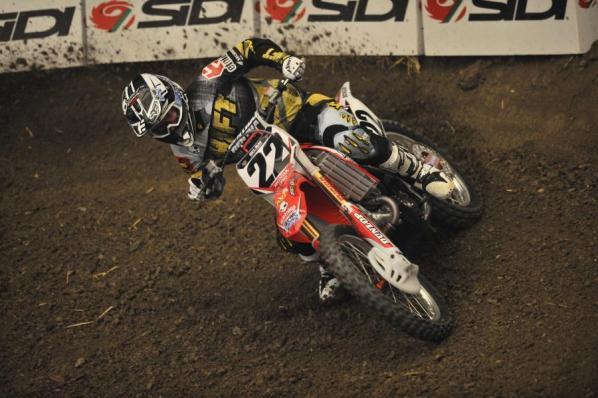 Reed won in Genoa, but it came at a price.
Photo: Edoardo Pacini
Now let's kick it over to Matthes:
Happy Thanksgiving everyone, and in this time of the year, I'd like to give thanks for the things that really matter. For example, I'm very thankful that the Detroit Lions are finally good and we're going to get a great game on Thursday between the usually terrible Lions and the Packers.
Of course, you're reading this the day after the game, and I hope I'm proven right. If the Lions game is no good, the Dolphins-Cowboys and 49ers-Ravens games should bring joy.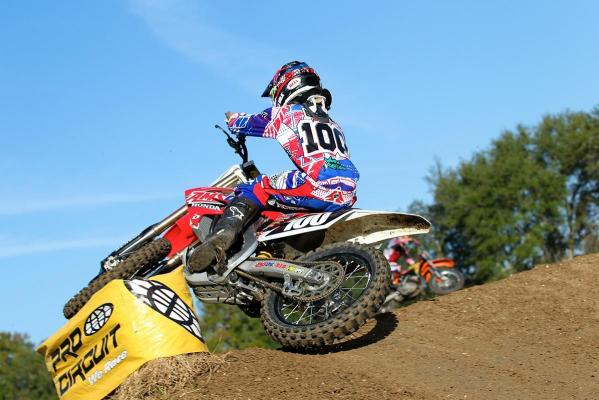 Zach Bell and the rest of the big guns in the amateur scene are doing battle down at the Mini O's as we speak.
Photo: Rob Koy
Being the Canadian that I am, our Thanksgiving holiday is at the end of October, so your traditional Thursday at the end of November wasn't celebrated by me for the first 22 years of my life. But lest you think that your American holiday didn't bring me joy, the daytime NFL games were a perfect time to come up sick and stay home from school in my childhood. Thank you, America!
So here are, in no particular order, the things in the motocross world I am thankful for:
- I am thankful that JT Racing is back, because now my dusty V-2000 and ALS-2 helmet that sits in my man cave suddenly seems cool and hip. Before JT came back, it was a lot of "Why did you waste money on that junk?"
- I am thankful that it looks like we're going to see a great 2012 Supercross season with some great racing between the contenders, and I think, although I'm not sure, the days of one- or two-man runaways are over.
- I'm thankful for the new media-friendly James Stewart, because when he does interviews and opens up, you usually learn something and come away impressed with him.
- I'm thankful that a nice guy like Grant Langston is back in the industry as a team manager, because now we'll all get a lot of quotes at the races. Even if we don't want them!
-I'm thankful that someone at MX Sports secured all the stats from every motocross national ever held and you'll all soon have a database to check out and get lost in the names, dates, and tracks like I did awhile back. Supercross guys, you're up!
- I'm thankful that Greg Primm came by my house on Tuesday for a hour-plus-long podcast about his museum and gave me his story. Some great stuff that I had no idea about—you guys will hear it next week right here on Racer X Online.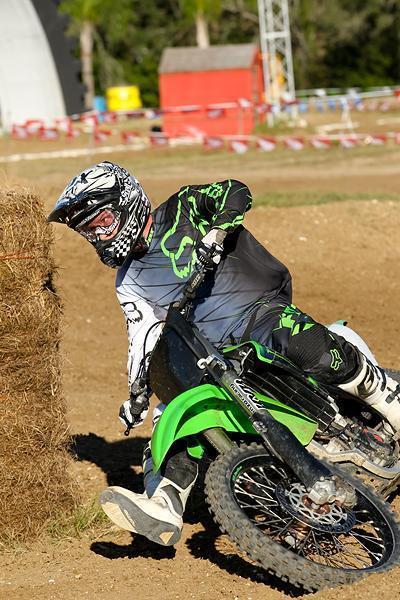 Matthes will always be thankful for Mr. Tim Ferry.
Photo: Rob Koy
-I'm thankful for Kenny Watson. The world may never see such a unique, conflicted, and unintentionally hilarious human being ever again.
- I'm thankful that when I die, I'll be able to tell someone else's grandkids that yes, I was there the night that Timmy Ferry beat McGrath at the L.A. Coliseum.
- I'm thankful that, a long time ago, I decided to leave Canada to see if I could become a mechanic on a race team. It was just going to be for a month or so before I came back to get a real job. Sixteen years later, I still don't have a real job. Thanks, everyone, for reading and listening.
Now here's Ping:
For some reason I always have a renewed appreciation for sweatpants the day after Thanksgiving. Anybody else feeling that way after Thursday's eat-your-bodyweight-in-turkey extravaganza? It takes a special pair of pants to house the food baby I had in my belly yesterday. And I still have turkey sandwiches to get through today.
I got a glimpse at some riders I hadn't seen ride in a while this week when I dropped by Milestone MX Park. The biggest news of the day was an incident with Dean Wilson. Deano is obviously a title contender on whatever coast he races and something went wrong for him on Tuesday. I didn't see what happened on the track but I saw his mechanic and crew running back to the Pro Circuit van where they were pitted. Deano changed quickly and took off in his truck. Rumors are that he injured his wrist again. I haven't gotten official word but that seemed to be what happened. Hopefully it is something simple or not the case at all.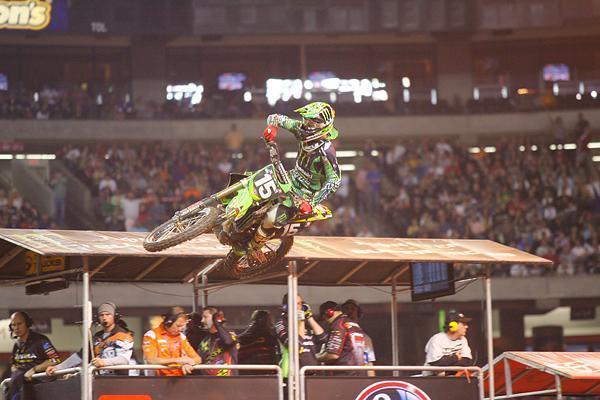 Rumors are circulating that Wilson may have re-injured his wrist.
Photo: Andrew Fredrickson
Wil Hahn was turning some laps and he looked good on his GEICO Honda. Ken Roczen, Marvin Musquin, Jason Anderson, Kyle Chisholm, Blake Wharton, Ivan Tedesco, Josh Hansen and more were all out doing some pre-season work as well. The word from the KTM truck is that both Roczen and Musquin would be riding west if they are both ready to go. I thought that was an interesting choice by Roger. There is a distinct advantage to riding the west in that it lets you prepare for the nationals better. Since both Roczen and Musquin are legit players outdoors as well, maybe that has something to do with it. Then again, I've heard that they will both be riding 350's on the east coast as well. We'll see what happens there.
How will Reed's injury change his preparation? I'm not sure, but it can't be good. This is a critical time of the pre-season and I've never heard of any fracture healing itself in one or two weeks. Either his injury is very minor or he'll be off the bike for longer than he's predicting. Regardless, time off the bike is not a good thing right now, especially since he had a big break when he went back home to Oz. If anyone can show up a little under-prepared and still make it happen though, it's that guy.
If you haven't purchased a copy of Motocross 101, my instructional riding video, go to www.motocross101.com and get one. If you purchase before Monday you are eligible to win a Braaap Bar prize pack and also a Troy Lee Designs SE3 helmet with an Epic HD helmet cam.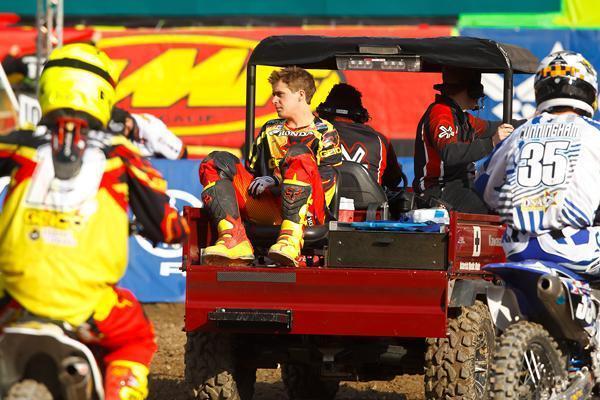 Wil Hahn is hoping to rebound from an injury filled 2011 season.
Photo: Simon Cudby
And here's Aaron Hansel:
This is it, folks: the long, cruel stretch of time during the off-season where the only racing action to speak of takes place on my cul-de-sac when my neighbor's kids line up their tricycles and drop the hammer. No supercross. No motocross. No MXoN. No MEC. No MotoGP. We don't even have the silly season to keep us entertained anymore, as just about all the riders have announced their plans for 2012. Following Arenacross can provide some much-needed relief, but that series is in a small break right now. What's a race fan to do?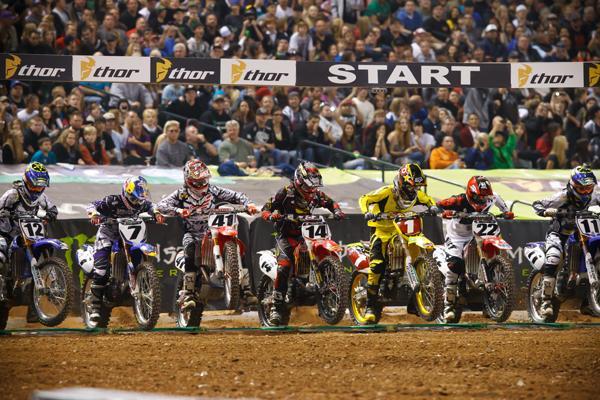 A1 can't come soon enough.
Photo: Simon Cudby
Well, the answer is daydream. The other day, as I was about to start writing a race report on the tricycle nationals, I found my thoughts drifting off to the Washougal National of 2010. Trey Canard was putting on a late-season charge on series points leader Christophe Pourcel that would ultimately end in victory for Canard when Pourcel crashed out of contention during the final round at Pala Raceway. Of course, nobody knew what was going to happen ahead of time, and as the start of the first 250 moto drew near, you could almost feel the tension in the air. I was standing at the base of Horsepower Hill when the gate dropped, and as the pack came thundering around the corner and charged up the hill, it was Canard in the lead.
I remember it like it was yesterday. Many times when you happen to catch a glimpse of a rider's face during the action, you'll see extreme concentration, eyes opened so wide it looks like they might pop out. This wasn't the case with Canard. Even through his helmet and goggles, Canard's face showed only sheer determination, saying, "Nobody is going to stop me from winning this moto."

And of course, nobody did. Canard went 1-1 that day, taking two holeshots and leading every single lap of both motos. Although it wasn't his only spectacular performance of the season, I clearly remember that it was on that day that I began to think he was going to have a very real shot at the 250 outdoor championship. Strangely enough, the tipping point for me wasn't his dominating performance, but the look of absolute confidence on his face during the first moto. I do believe he would have stuffed Mother Teresa that day if she had failed to protect the inside.
The memory of Washougal that day is just one of thousands I have stored to tide me over until January. If you find yourself having a hard time coping with the lack of racing, take a moment to relive some of the memories you've made. Share them with a riding buddy, or write them in the comments section below. Either way, you'll likely end up with a smile on your face.
Before I sign off, here's a random note. I had the opportunity to speak with Roger DeCoster this week, and he told me that the bike Ryan Dungey is riding in 2012 isn't a 2013, as previously speculated, but a second-edition 2012 model. Interesting.
That's it for now. Happy Thanksgiving, everyone. See you at the races.