Kyle Chisholm has had a good couple of months. He got married, he was crowned King of Bercy for winning the Paris-Bercy SX, and now he's signed a new deal for 2012 with the Jeff Ward Racing/Mike Kranyak team (Mike Kranyak is the M in L&M Racing, the team he ran with Larry Brooks as team manager. Brooks has moved on to his own team, and Kranyak has teamed up with seven-time AMA SX and MX Champion Jeff Ward to keep his team moving forward).
Chisholm will be teamed with Josh Grant on Kawasakis. We talked to him last night to get the latest on his new deal.
Racer X: What's going on?
Kyle Chisholm: Just got back from a bike ride. It rained so we couldn't go riding. I normally ride Monday and Tuesday, so the rain put a wrench in my plans.
Are you in California or Florida?
California right now. I'll stay out here until at least the east coast races, or maybe longer. I planned on coming out here anyway, because the deals were coming together so late, and I wanted to be ready if I needed to do anything out here. And now it's already Thanksgiving, so I might as well just stay here. I'll go home for Christmas, that's it.
So when did this deal happen?
I got home from Bercy and I think it happened that next Friday. So not quite two weeks ago.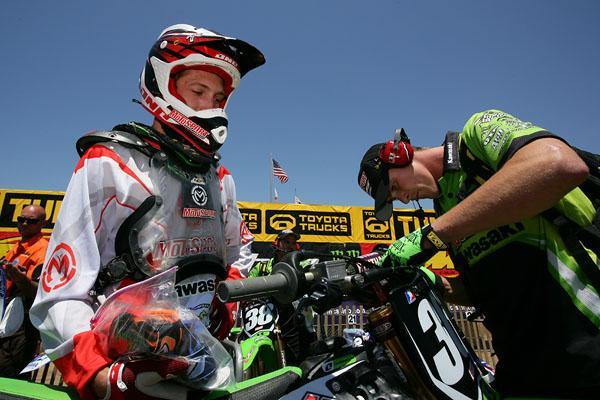 After spending the past three years aboard Yamahas, Chisholm makes his return to Kawasakis for 2012.
Photo: Simon Cudby
Did the Bercy win help?
Um, I actually don't think so. I had been talking to Mike Kranyak and Jeff Ward about this team for a long time. Actually, I had been talking to them since pretty much when you guys did that interview on the Racer X site with Mike. He said he was still going to have a team, and I didn't even know that. I got in touch with him right after that. Later on, he told me Jeff Ward was going to be involved with the program, and that Jeff was coming out to Las Vegas for the Monster Energy Cup, so I talked to Jeff there. I was also talking to factory Suzuki, Larry's team with Honda, the Star/Valli Yamaha guys, BTO/Butler Brothers, and even MotoConcepts before they signed [Mike] Alessi. So yeah, I was talking to a lot of people and it was getting later and later. I felt this was the best plan for me, especially with them riding Kawasakis, which I grew up riding. But it did happen later than I had hoped.
This says a lot about you because you were talking to a lot of people you used to ride for—Kranyak, Brooks, MotoConcepts—so clearly you have not burned any bridges.
Yeah, I try to make them like me [laughs]. It's not always easy, you're always going to have little issues here and there, but I've been fortunate to get along with the people I've raced for. This sport is a small sport and everyone knows what goes on, so it's good to be easy to work with.
You had ridden for Kranyak before, with L&M in 2009. How similar is the team right now—same shop? Same staff?
It's pretty much all the same guys, except Larry is doing his own thing now, and James is gone. When I first went there in 2009, it was my first year on a 450. I had only done two years in the Lites class and jumped up a little early, but it was a good opportunity and I wanted to take it. I ended up hurting my knee at the U.S. Open, but since the team was a supercross only team at the time, I knew if I got the knee fixed I'd be out for the whole season. So I had to ride hurt. It was a rough year for me altogether. But I got along with all of the guys. I have the same mechanic I did before, Paul [Deluarier] is still here as the team manager now, Oscar [Weirdemin] is still here as JG's mechanic. Jeff Ward is obviously new, he seems like a really good guy, and look at his career, I don't need to say anything more about him. And Mike Kranyak has always been behind me. And the last few years I had ridden Yamahas, but I had ridden Kawasakis since I was eight years old. As soon as I got on the bike, I felt right at home. So I'm pumped on that.
So the team is still at the same level as it was when they won championships?
They are. Obviously James isn't there, and he was an elite guy who was expected to win a championship. Not saying myself or JG can't do that, or JG can't win races, because he can, but I think this does take some of the pressure off of the team, and we have a little more of a relaxed environment. With James, we were expected to win the championship, and that puts pressure on everyone. But at the same time, we have the same staff that has proven they can win a championship, so that's good.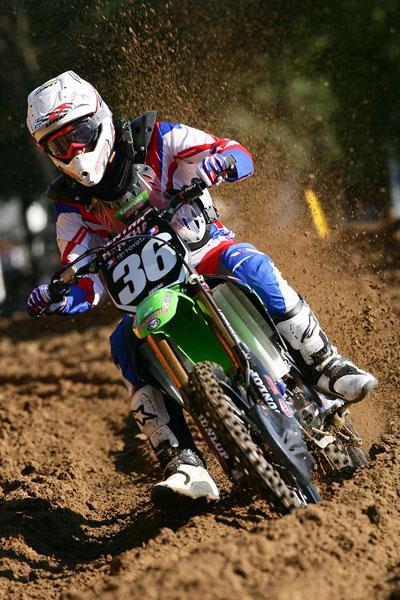 Chisholm was one of the last big names to announce a deal for 2012.
Photo: Simon Cudby
You were really improving speed-wise in 2011, before you got hurt in Houston. You were fifth fastest in practice that day. Then you had a huge crash and injury. Now you have won Bercy—how are you feeling now?
We're getting back there, I definitely feel I'm going in the right direction, and we have a month before Anaheim. Supercross was going really well for me, David Vuillemin was helping me quite a bit. We were top ten in points. I felt like I had always struggled with speed in practice, not during the week, but in practice and qualifying at the races, just getting comfortable. I was trying to take the next step and not just be the solid top-ten guy, and that's what we were doing—we were improving. Unfortunately I had a little mishap in practice with my chain, and it threw me down on the ground hard. The train just stopped on the tracks right there. I tried coming back for the outdoors, but I ended up having some issues from being on the breathing tubes for so long. I had to get surgery on my throat and vocal cords to remove some scar tissue and open it back up so I could breathe. For me, I felt like I was just getting healthy when the year was over. It was good to go to Monster Cup, I got sixth, and Bercy, I won that, so it was definitely good to show people I'm healthy again.
Okay here's what I want to know: does a rider in your position, in this economy, make a good living at this? We know the top few guys are still making big money, and a lot of privateers are struggling.
Um, for us, just being on a team, even if they aren't paying you a big salary, they're giving you good equipment, they're paying all of your expenses, so you're not spending anything, and then you're on a bonus program, and on top of that you have the money you get from the AMA. You can make a living. I'm not going to say we're making the money we could or should be making, and no one probably thinks they are, but you're going to make more than the average person makes working a regular job. You know, I've been pretty fortunate with the teams I've been on to make a living. I'm not making the huge money like someone like James or Reed or RV or Dungey, or someone at that level like that, but I will say I'm very frugal and I try to be smart with what I do have. I'm very thankful for the money I have made. I own a home in Florida and California, I have mortgages on both, but still, I'm very fortunate for what I have. And hopefully I can keep improving and get closer to the level of those guys and make an even better living. But I feel for a lot of the privateers, the economy sucks right now and no one is making the kind of money we were making five or six years ago.
Finally, what are they calling the team right now?
I don't really know. It's still up in the air right now because I think they're working on sponsors and things like that, we're just calling it Jeff Ward Racing right now.