Race Report: Australasian Supercross Rd V
Monday, November 21, 2011 | 10:15 AM Tweet

Author: Alex Gobert // Motoonline.com.au

CDR Yamaha's Jay Marmont wrapped up his first ever Monster Energy Super X, Australasian Supercross Championship, with a dominant victory at Ipswich's season finale in Queensland on Saturday, November 19.

The 28-year-old was untouchable in the traditional 20-lap main event that was contested ahead of a packed stadium, taking the holeshot and never looking back on his way to his second national title of 2011.

Marmont now becomes a seven-time Australian champion in the professional ranks, this year also capturing a record fourth straight MX Nationals, Australian Motocross Championship.

Despite entering the round with a slim five-point advantage over JDR Motorex KTM's Tye Simmonds, Marmont was confident that he would be able to get the job done all along.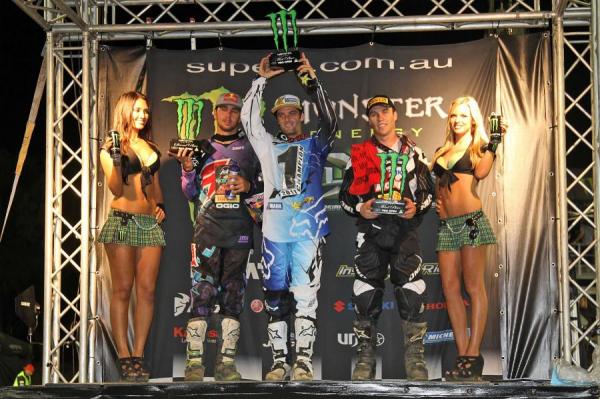 Marmont (center) captured his first career Super X title in Ipswich.
Photo: Alex Gobert // Motoonline.com.au
"I'm over the moon!" Marmont said. "I've had nervous jitters all week, but I always believed we could get the job done. First of all I have to congratulate Tye and McCoy.
"I have to give it up to my team because we've had four awesome years, so to finally go back-to-back is a credit to them. I'm so emotional right now-–I just need to thank everybody who made this possible."
Simmonds put in a solid performance with second overall in Ipswich and the series, displaying the experience he gained while contesting a full season in the U.S. this year.
Now signed to return to Australia for JDR Motorsports full time in 2012, 19-year-old Simmonds is now focused on returning and challenging Marmont both outdoors and in supercross for next year.
"I take my hat off to Jay, he's a deserving champion and rode a solid 20 laps tonight to get it done," Simmonds said. "I have to give it up for the whole JDR Motorex KTM team and my family as well. We just confirmed I'll be back with the team in 2012, so hopefully we can go one better next year."
Completing the podium at the season finale was Hart and Huntington/InsureMyRide Kawasaki rider Chris Blose, the American gaining his second podium in a row to conclude the series in seventh place overall.
Blose and former World Motocross GP winner Billy Mackenzie did battle throughout the night in an aggressive rivalry that saw Simmonds sneak past and race to second during the mid-stages of the final. Mackenzie ended the season in fourth for Monster Energy Kawasaki.
Motul Pirelli Suzuki's Dan McCoy was the final podium finisher in the Open title chase with third overall, however he experienced a frustrating night that saw him finish sixth after working his way through the field.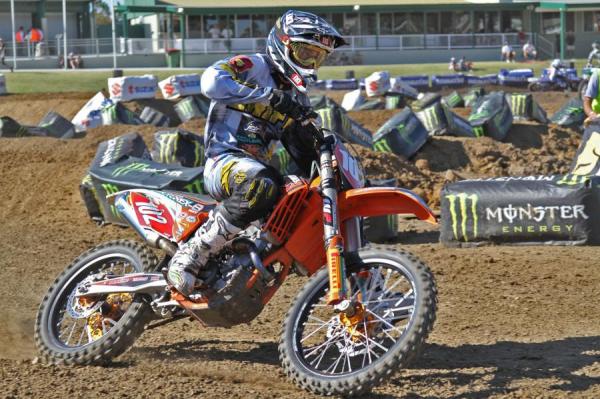 Moss en route to his third career Super X Lites title.
Photo: Alex Gobert // Motoonline.com.au
JDR Motorex KTM's Matt Moss won his third career Monster Energy Super X Lites title, a victory in the 15-lap main event enough to seal the deal by 29 points. While new AMA teammate Malcolm Stewart watched on, Moss again proved that he is ready to return to international competition next year in the U.S. with JDR.
"It's great you know, I signed with JDR at the start of the year and was able to win motocross and supercross on the 250F," 23-year-old Moss said after adding the Super X title to his MX Nationals triumph from earlier this year.
"I can't say enough about JDR Motorex KTM, the team is like a big family. It feels so good to win this number one plate-–let's go to America and get one over there!"
Moss had to work his way past American guest Gavin Faith during the final, doing so with just a few laps to run before racing into the distance and capturing his fourth win of the year. Faith was second in Queensland, resulting in that same position for Honda in the series.
Third in the championship was Luke Styke (Serco Yoshimura Yamaha) after taking fifth at the finale, while teammate Kirk Gibbs scored his first podium of the year with third in Ipswich.
Raceline Pirelli Suzuki's Errol Willis added the Under 19s Super X title to the outdoor crown he clinched earlier this year. Willis finished seventh after crashing out of the lead in Queensland, handing the victory to Honda privateer Geran Stapleton.
Yamaha rising star Billy Jackson won the Junior Development series with another consistent showing of third place at the last round, the event taken out by Honda's Hayden Mellross.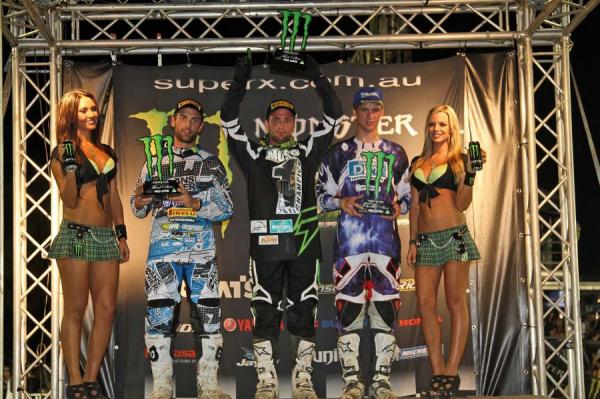 Gibbs, Moss and Faith toped the Pro Lites podium.
Photo: Alex Gobert // Motoonline.com.au
2011 Super X, Australasian Supercross Championship
Round Five – Ipswich, QLD
Pro Open Results:
1. Jay Marmont
2. Tye Simmonds
3. Chris Blose
4. Billy Mackenzie
5. Todd Waters
6. Daniel McCoy
7. Craig Anderson
8. Lewis Woods
9. Ryan Marmont
10. Michael Phillips
Pro Open Standings:
1. Jay Marmont 105
2. Tye Simmonds 97
3. Daniel McCoy 87
4. Billy Mackenzie 79
5. Lawson Bopping 74
6. Todd Waters 72
7. Chris Blose 67
8. Ryan Marmont 64
9. Dan Reardon 55
10. Michael Phillips 50
Pro Lites Results:
1. Matt Moss
2. Gavin Faith
3. Kirk Gibbs
4. Luke Arbon
5. Luke Styke
6. Jackson Richardson
7. Robbie Marshall
8. Adam Monea
9. Dean Ferris
10. Ben George
Pro Lites Standings:
1. Matt Moss 118
2. Gavin Faith 89
3. Luke Styke 87
4. Brendan Harrison 70
5. Luke Arbon 70
6. Adam Monea 70
7. Steven Clarke 68
8. Dean Ferris 64
9. Robbie Marshall 61
10. Kirk Gibbs 57
Under 19s Results:
1. Geran Stapleton
2. Jarrad Davis
3. Sam Martin
4. Mitch Norris
5. Tristen Cachia
6. Sam Duncanson
7. Errol Willis
8. Lincoln Nicol
9. Ben Parrington
10. Corey Lucas
Under 19s Standings:
1. Errol Willis 89
2. Geran Stapleton 75
3. Corey Lucas 59
4. Sam Duncanson 58
5. Mitch Norris 55
6. Tristen Cachia 54
7. Jarrad Davis 52
8. Thomas Larsen-Moss 48
9. Sam Martin 47
10. Jake Williams 34
Junior Development Results:
1. Hayden Mellross
2. Kurt Waterman
3. Billy Jackson
4. Joel Wightman
5. Nathan Crowford
6. Lenny Magyar
7. Aaron Hart
8. Haki Waller
9. Mitchell Nichols
10. Jake Donaher
Junior Development Standings:
1. Billy Jackson 80
2. Hayden Mellross 79
3. Kurt Waterman 72
4. Joel Wightman 71
5. Lenny Magyar 61
6. Mitchell Nichols 44
7. Aaron Hart 43
8. Joel Dinsdale 40
9. Jake Donaher 39
10. Nathan Crawford 31
Share this article:
Did you like this article?
Check out MOTO GIFT GUIDE
in our Latest issue of Racer X available now.

Our annual gift guide has something (or maybe even a few somethings) for everyone on your holiday list. Page 146.
Look for the verified symbol
The Conversation