You know you've witnessed a great season of racing when you can barely pair a season down to 10 great battles. With apologies to a ton of great stuff that didn't make The List, here are our staff's picks of the 10 best races of 2011.
10. Salt Lake City SX: Ryan Villopoto earned his supercross title here. James Stewart had won two straight to get back into championship contention, but he crashed while leading, opening a Villopoto versus Chad Reed battle with major points on the line. Villopoto pulled off clutch moves to get the lead and the win.
9. Jacksonville SX: We hate listing races where riders got hurt on a best races list, but Jacksonville certainly delivered in the drama department. Courtesy of a funky first-turn setup, Lites East title contender Blake Baggett missed the Lites main event, and then minutes later, SX class points leader Ryan Villopoto suffered the same fate! We don't believe an eventual SX Champion has ever missed a main event. We also don't think a rider has ever made up three points on the series leader while being carted off on a backboard, but that's what happened when James Stewart went down seconds into the main event (a big ouch for Matt Goerke, too). And oh yeah, the race for the win was superb, with Chad Reed pressuring Trey Canard every inch of the way, and Canard holding on for the victory.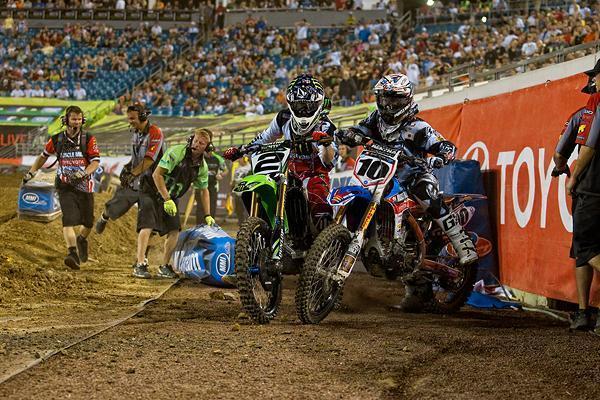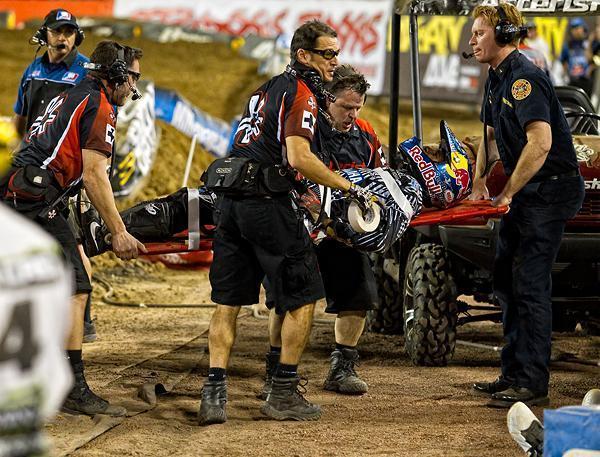 Jacksonville was a strange night as Villopoto (top) failed to qualify for the main, while Stewart (bottom) left on a stretcher.
Photo: The Medium Group
8. High Point 250 MX: El Chupacabra strikes, coming from behind to win the first moto. He sets himself even further back in moto two with a crash, which shoves his helmet visor backwards. He overcomes this, as well, launching another impressive come-from-behind effort to go 1-1 on the day.
7. Houston SX: A wild night, with major contenders—Stewart, Reed and Villopoto—way back early. Kevin Windham sets sail out front. Stewart crashes into Jason Thomas while coming through traffic. Windham throws it away with a huge crash. Trey Canard takes the lead. Ryan Dungey makes a pass for the lead, but Canard gets him back, and then outduels Dungey in a fight that goes all the way to the last turn of the last lap!
6. Vegas West Lites SX: Two different things to watch in this one, a battle for the race win, and a battle for the West Lites Championship. Cole Seely and Ken Roczen exchange the race lead via mistakes, and Roczen eventually gets away for his first career supercross win. Seely is then pulled into championship drama with Broc Tickle and Eli Tomac, with Tomac either failing to pass—or getting held up—by Seely and Kyle Cunningham. Tickle slips past to snag the championship.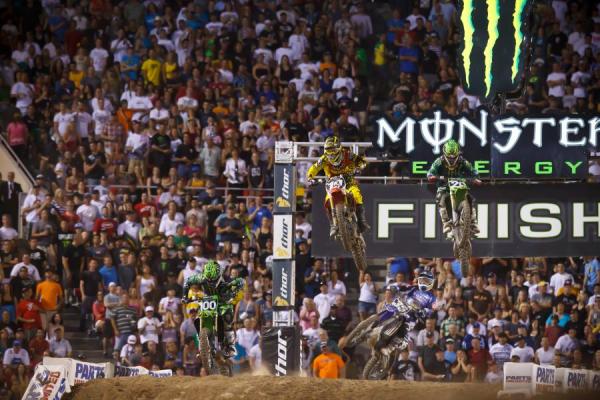 The young-guns sent the crowd into an up roar at Vegas.
Photo: Simon Cudby
5. Millville 450 MX: The Chad Reed crash seen around the world stole the headlines in this one, but the races for the moto wins were awesome, as well. Reed held off a hard-charging Ryan Dungey in moto one, and then Dungey ran down and passed Ryan Villopoto late in moto two to take a home-track victory.
4. Vegas SX: Passes, crashes, a title on the line, and a battle right to the finish. What's not to love here? James Stewart and Kevin Windham exchanged big leaps out front until Stewart went down and collected Windham, while Chad Reed and Ryan Dungey worked past a protective Ryan Villopoto to duel for the win. And they battled until the last turn! Reed won the race, Villopoto the championship.
3. Los Angeles SX: A classic. Brett Mettcalfe leads early but goes down. Ryan Dungey, Trey Canard and James Stewart battle for the lead, until Ryan Villopoto comes flying into the battle to challenge Stewart. Then Dungey tries to pass Villopoto back, then Stewart goes down, and Villopoto goes on to take perhaps his best win of a superb 2011 season.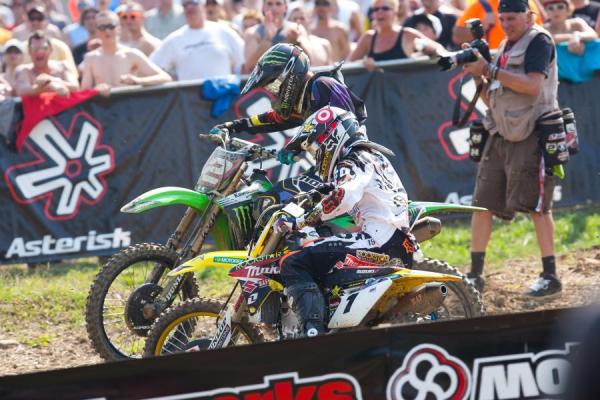 The pass heard round the industry.
Photo: Andrew Fredrickson
2. Steel City 450 MX: It's RV versus RD to the end in this one. The Ryans are the only 450 motocross title contenders left, and they leave the field behind in a private duel for the win. Dungey leads the whole way, until Villopoto sneaks in a pass in the very last corner—one that completely changed the championship picture.
1. Atlanta SX: There was more on the line at races like Steel City, Vegas or Salt Lake City, but nothing gets the blood pumping like that good old blood feud between James Stewart and Chad Reed. Stewart led early, Reed took it away, then Stewart grabbed it back late. On the last lap, Reed dive-bombed the inside of a corner, sending both riders on the ground in a heap. Ryan Villopoto inherited the win, and a packed house nearly blew the roof off of the Georgia Dome.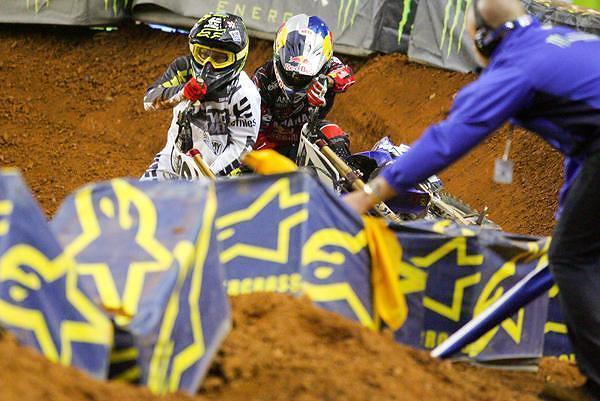 Stewart and Reed top The List.
Photo: Andrew Fredrickson