Honda Muscle Milk team manager Eric Kehoe certainly looks like he's going to be spending a lot of time down at the podium this year in supercross. Not only with his own two riders (Trey Canard and Justin Brayton), but with all the fast guys under the Honda umbrella, it's looking good for red to be a color on the podium each and every week. We caught up to the former factory rider, now turned nice-guy manager, to get his take on the upcoming season.
Racer X: Eric, thanks for doing this. It's looking like a very strong season for big red. You have got to be excited.
Eric Kehoe: Oh yeah for sure, very excited. Look at the depth of talent in the sport and including the guys that are riding Honda, it's going to be great. I think we got some guys that can feed off other guys and try to raise the level and get some good momentum going for Honda.
You must be a busy guy with the scheduling at the Honda track!
It's multi-tasking more than anything and Marc Peters [track builder] has been working harder than ever to make sure it's kept up.
Let's start with your two riders, Trey Canard is just getting back riding and you have a new rider in Justin Brayton.
Yeah, Trey is recently back on the bike and we're excited for him. They're taking it one step at a time right now, he's in good shape with his cardio but he hasn't been able to ride. Doctors wanted him to take time off and heal up 100 percent. He's getting back into it now and he has some time so we're alright.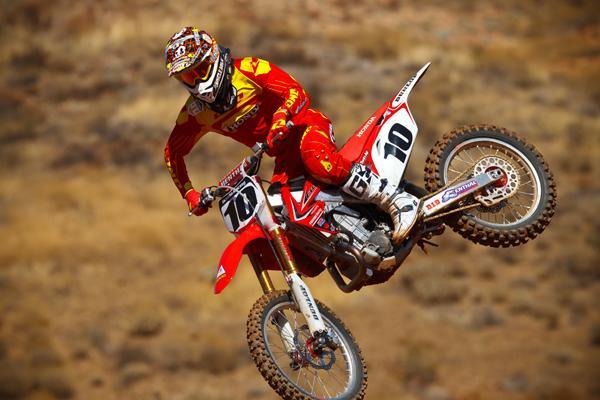 Honda made its presence felt in the off-season with the signing of Justin Brayton.
Photo: Simon Cudby
And talk about the decision to hire Justin Brayton.
Justin's a guy we've had our eye on for a while now and been talking to as well. As you know, when opportunities come and go, you have to take it. This one came up and we thought it would be interesting. He's got a lot of talent and has shown some speed at times. And hopefully our bike and program will bring him to the next level. He's one of those hard working guys you love to have and we're proud to have him on our program.
Between him, Canard, Kevin Windham, Chad Reed and Andrew Short, you guys are in the lead for the all-media team right now!
[Laughs] Yeah, that's true also. Some of the elements of some of those guys can rub off on some of the other guys—the competition between those guys raises the level of everyone. A little friendly rivalry gets going and you know how it is, the whole level of the team goes up. We really rely on these guys for development of the bikes and making the products better for us, it's going to be good.
Sort of like the Kehoe-George Holland rivalry back in the Suzuki days!
Yeah, that's it. Just like that [Laughs].
And it looks like Andrew Short is back on Honda's with Jeremy McGrath and Larry Brooks as owners.
Yeah it is, there's going to be more information coming on their team soon but as far as Andrew, it's great. He's a true ambassador for the sport, a great guy and everyone is pumped to have him back on Honda's.
And you know Jeremy has been back in the Honda family for a while now helping us out with testing and mentoring. It's been great and the whole tie-in with Honda has been good. He's already involved with us and he's been friends with Larry for a long time. He wanted to get more involved in the sport and so this is his way and we'll see how it works out for them.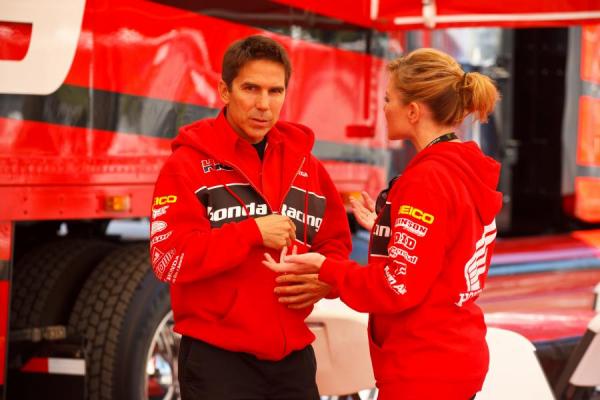 Eric Kehoe (left) is the team manager for Honda Muscle Milk in 2012.
Photo: Simon Cudby
You're going to be busy this year with all the talent on Honda's.
I think you're right, Chad [Reed] has done a tremendous job for us and that's great. Things change and he's persevered through a lot and that's why he's the champion that he is. And with Trey coming on, he's got all the pieces of the puzzle to be a champion. Justin is looking to take it to the next level as well and we have all these things happening at once and it's exciting for us.
And let's not forget about Kevin Windham, the veteran. He's been working hard on things that he wants to improve on and we're looking forward to seeing him out there. Think about how deep the class is with all our riders. With all the guys out there, there are ten guys that can podium very easily and there's only three spots!
With Chad's team coming up, the Jeremy and Larry team, the GEICO team and of course, your own guys--does it make your job a little more stressful as well?
Each of those programs, from what I've dealt with so far, are very organized. Dave Osterman is very organized and with Goose [Mike Gosselaar] coming onboard with Team TwoTwo, those guys are fine. All the teams we work with have management in place and a strong staff of people to get the job done. I think the key to having a successful program for everyone is communication. We're working on that now, we have some guys on the same bikes and sharing information, keeping everyone in the loop and making sure we're all here for the same common goal. That's the key thing for sure, it's going to be a bit more difficult at times and let's face it, in racing everyone has egos. Stuff is going to happen and you're going to have to deal with it. It's going to be crazy but it's going to be fun at the same time.