By: Alex Gobert // MotoOnline.com.au
A new face in the Monster Energy Super X, Australasian Supercross Championship, pits during 2011 has been American visitor Chris Blose, riding for the brand new Hart and Huntington/InsureMyRide team aboard a Kawasaki.
Blose has displayed immense speed in the opening rounds, but only just claimed his first Pro Open Class main event podium with third overall at the Hunter Valley round last Saturday night. It could have been much more for Blose, who won the first of three finals contested during the night, however a crash in the second final and consequent 16th position dashed his hopes of victory overall.
Blose has been popular during his time in Australia so far, sitting ninth in the standings after tough luck during the two rain-soaked rounds that started the season, but no doubt impressive amongst the Aussie regulars.
We spoke to the 23-year-old from Phoenix, Arizona, about his trip to Australia, the Super X series, and also about his future in the U.S. next season.
Racer X: We're coming up to the final round of the Monster Energy Super X series, so overall how has your experience been to date? You're ninth in the series and got your first podium last weekend.
Chris Blose: It's been really good, on vacation, but kind of working at the same time. I finally got my first podium, so that's a relief off my back and I look forward to the next round.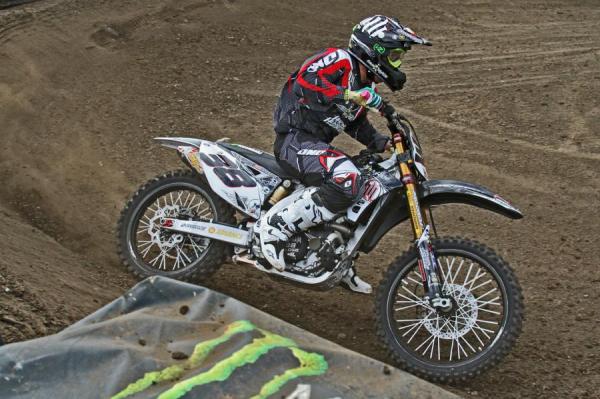 Blose scored his first podium of the series this past weekend at Hunter Valley.
Photo: MotoOnline.com.au
Your speed has been there all season, but it took a while to get the first podium, so how's it been racing against new competition and also on tighter tracks than you're probably used to?
Yeah, the tracks have been quite a bit smaller than back home and the formats are different because they're not the traditional 20-lap finals. It's taken a little bit to adapt, just the way that the riders over here ride as well.
I raced Tye [Simmonds] in America and was teammates with [Jake] Moss, but it's been a learning curve getting to know how the other guys race. I've been having fun at it though and look forward to racing these guys more often.
You mentioned that while you are racing, and obviously trying to get good results, it's also been a bit of a holiday for you. How have you enjoyed being in Australia, away from the races?
It's been great. [Daniel] McCoy has kind of taken me under his wing in Sydney, showing me around, taking me to ride, jet ski, golfing a little bit, so it's been fun. It's a little bit like home, but at the same time it's a lot different so I'm just enjoying myself. I'm looking forward to going back home and racing AMA Supercross.
How did the deal for you to race Monster Energy Super X in Australia come about?
Just being part of Hart and Huntington in America. They were speaking to the team out here and they put two-and-two-together to have me come over. That's how it all got started, through the guys at H&H back home.
You're on the Hart and Huntington/InsureMyRide team out here, so how is that coming along? It's a brand new team, but obviously has links back to the team in America like you said.
The team has been great. Obviously it's been a learning curve for them, being a new team formed for Super X, but to be a part of it and try to help point them in the right direction has been awesome. There are a lot of great people, so maybe next year I can come back and race Super X again.
You're obviously using Monster Energy Super X as preperation for the AMA series, so do you know what you are doing in 2012 yet?
I'm not sure what I'm doing back home yet, since it's all up in the air. A lot of the teams are still signing guys right now, so I might be a privateer or I could be on a team.
I haven't decided yet, but I'm sure it will be all over the websites if I do get a ride. We'll see what happens when I get back there. I leave next Monday to go back to the States, so hopefully I can sort some stuff out in the meantime.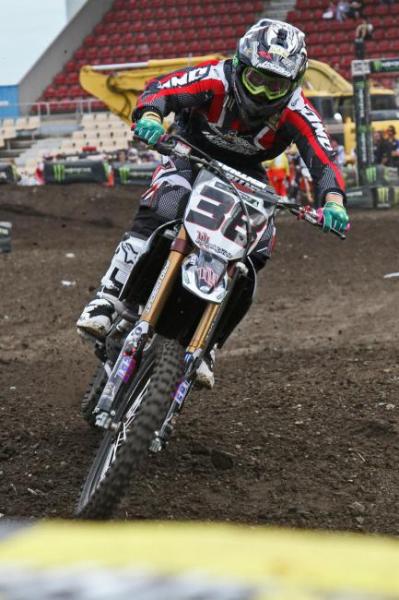 Blose is still trying to find a ride for 2012 in America.
Photo: MotoOnline.com.au