FMF/KTM's Charlie Mullins has been one of the fastest, most talented riders in the Can-Am Grand National Cross Country Series for quite awhile now, and after six years of trying, he finally landed his first career GNCC title with a dominant race win at the series-finale at Loretta Lynn Ranch. It was a strong rebound after Friday's race, when Mullins was leading, only to have his bike quit running with about an hour left in the three-hour race.
Ohio's Mullins is the first American-born GNCC Champion since 2004, and the first rider in history to have won championships in both the GNCC Series, and the AMA National Enduro Series, where Mullins won the title in 2010. We talked to him after the race.
Racer X: Here's the standard question: Has it sunk in?
Charlie Mullins: It's a dream come true. I'm really just lost for words right now, but I do know, so many people have helped me along the way. I remember doing this series when I was a kid on a CR80, and to come this far, my family and so many people out there have helped make this happen. Like I said, this is a dream come true. To come from the GNCC Youth class 10 years ago and now to be number one, it's just hard to find the words to describe how good this feels right now.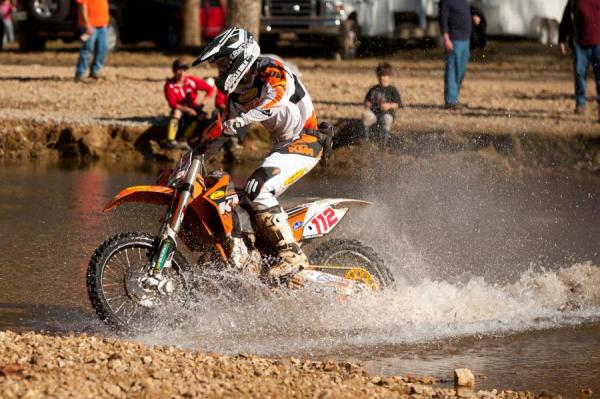 Mullins captured his first career XC1 title over the weekend.
Photo: Shan Moore
When you were in the Youth series 10 years ago, were you thinking about being GNCC #1 one day? Or was that just for fun?
It was just for fun! Just me and my dad and my uncle hanging out on the weekends, riding bikes, having a good time with the family. We had awesome weekends and a lot of fun. I never thought it would progress to this, but hard work pays off. My dad, I wouldn't be here without the sacrifices he made. So this is thanks to him, he made this happen. Also my wife Rachel, my uncle Ted, the list goes on—even other teams I rode for, guys like Randy Hawkins and Barry Hawk when I was with Yamaha, Rodney Smith at Suzuki—I learned so much. It took awhile for me to put together everything I learned, and what suits my style, what works for me, but now I finally got it. But I think of all of those people who helped along the way, they know who they are, and I can't say enough about them.
As you came through the ranks and starting dominating the amateur scene in this series, the standards were set really high early on. We were expecting you to do amazing things like maybe run down the current GNCC pro champion Juha Salminen as soon as you entered the class. People said you were the future of off-road. But it has taken six years to get this title. What changed this year?
It's mental. I've always had the speed and I've always had the conditioning. But I admit, I was known as a guy who cracked under pressure. I wanted to put that label to rest and prove I can perform when I need to. I put my head down and worked really hard over the summer break and got focused. It has been a long time coming, and it hasn't been easy. I've raced against great riders in this series who have won the championship, like Juha, David Knight, Paul [Whibley] and Josh [Strang]. It has not been easy. But it feels so good to be on top.
Well, you mentioned performing under pressure. This was a double header event, and on Friday you were leading until your bike broke. That put the pressure on today, but you responded with an absolutely dominant ride. How did you block that all out?
Well, the team and I had complete confidence in the bike. I never doubted them. It was a freak accident on Friday and I knew it wouldn't happen again. And I really like this track. I won here last year, I was leading on Friday, and I got out front again today. I really like this track, and today it got really, really rough, and I like that. I sprinted hard on the second lap and got away, but I was able to just maintain that pace. The track was really dry and really rough, but I didn't make any mistakes. I didn't crash once. I felt really good.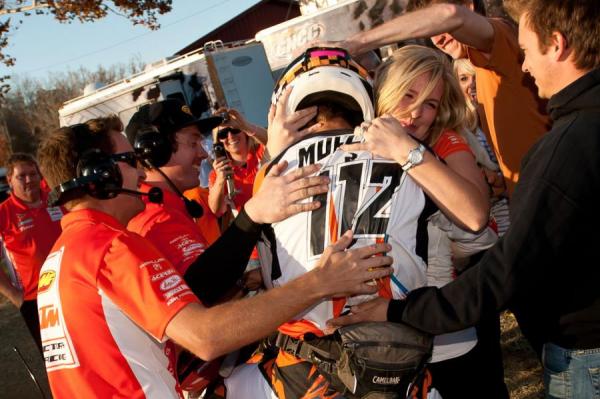 Mullins celebrates his XC1 title.
Photo: Shan Moore
In past seasons you have started the season well but didn't close it out strong enough to win the title. This year you have stepped up late in the year, you won four races in six rounds, and it sure looked like you would have won on Friday if you didn't have bike problems. What did you do over the summer break to come in so strong?
I went out to California and worked with the KTM team on the bike. We didn't make big changes, but we did some things. Also, one of the days I was out riding out there, we ran into Grant Langston and he helped me with a few things, riding wise. But these were small things, they just add up. The biggest change really was mentally. I wanted it so badly this year. And I think I've matured a bit now, I guess. I knew what I needed to do.
Last year you won the AMA National Enduro title. You have had some great factory rides, you've grown up to make a good living racing off-road. You even met your wife at the races because her family is involved with the sport. So it has already been a good run. Would have been satisfied if you didn't get this championship?
Yeah, you know, this is what I wanted to accomplish. I want more of these now. I've dedicated my life to this series and this is what I want. The Enduro Championship last year was great, and we gave it a good run this year, but unfortunately in that series I was outshined by Russ [Bobbitt], he rode really well. But this is the championship I really wanted. This is the one I put my full focus on. This is why I put in all the time at the gym, all the time on the bike. And the team was with me every step of the way. This is what I wanted, it feels so good.