Quietly, American flags are waving.
The Can-Am Grand National Cross Country Series is a distinctly American form of dirt bike racing. Motocross was invented in Europe, and Enduro racing as well. But merging the two forms? That's the American way. GNCC Racing takes the motocross format of racing bar to bar to the finish, and merges it with the rugged terrain of enduro riding. And while the series built itself on all-American style races like the wild and crazy Blackwater 100 in West Virginia, all of that growth did something else, too: it attracted off-road talent from around the world.
The first GNCC Champions were relatively local products. Pennsylvania's Eddie Lojak. Kentucky's Scott Summers and Ohio's Scott Plessinger. When Rodney Smith won the title out of California, he was considered a freak of nature for adapting so well. But then came the overseas brigade. Shane Watts from Australia. Juha Salminen from Finland. David Knight from the Isle of Man. Paul Whibley from New Zealand. Last year, Australian Josh Strang took the GNCC title, marking the sixth-straight year a rider born and raised outside of the U.S. took the crown.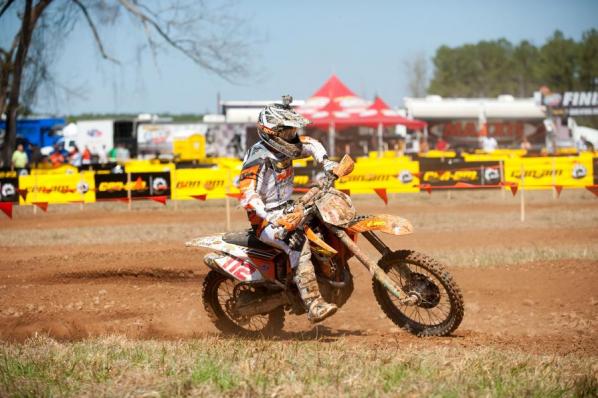 Mullins holds a 38-point lead over Strang heading into the season finale at Loretta Lynn's.
Photo: Shan Moore
Ohio raised, North Carolina-based Charlie Mullins may break that streak this weekend at the GNCC finale at Loretta Lynn Ranch. "Hot Rod" holds the GNCC points lead with just two rounds to go, and both races will be held this weekend (this race marks the first-ever GNCC double header, a make up for a flooded-out race at Loretta's in the spring). If Mullins holds on over Strang and Whibley, his closest pursuers, he'll finally bring that title home. It's a championship many predicted Mullins would win years ago, but only now has he shown the stuff to finally take it home.
Back in 2005, Mullins was still an amateur, but the Am-Pro Yamaha team signed him based on his obvious talent. He dominated the 250 A class and mixed it up with the Pro class based on overall finishing time. In 2006, he faced the mighty Juha Salminen in his rookie year and gave the GOAT of off-road quite a challenge. Mullins snagged nine podiums in 13 races, but Salminen and Barry Hawk shut the rookie out of victory lane. In 2007, Salminen headed back to Europe and David Knight took his place here. Mullins took another swing at the title, finally landing his first two career race wins, but Knight and Hawk outlasted him in the standings.
No matter. Mullins had established himself as the Next Big Thing in American off-road, and the FMF Suzuki team offered him big money to leave Yamaha. Expectations were high, and Mullins ripped off a win at the second race of the 2008 season in Georgia. But then, his momentum suddenly stopped.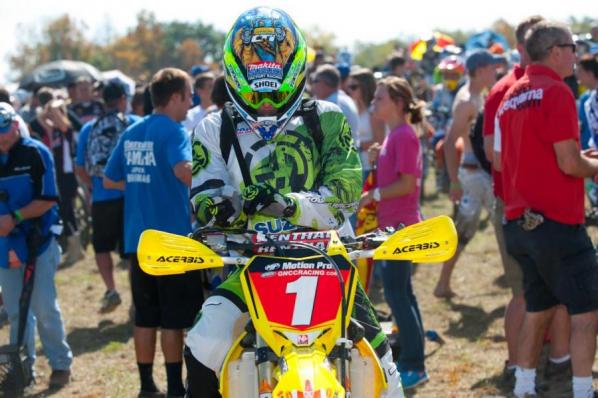 The defending champion, Josh Strang, may need a miracle to surpass Mullins at Loretta's.
Photo: Shan Moore
A million reasons were trotted out, but for whatever reason, Mullins didn't gel after that Georgia win. He ended the season a disappointing fifth in points, switching from a 250 to a 450 at the mid point. He started the '09 season rejuvenated on the Suzuki 450, winning the opener, but again faltered as the season went on, finishing third in points behind Whibley and Strang.
At that point, Whibley had cemented his reputation as one of the toughest motorcycle racers ever. He worked a day job with the New Zealand Forest Service while working his way up as a racer, hence his nickname, the Axeman. He rode and trained like an animal, and outlasted the comp in the three-hour races. The young, ambitious Strang took on Whibley's endurance as a personal challenge, logging day after day of sweat equity in the off-season to try to match up. They battled hard in 2009, and Whibley came out on top. Strang turned the tables and won the title in 2010. Mullins? He made a few steps forward and took second in last year's standings with three wins. But once again, he couldn't put together the finishes down the stretch to get the championship.
This year, the FMF KTM factory off-road team signed Mullins with one specific goal: get the GNCC title back. Since Knight went back to Europe in '08, KTM had not been able to mount a championship challenge. Mullins was entrusted to get them back to the top, but to do it he would have to topple Suzuki's Strang and Yamaha's Whibley.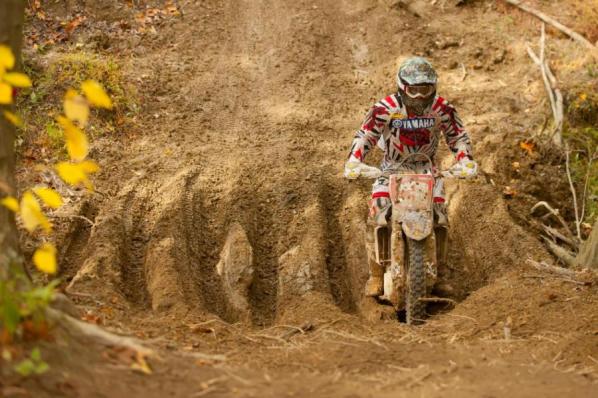 Whibley still has a chance heading into Loretta's.
Photo: Shan Moore
Mullins win at this year's Florida opener was impressive, as he tracked down all-time-tough-man Mike Brown to win in come-from-behind fashion in the sand. Strang wasn't going to let him have it easily, though, and the duo launched some epic battles at mid-season. In North Carolina, they battled to the last turn of a three-hour race until Mullins fell, while leading, and handed the win to Strang. There had always been talk of how Mullins reacted to pressure, and losing a race like that didn't help.
Part of it is his personality. Mullins isn't a trash talker. He's a nice guy, and nice guys sometimes don't seem like they have the competitive streak to go out and dig for the title when it's hanging in the balance, late in the season, late in the races, when it's down to a high-pressure battle of wills. Whibley and Strang didn't have it easy. They came half way around the world to get their rides and their shot. They raced for nothing when they started, earned their way into the big money rides, and when they saw the chance at the championship, they seized it.
To some, Mullins didn't have the same grit as his rivals. The same tenacity. But a lot of that comes from his personality. Charlie is quiet, and that belies his competitiveness.
This year, he proved that he is indeed driven. After his heartbreaking loss in North Carolina, he bounced back to dominate the next race in South Carolina, leading five of six laps to prove he was no pushover. He traded wins with Strang and Whibley through the next few rounds. Then came the stretch run, the spot where Mullins has struggled before.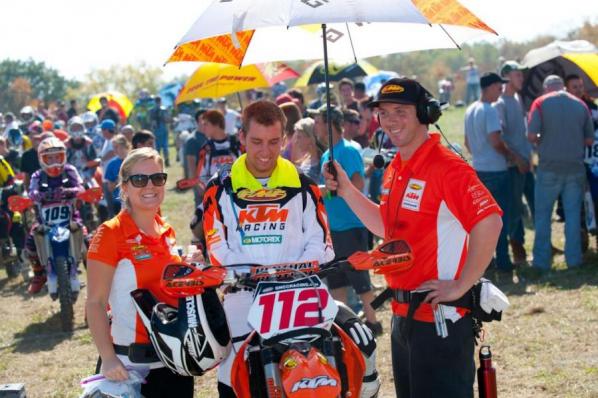 Mullins will become the first American since 2004 to win the title if he is able to hang on this weekend.
Photo: Shan Moore
He's a new man. Since the tour resumed after a summer break, Mullins has ripped off an amazing record—three wins and a second-place finish in four races. He's finished ahead of Whibley and Strang at every round, turning a 14-point deficit on Strang into a 38-point lead. Yes, Strang has been slowed by terrible luck—he busted a sprocket and chain in a crash at Unadilla, lost his rear brakes in Pennsylvania, and ripped a footpeg loose in Indiana. But Mullins has been steadfast. Solid. Consistent. Fast. Strong. All of the things he seemed to struggle with late in the season have gone the other direction now.
Just two races remain—the Friday and Sunday races at Loretta's this weekend. If Mullins claims the number one plate, he'll be the first American since Rodney Smith in 2004 to get it. No doubt, Mullins feels like he's been waiting forever to be the one who made it happen.