We've collected a giant stash of photos from the 2011 season, and we're running through the best before they get sent to DC's infamous "slide room."
Last week we looked at
Hondas SX season
, now it's Suzukis turn.
(Photos by: Simon Cudby, Andrew Fredrickson, and the Medium Group)
Hot Start for the Defending Champion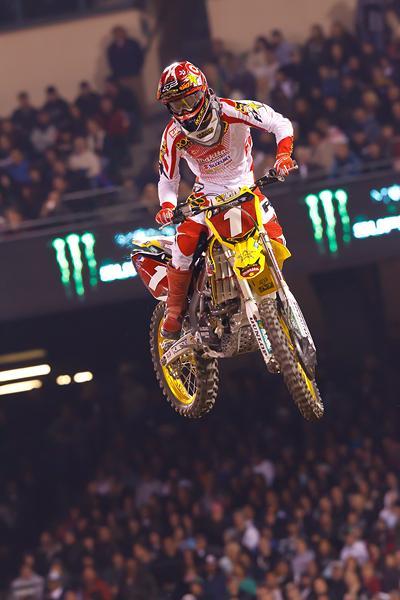 Ryan Dungey
entered 2011 with a bulls-eye set squarely on the back on his number 1 jersey. Coming off his 2010 breakout year in which he won the Supercross title in his rookie season—joining the King of Supercross, Jeremy McGrath, as the only two riders to accomplish that feat—Dungey still had many doubters entering the '11 season. Many speculated that Dungey only succeeded because others failed, or were injured. But with a healthy
Ryan Villopoto
, a healthy
Chad Reed
, a healthy
James Stewart
, and a promising rookie (
Trey Canard
) entering the fold, Dungey was ready answer the critics of 2010. Dungey quickly put to rest the notion of being a one-hit wonder when he finished second to RV at the opening round at Anaheim—besting Stewart, Reed, and Canard.
Davalos Shows Speed in Practice, Struggles in Main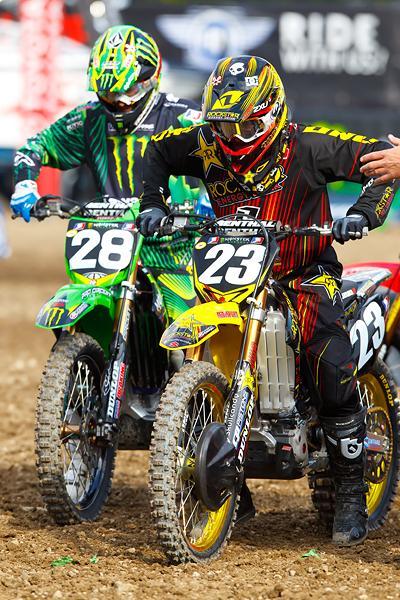 Martin Davalos
was expected to be an anchor on the revamped Rockstar Energy Drink Suzuki team, and he quickly asserted himself with fast lap times in practice (second overall in the Lites field). However a first-turn crash in the first heat race of the year sapped some of his momentum. He finished fourth in the Anaheim Lites West Main Event, but failed to reach the podium all season long.
Morais Recovers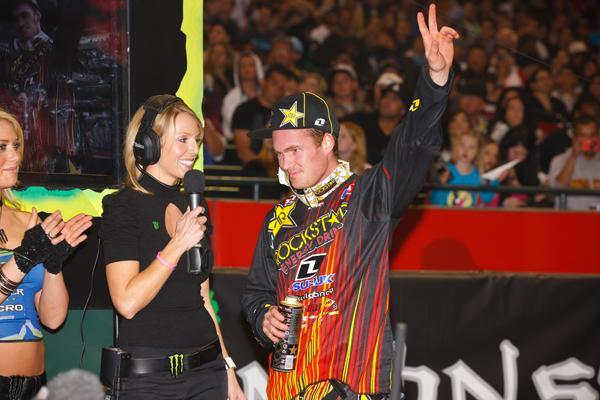 Ryan Morais
was ready to snag his first-ever SX Lites win in 2011, but a big crash a few days before the season left him hobbled at Anaheim. But 'Mo dug deep at the next two rounds, reeling off podium finishes at Phoenix and Los Angeles despite riding at less than 100 percent. Those would be the only podium finishes the Rockstar Suzuki team would see all season long.

Hot off the Blocks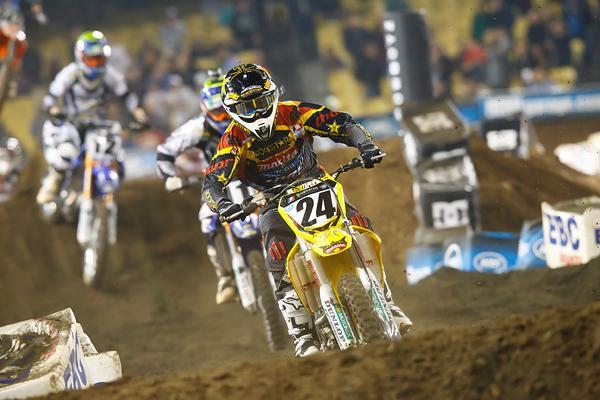 Expectations were high for Brett Metcalfe when his signed with Rockstar Makita Suzuki for the 2011 season. Although it was his rookie year in the Supercross class, he had shown great promise on a 450 during during the 2010 AMA Motocross Championhip. After back-to-back eighth place finishes at the opening two rounds, Metcalfe answered the bell, grabbing the lead early at round three in Los Angeles. While he couldn't make the lead last and eventually finished, you guessed it, eighth (after a crash) he was able to run up front and gauge the speed he needed to be a contender. Unfortunately, it was all cut short…(more on Metcalfe's season later).
The Battle of Los Angeles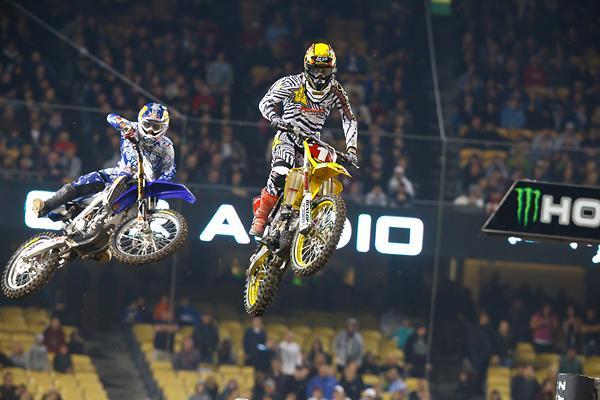 The inaugural trip to Dodger Stadium finally provided the fireworks from
Ryan Dungey
,
Ryan Villopoto
, and
James Stewart
we had all been waiting for. It was
Brett Metcalfe
out front early, but Dungey struck quick and grabbed the lead. But he had company in the form of Stewart, while RV was buried mid-pack. Dungey would finally succumb to the relentless pressure of Stewart, and later Villopoto, eventually finishing third on the night. Not exactly what the ultra competitive Dungey was hoping for, but yet another solid result to begin his title defense.
Dungey Derailed at Anaheim II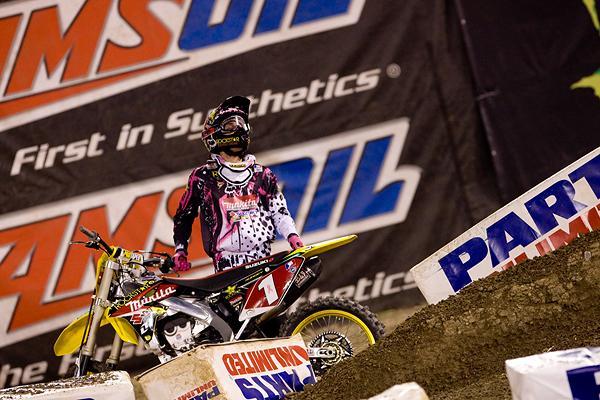 Dungey looked ready at Anaheim 2, snagging the fastest qualiying lap in practice. But in the main event, he was off to a bad start and having trouble moving forward on the tight track. While battling,
Trey Canard
ran into the back of Dungey's bike, derailing Dungey's chain. He lost a ton of points that night, points that would be tough to get back against such a talented field.

Mayhem for Metty in Atlanta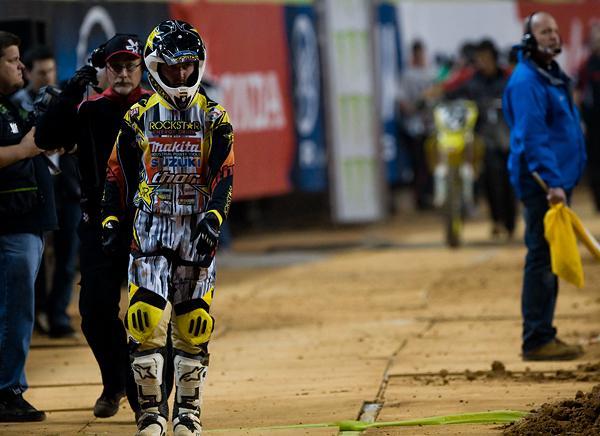 Hovering outside the top five for the majority of the season, Brett Metcalfe wasn't enjoying the fruits of his labor so to speak. Metcalfe, an East Coast rider for much of his Lites career, was hoping to turn things around when the series hit the dirty south for round eight in Atlanta. He packed a revised bike setup and seemed to carry more confidence through the afternoon. But things went from bad to worse for the Australian as he went down hard—his second big crash in a matter of weeks. He would rebound to finish tenth, but after limping to an 18th place finish at Daytona, Metty would call it a season when he realized he had broken his wrist.
Tragedy in Daytona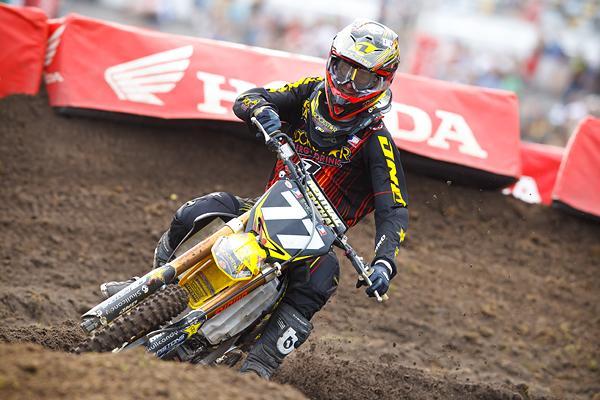 In just his second-ever pro supercross race,
Ian Trettel
rolled out for practice in Daytona hoping to build on his solid fifth-place debut in Houston. Moments later, everything changed. A crash left Ian with a head injury that would end his career. Ian's doing better now, but the events of this afternoon sent chills through the industry.
Dungey Rebounds in Daytona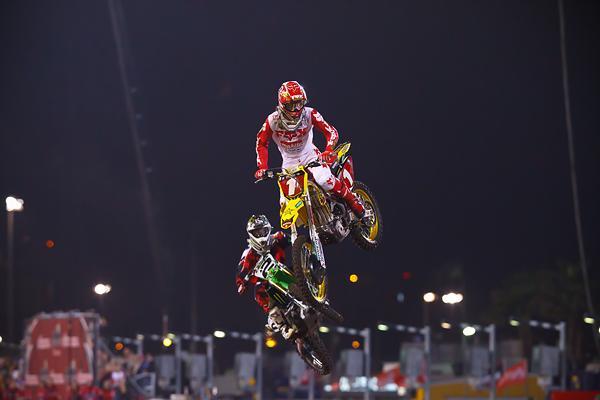 After grabbing the holeshot over Ryan Villopoto in his heat race at Daytona, Ryan Dungey was finally looking to prove he could stave off one of the contenders and get a win—even if it was a heat race. Dungey was holding Villopoto at bay until his bike quit. Dungey would rebound to win the LCQ, and go onto a podium in the main event, showing true grit in the face of adversity for the defending champion.
Dungey Falls Short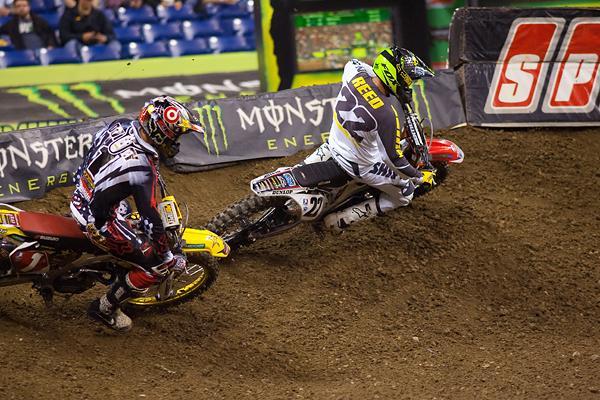 Throughout the season many were clamoring for more "intensity," more "fire" from Ryan Dungey. In Indianapolis Dungey finally showed the spark many had been waiting for—although it would come at a price. Hounding Chad Reed for a valuable podium position, and the points that came with it, Dungey would finally get aggressive with Reed in the waning moments of the race. While his aggressiveness didn't pay off at Indy—he crashed while trying to make a pass on Reed—it showed just how badly Ryan wanted it.
Dungey Finally Breaks through in Toronto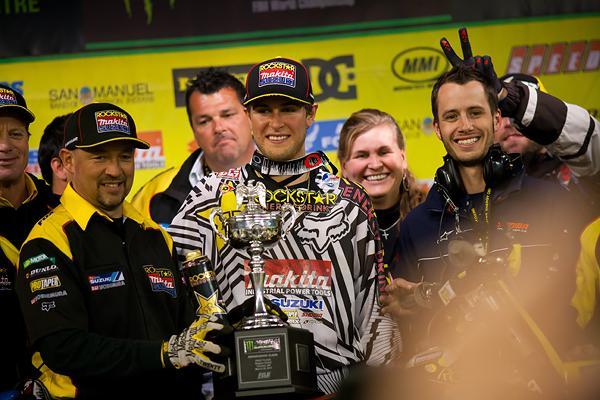 The drought that was Ryan Dungey's winless streak finally ended in Toronto. After struggling to find the top of the box all season Dungey had a breakout race in Toronto, claiming his first win of the season. After finally getting a good start, Dungey separated from Trey Canard and Chad Reed early, setting a blistering pace in the Great White North. The win also pulled Dungey to within eight points of the championship lead, which a few weeks before seemed improbable.
Dungey Draws Closer with Podium in St. Louis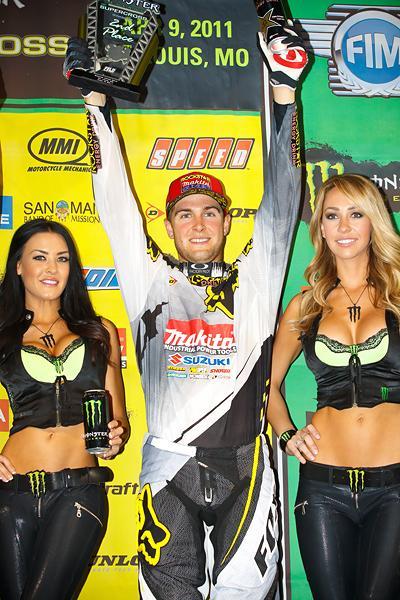 Yamaha's
James Stewart
had a breakthrough night in the STL with his first win in months. But right behind him came Dungey, who finished in front of
Ryan Villopoto
and
Chad Reed
again to move even closer in the standings. People were starting to get back on the Dungey bandwagon!

Rookie Struggles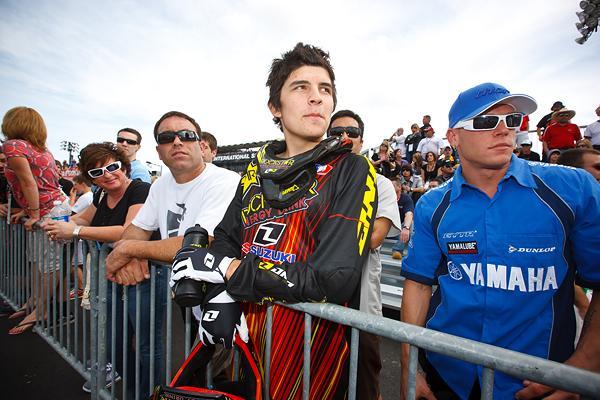 After tearing through the amateur ranks New Mexico native Jason Anderson was awarded the prestigious AMA Horizon Award in 2010—which is bestowed on the best amateur rider in the country. The hottest rookie prospect entering the pro ranks, Anderson was quickly snatched up by Rockstar Energy Suzuki and expected to fill a void in the program as a genuine title contender. But Anderson was never able to fulfill the high expectations that were placed on him early in the season. Struggling with consistency and an overall lack of confidence, the 2011 season provided a lot of hurdles that the wide-eyed rookie was just not ready to jump through.
Championship Hopes Dashed in Seattle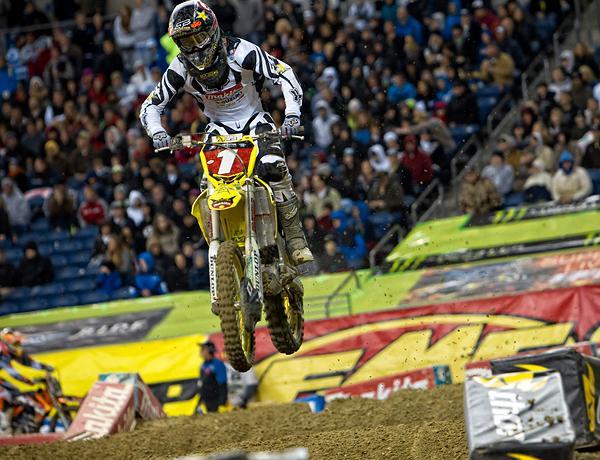 After the disaster at Anaheim 2, Ryan Dungey had scratched and clawed his way back into title contention. Then came the rains of Seattle pouring down on Dungey. Dungey was right in contention on the first lap but crashed, and then went down for a second time while coming through the pack. Dungey would recover to salvage fifth, but the damage was done. All three title contenders—Stewart, Reed, Villopoto—finished ahead of Dungey, who was faced with the realization that his title chances had nearly washed away.
Reed, Dungey Square off in Sin City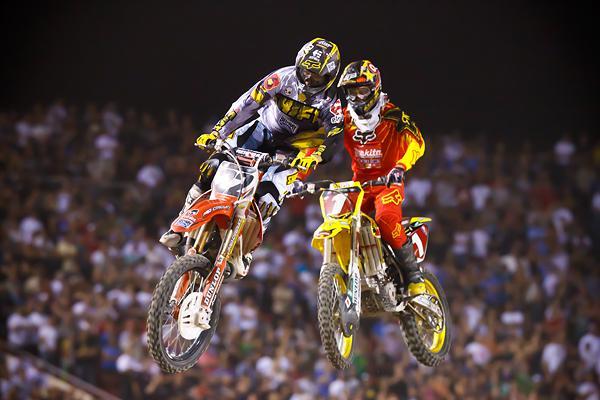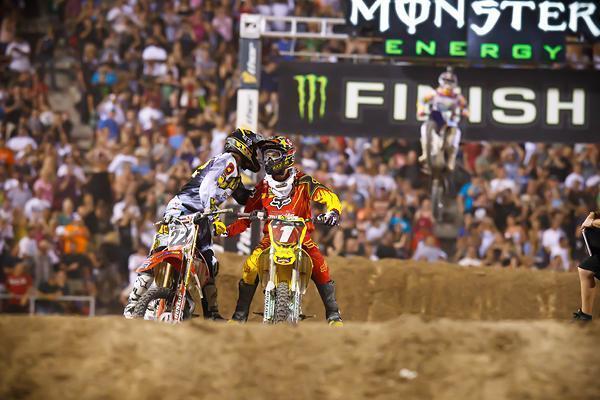 Although his title chances had washed away in Seattle,
Ryan Dungey
wasn't going to go silently into the Vegas sunset. Dungey, who was over five seconds down at one point to
Chad Reed
, was determined to make a statement at the season finale. The two engaged in what looked like a 12-round prizefight, with Reed landing the final blow on Dungey as he shut the door on his second win of the season. Then in an ending made for Hollywood the two titans of the sport embraced in what was a mutal sign of respect—a fitting end for one of the greatest seasons in supercross history.