At the Des Moines Arenacross over the weekend, I asked
Tyler Bowers
about his future plans. At age 20, does he plan on assaulting the Arenacross record books and trying to reel off some impressive stats? Buddy Antunez has five Arenacross titles and over 100 career main event wins. But few started winning as early and as often as Bowers.
"Well, it would be tough to break the records the way it's set up nowadays," explained Bowers. "Back then, they'd race two main events on Friday and two on Saturday so you had a lot more races to win. I won 12 of 19 last year but on some weekends we only get a shot at one win."
So Bowers isn't expecting to go after the records. But perhaps there's another reason: Bowers would love to take another full swing at Supercross.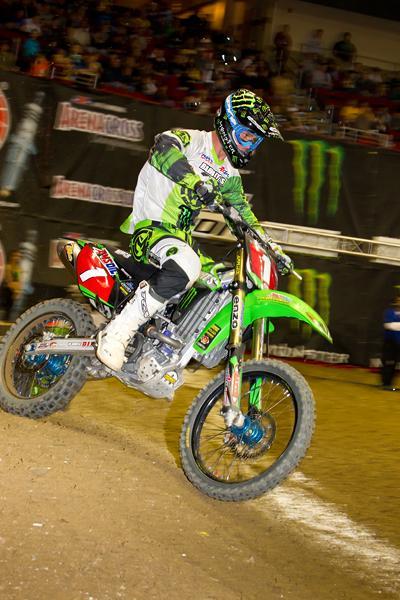 Is another shot at supercross in the plans for Bowers?
Photo: Simon Cudby
Highly-touted out of the amateur ranks, Bowers turned in a solid, but unspectacular rookie SX Lites season with Yamaha of Troy in 2008. He was largely overshadowed by the strong seasons of rookies like Trey Canard and Austin Stroupe, and also seemed a bit big for a 250F. So he went to the 450 class with MotoConcepts the next year and never found the groove—he made ten 450 main events and finished 21st in points. The next year he was off to Arenacross. Last year he rode the last three Monster Energy Supercross races in the 450 class, but lost his brakes in Seattle and knocked himself out in Salt Lake City. He finished 11th in Las Vegas.
Tyler has been living and training in California on the Kawasaki test track, where he surely keeps improving his craft. This year, the Arenacross tour switched back to 250Fs, and Bowers proved at Des Moines he could ride one well. Also, this year's Arenacross tour finishes just before the Lites East Supercross campaign kicks off. Might Bowers be primed to take another run at a career in the big stadiums?