Race Report: Australasian Super X Rd. II
Monday, October 31, 2011 | 9:50 AM Tweet

By: Alex Gobert // MotoOnline.com.au

The Monster Energy Super X, Australasian Supercross Championship was struck by a massive thunderstorm at WIN Stadium in Wollongong, New South Wales, last Saturday night, with a new winner emerging in Motul Pirelli Suzukis Dan McCoy.

Following a glorious afternoon of sunshine that extended into the evening, the heavens opened ahead of the main events, causing series organizer—Global Action Sports—to reduce the format to a 15-lap main event each for both the Pro Open and Pro Lites categories.

McCoy, 27, was exceptional in the tricky conditions, taking the holeshot before settling in behind hard-charging Scotsman Billy Mackenzie (Monster Energy Kawasaki). When Mackenzie went down a few laps later through the whoops, the rest was history, as McCoy soldiered on to his maiden Pro Open victory.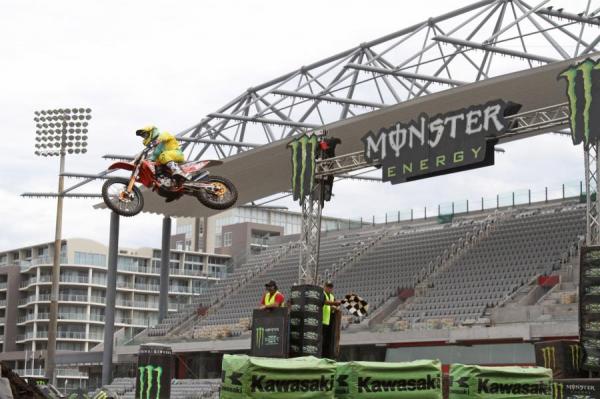 Matt Moss made it two for two in the Pro Lites at WIN Stadium.
Photo: Rice Photography
"It feels great to be up here and I have to thank the team, Motul Pirelli Suzuki," ex-AMA rider McCoy said. "I really wanted to ride the 450 in Super X and I'm glad I'm here. I knew what I had to do and I have so many people I need to thank."
Behind McCoy came former U.S. regular Dan Reardon, the JDR Motorex KTM rider challenged McCoy for the win before getting caught up with lapped riders in the closing laps. The final podium finisher was hometown hero Jay Marmont (Yamaha), riding with a pink livery in support of breast cancer awareness week in Australia.
Completing the top five were two of Australia's greatest rising talents, Lawson Bopping (Suzuki) and Todd Waters (Honda). Bopping, 21, crashed while making a charge for the lead mid-race, remounting to fourth.
Mackenzie recovered to score ninth, now fourth in the series that's led by McCoy following his round two victory.
The Pro Lites class was one again taken out by Matt Moss on the JDR Motorex KTM. The 23-year-old picked up his second win in as many tries this season to extend his series lead. Moss was untouchable in the conditions, leading from flag-to-flag.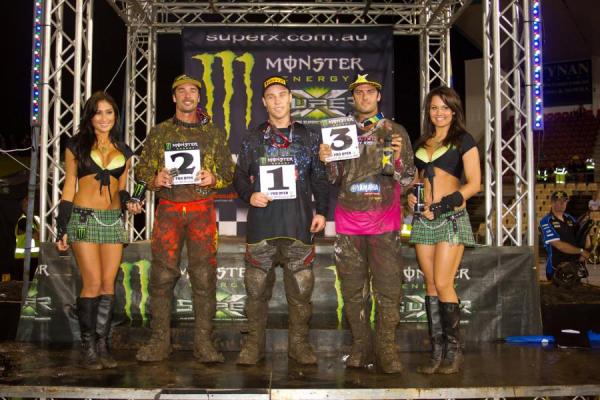 Reardon, McCoy and Jay Marmont rounded out the Pro Open podium.
Photo: Rice Photography
"I'm just stoked," Moss beamed. "I'm actually surprised with how I rode all day, I felt really good. I'd love to clean-sweep this whole series and get that number one plate. Adding Super X to the outdoor title would be a big confidence boost before going to America in 2012."
Moss was chased by British young gun Steven Clarke (Suzuki) as he raced to his first rostrum of the year, while Moss' teammate Brenden Harrison finished third for the second week in succession after claiming the position on the final lap from American guest Gavin Faith (Honda).
Monster Energy Kawasaki's Dean Ferris was forced out of the main event after a series of luckless crashes, despite qualifying quickest in the dry conditions.
The Under 19s and Junior Development categories were cancelled before the main events due to schedule restraints after the rain lashed the stadium during the evening.
Next weekend will see the Monster Energy Super X, Australasian Supercross Championship, debut at Campbelltown Stadium in New South Wales, marking the halfway point of the 2011 season.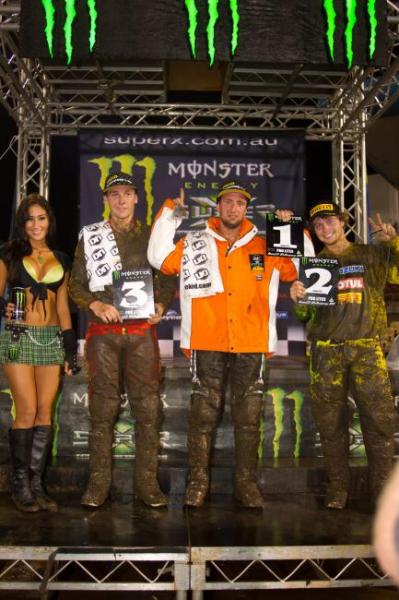 Harrison, Matt Moss and Clarke took home the top three spots in the Pro Lites Class.
Photo: Rice Photography
2011 Monster Energy Super X, Australasian Supercross Championship
Round Two – Wollongong, NSW
Pro Open Results:
1. Dan McCoy
2. Dan Reardon
3. Jay Marmont
4. Lawson Bopping
5. Todd Waters
6. Tye Simmonds
7. Michael Phillips
8. Craig Anderson
9. Billy Mackenzie
10. Jake Moss
Pro Open Standings (after 2 of 5 rounds):
1. Dan McCoy 41 points
2. Tye Simmonds 40
3. Dan Reardon 34
4. Billy Mackenzie 34
5. Jay Marmont 33
6. Todd Waters 30
7. Ryan Marmont 30
8. Michael Phillips 29
9. Cheyne Boyd 27
10.Jake Moss 22
Pro Lites Results:
1. Matt Moss
3. Brenden Harrison
4. Gavin Faith
5. Luke Styke
6. Luke Arbon
7. Adam Monea
8. Casey Turner
9. Matt Ryan
10. Keiron Hall
Pro Lites Standings (after 2 of 5 rounds):
1. Matt Moss 50 points
2. Brenden Harrison 40
3. Luke Styke 38
4. Steven Clarke 37
5. Adam Monea 28
6. Gavin Faith 27
7. Casey Turner 25
8. Kirk Gibbs 22
9. Luke Arbon 20
10. Matt Ryan 20
Share this article:
Did you like this article?
Check out 10,000 MILES FROM HOME
in our Latest issue of Racer X available now.

Australian Dean Ferris hopes to follow in the footsteps of some of his legendary countrymen. Now contesting the FIM Grand Prix series, he made a huge impression at the Motocross of Nations. Page 138.
Look for the verified symbol
The Conversation