Last season former 250 MX and SX champion Ivan Tedesco came into Anaheim looking to take that next step on his Dodge/Hart & Huntington Kawasaki ride. And for a little while it looked like he had done just that as he carried himself nicely early in the year. Unfortunately for IT9, crashes and injuries set in for Hot Sauce and he found himself riding hurt indoors before pulling the plug altogether with two races left. Now 100 percent healthy, Tedesco is looking to once again make his mark on the 450 class in 2012. Racer X caught up to Ivan to find out how recovery went and what he's looking forward to this coming supercross season.
Racer X: Ivan, it's been a long road back for you. Can you tell us what you did and what the recovery was like?
Ivan Tedesco: I tore my ACL in my knee at Toronto and I just figured I'd finish the year out with it by limiting my practicing during the week and just racing. Then two weeks after that, in St Louis, I jammed my foot into the ground and sort of dislocated my hip. So I had both of those injuries, tried to race one more race in Seattle and there was too much pain. I was just riding around. We decided to call it quits and get fixed. That was six months ago and I just started riding last week.
What did you do for the knee? Cadaver or hamstring?
I went with the hamstring for that, I thought it was better. For my hip, I tore my labrum in there and the fix is going in there and sewing it back up. I took the maximum amount of time off and even a bit more. I'm all good to go now and pain free.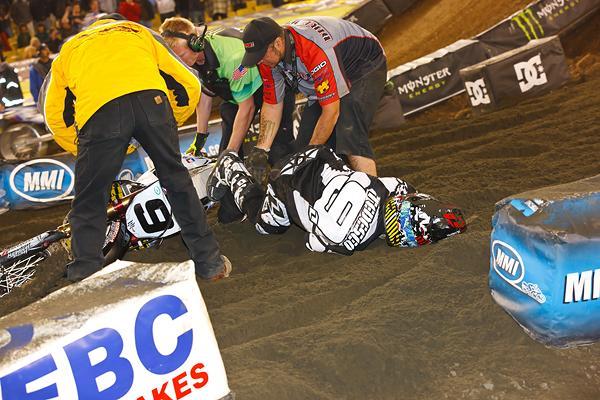 Crashes and injuries set Tedesco back in 2011.
Photo: Simon Cudby
So how's it going with the riding? Knocking the rust off?
No, actually it's been pretty good to be honest. I went and rode a couple of days outdoor testing at Starwest and Perris to get started. I guess I did feel rusty the first few days but I decided to start with supercross and I feel like I've never stopped. I feel good.
Overall, your season just didn't go the way you wanted it with the crashes and the injuries?
No it didn't. It was a rough year, I was riding good and had a good off-season. I felt like I was riding great and maybe came in a bit overconfident, I'm not sure. I wanted to come in and be one of the guys and the class was stacked with talent. To run up front, you have to hang it out and I was trying to do that, but then the crashes came. There's that fine line between being able to do that and hitting the ground.
How's the 2012 Kawasaki 450?
I'm just riding my race bike from last year, they're working on getting me one right now and building it up. It shouldn't be much longer and I've got a good two months to get ready. If there's a race in the last month or so, maybe I'll hit that up to see how everything is
The good thing about your injury and the time off is that you're now completely 100 percent healthy.
Yeah, I'm good. Like I said, I took extra time off and I've been running and cycling the last few months. I wanted to make sure when I got on the bike, there was no pain in the knee. I wanted to feel great right away and I do. So now it's hammer-time for me and I'm ready to go.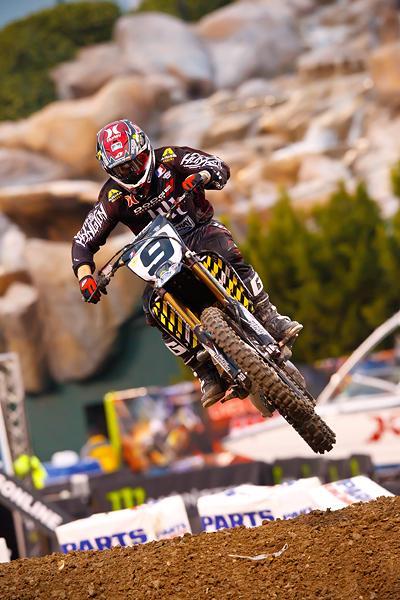 After struggling with injuries for the better part of last season, Tedesco is now 100 percent.
Photo: Simon Cudby
What's new for you in 2012?
Same bike, same team and all that. We have Dodge with us on the Hart & Huntington team again and I know they're working on some new exciting stuff as well. We also have Sycuan Casino coming on-board and we're back with the Shift/Fox family as well, so it's nice to be back with those guys. Also Hurley is still with me, look for some cool stuff coming on in the new year, it will be some IT9 clothing. I'm pumped to be with those guys, they're awesome. And Tony Berluti will be back as my mechanic. Kyle Bentley will be down here in Southern California working with Pro Circuit and arranging the testing.
And of course, some new teammates as well with Josh Hansen, Josh Hill and Kyle Partridge. I'm looking forward to it, good guys in front and behind the scenes.
With Hill coming off an injury and Hansen making the jump back up to the 450 class full-time, I think you guys could get some seriously good results or it could go the other way. You have an intriguing team for those of us that follow the sport.
Yeah, we're staying positive right now, Hill is back riding and that guy has some serious skills. He's still a kid, still young and I'm hoping he can come back and show everyone that he's still got it. And with Hansen, I helped him out last year and obviously he can ride a dirt bike. We're going to be training over the next couple of months and we've got some good riders, the results should be there. It's time to get to work and we'll see in a couple of months.