Welcome to a new feature on Racer X Online: Rapid ReaXtion. When news breaks, members of our editorial staff will weigh in with their initial thoughts on the deal. Read our analysis, and then weigh in with your own via the comments section at the bottom.
Jason Weigandt: This is a win-win for JGR, because they get the man who at least has the potential and talent to be the fastest man on the planet, but without the pressure of having to win every race. Stewart has had a rough two years, so if he doesn't dominate in 2012, it won't come down so harshly on the team. But if he does break through, the squad looks good. Rarely does a team get a rider with this kind of talent while still packing mixed expectations. Remember, when Stewart switched to Yamaha for 2009, he was coming off of a perfect 24-0 outdoor tour, so he was expected to dominate.

For Stewart, it's a chance to get back on a team that races outdoors, which will help his rep immensely, especially if he succeeds there. It also could open some doors to NASCAR, although the details of that are surely far down the road.

The questionable part is the bike—it appeared Stewart didn't like the Yamaha, but he's back on one. Is the JGR setup really that much better than what Stewart rode in 2012? The JGR team is yet to prove themselves as truly championship-ready, so Stewart is taking them to new levels of expectations. Are they ready?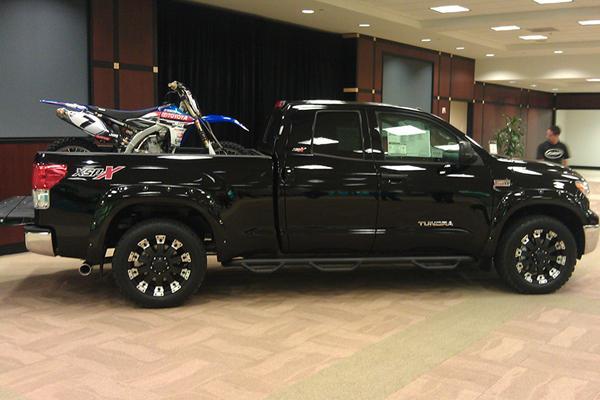 Stewart's new bike at the JGR race shop.
Chase Stallo: When James Stewart finally put his signature on the dotted line, putting to rest weeks of speculation, officially making him a member of Joe Gibbs Racing, JGR immediately received the star power and ready-made championship contender the team has lacked since its inception.
This deal also means a return to the AMA Pro Motocross Series for Stewart, which should satisfy the burning desire of fans and media members alike that have been salivating to see one of the fastest riders in the country make his return to the great outdoors.
The only problem that could arise for this seemingly perfect match is the fact that JGR is still running Yamahas. While the new Yamaha obviously satisfied Stewart during testing, he—along with others—were very critical of the last year's model. At the end of the day JGR hit a grand slam with the signing of Stewart, a critical piece of the puzzle the team has been missing.