Joe Gibbs:
When this team started, I was still coaching. My son Coy told me he had an idea and a goal, and since I was coaching, I thought it was on the football side. But he said it was for racing, and then I thought it was for our NASCAR team. But he told me it was motocross. It kind of came out of the blue.
This was Coy's dream. He started it. He connected with David Evans and they started building a team. And I was still coaching, so I was too busy to really help much at first. But what we've seen from motocross and supercross is, this sport is on the upswing. In supercross, they're getting 50,000 fans in the stands every weekend. Even more in bigger buildings like Dallas, and 65,000 in Atlanta. I have all of the numbers right here, and they're all up this year, way up. This sport is going up and we're very proud to be part of it.
We're very excited to have James join our team. Coy and everyone on the team have worked very hard to build this team up and build the foundation.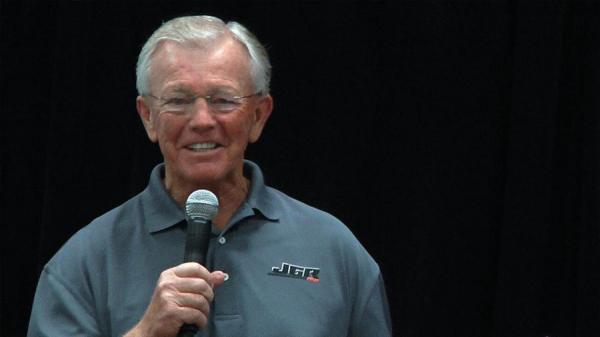 "This sport is going up and we're very proud to be part of it." - Joe Gibbs
Photo: Jason Hooper
Coy Gibbs: Today it's our turn. We're very excited have James join the team. David Evans and I loaded up a plane and went to California to start working on a team. The biggest thing we did was build a foundation. We ended up getting Jeremy on board and then the rest of the guys, a great group of guys. At that point in time, the only riders we could get were riders that could build the team. We wanted to get the team up and running and do it first class, and we feel like we're at that point now. And James can help us with that. I'll tell you this, I walk into the [NASCAR Sprint] Cup shop a lot, and they'll say, "Hey, you know, we won over the weekend. How did you do? When are you going to step up?" So now we finally have that. Now I'll be excited to walk into that shop.
Sponsors have become so critical in this. When we started, David and I went to California and we got Toyota. At that point, we didn't really have anything! But we were lucky that Toyota bought into this program, and they understood what we were trying to build. Usually with a sponsor, the first thing they ask is, "Who is your rider?" They don't even talk to you until they know who is riding for you. So we had Toyota. Then, David and I loaded up on a plane and tried to get a manufacturer. I promise you, I sat in 10-hour meetings, and I'd be falling asleep, I wouldn't even know what they were talking about. They'd be saying, "You can't touch this, you can touch that." It was mayhem. Then we went to Yamaha and we met with Keith. In 45 minutes, our deal was done. They've been there for us, they supported us with tools and resources. We're happy to extend their deal three years. We're very fortunate to have the sponsors we have had through our growing phase—Oakley, FMF, Interstate Batteries, Yamaha, Toyota, we owe a lot to them. I'd like to thank the Stewart family for coming up. I know we were down there driving over Big James' grass, grinding on stuff early in the morning, trying to make it work. Really, what's exciting for me, is that James chose us. He can go wherever he wants. He chose us. And who knows, maybe someday he will be here racing four wheels.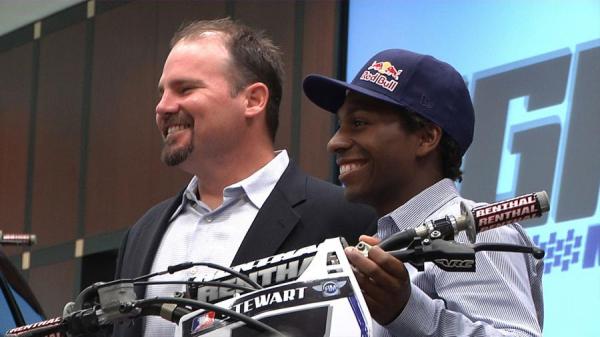 Coy and his new star, James Stewart.
Photo: Jason Hooper
Keith McCarty: Thanks, Coy. I want to thank the Gibbs family for having us out here. As Coy touched on, it was 2007 when we first met. I was kind of shocked when Joe first called us, I was thinking, "Wow this guy has my number?"
Next thing I know we were all meeting together, and very quickly we became well acquainted. We're really excited to extend this agreement, it started in 2008, so this will end up being the longest running satellite team agreement we've ever had, which is great. And I think I've always had this in the back of my mind when we were sharing cornbread at some restaurant first talking about this. We are well acquainted with James' talents and abilities. We're really exited to have him back, and to have this trio working together. We know the Gibbs family knows how to get it done, and to promote it as well.
Q and A with James Stewart
We've heard about this for a long time. What finally convinced you that Joe Gibbs was the place for you?
James Stewart: Well, my dad is in the back raising his hand. He wants to let everyone know it was his idea [Laughs].  When I came up to the shop, three months ago, I saw what those guys were doing here. And on the Cup side of things, and on the motocross side and what they did to their motorcycle. I had never really looked at it closely before. I was like, "Is this the same motorcycle? Is this what I've been racing?" Then when I got to know Coach Gibbs, and Coy, I knew it would make a great fit. It just took a long time to make the right decisions and go down the right path. I think it's going to be pretty special.
Coy: It definitely did take awhile. My mind was made up from day one. And Big James was always on our side. I appreciate that!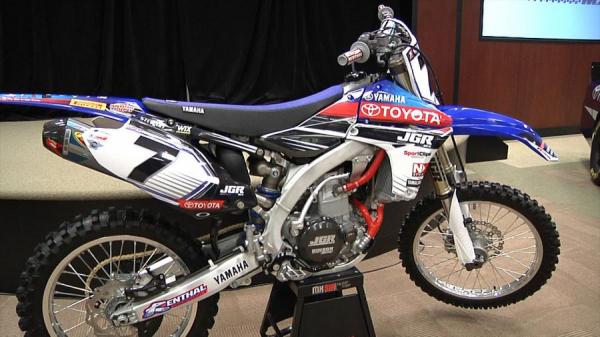 The #7 is now a member of the JGR Team.
Photo: Jason Hooper
Lot of folks wondering what will be the transition from the motorcycle to the stock car?
Well, number one, I came over here to win a championship for the JGR motocross team. I think Coy, Jeremy [Albrecht], David [Evans] and all the guys, I look at the future, and I think car racing is the future, sure. But I have a lot of things I want to accomplish on the motorcycle, and the first thing I want to do is win a championship for these guys. For sure, car racing, I'm going to get my feet wet with that, in fact in a few weeks, I'm going to test one out. But for now my main focus is to win a championship on this motorcycle.
Coy, the good news is you have James Stewart. The bad news is, you no longer have excuses. What's that pressure like?
Honestly I think the biggest pressure was trying to get this deal done! I think any form of pressure on the racing side? That's easy. Trying to get him signed? That was not easy. That was a difficult deal. We have a first class team that can help him win.
James, Coach Joe Gibbs is well known as a very good recruiter. He has his ways of getting someone when he wants them. What's your best story of him recruiting you?
James: I have a bunch of them [Laughs]. For one, calling me after 11 pm. He'd call me every night, and if I missed a phone call, he'd call me back. He'd even leave a message saying, "I'm gonna' call you back." And when I would talk to him, he'd just say, "James, I want you." One time he said, "Hey, what are you doing tomorrow." I told him I was going riding, and he said, "Okay, well I'll see you down there tomorrow." He came out and I was riding, my dad was there, and he just said, "I want you. You know that. I want you." Then he flew back to North Carolina, and he called me again that night and said, "James, I had a lot of fun today. I want you. You know I want you."
I really like Coach because he's a good guy and an honest guy. But my favorite thing about him is, he will never call you from the same number twice. Like, he calls you from cell phones, but they're not his cell phones. So first of all, I've never seen someone call you from a different phone every time. And second, he'll never even send you an email. The email will say, "On behalf of Joe Gibbs." And he'll have someone else writing it for him. So I knew it was going to be good working with these guys, it's just a good comedy.
This is one of the first major motocross teams to not be based in Southern California. How is that going to work out, logistically?
Coy: We've obviously had a relationship with Yamaha for a long time. And the best thing about a motorcycle is, the parts on it can fly. And it's only a day's drive down to James' house in Florida, and James, he can fly here and visit us really quickly. I think James and us both being on the East Coast will be good, and since we already have a relationship with Yamaha in California, it will be good.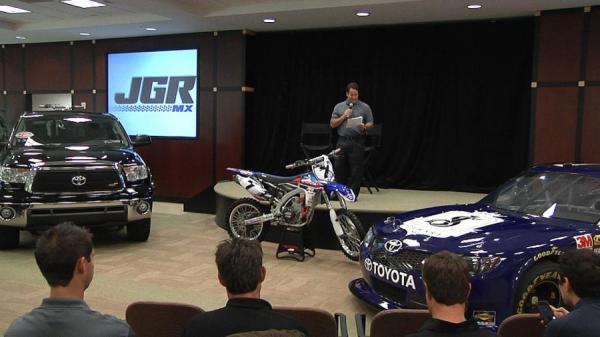 Press day at JGR.
Photo: Jason Hooper
James: I think it will be good. It's a nine-hour drive and an hour and 10 minute flight. You don't have to be in California on the West Coast test tracks. I've always liked the East Coast, and we can do the work here. I know the flight here will be easy. But the only thing is, I saw on Friday that it's supposed to be 50 degrees here. So you may not see me back here until April or something! I don't like the cold! I'll have to get used to it.
Will you be riding supercross only, or supercross and motocross?
The plan is to ride both series. I'm looking forward to it. I knew this year with the group of guys that's out there, you have to be 100 percent ready to go racing. And we weren't. To race against both Ryans and Chad, we weren't ready.
And the Monster Energy Cup?
We're planning on racing everything. I think what Ryan Villopoto did this year sets the standard for racing. I think in 2005, Ricky [Carmichael] did the same thing, and so, it's one of the things I've never accomplished, winning everything in one year. For 2012, that's the goal.
What's the difference between this JGR Yamaha, and the one you rode last year? Is there a big difference?
I think the biggest difference is we have a group of guys that work together. Yes, you have different colors and different suspension. But I think when it comes down to it, you have a relationship with guys for three years, and you have ups and downs. I think the biggest thing for me is, I just wanted to be on a team where I could come race. Focus on going racing. I felt like the last team we were on, we did win a championship and we did win races, but there was always something going on. With these guys, with Jeremy, and Coy, and Coach, I think this was a chance to get back to the roots. I know Jeremy well from my days at Kawasaki. We have a relationship, it's an easy transition. And being at Yamaha, that helped a lot because it was only changing teams, not motorcycles. So we didn't have to change everything.
For our NASCAR media members, what's the laid out plan for cars?
Every time I call Coach I tell him I want to race [a car]. I'm excited, I think we're going to South Boston in a few weeks to do a Late Model race. But like I said, the number one goal is to bring Coy a championship on this side.
And when I did that off-road truck series in Chicago a few months ago, I flipped it, I flipped it on the first lap, and I said, "This isn't for me!" But I got back in and tried again that night and the next night and I actually kind of enjoyed it. We'll see how the transition goes, but right now it's all about winning on the motorcycle.
Is it safe to say you'll end your motorcycle racing career with this team?
Absolutely. I'm signed with these guys for three years, and I plan on ending my career here. I like the facility, I like what they have here. Unless they start hating me, which could happen! But no, I think to go anywhere else after Joe Gibbs Racing, you'd be going backwards. Hopefully we'll be racing and winning championships, and I can take these guys to the level they want to go to, and they can help me do it, too.