By: Alex Gobert / Motoonline.com.au
JDR Motorex KTM's Tye Simmonds made a dream return to Australia at Melbourne Knights Stadium tonight, picking up the opening round victory in the Monster Energy Super X, Australasian Supercross Championship.
A rain-soaked track threw the cat amongst the pigeons in round one of five for the 2011 season, with series organizers switching the format of the Pro Open category from a double header to a single 12-lap main event.
Monster Energy Kawasaki's Billy Mackenzie took the holeshot with Simmonds second and Carlton Dry Thor Honda's Cheyne Boyd third.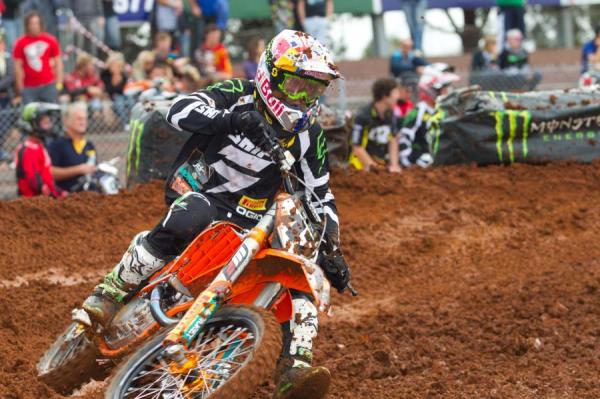 Simmonds took home his first career premier class victory at Melbourne Knights.
Photo: Shayne Rice
Mackenzie slid out on one of the corners halfway through the race, allowing Simmonds to pass and take a comfortable win--his first ever in the premier class.
Scottish star Mackenzie held on for second and JDR Motorex KTM's Ryan Marmont came third in his debut Open class supercross after passing Boyd in the final stages.
"I am stoked to win my first race back in Australia after racing in the USA all year," said Simmonds, who also won the opening heat of the evening on debut with the 450 SX-F.
"It was tough out there tonight, but I managed to have some fun and the team has had some great results tonight."
CDR Rockstar Energy Drink Yamaha riders Jay Marmont and Jake Moss both struggled in the wet and slippery conditions finishing eighth and tenth respectively.
The Pro Lites double header was won by former dual champion Matt Moss for JDR Motorex KTM, winning the second six-lap final of the night to clinch the overall after taking second in the first final.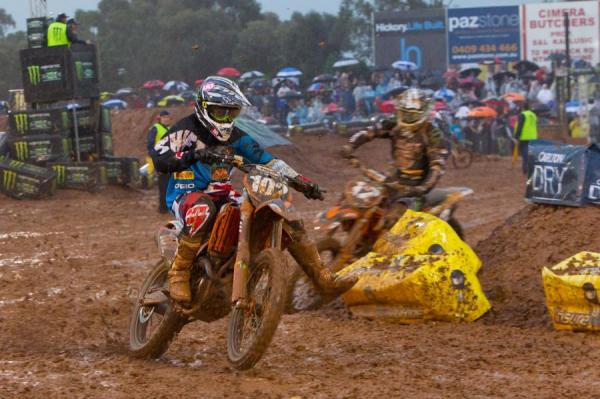 Moss would outlast teammate Brenden Harrison for the victory in the Lites Class.
Photo: Shayne Rice
Second overall was Moss' teammate Brenden Harrison, while Luke Styke rounded out the podium for Serco Yoshimura Yamaha. Harrison took 3-4 results, while Styke scored 2-5 results for the round.
"I caught [Dean Ferris] at one point, then he made a mistake, so I thought I'd just stay with him," Moss explained. "The bike was good, I felt really good all day and tried to put a good show on for the crowd. I capitalized when he crashed, but I was actually passing him when he went down."
The Under 19s main event was a battle of the Raceline Pirelli Suzuki teammates, with MX Nationals Champion Errol Willis winning after a race-long dual with American teammate Joey Savatgy.
Savatgy crashed mid-race allowing Willis to get away, but then they closed back up on the final lap when the latter made a mistake of his own.
In the end though, it was Willis from Savatgy and Australian Off Road Championship standout Matt Phillips (GYTR Rockstar Energy Yamaha).
"We're teammates, but I want to win this championship and get that number one plate," Willis said. "That's the way it's going to be all year. I ran off, came back on again, but luckily I was able to get the win."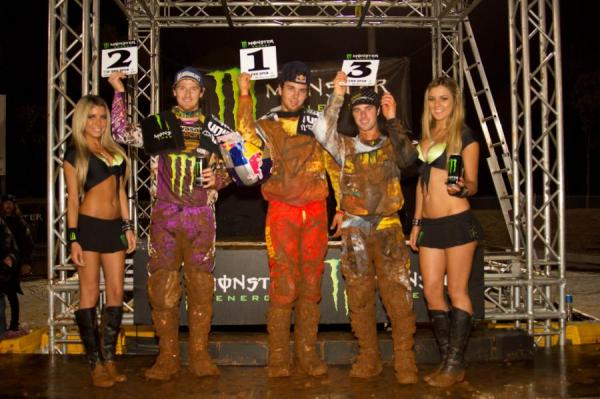 Tye Simmonds topped the Pro Open podium from Billy Mackenzie and Ryan Marmont.
Photo: Shayne Rice
Blake Blackwell took out the opening round of Michelin Development Series with Billy Jackson second and Joel Wightman third.
Monster Energy Super X will continue next Saturday night, October 29th, at Wollongong's WIN Stadium in New South Wales.
2011 Monster Energy Super X, Australasian Supercross Championship
Round One - Melbourne, Victoria
Pro Open Results and Standings:
1. Tye SIMMONDS - JDR Motorex KTM 25
2. Billy MACKENZIE – Monster Energy Kawasaki 22
3. Ryan MARMONT – JDR Motorex KTM 20
4. Cheyne BOYD – Carlton Dry Thor Honda Racing 18
5. Dan MCCOY – Team Motul Pirelli Suzuki 16
6. Michael PHILLIPS - Carlton Dry Thor Honda Racing 15
7. Todd WATERS – Carlton Dry Thor Honda Racing 14
8. Jay MARMONT - CDR Rockstar Yamaha 13
9. Daniel REARDON – JDR Motorex KTM 11
10. Jake MOSS – CDR Rockstar Yamaha 12
Pro Lites Results and Standings:
1. Matt MOSS – JDR Motorex KTM 25
2. Luke STYKE – Serco Yamaha 22
3. Brendan HARRISON – JDR Motorex KTM 20
4. Josh CACHIA – JDR Motorex KTM 18
5. Dean FERRIS – Monster Energy Kawasaki 16
6. Steven CLARKE – Team Motul Pirelli Suzuki 15
7. Adam MONEA – Team 07 Axis Motorsport 14
8. Kirk GIBBS – Serco Yamaha 13
9. Robbie MARSHALL – Yamaha 12
10. Casey TURNER - Suzuki 11
Under 19s Results and Standings:
1. Errol WILLIS - Raceline Pirelli Suzuki 25
2. Joey SAVAGTY – Raceline Pirelli Suzuki 22
3. Matthew PHILLIPS – Ballards Offroad Yamaha 20
4. Corey LUCAS - Hart & Huntington, ONE Industries, Ringmaster, Novik, Torc 1 18
5. Geran STAPLETON - Thor Honda Smart, Breese High Performance, Dragon, 2112, BLS 16
6. Jake WILLIAMS - WPS, ECM,J-Design, Hart & Huntington 15
7. Jay WILSON – Coastal KTM, Avanti, Motorex 14
8. Tristen CACHIA - Coastal KTM, Advanti Motorex KTM, Hart & Huntington 13
9. Jarrad DAVIS - Fox, Dunlop, Motul, Davis Bikeworx, Alpinestar 12
10. Kale MAKEHAM - The Collective, JDR Moss Institute Suzuki, EBT, Thor, One World 11
Michelin Development Series Results and Standings:
1. Blake BLACKWELL – Blackwell Bros Excavation,City Coast MC 25
2. Billy JACKSON – Yamaha Junior Racing 22
3. Joel WIGHTMAN – Pro-Moto Suspension, Mudgee Honda Centre 20
4. Timothy O'BRIEN - Graham Rye Kawasaki 18
5. Jordan NOLES – Honda 16
6. Joel DINSDALE - Yamaha Junior Racing 15
7. Lenny MAGYAR 14
8. Damon HILL - Yamaha Junior Racing 13
9. Scott MANN - GMR Motorex KTM 12
10. Nathan DENNY - Wodonga KTM 11