Off-road racing has never been a sport to get rich in, but just like motocross, budgets are getting stretched thinner in this economy. New York's Nathan Kanney rode for the FMF KTM factory off-road team for a few years, but is now back to the privateer life with some KTM support, and the folks at WMR building his bikes. But in the Can-Am Grand National Cross Country Series, it's possible for privateers to win races—something Kanney has done before. He's especially fast at this weekend's race, the Amsoil Ironman GNCC in Crawfordsville, Indiana. We talked to him about his career and his chances for another win.
Racer X: Give me an idea of the setup you have this year. You were with factory KTM for a few years. What type of deal are you running this year?
Nate Kanney: I have a support deal with KTM. I am getting bonuses from them and parts and all that. So that was what I got from KTM and I sort of just built everything else around that. WMR is basically my race shop. They've built my bikes, they give me parts for my bike, and you know, they provide my mechanics and stuff like that. And then I have St. Lawrence Radiology, Motopit, Clockwork, Planet Fitness, SUNY Canton and Scott, all of those sponsors and friends who help out.
What's this like compared to back in the day when you were on a YZ250 in the back of a van?
The biggest difference is now I have a mechanic and a motor guy, and a shop helping. When I was old-school Yamaha, it was like I was a jack of all trades. I lived at my parents' house, built my bike, spent a couple hours on my bike every night in the woodshed to get it ready for the race. Now, I really just have to maintain my practice bike and they take care of the race bike. But other than that, it's really similar.
How does the bike compare to the factory stuff you were on the last couple of years?
I would say that, you know, in some ways it's better and in some ways it's not quite as good. Reliability-wise, the writing is on the wall. I was having almost a handful of mechanical failures every year when I was on the factory team. We haven't had any problems this year yet. So reliability-wise, I think we've done a lot better with this team. Other than that, it's not that big of a deal. I mean when you're on the off-road team, they call us factory bikes but there's not that much of a difference. I don't think it's like what everybody envisions when they think of factory bikes from motocross.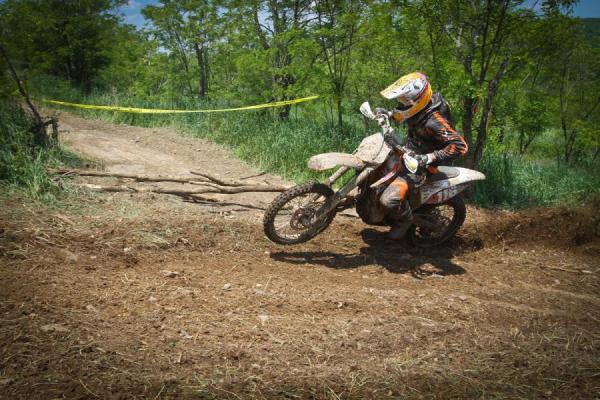 Kanney currently sits fifth in the XC1 class points standings.
Photo: Krista Shaw / Digitaloffroad.com
Does your experience from the past also help too? As far as knowing the logistics of the tour and where you need to ride and train and practice.
Yeah, I mean I kind of bring a lot to the table just because I've been doing it for so long and I have a lot of experience. So, you know, I make a lot of it happen and obviously that helps. But the most important thing is that it's just a lot of good people around me so we always just have a good time at the races. It's sort of different than it used to be where you'd go to the races knowing you're just going there to get a good race, now I know I'm gonna go race and I'm looking forward to that, but I also look forward to seeing everybody on my team and everybody that's there to help me.
There's certain tracks that we can always identify that you're always gonna do well at. You had a good one at Snowshoe, you've always done well at Unadilla, and then there's something about this Ironman track that seems to work for you. Can you even put a finger on it, exactly? I've heard you describe some parts of it. Do you know all the answers as to why this one goes so well for you?
Yeah, I don't really know. I mean everybody that I race against is always fast there too. I've always been really lucky there. I mean, I think I'm always very lucky everywhere, but there especially. I've just always been able to find that little edge to separate myself from everybody. You know, I don't know what it is. It's an awesome track, it's awesome dirt, it's fast, it's swelling, and it's fun, and obviously that's got something to do with it. But I couldn't really tell you exactly what it is that I'm suddenly faster than everybody every year when we go there.
One thing you pointed out that I'd never thought of is, in the fall, you say you can see the trail better because the leaves have fallen from the trees. I never even thought of that. You're the first person, I think, who's ever said that. Does that make a big difference?
Yeah. I don't really know what it is. I mean, I don't have bad eyesight or anything. I actually have very good eyesight. But in the fall, I just have more confidence riding. You can see where you're going a lot better and you can read the trail further ahead and you don't feel so closed in by the trees around you. It's not so scary to go so fast in the trees that way.
We all know that money isn't what it once was in motorsports right now. So where do you see yourself in the future—will you stick with this program?
Right now I don't know. I'm not psyched about working so hard for so little money. It doesn't seem very smart to me, I feel like I'm not getting very far in life right now. I am afraid of waking up one day and being 35 and feeling like all I did was satisfy my hobby hunger. I want to build a good life for myself, build a little empire, build a business. But with the way racing is right now, that's not really possible. It's pretty frustrating, but at the same time, like I said all of the people around me at the races are awesome. So I'm having more fun at the races, and I'm also having more fun in the races this year.
So right now, I just have to figure out what is possible for me for next year and consider that. Of course, now I'm thinking more about getting a job and making racing just a hobby. That way I can kinda build my future and not stop racing. That's an option. But right now it's sort of too early to tell. I guess until that motocross guy from Florida that's really fast officially signs a deal, everyone else in the industry just has to sit around and wait.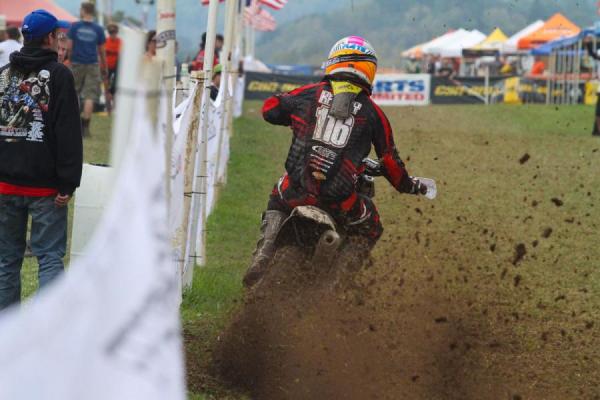 Can Kanney challenge the leaders this weekend at Ironman?
Photo: Krista Shaw / Digitaloffroad.com
So have you talked to people about next year at all? Or do you know if you come back, you'll definitely sign the same deal?
I've actually spoken to a lot of people and I'm getting a lot of interest. So, I'm pretty confident that this might actually be the first year that I'll have two, maybe three different options for next year, which has never happened for me before. But like I said before, I want to make sure it's a good enough opportunity to only race before I commit to only racing. If it's something that I don't think I'm going to really grow in life, then I might consider taking something where it would fit as a hobby roll better so I could pursue a career outside of racing as well. I don't necessarily want that to happen. I do want to keep racing. I still have the hunger. I want to win. I believe in myself that I can get a title and that's what I want to do. But it's frustrating to only race GNCC. I need to be doing a second series next year whether it's enduros or endurocrosses or who knows what. But I need to be doing a second series so I can be earning bonuses more frequently. And to do that I also need my expenses paid to do it, so at this time, it's kind of a lot to ask.
I think what a lot of people miss right now is that the teams look the same on the outside, but the budgets aren't as big, and the effort you have to put in to win is the same, so the riders may have to foot the bill a little more.
Absolutely. Also, it wears on you mentally when you're crunching numbers and the math doesn't look good. But the other thing is, many riders now, especially the younger generation of riders coming up, when they start getting support, they don't realize when they get a contract from a team that that's awesome if you live with your parents. Nobody takes into account that if you practice say 250 days out of the year that you're spending $20 on fuel to practice all those days. Let's say you're into riding motocross and you have to pay $20 to get to a track every time you go, you don't take into account that those expenses can almost take up your entire salary. It's tough. I've definitely cut out a lot of things, like paying for practice tracks because it's just not in the budget.
Is Ironman really not anything that different for you? Or when you roll into the track, do you think, okay, this is one I can win?
When I go in to this track, I know everyone's going to be fast. But I just have a quiet confidence that when it gets down to the brass tacks and a lap or two to go, that I've got more fight in me and I've got something to give. I know what it takes and I've kind of won this race in all different scenarios; as far as checking out on the first lap, or taking the lead on the last lap and just edging out for the win. I sort of have a quiet sense of confidence riding here and I know that if the cards fall in my favor that I can be fast enough to check out. And it could work out that way, or that I may have to sort of make it more like a game of chess. You know, make smart decisions to take the win at the end, then it's not something that I worry about, either. I know that when it comes down to the brass tacks at the end that I'll be able to make the right decisions.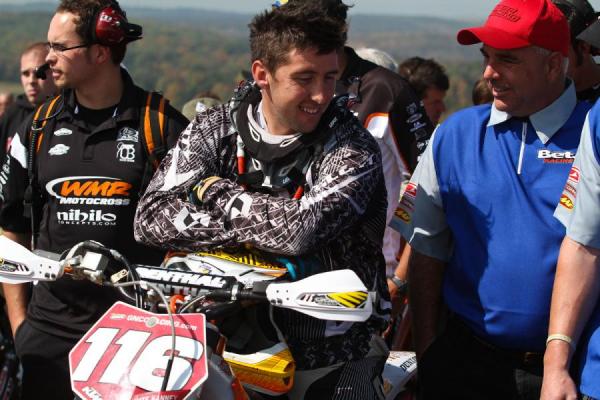 Kanney is still looking to secure a factory ride for next season.
Photo: Krista Shaw / Digitaloffroad.com
Awesome man. Good luck this weekend.
Hey can I add one more thing?
Sure.
After this season is over in a few weeks, I'm going to host a mega-party in New York City. At first I was just going to hold one for my team, but I've decided to invite anyone who rides a dirt bike. There will be much debauchery.
Wow! And how can folks find out about this?
Follow me on Twitter @nathankanney116 and I'll post some details when we get closer.
[So be sure to follow @nathankanney116 and also check out www.gnccracing.com for more info on this weekend's Ironman GNCC race]