Mini Madness 9 at Barona Oaks MX this Saturday
MINI MADNESS 9 at Barona Oaks MX this Saturday,  Oct. 22nd

There are classes for all riders: young and old, fast or slow, on pit bikes up to 16" (50 to 150 sized minis). MM9 will also feature "Mini Des Nations" Team Races and a "Dash for Cash"$$$.  Special custom awards and prizes will be up for grabs for all riders.
TB Parts.com is supplying FREE LUNCH for all riders! So don't miss out!
Come early and also get a FREE THOR Water Bottle.  Limited supply.
The Barona Oaks Mini Track will be in prime condition and ready to shred!
Camping is available Friday and Saturday night at Barona Oaks MX, see website for details.  www.baronaoaksmx.com
Entry Fees:  $25 for 1st class $15 for 2nd class   Gate Fee: $10 Rider/Spectator   Transponder Fee:  $10 (Mandatory)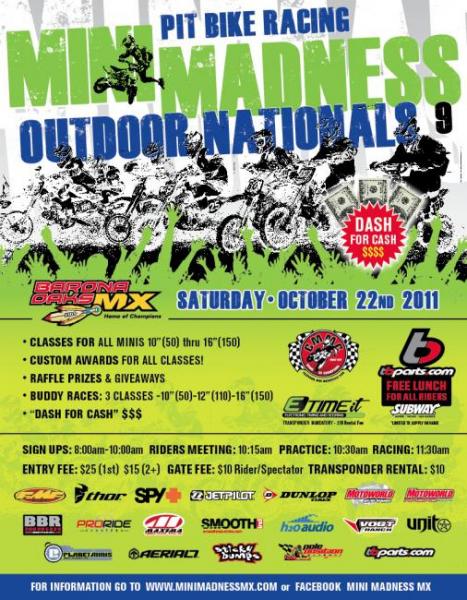 Sign Up: 8:00am to 10:00am   Riders Meeting: 10:15am  Practice: 10:30am  Racing: 11:30am                                                            
NO PRE-ENTRY!  SIGN UP AT THE TRACK!
For more information go to: www.minimadnessmx.com or call 619-549-2997
Also check out MINI MADNESS on Facebook!  Mini Madness MX