The pro class at the Monster Energy Cup may have been a runaway, but elsewhere, in the Amateur All-Stars race, the action was red-hot. The racing was so tight in fact, that the top four riders actually tied for first place. But racing can only have one winner, and thanks to a dominating performance in the second moto, that winner was Justin Hill, younger brother of Dodge Motorsports/Hart and Huntington's Josh Hill. We got in touch with the 16-year-old Team Green rider to get his take on winning the Amateur All-Stars race at the inaugural Monster Energy Cup.
Racer X: Congrats on your win at the Monster Energy Cup!
Justin Hill: Thanks.
Give us a rundown on how the day went for you.
It was pretty amazing. I didn't think that the overall was going to happen after that first moto, it was a bad moto. But everything just fell into place and it was really cool. I had a blast. After the race I went indoor skydiving and just had a ton of fun in Vegas.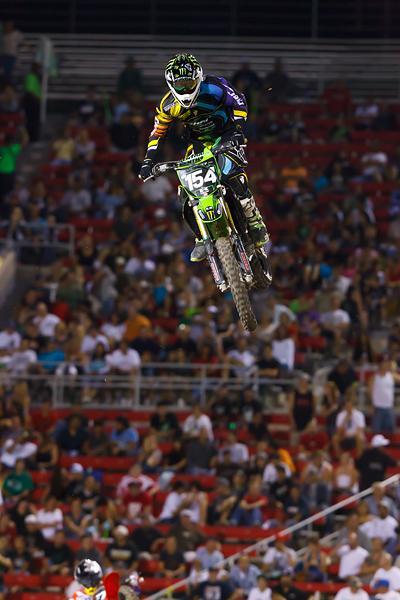 Hill used a second moto win to take the overall in the Amateur All-Stars class at the Monster Energy Cup.
Photo: Simon Cudby
You killed it in the second race. Did you make any significant changes between races?
We did some suspension changes between practice and the race, we had a setup for more of a hard pack track, and my first race wasn't quite as hard pack as the second one. The changes we made from the practice to the race weren't quite right for the first race, but way better for the second one. It was more of a previous change that fell into play.
You got fourth in the first race, so did you have any idea that you had won the overall after winning the second race?
Actually it didn't cross my mind. I crossed the finish line, and I was just pumped that I had won the race, and that I had accomplished what I needed to do for myself. I rode really good for myself, and when I got around the corner and we all stopped, I shook Austin's [Politelli] hand. I thought Austin won the overall. I thought he had gotten second in the first moto, but Cole [Thompson] actually passed him in that moto. I didn't realize he had gotten third in that moto, so I thought he had won it with a 2-2. It was a shock, it was like, 'Wow, perfect!'
When did you figure out that you had won, did they just call you to the podium?
Well, I found out when Austin said he went 3-2, and I was like, "Oh, well, that means I win." If Cole wouldn't have passed Austin in that first moto I wouldn't have gotten the win. It's not always the way you want to win, you want to have two good motos and not have to worry about the standings, but getting lucky when everything falls into place is pretty cool too, I guess.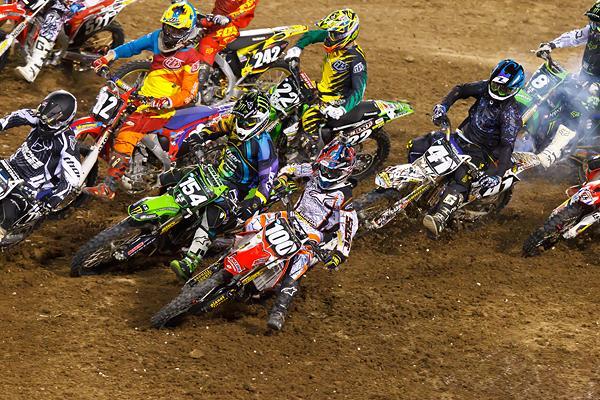 Zach Bell (100) and Hill (154) were two of the four riders that tied for first at the ME Cup.
Photo: Simon Cudby
Did you know that the top four guys all tied for the win?
Yeah. Me, Austin, Cole and Zach [Bell] all tied for it, but I got it with the last win.
Obviously you've been racing for years now, but never at a race like the MEC. Did you find yourself feeling nervous at any point?
The first moto, lining up and going from the box back there and rolling up to the gate and just seeing everyone, I looked to my left, looked to my right, and I was like, "Whoa, that's a lot of people." But when the gate drops, it's really nothing different, just you and your bike.
Where does this win rank in your racing career so far?
It's probably number one. Like you said, I've never raced anything like that, and definitely never won anything like that. It was really cool. It was my first time being on SPEED and all that stuff, and it was a pretty big deal for me. Obviously Loretta's this year was really good for me, it was my first championship there, and the whole year has been good. Last year was good, but that race was number one. I've never felt like that before.
How cool was it to come out of Loretta Lynn's as a B rider, and take the win against some A riders at the MEC?
Yeah, that was cool. Right when I got home, we planned on racing some A races locally, and that was the plan all along, to hop in with those guys. It was pretty quick, it wasn't that long after Loretta's, and I'd had only one race as an A rider, so just to hop in like that and actually win was pretty cool.
With the MEC track being so different, did you do anything special to prepare for this race?
Yeah, I rode a lot of supercross. We obviously used a lot stiffer suspension, we got supercross suspension about a month and a half before the race and just kind of wore it down so it wouldn't be as stiff. That made it kind of in between outdoor and supercross, and that actually worked really well for me. We switched my training up big time. They were four-lap races, so instead of doing fifty-minute motos on an outdoor track, it was as hard as you can go for ten or fifteen minutes. More of a really hard sprint was how my training was.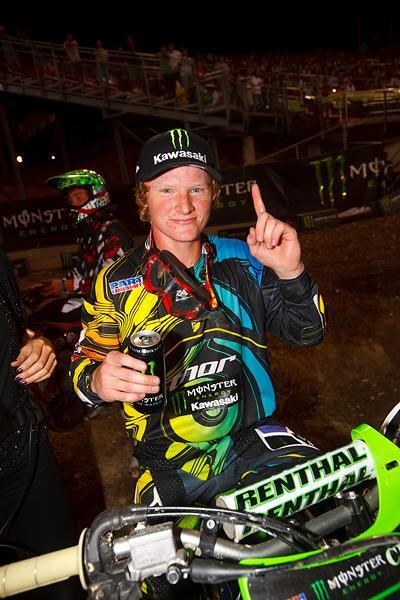 Hill celebrating one of the biggest wins of his career.
Photo: Simon Cudby
When are you going pro?
It's kind of how everything falls into place, and where the rides are. Team Green obviously treats us really, really good. That's the plan right now, we're going with them this year. But if somebody stepped in and said, "Hey, we want to bump you up and take you pro," that would be really awesome too, and we'd have to consider it. But Team Green has been giving us really good deals and has been making everything easy for us. They're the best support that we've had, and that's the plan right now.
Who has been helping you out all year?
I have to give it up to Monster Kawasaki and everyone at Team Green. They've been really, really awesome. Jammi at Thor, she takes care of us without blinking an eye. This is our first year with the whole team, and everybody that came along with it, like Traxxas and Uni-Filters, N-Style, everyone is treating us really good. Alpinestars and Smith, I've been with Smith forever, they're my oldest sponsor. And Pro Circuit, they're getting me the good motors and my bike's running really good. Everybody that's helped me out this year has been really awesome.
Thanks for your time Justin, and congrats again on your win at the Cup.
Yeah, no problem.