SPY Optic Launches Kevin Windham Goggle
CARLSBAD, Calif.– SPY Optic™ today announced the release of the SPY® + Windham Klutch™ MX goggle,  a top-of-the-line frame and lens combination with advanced foam and an updated strap befitting SPY MX team rider and 2011 Feld Motorsports "Fans Choice" Kevin "K Dub" Windham.

"I'm really excited about how my signature goggle came out this year," says Windham. "The frame design was perfect last go-around, so all we needed to do was come up with some cool new colors, make the foam even more comfortable, slap a sick patriotic print on the strap and hit the track!"

The SPY + Windham Klutch features ground-breaking Geo-Force™ face foam, the most comfortable high-performance face foam SPY has ever used on a goggle. Geo-Force face foam provides a new ergonomic fit that creates the best possible seal when wearing a helmet, decreasing the amount of foam touching your face while creating pockets of air to cool the face and increasing fleece surface area for greater moisture wicking and absorption. The goggle also features maximized venting; an anti-fog, scratch-resistant Lexan® lens with posts; silicone ribbed strap; free nose guard; and it comes with a free bonus lens.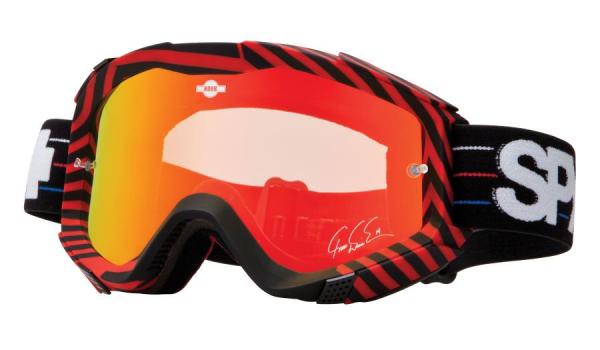 "The Klutch goggle has such insane padding and sits on my face like a pillow," says Windham. "I don't sweat much, but we did a bunch of tests on sweaty dudes and the stuff holds bucket loads."

MSRP for the SPY + Windham Klutch is $70, available in a matte black, red striped frame with patriotic striped black strap and bright red Spectra™ lens with a signature "KDUB" print on the lens. Limited editions of K Dub's yellow model and blue style are being added to the Windham series this spring. Klutch replacement lenses come in a variety of tints, including photochromic, smoke, smoke with silver mirror, persimmon, light blue, smoke with light blue Spectra, clear with silver mirror, yellow, smoke with red Spectra and smoke with green Spectra.
Accessory options include tear-offs, CVS™ roll-off system and SAS™ sweat pads.

For additional information about the SPY + Windham Klutch, go HERE.  For more information about SPY, log-on at www.spyoptic.com and www.facebook.com/spyoptic.