Yamaha Wake-Up Call
Monday, September 26, 2011 | 6:00 AM Tweet

Can-Am GNCC Racing
Mountain Ridge - Somerset, PA




XC1 Overall
1. Charles Mullins KTM
2. Paul Whibley Yam
3. Josh Strang Suz
4. Nathan Kannney KTM
5. Kailub Russell KTM
6. Mike Lafferty HSB
7. Rory Mead Hon

8. Jedediah Haines Kaw
9. Jesse Robinson BET
10. Eric Bailey Kaw
11. Thaddeus Duvall Yam
12. Ryan Echols Hon
13. Jimmy Jarrett Hon

XC2 Overall


1. Jordan Ashburn Yam

2. Andrew Delong KTM

3.

Jason Thomas

HSQ

4. Jake Korn KTM

5. Steward Baylor Jr. KTm

6. Ryan Lojak Yam

7. Nick Davis KTM

8. Morgan Moss HSQ

9. AJ Stewart Yam

10. Steven Squire Yam

11. Zackery Smith KTM

12. Scott Watkins Hon

13. Michael McGinnis Yam
14. Cody Gragg Yam
15. Jared Jordan Hon
16. Zack Nolan KTM
Mullins took the win at Mountain Ridge in the XC1 class.Photo: Shan Moore

XC1 Pro Standings
Charles Mullins 220pts. KTM
Josh Strang 203pts. Suz
Paul Whibley 195pts. Yam
Kailub Russell 150pts. KTM
Nathan Kanney 147pts. KTM
Cory Buttrick 110pts. KTM
Chris Bach 96pts. BET
Mike Lafferty 91pts. HSB
Jimmy Jarrett 83pts. Hon
Thaddeun Duvall 83pts. Yam
XC2 Standings
Steward Baylor Jr 213pts. KTM
Jason Thomas 184pts. HSQ
Andrew Delong 177pts. KTM
Jordan Ashburn 171pts. Yam
Jesse Robinson 146pts. KTM
Scott Watkins 125pts. Hon
Morgan Moss 98pts. HSQ
AJ Stewart 95pts. Yam
Zack Smith 91pts. KTM
Brad Bakken 90pts. KTM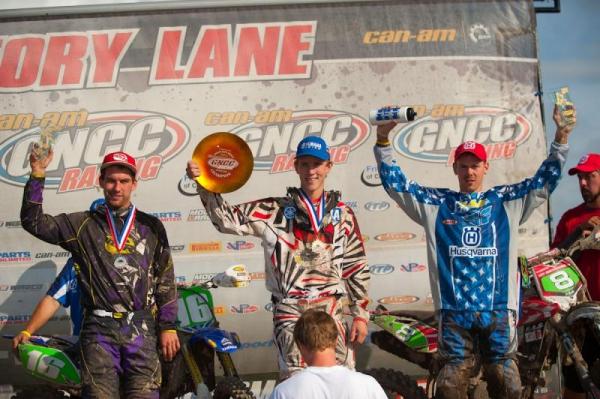 Andrew DeLong, Jordan Ashburn and Jason Thomas grace the XC2 podium.
Photo: Shan Moore
Red Bull Pro Nationals
Culham Park
MX1 Overall

1. Brad Anderson Hon
2. Martin Barr KTM
3. Kristian Whatley Yam
4. Gert Krestinov Kaw
5. Jake Nicholls KTM
6. Alex Snow Kaw
7.
Steven Clarke
Suz
8. Neville Bradshaw Hon
9. Jamie Law KTM
10. Dorren Coutts Yam
MX2 Overall
1. Bryan MacKenzie Kaw
2. Neville Bradshaw Hon
3. Elliott Banks-Browne Hon
4. Mel Pocock Suz
5. Matttew Moffat KTM
6. James Cottrell Hon
7. Lewis Tombs Hon
8. Jake Nicholls KTM
9.
Steven Clarke
Suz
10. John Phillips Yam
MX1 Points Standings - Final Standings
Brad Anderson 329pts Hon
Martin Barr 268pts. KTM
Gert Krestinov 237pts. Kaw
Nathan Parker 216pts. KTM
Kristian Whatley 174pts. Yam

MX2 Points Standings - Final Standings
Elliott Banks-Browne 305pts. Hon
Mel Pocock 278pts. Suz
Byran MacKenzie 256pts. Kaw
Neville Bradshaw 220pts. Hon
Stuart Edmonds 161pts. TM

Belgian National Championship
Final Round
MX1 Overall
1. Ken De Dycker
2. Rui Goncalves
3. Anthony Boissiere
4. Davide Guarneri
5. Shaun Simpson
6. Marvin Van Daele
7. Jeremy Delince
8. Manuel Priem
9. Nick Triest
10. Cyril Coulon
MX1 Final Standings
Shaun Simpson 356pts.
Ken De Dycker 311pts.
Davide Guarneri 306pts.
Clement Desalle 216pts.
Marvin Van Daele 206pts.
Kevin Strijbos 199pts.
Steve Ramon 184pts.
Jeremy Delince 170pts.
David Cools 156pts.
Nick Triest 150pts.
Veteran Motocross des Nations
England
1. Werner De Witt 5pts.
2. Rick de Feu 19pts.
3. Wayne Butt 21pts.
4. Jeff Stanton 21pts.
5. David Campbell 29pts.
6. Jan Blancquert 33pts.
7. Scott Burnworth 43pts.
8. Gary Parker 47pts.
9. Mark Eastwood 48pts.
10. Neil Prince 48pts.
11. Chuck Sun 65pts.
12. Jamie Dodd 75pts.
13. Regis Simon 75pts.
14. Matterman Edmont 77pts.
15. Russel Watson 78pts.
German Masters
MX1 Overall
1. Xavier Boog Kaw
2. Filip Neugebauer Kaw
3. Gunter Schmidlinger Hon
4. Cedric Soubeyras KTM
5. Filip Thuresson KTM
Maxxis British Championship
Through Round 7

MX1 Standings
Brad Anderson 453pts. Hon
Kristian Whatley 375pts. Yam
Martin Barr 357pts. KTM
Gert Krenstinov 281pts. Kaw
Tom Church 280pts. KTM
MX2 Overall Standing
Arnaud Tonus 470pts. Yam
Elliott Banks Browne 384pts. Hon
Zach Osborne 323pts. Yam
Mel Pocock 301pts. Suz
Bryan Mackenzie 272pts. Kaw
AMA GEICO Powersports Endurocross Championship
EX Pro Points Standings
Taddy Blazusiak 120pts.
Mike Brown
81pts.
Cody Weeb 73pts.
Geoff Aaron 72pts.
Justin Soule 70pts.
Colton Haaker 63pts.
Gary Sutherlin 46pts.
Kevin Rookstool 31pts.
Kyle Redmond 30pts.
Destry Abbott 26pts.
Blazusiak leads the EX class.
Photo: BrownDogWilson


Dutch Championship
Final Round

MX1 Overall
1. Herjan Brakke Yam
2. Yentel Martens KTM
3. Ceriel Klein-Kromhof Hon
MX2 Overall
1. Jeffrey Herlings KTM
2. Joel Roelants KTM
3. Petar Petrov Yam
MX1 Championship Final Standings
Herjan Brakkee 213pts. Yam
Marc de Reuver 167pts. Yam
Kristof Salaets 145pts. Hon
Yentel Martens 141pts. KTM
Stuwey Reijnders Suz
MX 2 Championship Final Standings
Jeffrey Herlings 273pts. KTM
Joel Roelants 211pts. KTM
Petar Petrov 187pts. Yam
Mike Kras 188pts. Suz
Erik Eggens 147pts. Yam


Share this article:
Did you like this article?
Check out 10,000 MILES FROM HOME
in our Latest issue of Racer X available now.

Australian Dean Ferris hopes to follow in the footsteps of some of his legendary countrymen. Now contesting the FIM Grand Prix series, he made a huge impression at the Motocross of Nations. Page 138.
Look for the verified symbol
The Conversation