by
Jason Weigandt
Bench Racing Ammo: Closest Trio Ever?
Thursday, July 21, 2011 | 12:20 PM
MOTOREX is used by factory teams worldwide, by independent pros and by top amateurs who demand the best performance from their race machines. The complete MOTOREX line includes a broad range of synthetic engine oils, lubricants, aerosol sprays, cleaners and care products. MOTOREX is available at dealerships nationwide.
Tweet
The best battles are usually one-on-one. Ever since the AMA switched to their current point system in 1974, the fight for the 250 (now 450) National Motocross Championship seems to come down to two riders (or a one-man domination show). But rolling into Washougal this weekend, just seven points seperate the top three riders in the series--Chad Reed, Ryan Villopoto and Ryan Dungey.
How good is this? We dove into the record books from every 250/450 points chase since 1974. Amazingly, only twice in 37 seasons have the top three in points even finished within 50 points (the equivalent of one whole weekend) of each other.
The wild 2007 season ended with just 18 points between the top three, but that was a strange one since Ricky Carmichael most likely would have won by a massive margin. But he retired from racing at mid season.
That leaves only the legendary 1982 season with a close finish that can rival what we may see in 2011. We've compiled the points gap between first and third place in every 250/450 season below. Take a look for youself.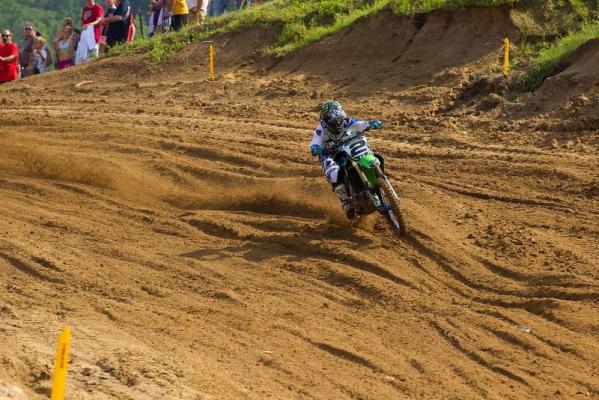 Villopoto trails Reed by six points heading into Washougal.
Photo: Brian Robinette
2010: Ryan Dungey Brett Metcalfe Andrew Short 150 point gap
2009: Chad Reed Andrew Short Ivan Tedesco 105
2008: James Stewart Tim Ferry Andrew Short 208
2007: Grant Langston Mike Alessi Andrew Short 18
2006: Ricky Carmichael Kevin Windham Davi Millsaps 139
2005: Ricky Carmichael Kevin Windham Ernesto Fonseca 202
2004: Ricky Carmichael Chad Reed Kevin Windham 156
2003: Ricky Carmichael Kevin Windham Chad Reed 131
2002: Ricky Carmichael Tim Ferry Ezra Lusk 204
2001: Ricky Carmichael Kevin Windham Tim Ferry 51
2000: Ricky Carmichael Sebastien Tortelli Kevin Windham 109
1999: Greg Albertyn Kevin Windham Mike LaRocco 71
1998: Doug Henry Greg Albertyn Mike LaRocco 103
1997: Jeff Emig John Dowd Jeremy McGrath 117
1996: Jeff Emig Jeremy McGrath Mike LaRocco 138
1995: Jeremy McGrath Jeff Emig Mike Kiedrowski 137
1994: Mike LaRocco John Dowd Jeremy McGrath 159
1993: Mike Kiedrowski Mike LaRocco Steve Lamson 58
1992: Jeff Stanton Mike Kiedrowski Jean-Michael Bayle 83
1991: Jean-Michel Bayle Jeff Stanton Damon Bradshaw 67
1990: Jeff Stanton Jeff Ward Mike LaRocco 64
1989: Jeff Stanton Jeff Ward Ron Tichenor 108
1988: Jeff Ward Rick Johnson Ron Lechien 56
1987: Rick Johnson Jeff Ward Ron Lechien 61
1986: Rick Johnson David Bailey Johnny O'Mara 50
1985: Jeff Ward Johnny O'Mara Rick Johnson 65
1984: Rick Johnson Ron Lechien Billy Liles 53
1983: David Bailey Scott Burnworth Bob Hannah 66
1982: Donnie Hansen Rick Johnson Broc Glover 6
1981: Kent Howerton Bob Hannah Donnie Hansen 100
1980: Kent Howerton Mike Bell Steve Wise 114
1979: Bob Hannah Kent Howerton Marty Tripes 139
1978: Bob Hahnah Jim Ellis Chuck Sun 81
1977: Tony D Marty Smith Jim Pomeroy 54
1976: Tony D Jim Weinert Steve Stackable 85
1975: Tony D Kent Howerton Bill Grossi 233
1974: Gary Jones Marty Tripes- Jim Ellis 170
Share this article:
Did you like this article?
Check out MONSTERBALL
in our Latest issue of Racer X available now.

Playing soccer on 250cc motorcycles might sound like a strange form of riding, but in Russia they do it with great passion—and for very little reward. Page 112.
Look for the verified symbol
The Conversation