Author: Allison Kennedy / Directmotocross.com
When the Leading Edge Monster Energy Kawasaki team signed American Matt Goerke there was no doubt he had the speed to be fighting for wins here in Canada. When a nasty SX injury left Goerke with a broken pelvis and a crushed wrist, the team stood by him, hoping he'd be ready for the Kamloops opener. It's taken him the first four rounds to get back to speed, but he silenced the doubters with 1-1 sweep at the gnarly Gopher Dunes National this weekend. With a few weeks off to heal and now a new dose of confidence, will Goerke continue to challenge Colton Facciotti at the remaining rounds. He's certainly hoping so…
Racer X: Hey Matt. We just wanted to say congratulations on your clean sweep this weekend.
Matt Goerke: Thank you.
That win has been a long time coming this season. Tell us how it felt?
It was really good. It was finally a good weekend. I had those three weeks off to train and finally get back into shape and get my wrist better and it felt good to come out and win the first race back, that's for sure.
And it was on a nasty tough track in some insanely hot conditions…
Yeah, definitely that second moto was hard. I was giving it everything I had.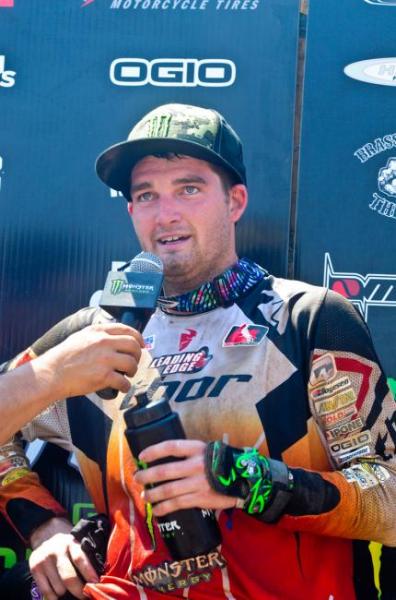 Goerke went 1-1 at Gopher Dunes for his first career Canadian National win.
Photo: Allison Kennedy
There was some buzz coming into this weekend that you'd be a favourite in the sand. You've had some success at Southwick in the past. What did you think of the track?
That track is way rougher and sandier than Southwick. It was a tough one. I liked it but it was tough. It went well though, that's for sure.
How much was the heat a factor? Do you get humidity like that in Florida?
Yeah, it gets pretty hot and humid in Florida so the heat wasn't too much of a factor. It was just rough and I'd really only been on the bike for one week before this weekend. That helped get me up to speed but I still wasn't quite ready for two 35's going that hard. I had to push the whole time because Facciotti was there that second moto.
So you've been recovering from a nasty injury early this season. Tell us a bit about what happened and how you're doing now?
I got hurt in Supercross and shattered my pelvis and crushed my wrist. That was the worst injury I've ever had. It took a long time. I was in a wheelchair for a little bit. My pelvis healed up good, it really doesn't bother me, but my wrist, it was crushed and it has been taking longer. When I got on the bike at the first four rounds, I couldn't practice much at all. I was just trying to race for points and I did get some points but it was so painful. It started to get better the last few rounds but I was really ready for that three-week break. I took two weeks off and then rode the last week and it just felt way better. I was like, cool, I can go fast again. I trained as hard as I could that last week and it worked out good. '
So what does your win do for your confidence heading into the rest of the season? I think some people are wondering if your win is partly because it was a sand track but do you feel like you are ready to be up front now as the series continues?
It's definitely not just the sand. I mean I am good in the sand. I got a podium at Southwick and I won there once but I've also gotten a few podiums at hard-packed tracks. I can do well at all of them. This definitely helps my confidence and I plan on being up front next week.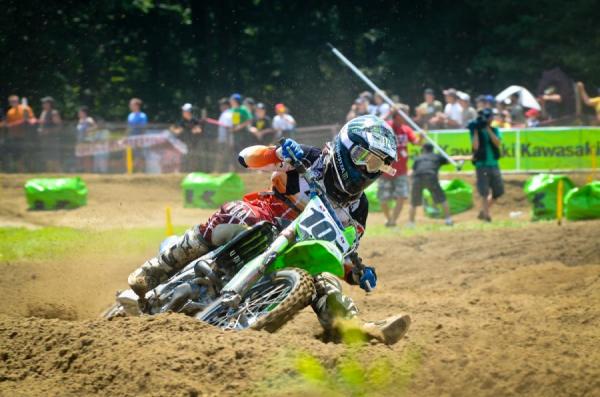 Goerke is slowly regaining his form after shattering his pelvis and wrist during the Supercross season.
Photo: Allison Kennedy
You had a brutal weekend in the mud at Morden, like many riders. Have you ever experienced conditions like that?
No, that was so muddy. I can't even describe it. I was actually doing well, I was in 4th both motos when the bike quit with clutch problems. I was kind of angry at the end of the day… I was doing alright but what can you do when it's that muddy.
What's been your overall impression of the Canadian series so far?
I think it's great. I am really liking it up there. The tracks are good and everybody is nice. Those first four races I was really suffering just trying to race but now that I am healthy and fast again, I think the rest of the season is going to go great.
What have you thought of the competition?
That Colton Facciotti is really fast. The top few guys are really fast. Facciotti is good and I'd like to keep running with him for the rest of the series and give him some competition. Those first four rounds, he was dominating, but hopefully I can be up there the rest of them.
Who do you want to thank for helping you out this summer?
The whole Leading Edge Monster Energy Kawasaki team, Thor, Parts Canada, Unit, C4MX, Renegade Race Fuels, Podium Graphics, Smith Optics, My fiancé Erin, my parents, Gary Bueker and Greg Kozoris of Acceleration Training (www.kozoris-acceleration.com) they are up in Kamloops and helped me work on my wrist those first four races.
Thanks Matt and good luck at Ste Julie.
Thank you.