At one point, Chad Reed stood atop the 450 field. At another, he was simply above it altogether. The ups and downs of the Lucas Oil AMA Pro Motocross Championship were on full display at Millville, Minnesota's Spring Creek National, and no one faced highs and lows more blatantly than Reed, who won a moto and looked ready to win another, until he crashed down from high in the air, and created a highlight for the ages.

Rockstar Makita Suzuki's Ryan Dungey and Monster Energy Kawasaki's Ryan Villopoto had their good and bad moments, too, but when the points were tabulated, Dungey stood on top of the Millville podium after a superb second-moto charge, garnering 2-1 scores for the day. Villopoto was second via 3-2 scores, with American Honda's Trey Canard netting third in his first 450 motocross race ever, and first outdoor race this season.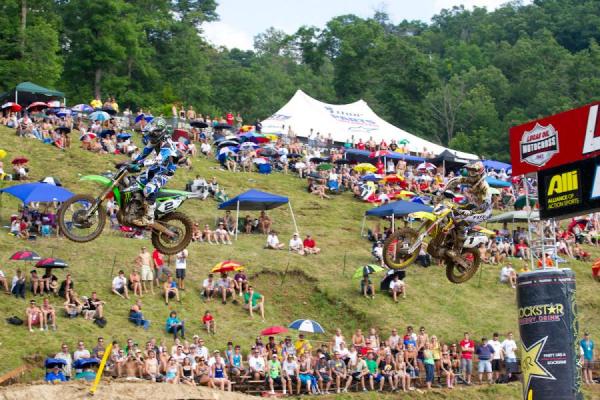 After first-moto winner Chad Reed crashed spectacularly, Ryan Villopoto and Ryan Dungey put on a battle for the overall.
Brian Robinette photo
For Dungey, it was a big win, because he ran down Villopoto for the second moto victory in a manner in which he couldn't the last time out at RedBud. Villopoto seemed to have that second moto win in hand, until Dungey ran him down late, and executed a pass on the inside of a turn. Villopoto tried to cut back underneath, but tucked his front end into a soft berm and crashed. He recovered for second.

But that action somehow paled in comparison to what happened to Reed. He held off Dungey for the first moto win, and in moto two came out firing when he passed Villopoto for the lead on the first lap. In one of the fastest sections of the track, heading up to a huge jump, Reed hit a few bumps, and his bike swapped underneath him. His hands were ripped from the bars, and Reed was instantly launched off the face of a huge double without his bike. For those watching live, it seemed like Reed hung in the air for minutes, everyone waiting for the seemingly-inevitable hard landing and broken bones.

But somehow, landing from at least 20 feet in the air, he tucked and rolled on the landing. Aided partially by soft dirt on the side of the track, Reed absorbed the blow. After taking about 30 seconds to catch his breath, he remounted, heroically, at the back of the pack and picked his way through the field, finally finishing in 14th. He salvaged fifth overall (Red Bull KTM's Mike Alessi went 4-4 for fourth) and preserved his points lead.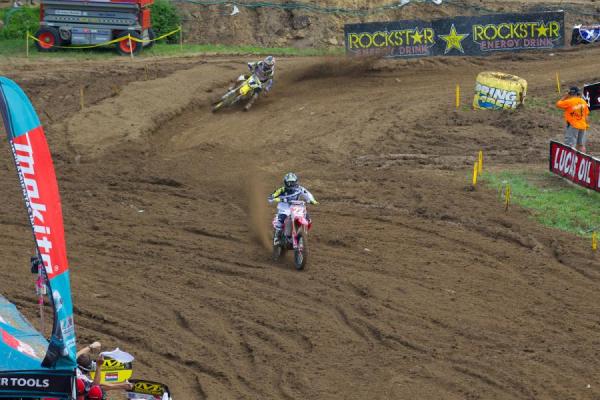 Reed led Dungey early in moto one.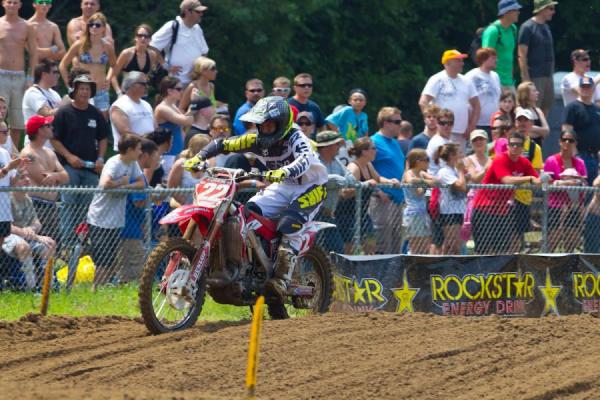 He then lost his goggles, but Dungey made a mistake and went off the track in the Millville Sand Whoops, allowing Reed to open the lead back up.
Brian Robinette photos
Reed's crash was as spectacular as anyone had seen in a long time, but amazingly, he was uninjured.

As for Dungey, he moved far closer to the series' lead. He pressured but couldn't pass Reed for the first-moto win, something that has occurred far more often than Dungey would like this year. But his second-moto come from behind win over Villopoto was impressive. Villopoto suffered from a bad start in the first moto and was never able to find his usual pace, but he bounced back in moto two with a revised shock setting and a holeshot. For the first half of the race, he looked like a winner, but Dungey ran him down.
Canard looked strong in his first motocross race of the year after missing the first six races with a broken femur. He was fastest in practice, a surprise considering how much time he missed, and rode a close third behind Reed and Dungey early. Then he fell and lost his rhythm, dropping to fifth in moto one. Third in moto two put him on the overall podium.
Mike Alessi was solid all day on his Red Bull KTM, going 4-4 for fourth overall, with Reed's all-time gutty 1-14 netting fifth.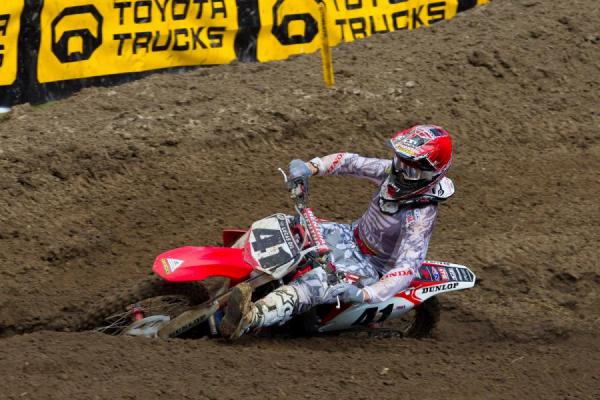 Trey Canard
showed great speed in his first race outdoors this year--and first-ever on a 450.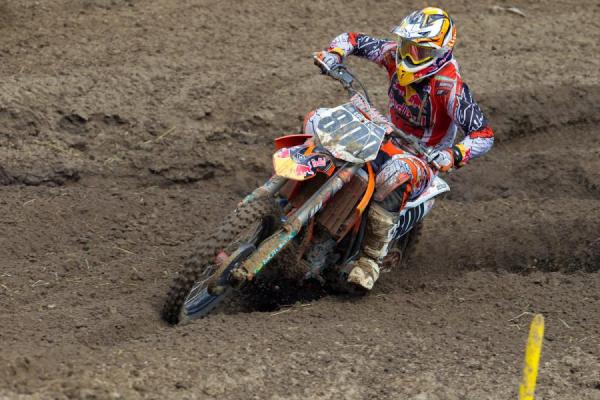 Mike Alessi
rode solid to collect 4-4 scores and fourth overall.
Brian Robinette photos
The 250 class had its ups and downs, too. Monster Energy Pro Circuit Kawasaki's Dean Wilson rode a superb first moto, snatching the early lead from DNA Shred Stix Star Racing Yamaha's Kyle Cunningham, and then holding up under constant pressure from his teammate Tyla Rattray. Rattray closed in several times, including the final lap, but Wilson hung tough for a win by .6 seconds. Wilson admitted he expelled a lot of energy to get that win, and he knew the second race would be tough.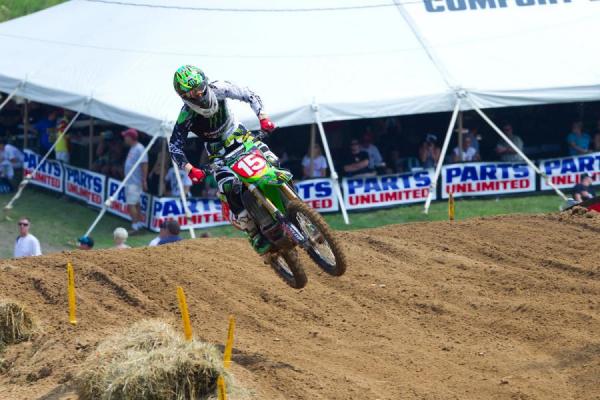 Dean Wilson rode well again but just missed out on the overall with 1-2 scores.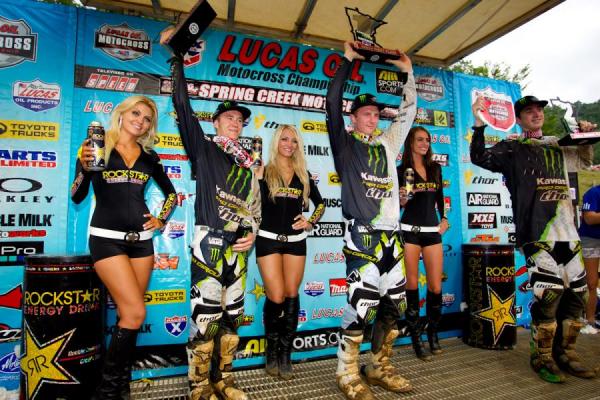 Tyla Rattray (center) took the overall win with a strong second-moto ride.
Brian Robinette photos
In moto two, Cunningham nailed the start again, but this time Rattray got through to the lead first. Wilson followed his teammate to get into second and then applied the pressure for about half the race. But the second half of the second motos are usually a strong point for the ultra-tough Rattray, and he charged hard all the way to the end to maintain the lead and edge Wilson for the overall, 2-1 to 1-2. It's Wilson's sixth-straight runner-up finish.

Their teammate Blake Baggett didn't have the form this weekend that he did at the previous races in Colorado or Michigan, where he won all four motos. A crash last week left his shoulder ailing, and he had to take a full week off from riding. Bad starts hurt too, but he toughed out 3-3 finishes for third overall. Cunningham went 4-4 for fourth, and Millville's own Alex Martin rode well all day to take fifth overall with 7-5 finishes.

In WMX, Honda's Ashley Fiolek jumped out to the early lead in both motos. In moto one, her championship rival Jessica Patterson tried to make a move for the lead on her DNA Shred Stix Star Racing Yamaha, but she popped her shoulder out trying to hang on through the whoops. She crashed and had to settle for second, with Fiolek taking a solid moto win. In moto two, Patterson took the win, giving her 2-1 scores to edge Fiolek's 1-2.

Lucas Oil AMA Pro Motocross Championship, 
Spring Creek Motocross National,
 Spring Creek MX Park - Millville, Minn. 
July 16, 2011 
Round 7 of 12

450 Class (Moto Finish)
1.    Ryan Dungey, Belle Plaine, Minn., Suzuki (2-1)
2.    Ryan Villopoto, Poulsbo, Wash., Kawasaki (3-2)
3.    Trey Canard, Shawnee, Okla., Honda (5-3)
4.    Mike Alessi, Victorville, Calif., KTM (4-4)
5.    Chad Reed, Kurri Kurri, Australia, Honda (1-14)
6.    Brett Metcalfe, Mannum, Australia, Suzuki (6-5)
7.    Jake Weimer, Rupert, Idaho, Kawasaki (8-6)
8.    Andrew Short, Colorado Springs, Colo., KTM (7-9)
9.    Justin Brayton, Fort Dodge, Iowa, Yamaha (12-7)
10.    Kevin Windham, Baton Rouge, La., Honda (11-10)
450 Class Championship Standings
1.    Chad Reed, Kurri Kurri, Australia, Honda - 300
2.    Ryan Villopoto, Poulsbo, Wash., Kawasaki - 294
3.    Ryan Dungey, Belle Plaine, Minn., Suzuki - 293
4.    Brett Metcalfe, Mannum, Australia, Suzuki - 209
5.    Kevin Windham, Baton Rouge, La., Honda - 193
6.    Davi Millsaps, Murrieta, Calif., Yamaha - 173
7.    Andrew Short, Colorado Springs, Colo., KTM - 156
8.    Mike Alessi, Victorville, Calif., KTM - 151
9.    Jake Weimer, Rupert, Idaho, Kawasaki - 140
10.    Christian Craig, El Cajon, Calif., Honda - 119
250 Class (Moto Finish)
1.    Tyla Rattray, Durban, South Africa, Kawasaki (2-1)
2.    Dean Wilson, Glasgow, Scotland, Kawasaki (1-2)
3.    Blake Baggett, Grand Terrace, Calif., Kawasaki (3-3)
4.    Kyle Cunningham, Aledo, Texas, Yamaha (4-4)
5.    Alex Martin, Millville, Minn., Honda (7-5)
6.    Broc Tickle, Holly, Mich., Kawasaki (6-9)
7.    Wil Hahn, Wichita, Kan., Honda (9-8)
8.    Gareth Swanepoel, Johannesburg, South Africa, Yamaha (5-12)
9.    Gannon Audette, Minneapolis, Minn., Yamaha (15-10)
10.    Jason Anderson, Las Cruces, N.M., Suzuki (14-11)
250 Class Championship Standings
1.    Dean Wilson, Glasgow, Scotland, Kawasaki - 305
2.    Tyla Rattray, Durban, South Africa, Kawasaki - 289
3.    Blake Baggett, Grand Terrace, Calif., Kawasaki - 284
4.    Kyle Cunningham, Aledo, Texas, Yamaha - 199
5.    Eli Tomac, Cortez, Colo., Honda - 190
6.    Broc Tickle, Holly, Mich., Kawasaki - 170
7.    Justin Barcia, Ochlocknee, Ga., Honda - 152
8.    Gareth Swanepoel, Johannesburg, South Africa, Yamaha - 145
9.    Martin Davalos, Quito, Ecuador, Suzuki - 128
10.    Darryn Durham, Butler, Pa., Honda - 122
WMX Class (Moto Finish)
1.    Jessica Patterson, Tallahassee, Fla., Yamaha (2-1)
2.    Ashley Fiolek, St. Augustine, Fla., Honda (1-2)
3.    Tarah Gieger, Aguadilla, Puerto Rico., Honda (3-3)
4.    Vicki Golden, El Cajon, Calif., Kawasaki (4-4)
5.    Kasie Creson, Vallejo, Calif., Honda (7-5)
6.    Jacqueline Strong, Cottonwood, Ariz., KTM (5-7)
7.    Marissa Markelon, Bridgeport, Conn., Yamaha (8-6)
8.    Alexah Pearson, Rocklin, Calif., KTM (10-8)
9.    Lindsey Palmer, Albuquerque, N.M., Honda (9-9)
10.    Jackie Ives, Visalia, Calif., Yamaha (12-10)
WMX Class Standings
1.    Ashley Fiolek, St. Augustine, Fla., Honda - 232
2.    Jessica Patterson, Tallahassee, Fla., Yamaha - 224
3.    Tarah Gieger, Aguadilla, Puerto Rico., Honda - 188
4.    Jacqueline Strong, Cottonwood, Ariz., KTM - 138
5.    Vicki Golden, El Cajon, Calif., Kawasaki - 131
6.    Kasie Creson, Vallejo, Calif., Honda - 128
7.    Marissa Markelon, Bridgeport, Conn., Yamaha - 125
8.    Lindsey Palmer, Albuquerque, N.M., Honda - 107
9.    Alexah Pearson, Rocklin, Calif., KTM - 103
10.    Sayaka Kaneshiro, Osaka, Japan, Suzuki - 98