Spring Creek Motocross
Millville

,

MN
Race Center: Spring Creek Motocross
Lucas Oil AMA Pro Motocross Championship
Ryan Dungey
is having the greatest bad year I've ever seen. In one of the toughest, most competitive seasons ever, with a high water mark in terms of quality riders coming in healthy, fast, motivated and prepared, The Dunge is always in the thick of it. He has beaten every rider on the track at some point, he's been consistent, he hasn't had any major injuries or made any huge mistakes. It has been a good year.
But yet we roll into this weekend's Lucas Oil AMA Pro Motocross Championship round at
Millville
, Minnesota, and the question comes back again. "Will the home track give Dungey that extra spark he has been missing this year?"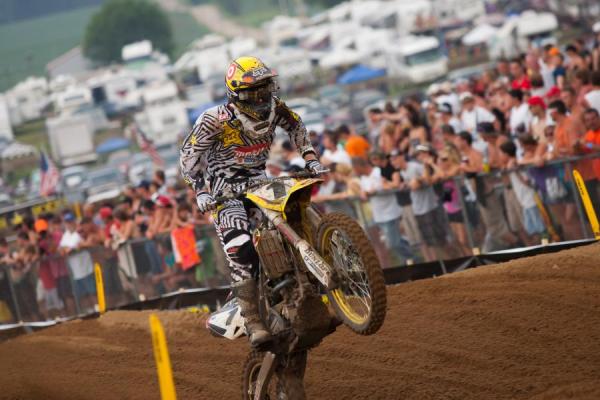 Dungey make his return to Minnesota this weekend at
Millville
.
Photo: Andrew Fredrickson
The questions always spring to the negative. As if Dungey needs to do something to fix a problem. After a close race in Los Angeles it was, "Maybe that will fire him up like he was in 2010." After he derailed a chain at Anaheim it was, "Maybe now he'll have nothing to lose and hang it out more." He bumped around a bit at Indianapolis and ended up off the podium. He seemed mad after the race. "Maybe that will fire him up." He won in Toronto and Colorado. "Maybe those wins will give him the spark he needs to win like he did last year."

If you're Ryan Dungey, those questions seem to imply that you've left something on the table. Could have won more or could have done better. Maybe you didn't try hard enough or dig deep enough. But if you're Ryan Dungey, you know you've given it your all every weekend and every week.

When Dungey finally got an overall win a few weeks back at Thunder Valley in Colorado, he was asked in the post race press conference if he had picked up his aggression. He answered back, unaggresively, "It's not a matter of aggression. I give it my all every weekend."

Maybe it's the riding style. Dungey has never been a ball-to-the-walls kind of rider. He rarely makes huge mistakes or comes through a section with gravity-bending style. He barely even crashes. He looks smooth and precise at every moment. Just ask Kevin Windham what having a smooth riding style means when you're not winning races. It means, on the outside, that you're not trying hard enough. Let's see the feet come off the pegs. Let's see a big swap. Let's see something that indicates you're on the edge to the viewer. Although on the inside of the helmet, guys like Windham, Dungey, Robbie Reynard, Damon Huffman, really any of the smooth guys, knew they were riding as hard as they could when they were riding as hard as they could.

Maybe it's the demeanor. With all of his "really gotta' give it up to the team" interviews, Dungey never lets any trash talk slip out. Never gives you the indicator that, "I just lost a ton of points with this DNF so I'm going to come back and slaughter these guys next week." He takes the down moments in stride—too much in stride, from an outsider's perspective. But really, does Dungey work as hard as he does without being competitive?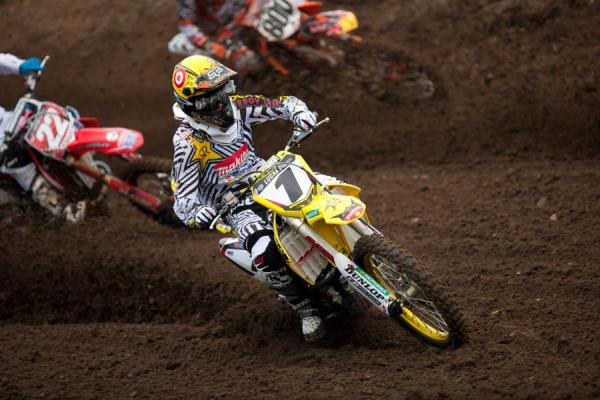 Can Dungey pick up his second overall in his home state?
Photo: Andrew Fredrickson
Maybe it's just the results. Dungey won a lot of races last year and has only won two so far this year. The big question in 2010 was if Dungey would have won all of those races if the likes of Reed, Villopoto, Stewart and the rest were there. Well, those guys are there, now. Dungey has proven he can run with, and beat, any of them, because he's done it at times this season. But it's ridiculous to expect him to win ten of twelve nationals like he did last year. Not against these guys, and hey, it's not like any one else from this group has been able to dominate, either.

Bottom line is Dungey has been in the hunt every week. He's fast enough to contend for wins, consistent enough to contend for titles. Hey, if not for bad luck with fuel in Freestone….

You want a bad year? Look at Josh Grant. That poor guy is just searching for answers right now. Meanwhile Dungey is being courted by a bunch of major teams. He has proven that against a healthy, competitive, prepared, motivated field, he has a shot to win the race every week.

He's been good, but we keep thinking there's more greatness somewhere. So each week, we ask if this is the week when we finally see the greatness. In Dungey's case, hasn't his season actually been good enough?