RedBud Track 'n Trail
Buchanan

,

MI
RedBud Track 'n Trail
Lucas Oil AMA Pro Motocross Championship
Wil Hahn sure picked a good day to come back to action and pull a couple of monster starts on his GEICO Honda – in a day full of lows for the team, Wilbur's return was definitely the high point.

 Hahn was making his actual debut on the Factory Connection bike after missing most of the season with a first-round practice session injury, and when he left the line at RedBud it was obvious that he was more than ready to finally hit the gate. After rocketing into the first turns with evident enthusiasm, Hahn would ride solid 8-6 motos to a sixth-place finish for a first-rate comeback in an extremely competitive field.
Otherwise…

It all went wrong right away, during early practice, for Factory Connection. Eli Tomac slightly over-doubled into LaRocco's Leap and feet-over-head freestyled out to a body-blow landing. And then it all too quickly went worse when an unknowing Travis Baker happened along to plant ET to earth. Bleeding, bruised, and possibly worse, Tomac was out for the day and off for evaluation and observation.

 Then it got better, briefly: Hahn was running at the front of the pack at the start of the first moto, and teammate Justin Barcia had pulled a holie and split on the field – throwing a big early lead on a sloppy and uncertain track surface. And then it got worse: Barcia went down hard on the downhill ski jump, punching the ground in frustration. And then still worse when he crashed again and pretzeled his handlebars, ending his first moto early. And then still worse again when Barcia missed the second race altogether, his bike refusing to re-fire after the parade lap.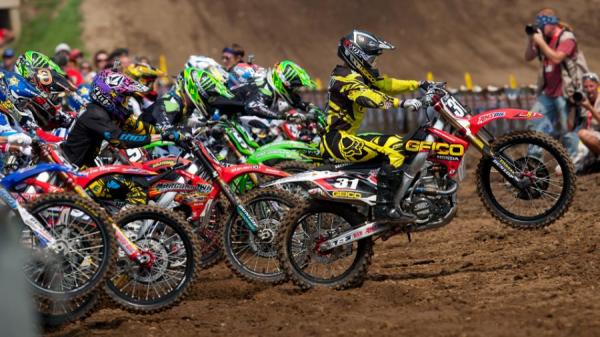 Wil Hahn got the jump on the field in the second moto.
Photo: Andrew Fredrickson
It did get better when Tomac came back from the hospital with a (relatively) clean bill-of-health. It got better when Hahn brought it home safe and well inside the top ten. But on the whole... No points for Tomac, still fourth overall in the series but with a much bigger gap to make up. No points for Barcia, who dropped from fifth to seventh in the standings. It was a rough outing for team manager and local hero Mike LaRocco's FC squad. 

At the other end of the table, at the top of the points race, it was Pro Circuit reshuffling the deck and controlling the game. Blake Baggett shrugged off that whole "every other race" weight and dominated a second race in a row with 1-1 scores to take over second in the series. Tyla Rattray posted a solid 5-3 for third overall on the day, but fell two points back of Baggett in the championship chase. And Dean Wilson kept his overall points lead with yet another pair of frustrating yet rewarding runner-up finishes.