Thunder Valley Motocross
Lakewood

,

CO
Race Center: Thunder Valley Motocross
Lucas Oil AMA Pro Motocross Championship
Monster Energy Pro Circuit Kawasaki's Dean Wilson sits four points out of the lead right now in the 250 class and by all accounts, he's been riding well and almost anyone (except for his teammate Tyla Rattray, who is leading!) would love to switch spots with Wilson.
So why is Wilson so frustrated right now?
Because the Scottish-born, Canadian-raised, American-living Wilson has been so far, winless in the 2011 nationals, but has also been about as close as one guy can be to getting wins. Wilson, second in the 250 East SX series this year, came into the outdoors as one of "the guys" and really, after seeing him go 1-1 last year at the last round at Pala, California- why wouldn't he be one of the favorites for this seasons motocross title?
At Hangtown a very fast Wilson won the first moto and in the second, with teammate Blake Baggett all over him he tipped over. The next round, in Texas, Wilson again won the first moto, but in the second moto, he went down and while trying to make a pass on Justin Barcia for the lead.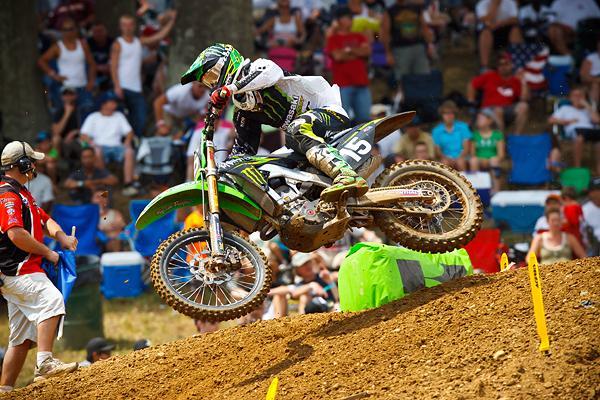 After four rounds Wilson sits a mere four points back of teammate Tyla Rattray.
Photo: Simon Cudby
Next week at High Point, Wilson ended up second the first time around and in the slop of the second moto, he grabbed the lead early and was looking good when, are you ready for this? He slid out and was forced to come from the back.
Budds Creek? Yep, another first moto win for the friendly Wilson but he couldn't get the start in the second race and spent the 30 minute plus 2 laps chasing everyone down.
It's got to be frustration galaore for Wilson. Three firsts and a second in four first motos this year, but no overall wins.  He must be ready to kick some puppies and steal some kids lunch money right?
"I am a bit frustrated actually," Wilson told me as he was driving back from Milestone yesterday afternoon "But I'm not changing anything right now. Doing the same program and just really need to work on my starts."
But Dean, your starts were good at Texas and High Point but you crashed.
"Yeah I know," he laughs.  "Honestly I know I pushed it a bit at Texas, I've learned from that. At High Point, that was tough man. I was actually seven points up after winning the first moto and had I won, I would have some breathing room but what can you do?"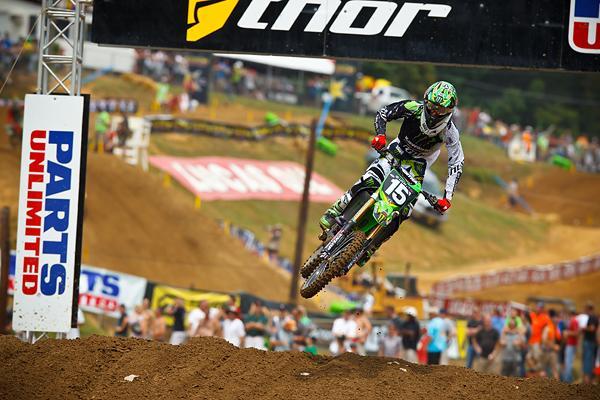 Can Wilson capture his first overall of the season at Thunder Valley?
Photo: Simon Cudby
I spoke with Wilson's mechanic Paul Perebjinos about the season and Perebjinos admitted that Wilson was very frustrated after Budds Creek, he knew that it was his race to lose. "But at the same time, Rattray is riding well," Paul's quick to point out.
When I asked Paul what Dean has to do to start getting some more wins, he didn't really hesitate when he said, "He has to stop falling!"
He continues, "The only thing that I'm bummed at is that Freestone (Texas) is his track, he rides really good there and that was a chance. And at the end of the summer, Southwick is where Rattray is really good. You have to take advantage when it's your track."
The saving point is that after you read about all the mistakes that Wilson has made so far this year, he's won a bunch of motos and only sits four points back right now. So if he can get on a roll and find that speed that won him Pala last year, he'll be sitting pretty for this title.
I pointed this out to Dean and he agreed somewhat but it still seemed to irk him that in his opinion, he'd left some W's out there.
When I told Wilson this column was "Going for the W", he quickly pointed out that is exactly what he's going to do from now on. "That's it! I've got to go for the W!" said the almost always happy Wilson.
It wouldn't be a stretch to think that this winless streak is going to end soon.