High Point Raceway
Mt. Morris

,

PA
High Point Raceway
Lucas Oil AMA Pro Motocross Championship
Hello, everyone, and welcome to the Rev Up. Summer is up to full song and after a week off it's time for the boys to get back to work. Round 3 takes us to historic
High Point
Raceway in Mt. Morris, PA. Not to get too heavy, but the area is a special place to me. I've left little pieces of my heart all over the country, but
High Point
and nearby Morgantown, West Virginia, will forever be one my favorite places in the world. For starters, the
High Point
national was the first pro outdoor event I ever went to in 1993. I'll never forget seeing the fans and locals literally walking out from the trees. It's a really different area of the country. It's a little bit country, a little bit "East Coast," but all beautiful. Of course WVU has always been a podium contender for the #1 party school in the nation, and in addition her student body is nearly 3:1 female to male. So, ahem...it's pretty stout.
Thus, the legend of the old days when they used to let the fans camp out (with camp fires) the night before the show; I'll never forget seeing and smelling the smoke billowing over and around the rolling mountains that embrace the track.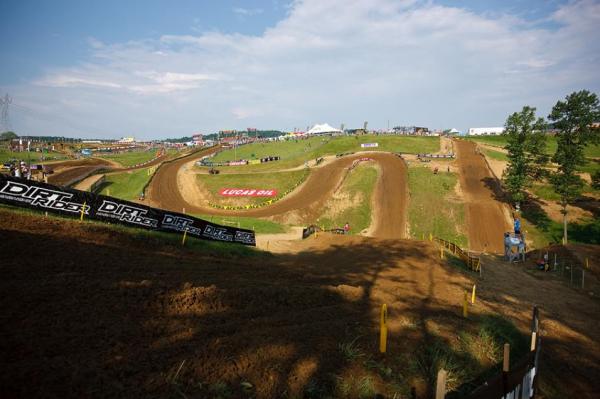 Round 3 of the Lucas Oil AMA Pro Motocross Championship kicks off at High Point on Saturday.
Photo: Simon Cudby
And the track...on man, the track. No doubt my favorite track—the off-camber corners and crazy elevation changes are challenging and super fun. She has just enough jumps to keep it interesting, and if you want to gain time on someone, just nut up and tape it open longer on one of the downhills. Careful you don't overcook it or you'll end up in the trees at the bottom.
Before anyone gets to thinking I'm sucking up to DC or his family, High Point was my favorite track ten years before I worked at Racer X. I haven't been an employee of Racer X for four years and I drove my own ass there last year to race her on amateur day, then drank beer with Rupert X and Danger YZ on Saturday. It's my favorite track, and home to some of the most amazing (non-moto) people I've ever met. OK, you get it, I love the place and I just can't wait to get there this weekend.
On to the action.
250
Blake Baggett is going to come back with a vengeance and drill the field. He earned respect at Hangtown this year and I think he's the guy in the 250 bunch. Unless it rains a little like last year, and then Justin Barcia will go all Bradshaw again and win by a half a lap. High Point is tricky, though. The short uphill start is deceiving and throws a lot of guys off. I say short, but it really isn't that short. It's just long enough to teeter on the brink of second and third gear. If you don't hit them just right, you're screwed and have to come through the pack. Like I said though, you can do that at High Point. There will be bar banging and lap times within a couple seconds from first through 20th. Look for local boy Darryn Durham to make some noise and get the hometown crowd on their feet.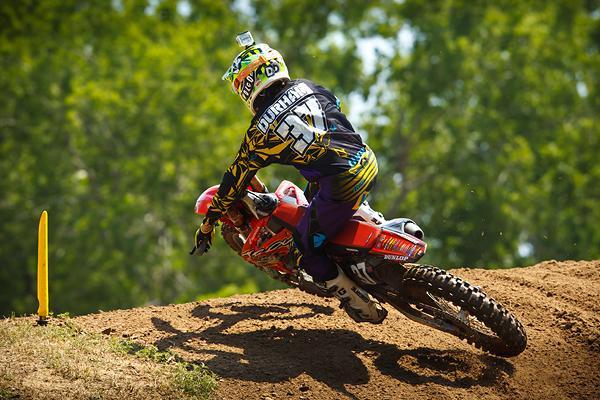 Darryn Durham will try and bring the hometown crowd to their feet this weekend.
Photo: Simon Cudby
450
Ryan Villopoto is going to take his first win of the year. Wait, what?! Yup. Something has been amiss in the RV2 camp and they fixed it over the break. He'll be ready to eat trees and shit Dunlops. Hmm..yeah, that works. Yes, Chad Reed has brought back The Thunder and dominated the opening two rounds, and yes he earned his first outdoor win at High Point in 2002. Be that as it may, he didn't even score points there last year and I think he's going to play it safe this time around. I could be very wrong though. Reedy is riding so strong.
And what about Ryan Dungey? Is Roger DeCoster's absence the deal? Did he make too much money last year? Couple things about Dungey this year is he isn't having the big crashes, but he isn't winning either. A couple of weeks ago I said that the championship canvas begins to get some ink after High Point and it's time for #1 to paint some yellow gold.  
While thinking about all this two words came to mind; Trey. Canard. He would have been awesome at HP this time around...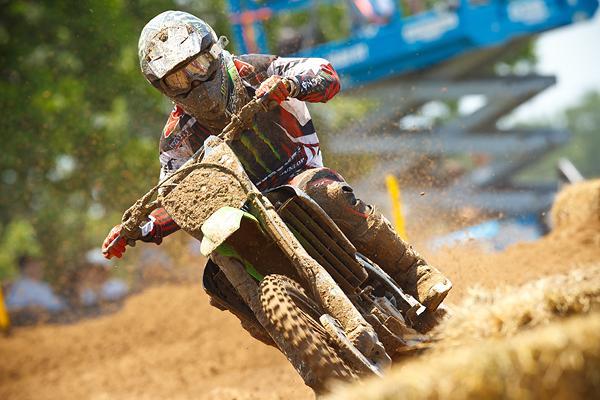 Can RV get his first win of the year this weekend?
Photo: Simon Cudby
But, look at Millsaps beginning to pour it on. I know my man has been down here riding in the heat every day and he knows which side the throttle is on. Davi can run if he gets a start. Look for him to lead some laps and contend. Andrew Short led the better half of both motos last year and he might be ready to break out on the KTM350. Christian Craig showed some very real speed at Texas. And we can't leave Kevin Windham out of this week's race. KW holeshot and led as a rookie at High Point in 1994 and the only thing that stopped him was Doug Henry...who simply can't be stopped.
I can't wait to get there! Follow me @Hattica77 and I'll be sending out the scene from 7:00 a.m. race day until they throw the final flag. High Point baby! It's so cool when the pack thunders up the start hill and pretty much never let off all the way around the sweeping left-hander and come barreling into that tight right with the giant rut before the Carmichael Double. The fans are so good there. They run fence line to fence line and literally get annoyed at the fence posts for costing them a milli-second of the charge.
High Point. She's going to be another good one, I just have a feeling.
Thanks for reading, see you next week.