by
Steve Matthes
In Preparation: New Set Ups for the East
Tuesday, June 7, 2011 | 4:00 PM
Tweet
What does it take to set up a bike to win races at the highest level? Constant change. Our own Steve Matthes, former factory Yamaha mechanic, explains the set up options available to go from the opening rounds in California and Texas to this weekend's event in Pennsylvania.

The teams have raced exactly two out of the twelve rounds in Lucas Oil AMA Pro Motocross, and conditions in both of those rounds were pretty unique to each area. First up was Hangtown with its sawdust and a combination of California dirt. The berms look solid but they are ready to give way if you slammed into them too hard. The ruts weren't very deep and the bumps developed into square edges with no give.
The next week in Texas, the racers faced sand and more sand with a hard base underneath. The track developed nice and rough. This was Texas, in the center of America, and it had it's own unique characteristics.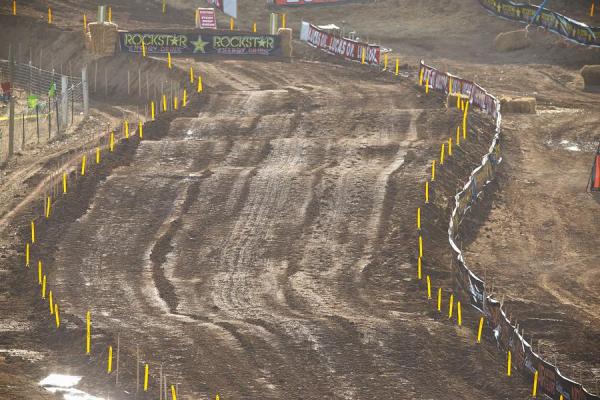 Hangtown is a combination of sawdust and California dirt.
Photo: Simon Cudby
Starting this week, at the venerable High Point Raceway, the teams and racers will face a true east coast motocross track. They'll have to get used to having softer dirt, deep ruts, off-cambers and maybe a touch of rain in the air because there's a 60 percent chance of it on Saturday.
A lot of teams run the 90 size front tire at the first couple of races, which has a taller sidewall and allows for more plant on the track. This weekend, the 90 tire might not work as well due to the ruts. More plant means the tire doesn't fit into a rut as well and the front end grabs a bit. Many racers opt to go with the more standard 80 front tire.
On the back, most teams run a 120 which is the widest tire you can get that fits on a 450. With the advent of four-strokes and their tremendous torque and horsepower, the 120 tire is widely used by everyone. But just like the front tire, with the High Point track being more like a slot car track in places, some guys might just try to get in and out of the ruts a little quicker and try the 110 rear size.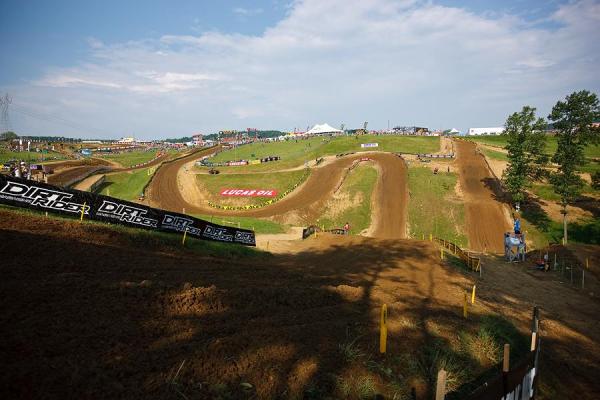 High Point features softer dirt, deep ruts, and off-cambers.
Photo: Simon Cudby
As far as bike set-up, most of the teams test extensively in Southern California, and they get to a point where they want the power, but they want it to be delivered in a smooth manner. You have to be able to hold on and ride aggressively for 35 minutes, and you don't want to battle the front end of your bike constantly coming up on you.
After the first practice at High Point, you'll find teams will be trying to find that extra snap for the machines due to the dirt. The tackier nature of the High Point soil (and the ruts) will grab a bike and suck it down. A bike that seems more than fast enough at Hangtown might be lacking that little bit of snap to get in and out of the turns at High Point. Also, the bumps coming in and out of the turns have a bit more give to them, so the suspension may need an adjustment.
So as you can see, there are plenty of things that go into setting a motorcycle up underneath some of the world's fastest racers and track to track, and weekend to weekend, there are multitude of things that riders and teams can do to try prepare for battle. But the first Eastern-based motocross of the season, at High Point, is often the toughest to prepare for, because this track and soil is tremendously different than what the teams have seen in testing, and through the first two rounds.


Share this article:
Did you like this article?
Check out MONSTERBALL
in our Latest issue of Racer X available now.

Playing soccer on 250cc motorcycles might sound like a strange form of riding, but in Russia they do it with great passion—and for very little reward. Page 112.
Look for the verified symbol
The Conversation